Economists say Eskom's suggestion to shift a portion of its debt on to the government's balance sheet would do little to solve the structural problems facing the beleaguered utility and the country's energy sector.
As load-shedding intensified this week, South Africans have been starkly reminded of both the power supply and the financial risks Eskom poses to the economy.
Eskom is facing a perfect storm of operational and financial issues, according to Chris Yelland, an energy expert and managing director of EE Publishers.
The utility's operational woes have amplified its financial ones, which include its debt spiralling to almost R420-billion. On the operational side, Eskom is battling with coal supply and quality problems, as well as the consequences of past policies, which included reducing power plant maintenance to save costs. This has led to a spike in unplanned outages.
At the presentation of its interim results last week, Eskom's leaders made it clear that the solutions to its (and the country's) problems will require difficult choices, whether they amount to further government bailouts, increased electricity tariffs or cost reductions.
One of the options mooted by chief executive Phakamani Hadebe to deal with Eskom's chronically over-geared balance sheet was "debt optimisation", possibly with an injection of equity by the government or the government taking some of Eskom's debt on to its own balance sheet.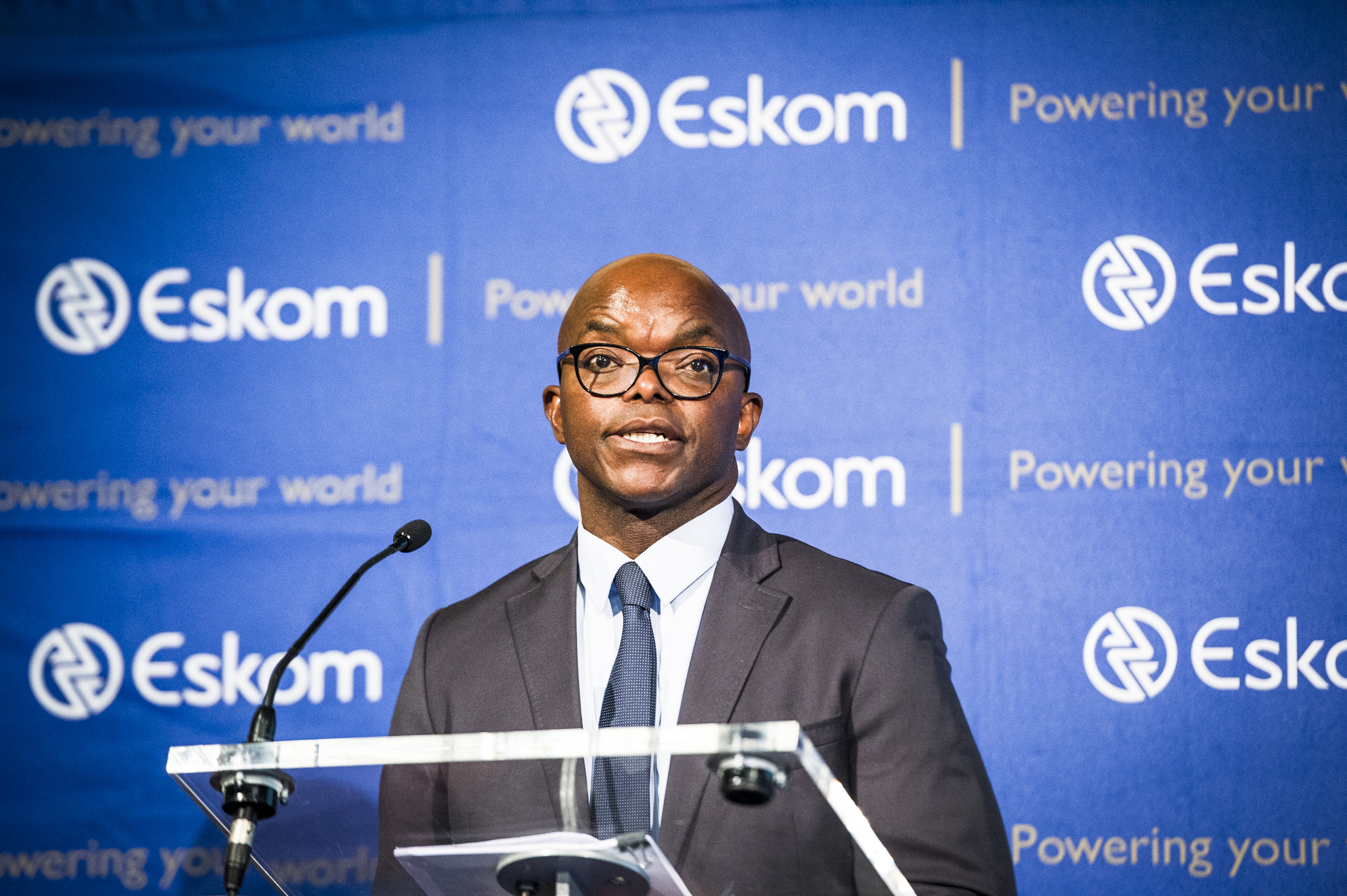 Phakamani Hadebe. (Delwyn Verasamy/M&G)
At an international investor roadshow, Eskom put a figure of R100-billion to this proposal, Business Day reported on Wednesday.
The matter has, however, not been broached with the national treasury. "Although national treasury has not yet received such a proposal from Eskom, any debt relief proposal by the state-owned utility will have to be assessed in the context of the turnaround plan that Eskom is expected to share with government soon," said treasury spokesperson Jabulani Sikhakhane.
"Government's policy stance on the funding of state-owned companies remains that such funding must be done in a deficit neutral manner."
Taking up R100-billion of Eskom's debt would be credit negative for the government's credit rating, according to Azar Jammine, chief economist at Econometrix, but "the extent of this is a little unclear". It could potentially take the state's projected debt-to-GDP level above 61% in the next three years, he said. "It certainly increases the possibility of a credit ratings downgrade," he said.
But the reaction may not be immediate he added. Ratings agencies such as Moody's are expected to wait until after next year's general elections to take any ratings action.
The government is already exposed to Eskom's precarious financial state through the sovereign guarantees it has provided on R350-billion of Eskom debt — meaning that if Eskom cannot pay its lenders, the state must make good on it.
But the economy and financial sector are further exposed to Eskom in other ways. For example, the largest pension fund in the country, the Government Employees Pension Fund, holds almost R88-billion in Eskom bonds. As a defined benefit fund, the state is the guarantor of the fund, which, should it be unable to meet its commitments to pensioners, would require the government to fill the gap.
Eskom's debt burden is throttling the utility itself, with debt repayments now consuming all the cash generated from its operations.
Iraj Abedian, the chief executive of Pan Africa Investment & Research, said Eskom's proposal sounded like a conversion of government debt for equity.
"In effect, Eskom is asking for a bookkeeping entry where R100-billion of government debt will be reclassified as equity," he said. "This will raise its equity base, will bring down its debt-equity ratio and will enable Eskom to borrow R100-billion more. In a straight talk, this is a R100-billion of bailout, plain and simple."
Without a detailed and credible medium-term financial and business strategy, it is impossible to judge whether this proposal is viable, Abedian said.
Money alone would not fix the "broken machine", he added. "Eskom is located at the centre of a nonviable, inappropriate and unsustainable energy policy. The more we focus on fixing Eskom, the more the government and indeed the taxpayers will have to pay, and the more the economy will suffer."
The government has to get its national energy policy right first and clearly define the role Eskom is capable of playing. Only once that is done could it open up the broken machine and make it fit for purpose, he said.
Isaah Mhlanga, the executive chief economist of Alexander Forbes Investments, said, given that the problems facing Eskom are structural, the transfer of debt is not a good idea, particularly because the economy is weak and industry is operating below full capacity. As a result, the economy has not required as much energy, which has resulted in a loss of revenue for Eskom.
To add to this, Eskom had not done the required maintenance on its power stations because of financial constraints so they are failing. "Even with the current lower capacity utilisation, they can't supply enough electricity," Mhlanga said.
This reality came into sharp relief as Eskom ramped up load-shedding this week. According to it, as of Wednesday this week, out of a total nominal capacity 44 072 megawatts, 5 505MW were undergoing planned maintenance and a further 11 301MW were unavailable because of unplanned outages and "failures outside of management control".
For the year to date, its unplanned capability loss factor, a measure of the energy lost because of unplanned outages caused by plant failures, is at 16.2%.
Mhlanga said Eskom's problems put South Africa into a Catch-22 situation. It is possibly the biggest risk to the fiscus if its problems are not solved. Without fixing Eskom, the country would not attract investment and the economy could not grow. But without economic growth, electricity usage would remain low and Eskom would continue to lose money.
The transfer of Eskom's debt to the state could reduce Eskom's debt and enable it once again to access capital markets based on its own balance sheet.
"One way or another, Eskom has to be fixed," he said.