Roughly three years ago, I joined a group of friends for a road trip to the Western Cape town of McGregor. Friends and acquaintances who did not join praised the small-town charms and idyllic setting of the place: sending us off on our two-hour drive with envy and recommendations.
By that point, I'd lived in Cape Town for almost eight years and journeyed on enough weekends away to know that small-town charms also meant segregated hospitality, and idyllic setting was also scenic spatial apartheid. Some part of me hoped that this place might be different. Rhodes had fallen. Fees were falling.
My hopes took a back seat as we drove through the town in search of the dirt road to the farmhouse where we'd be staying.
McGregor's layout is almost a copy-paste of central Cape Town, both in street name and social intent. Down Long Street was the town's commercial spine of cafés, artisanal stores, boutique hotels and Pilates studios. From Keerom Street on to Loop Street were colonial-style homes and manicured gardens. Moving out of the centre on to Buitenkant Street, we were greeted with dimmer street lighting and poorer homes: both fitting for Buitenkant, the outer edge.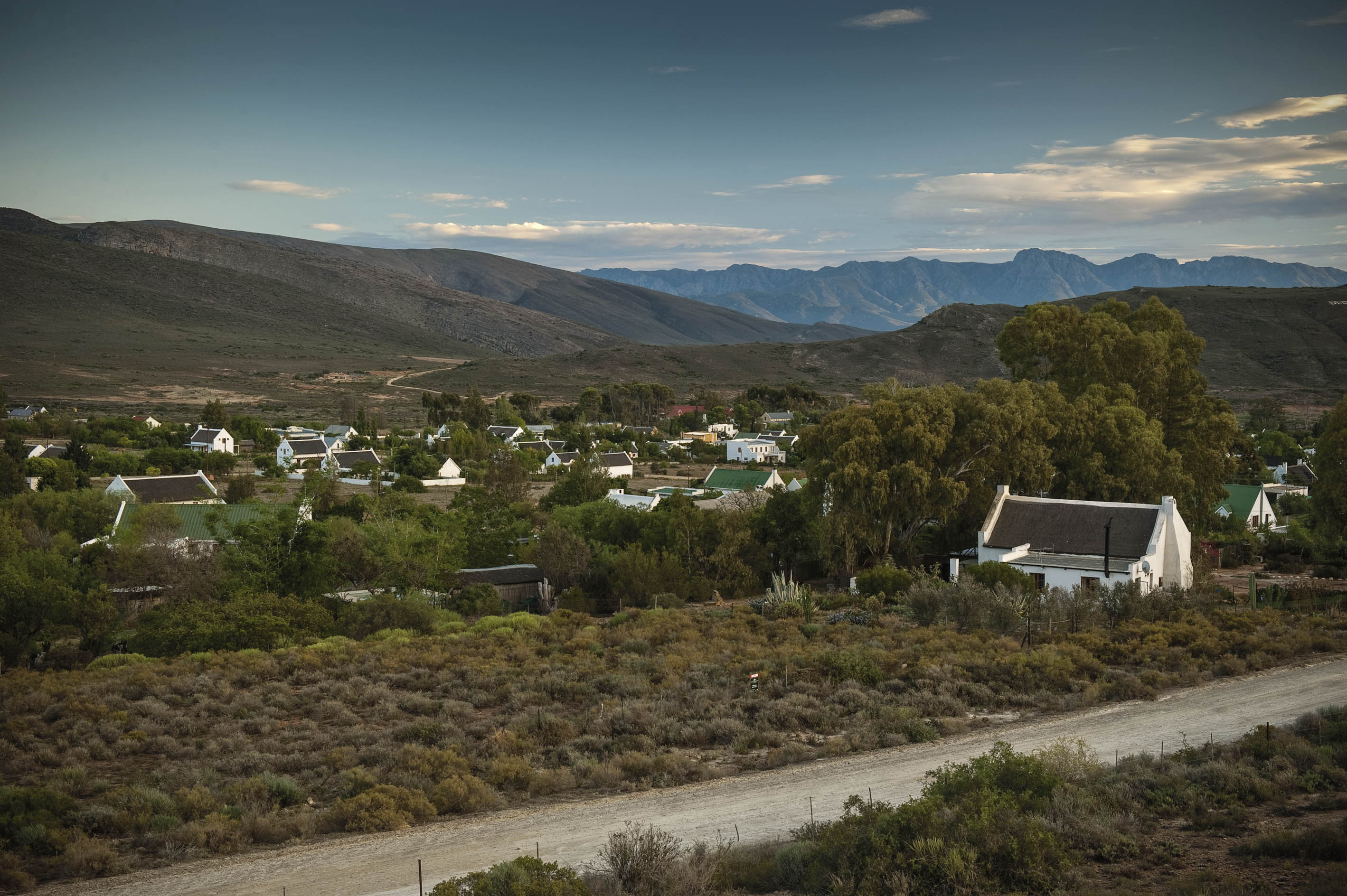 Two faced: McGregor was founded in the early 1800s, and its settlement patterns reflect those of apartheid even today. Photo: Jac Kritzinger/Gallo Images/GO!
We missioned out the next morning in search of a key weekend-away ingredient: wine. The only store open was on the lower, and poorer, end of Long Street. If the town's dichotomy could be distilled into a single image, it would be at the intersection where that liquor store began and "upper" Long Street ended: a diptych of barbed wire and bougainvilleas.
A group of men greeted us jovially from a nearby pavement in the shade. One walked over. Holding a baby on his hip, he pointed to each member of our group and introduced us to the child. "Say 'hello' to Madam … and Mister … and Mister," he said, gesturing to three of our party. "And say hello to 'Cousin'," he said, ending on me. I was the only person of colour in our group.
We returned the greetings, laughed along as if we were all laughing at the same things. I do not think I will forget that singling out and the particular sense of shame that followed it anytime soon.
Fast forward to 2018. I am in New Orleans, Louisiana, for a weekend away. New friends had implored me to visit "NOLA" to get a taste of "the real America". I'm not sure what makes one city a more real representative of its country than the next, but I booked my flight anyway, arriving in New Orleans on a muggy spring morning.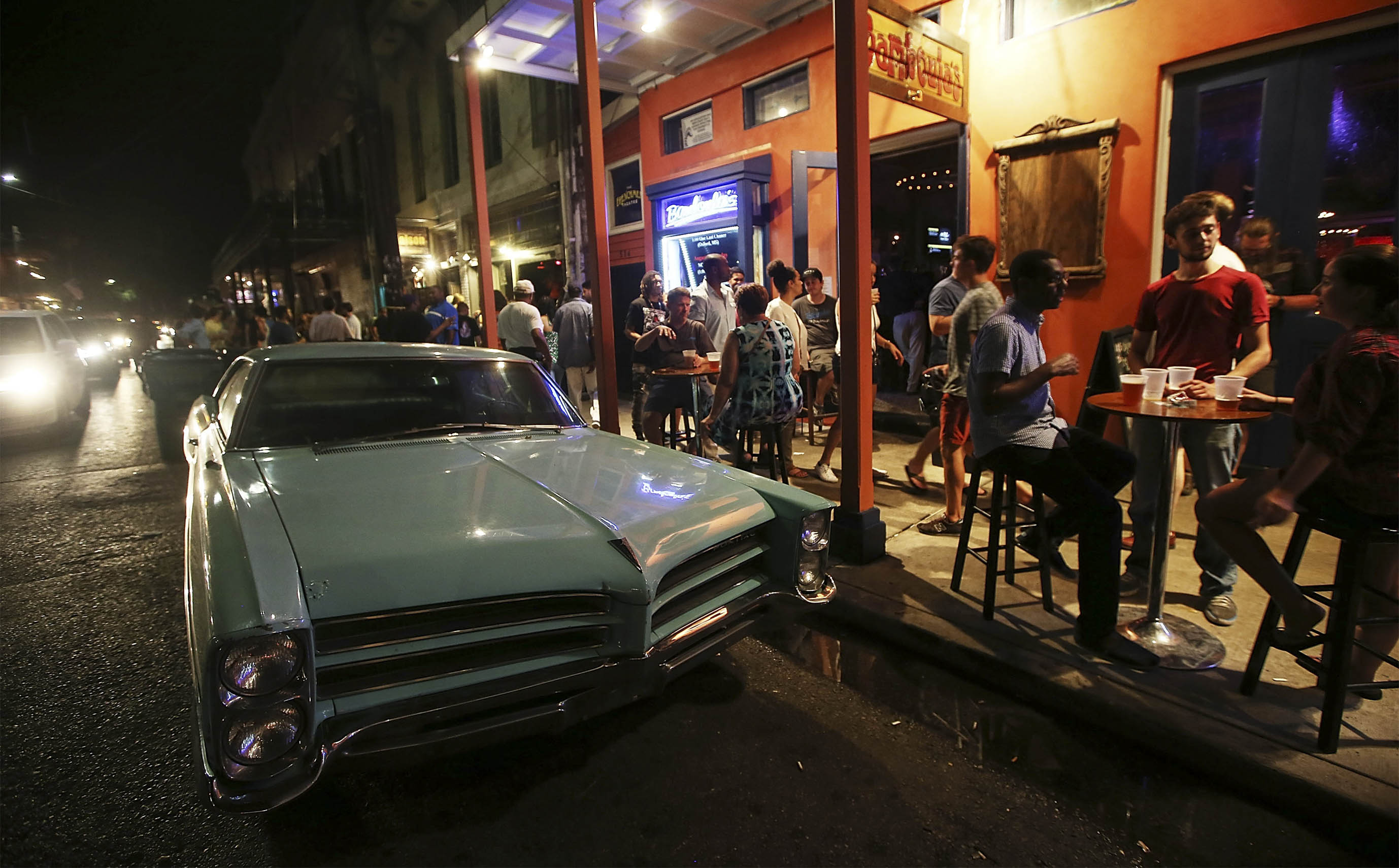 People gather at a music club on Frenchmen Street, in New Orleans, Louisiana. The tourism industry has rebounded strongly in the city following Katrina. Photo: Mario Tama/Getty Images
Unlike the cities dominating the Hollywood-shaped part of my imagination, my sense of familiarity with New Orleans was limited to three categories: jazz, Hurricane Katrina, and Creole Lady Marmalade as crooned by Lil' Kim in the remake of [Patti] Labelle's Lady Marmalade.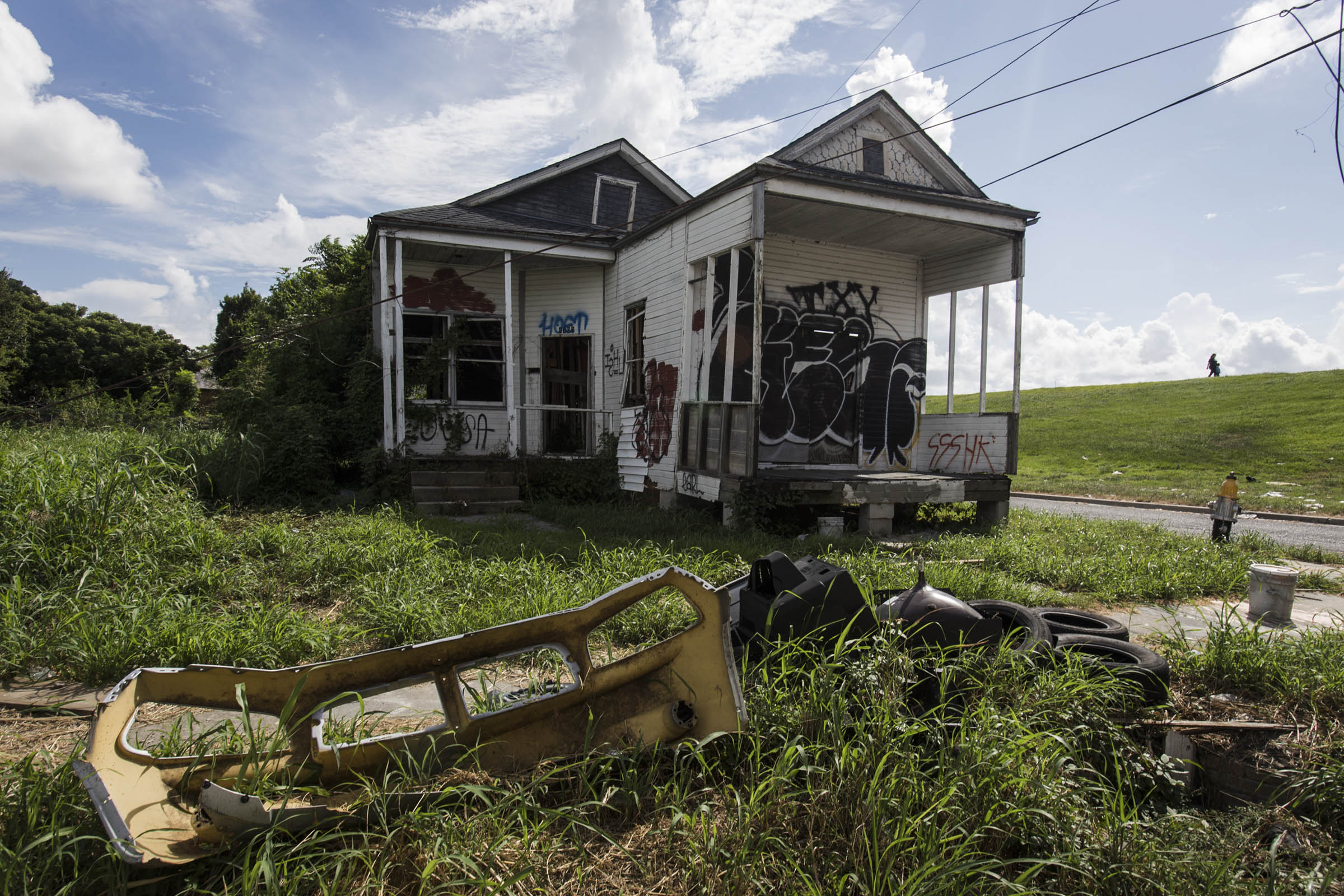 Tires and parts of a car lie in front of a house abandoned after Hurricane Katrina in the lower Ninth Ward of New Orleans on August 15, 2015. Photo: AFP/ Lee Celano
As far as first dates go, my encounter with New Orleans would leave my skin prickling with nostalgia and my liver irate with neglect. It started sweetly, diabetically so, with a breakfast of beignets and café au laits (sweet vetkoek and milky Ricoffy) at Café Du Monde in New Orleans' French Quarter.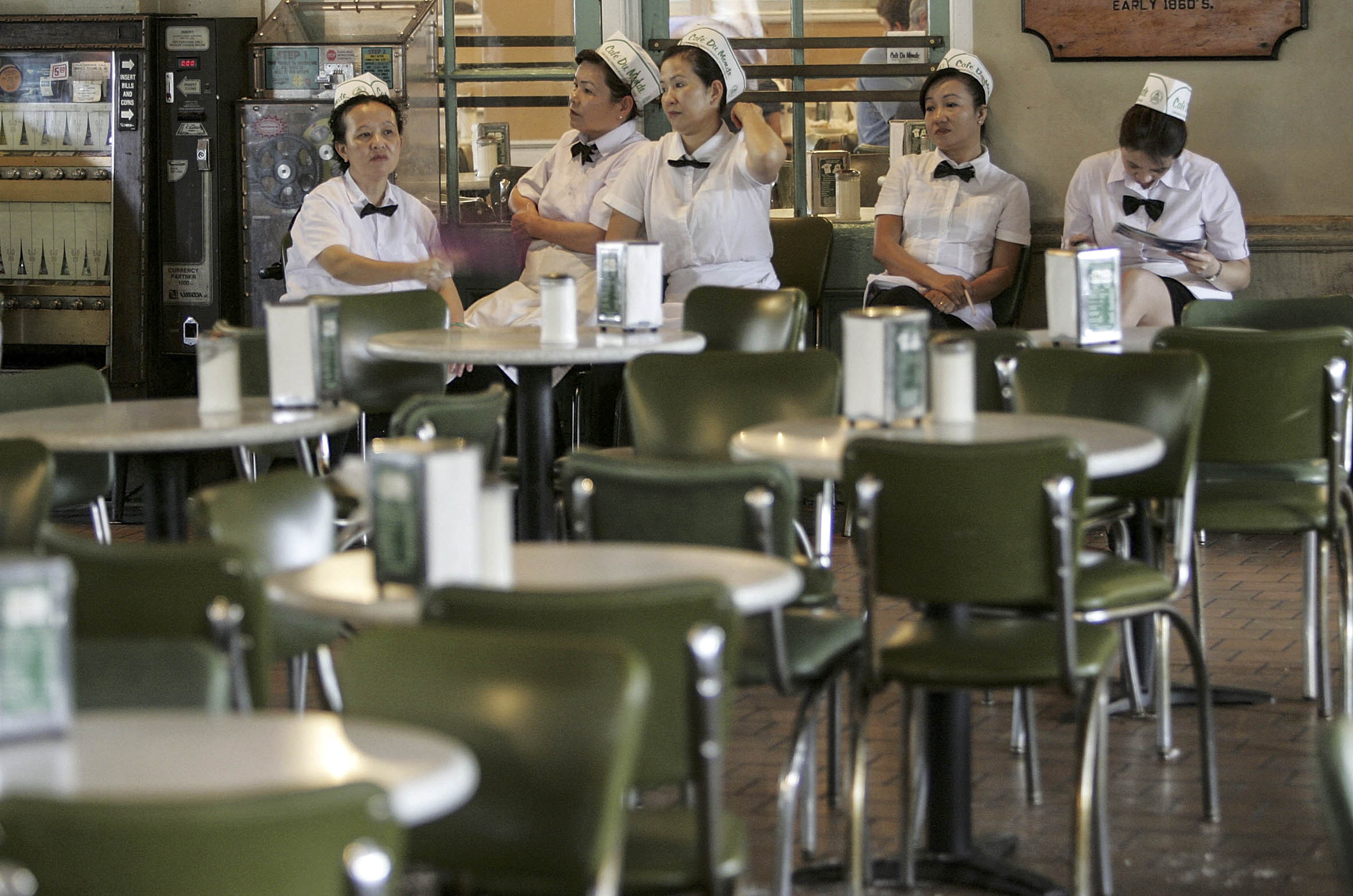 The interior of Café Du Monde, a popular eateryin New Orleans. Photo: Justin Sullivan
We had arrived in town early enough to watch life set up around Jackson Square: salespeople stocked tables with novelties and voodoo offerings, horse-drawn carriages pulled into the tree shade with their sleepy guides in tow, early-bird tourists with cups of hotel Starbucks in hand consulted maps, and post-Mardi Gras-goers were either beginning, or continuing, to drink through what could have been another day's hangover.
A large sign on the neighbouring Mississippi River waterfront told us that we had arrived in time for the city's tricentennial: its 300th anniversary of Spanish (and later, French) conquest, or "influence," as the signs stated. What little I knew about American history added a new, though unsurprising, category to my mental picture of New Orleans: colonial nostalgia.
We stayed in the Bywater, an area described by local urbanist Richard Campanella as the "Williamsburg of the South". This is also code for Gentrification Central. Having breakfast at a place with a flying pig for a sign, getting lost inside the double-storey Euclid Records, stocking up on sage sticks at an apothecary to keep the ghoul in my attic at bay (really), embracing tipsiness over a mean cocktail called a sazerac, refueling with chip-and-shrimp-filled po'boy sandwiches (jazzed up gatsbys) and soaking up wine and jazz at the outdoor bar-restaurant Bacchanal — these were some of the activities injuring our livers and saturating our sense of place.
Amid these small-town revelries were also glaring question marks. Some homes bore black, spray-painted crosses: a 13-year-old remnant of Hurricane Katrina's search-and-rescue protocol. Why are these homes still empty? Where did those displaced by Katrina resettle? How does a city rebuild itself after such an unprecedented disaster? Newer spray-paint told "Yuppies and AirBnB" to "f*ck off", raising the question of who benefits most after disaster strikes.
Moving between the cosier neighbourhoods of the Bayou, the insomnia of the French Quarter, and the grand, tree-lined avenues of Mid-City's Charleston Avenue, differences in wealth and demographics became more difficult to ignore. I learned that, since Hurricane Katrina, property prices and rents have gone up by about 50%, AirBnB is making a killing and liquor sales are doing fine, but performers' fees have declined and the state of Louisiana still incarcerates (mostly black) citizens at twice the national average. These matters of race, class and economics do not fit neatly on mugs or T-shirts. I sensed a familiarity I did not want to feel, described in my journal in a single line: "New Orleans: Swamp-side Stellenbosch."
Here was another place seemingly invested in its legacy of structural inequality to survive economically, another place built on a different kind of truth and reconcilliation commission: transplantation, repackaging and commodification.
What should it matter? I'm just a visitor, right? Except I'm not just a visitor. There too, I am "Cousin".