This week South African music duo Darkie Fiction's song Bhoza made it on to Apple Music's A-List of songs out of Africa for 2018, placing them among the continent's superstars.
The independent new-age kwaito duo was formed just over a year ago and released their debut EP Sobabini in July. Five months later, the duo is topping the charts with big African stars, such as Wizkid and Davido, who, on average, have between 1.3-million and 2.6-million listeners a month on music-streaming platform Spotify. Newcomer Darkie Fiction, with just 319 listeners, is rubbing shoulders with the giants.
Streaming is reshaping the musical landscape. Digital streaming revenue in South Africa grew by 334% in 2016, according to the 2017 Global Music Report from the International Federation of the Phonographic Industry's (IFPI).
It does not mention what amount the revenue grew from, but database company Statista said South African income from the music-streaming segment was $21-million in 2018.
The Global Music Report shows that, in 2017, digital revenue around the world increased by 19.1% to $9.4-billion. For the first time in history, digital revenue accounted for more than half (54%) of the total recorded revenue in the music industry worldwide. The increase was mainly driven by a global surge in streaming, which was up by 41.1%. Paid subscriptions rose by 45.5%.
Artists generally don't make as much money from streaming services as they would from digital downloads on platforms such as iTunes. In 2017, revenue for digital downloads declined by 20.5% and made up just 20% of global digital revenue, according to the IFPI's report.
Converted into rand terms, Spotify pays artists 5c a stream, Apple Music 11c, Google and Deezer 8c and Tidal's is 18c, according to data collected by the Trichordist.
"It has certainly changed the way that South Africans consume music and it is significantly helping with the fight against piracy as music streaming as a value offering is such an affordable and attractive means to consuming music," said Warrick Percy, the head of licensing and business development at the Composers Authors and Publishers Association.
Darkie Fiction's appearance on the A-List is not only a testament to their talent but also to the changing landscape of the South African music industry, where digital streaming platforms have created greater access for everyone.
"It's cool in the sense that you don't have to wait for people to play you on the radio or for someone to pick you up from TV; you can do it yourself and get as far as you are willing to push yourself," said Yoza Mnyanda, one half of Darkie Fiction.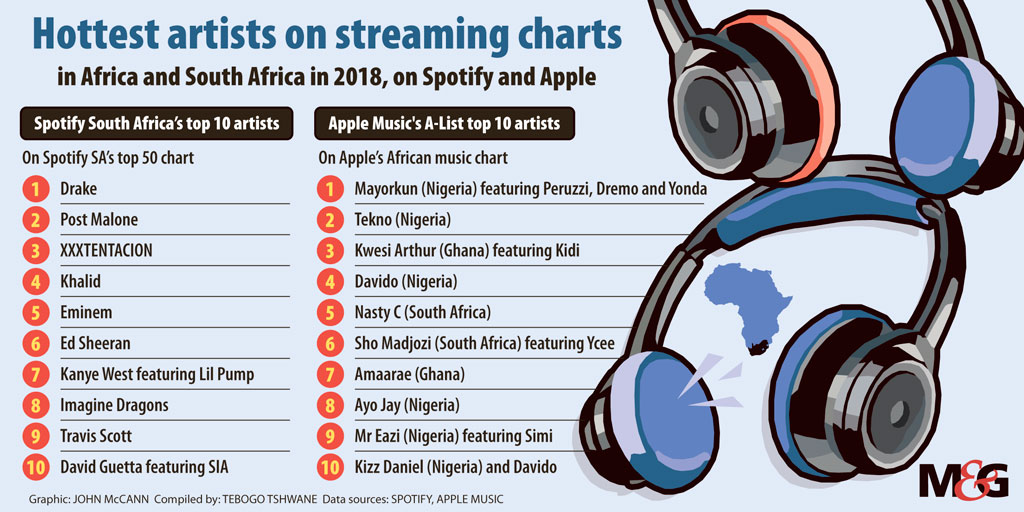 Some of the more popular music-streaming platforms in South Africa include Apple Music, Google Play, Deezer, Tidal and the world's biggest streaming platform, Spotify, which entered the South African market earlier this year.
Whereas some platforms such as Spotify and Deezer allow users to stream music for free, with limited functionality and in-app advertisements, services such as Apple Music and Tidal are strictly subscription based; users pay a monthly fee to get access to millions of songs. Subscription fees are R60 on most platforms but can go up to R160. On all platforms, you lose the music once you cancel the subscription.
Those who hold the rights to the songs are paid a fee every time someone streams the song. The fee can be split between the artist, record label, songwriters, producers and composers, depending on the arrangement agreed to by them.
Warrick said that physical sales of music had been declining steadily and, although digital music was yet to make up for the loss in revenue, it was making considerable strides in getting there.
"One needs to remember that only one royalty is paid for the purchase of a physical product, irrespective of how many times a person listens to it once it is bought. Streaming, on the other hand, is royalty per individual stream. Therefore, whilst payout is lower, consumption is so much higher," he said.
Statista forecasts that the revenue for digital streams in South Africa is expected to grow by 6.2% annually and will reach $28-million in the next five years.
Online streaming services such Spotify, whose services can be used for free by listeners, have come under fire from some of the biggest artists in the world about how much they pay artists for their music.
In 2014, global pop artist Taylor Swift took all her music off Spotify, explaining in an interview with Yahoo that she did not want to be on a platform that did not compensate artists fairly and perpetuating the idea that "music has no value and should be free". She put her music back on the platform in 2017.
"I have not had a bad experience," said Darkie Fiction's Mnyanza on streaming royalties.
"I am not sure how much you get per stream but it does add up and it's quite nice. Either way, you get your money off performances and deals. No one is expecting to make billions off iTunes."
---
Revenue Service says e-music is a taxing business
It's not just global music stars: tax agencies are also grappling with how to get revenue from these offshore electronic service providers.
There are currently more than 250 electronic service providers registered with the South African Revenue Service, which said revised regulations, expected to come into effect in April 2019, would broaden the scope of electronic services.
"This will increase the value-added tax base of electronic service suppliers, in that most offshore electronic services suppliers will be required to register for VAT where the total value of electronic services supplied in South Africa exceeds R1-million per annum," Sars said.
Sars charges VAT on the operations of foreign electronic service providers that provide services that exceed R50 000 a year. These businesses also need to meet two of the following conditions: providing services to South African residents; the recipient must have an address in the country; and payment for the service should be from a South African bank account.
Sars said determining income tax for digital companies posed unique challenges because most of these companies were not tax residents of South Africa, in that they were not incorporated or had their place of management in the country.
Discussions are taking place globally on how to best to tax the digitalised economy. The Organisation for Economic Co-operation and Development and the G20 Inclusive Framework published an interim report earlier this year on the challenges that have come with taxing companies in a digital era.
Sars said it was monitoring the work of these organisations.
"It is anticipated that, upon publication of a final version of the report, expected by 2020, South Africa will be in a position to adopt some of the report's recommendations," Sars said.
Tebogo Tshwane is an Adamela Trust business journalist at the M&G