The City of Cape Town says the private security company Professional Protection Alternatives (PPA) usurped the role of the police when its guards escorted people from Clifton's fourth beach over the festive season. After the Clifton beach incident, the PPA also allegedly blocked roads and restricted access to some areas in Fresnaye on New Year's Eve.
The security company has been embroiled in controversy after social media posts, which alleged its guards tried to force black beachgoers off the beach, were widely circulated. The fallout led to days of protests on the beach by political parties and organisations, including the slaughtering of a sheep to purportedly cleanse the beach of racism — to the horror of nearby tanning tourists and animal rights activists.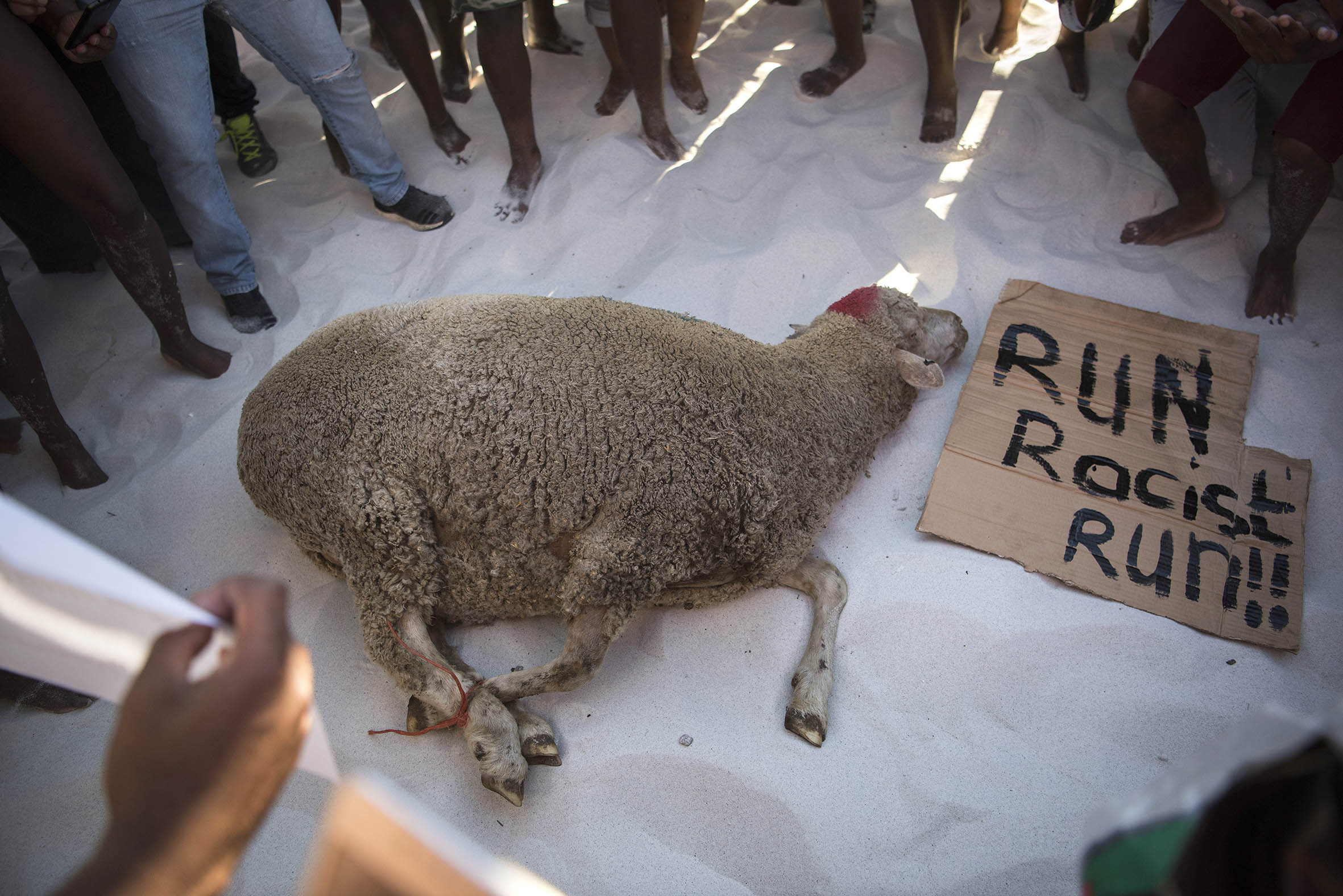 Once-segregated beaches remain a flashpoint of racial tension in South Africa, but protesters said they reclaimed the space by slaughtering a sheep on a Clifton beach. (Rodger Bosch/AFP)
Cape Town mayoral committee member for safety and security JP Smith said: "PPA effed up again not days later, on New Year's Eve. They shut down roads in Fresnaye … to prevent people from gaining access to the vantage point where people often go and ring in the New Year. And we had to send our traffic police to go dismantle that road closure. This is a problem."
But the company's lawyer, Bruce Hendricks, said the PPA never blocked roads. A patrol vehicle just happened to be on the scene when residents cordoned off the street for a catering truck on New Year's Eve.
"We got a lot of calls about this, where beacons were put up in the road. PPA didn't close the road … They [residents] were having a New Year's Eve party and what they did is they got catering in. And for the truck to come in and turn around they put the cones in. So that has nothing to do with PPA," Hendricks said.
But Smith said the security company had seemingly been conducting what should have been police business for weeks before that. "What you really have here is a replay of a scenario that's repeating itself over and over across South Africa. Where local communities who can afford to do so are mustering security to fill in gaps [where] they believe policing has failed. This is a phenomenon playing itself out over and over with gated communities being closed, streets being shut down, people being profiled. The subtext of it is in principle problematic in terms of the accountability of police."
Smith said the PPA had been contracted by mainly Camps Bay business owners since early 2018 to patrol and guard sidewalks outside clubs and restaurants to prevent informal traders and buskers from conducting business there.
The company had also been patrolling upmarket residential areas after some homeowners claimed there had been alleged threats of violence, intimidation and robberies by gangs of criminals, said Smith.
Hendricks said the company had been contracted by the Clifton Bungalow Association and some businesses for some time. "It started in the Atlantic seaboard a couple of months ago. But PPA has been servicing some of the people for quite some time now. But it's been more intense [for] about two months, where there was a spike in violent crime and house robberies in the area," he said.
Smith said there was no record of criminal complaints being laid. The police said there had been none and Smith said that, when he asked for case numbers at a public meeting, none were forthcoming.
Instead, videos have since emerged on social media of informal vendors being stopped and searched by PPA guards and police say cases of assault have been opened against PPA personnel involving street vendors and a driver who picked up a night-shift worker at a local restaurant.
The South African Police Service's Novella Potelwa said she was not aware of housebreaking and robbery complaints being made at the Camps Bay police station. No rape or sexual assault reports had been made either, as had initially been reported, she said.
"Camps Bay … has very low cases of crime volume. It's not a station you can compare to Mitchells Plain," she said.
Smith said: "I think it's important for the Clifton community to start building a picture of what that looks like. Assemble the case numbers, make the list of the incidents and make that available to the public, and say, 'This is what we are dealing with'."
Among the beachgoers apparently forced off the trendy beach on December 23 were the ANC's Western Cape secretary Faiez Jacobs and Fatima Shabodien, the country director of global humanitarian and social justice nongovernmental organisation Action Aid.
Hendricks denied the allegations of racism in forcing people off a public beach at twilight. The security guard, whom Hendricks described as a "person of colour", was merely warning beachgoers of the dangers after dark.
"He just said, 'Please, guys, be aware of your safety and surrounding areas'. Because where Mr Jacobs and his people were seated was quite close to rocks where incidents have happened already. We just said to them, 'Because of your surrounds, because there's a lot of things happening in the area'," Hendricks said.
The security company also denied using excessive and militaristic force during its patrols.
Despite denials by the city, Hendricks insisted that the PPA regularly worked hand in hand with the metro police and the Saps.
"Their approach is to help … They are just more visible than police. You can check on a night shift at the Camps Bay police station and you can see the shortfall in policing in the area. Even though law enforcement denies there's a relationship between themselves and PPA, I have spoken to police. They have complimented the work done in the area."
Smith said the city would lay a complaint with the Private Security Industry Regulatory Authority (PSIRA) because the PPA had allegedly contravened its code of conduct.
Hendricks said the PSIRA had already approached the company for details about the events over the festive season.
The PSIRA's Jan Sambo confirmed that, after complaints by beachgoers and based on what was reported in the media, the regulator was investigating. He said it was still too early to say whether the security company had breached its code of conduct.
He said, if charges were warranted and a disciplinary hearing ruled against a security guard, his or her licence could be revoked. A security company could face stiff fines, or be barred from operating.
Meanwhile, the city said it was still pursuing a criminal case against a group of protesters who slaughtered the sheep. Smith said: "We can't ignore it. As much as we must lay the charge against PPA with PSIRA, we must also deal with our by-laws.
"In the first 12 hours, I had in excess of 140 complaints. That number has now swollen to 250, to 300. There was a fair amount of anger and bitterness towards the city. And who was going to cleanse [clean up] the beach? And who's paying?"
The original version of this article incorrectly referred to the security company as Professional Protection Services. The Mail & Guardian regrets the error, which was introduced during editing.