Erbil, Iraq — 'Every minute I'm in this prison all I think about is how to escape," said Abdul. Slouched in a plastic chair in the detention centre in the Iraqi Kurdistan town of Erbil, the young detainee's deflated eyes dart to the floor.
It's been three years since the 19-year-old was charged with fighting for the Islamic State (Isis). The lanky teenager says he was tortured into a false confession and wrongly convicted.
In November 2015, Abdul left his house in Mosul to visit his uncle in Kirkuk. He remembers his father's warning that day not to cross the river because it was too dangerous. But he didn't listen and, before reaching the house, Abdul was arrested at a checkpoint by the Iraqi Kurdish army. For the next week he was locked in a building, shut off from the rest of the world. After days of solitude, the Kurdish security services, Asayish, transferred him to their prison in Erbil. There, he was beaten with a rubber cable and slammed into doors until he broke.
"I lied to make it end and told them I was an Isis fighter," said Abdul. "I thought if I confessed they'd stop, but instead they only beat me more." After six days of interrogation, in which he was forced to answer questions about his alleged ties to the Islamic State, Asayish handed him over to the detention centre where he's languished since he was 16 years old.
Fifty-nine alleged Islamic State youth fighters are currently being held in Erbil's detention centre. Dubbed the "terrorist children" by local authorities, the rise and fall of the Islamic State in Iraq has left an unprecedented number of children accused of terrorist acts in its wake. Many were forcefully recruited as soldiers or made to work for the Islamic State as cooks and mechanics or in shops.
The treatment of these children has become a "significant challenge" for Iraq and the Kurdistan regional government, according to a Human Rights Watch Report in 2017, which documented the mistreatment of 150 boys in the centre suspected of joining the Islamic State. The neglect included the delay of justice, no clarity about charges against them and, in many instances, being tortured into making confessions.
"[The] principle under international law is that children forced to join an armed group should be seen as victims of forced child recruitment, not as criminals," Belkis Wille, senior Iraq researcher for Human Rights Watch, told the Mail & Guardian.
The authorities should ensure that any children detained solely for suspected Islamic State affiliation are rehabilitated and reintegrated and that alternatives to detention should be considered for any children charged with a valid criminal offence, she said.
Abdul says he's never worked for the Islamic State nor had any affiliation with it. He thinks friends with a personal vendetta turned him in to the authorities. Once at the centre, he waited for months before seeing a judge, who then questioned him about his connection with the Islamic State. "I told him that I never committed a crime, but the judge used my confession against me," he said.
He told the judge about the beatings, but his claims were dismissed because he lacked concrete evidence. Instead, Abdul was sentenced to five years in prison. To date he hasn't had access to a lawyer and, although he's repeatedly asked for his punishment to be reduced on account of good behaviour, each request has been denied.
Local officials insist that the prison is a reformatory that focuses on rehabilitation rather than on punishment.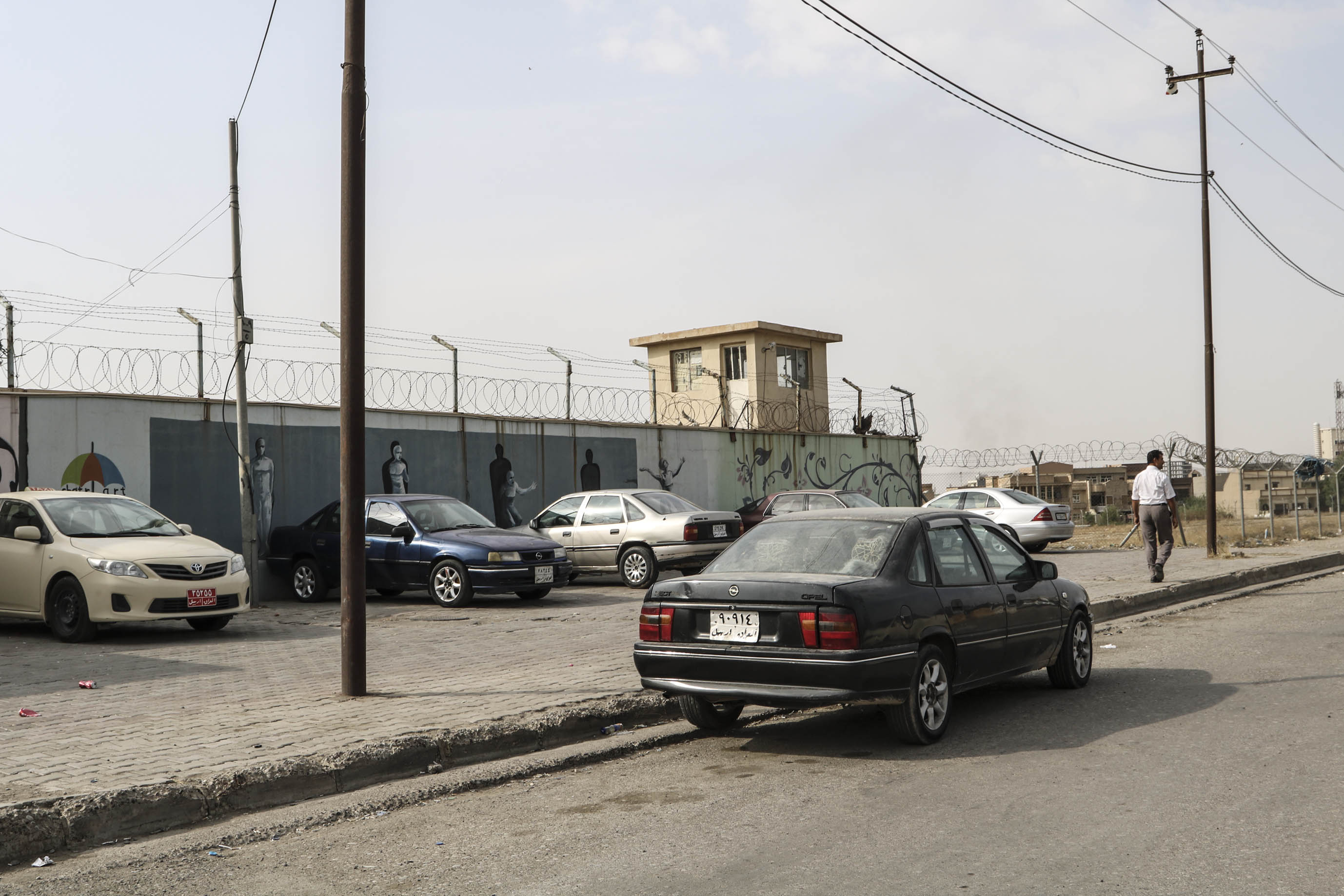 Youths suspected of assisting the Islamic State are held at a prison in Erbil, which the authorities say is a rehabilitation centre and not a prison. (Sam Mednick/AFP)
"Most people think of this place as a prison, but it's not," said Diman Mohamed Baeez, the director of the centre in Erbil. The children, aged 13 to 18, are given courses and activities, including vocational training such as hairdressing skills, so that when they get out they'll be able to find jobs, she said.
But, during a visit to the centre, the M&G spoke to several boys, all of whom said they hadn't taken part in any activities and that they mostly remain locked in their rooms and are rarely let out. Walking through the dim halls of the centre, children can be seen loitering, watching TV or lying idle in bed. School in the prison is taught in Kurdish, meaning that the majority of the Arab-speaking youth can't attend. They're allowed to see their families twice a week for two hours, and some are able to make phone calls to their parents.
Since the increase in the number of young Islamic State inmates, the prison authorities acknowledge that they are unable to handle the load. Even though Kurdish law requires a child to face the court within 24 hours of being arrested, some youths wait between seven months to a year before seeing a judge. Seventeen boys are currently awaiting sentencing.
The long pre-sentencing periods are compounded by the fact that children aren't always released once they've served their time. Because of an Iraqi and Kurdistan law known as mahkamat al-tameez, or court of cassation, youths affiliated with the Islamic State must have their sentences looked at and approved by a panel of nine judges before their case can be finalised. But, because of the enormous backlog, many youths serve out their entire sentences before their case is even looked at, forcing them to remain in jail months after their sentences have been completed.
Kawwan completed his nine-month sentence three and a half months ago, but he's still behind bars.
Perched atop a shelf in the detention centre, the shy, skinny 14-year-old wraps his arms around his legs, tightly pulling his knees to his chest. Before being admitted, Kawwan spent a month locked in an Asayish prison. Hit with a rubber cord and handcuffed in a painful position — one arm over his shoulder and the other around his back — he was beaten for several days before giving in. "Anyone under that type of pressure would tell Asayish they were with Isis," he said.
Kawwan's uncle and cousin fought with the Islamic State and, although he says he never pledged allegiance to the group, for almost half a year he worked in their shop fetching material to repair cars and trucks. The boy never imagined that the time he spent working with his family could rob years off his life. "I really, really regret working for Isis. I hate the situation," he said, clasping his small hands on his lap.
The conditions the children are in can be dangerous, Ali Ismael Ahmed, a social worker at the prison, told the M&G.
"When they come they learn how to smoke weed or have sex and maybe when they go out they make problems," he said. In his 10 years on the job he's never seen such an influx of children considered to be terrorists.
Overcrowded prisons filled with young men have in the past served as prime locations for fuelling radicalisation in Iraq. The rise of the Islamic State was a result, in part, of men bonding while in jail during the 2003 Iraqi invasion over grievances against the United States.
Ahmed estimates that one in 10 children become radicalised in the detention centre, turning to extremism once they're released. He worries that, once released, even the ones who don't currently show signs of extremist ideology will have nothing to return to, thus forcing them into the hands of terror groups.
"If you speak to them, many think they've lost their future and they start thinking negatively," said Ahmed.
All the youths the M&G spoke to said that, as much as they want to be set free, they were terrified to go home for fear of being killed by the Popular Mobilisation Units, an Iranian-backed Shi'ite militia known for its brutality and for torturing Islamic State fighters in prison. Many boys said they'd never return to their towns, but weren't sure what to do once they got out.
For these youths to recover properly perceptions need to change, said Laila Ali, communications specialist for the United Nations Children's Emergency Fund in Iraq. "It's important not to label children who may have been affiliated as 'Isis children'," she said. "These labels reinforce negative perceptions and can hinder rehabilitation efforts and the children's eventual reintegration into their communities. We have to think of these children as victims of circumstance," she said.
The aid group helps provide social and legal services to the youths, such as access to lawyers and social workers. It supports vocational training, including learning how to fix mobile phones, work as mechanics and in construction. It's also tried to accelerate the process of children waiting for the high court after completing their sentences. In April and May 2017, 75 children were released as a result of the aid group's advocacy.
But Kurdish authorities say that, whether a child worked in an Islamic State shop, at a restaurant or as a soldier, they must still serve their time.
"A 15-year-old or a 50-year-old can both be a threat," Dr Tariq Noori, general director of Erbil Asayish, told the M&G. He denied that the security service imprisons and tortures youths and said that, once apprehended, everyone is taken directly to the detention centre. Children have been taught to "lie about the abuse" to lessen the punishment, he said.
Kurdistan's judicial system also refutes the claims that children are being mistreated or wrongly convicted. "In all trials there must be sufficient evidence that someone fought with Isis such as the clothes they have, someone holding a gun, having a witness or if the person confesses," said Khari Kheder Hussein, an Iraqi Kurdistan judge who focuses on terrorism cases involving youths.
But while Iraq's judicial system grapples with how to handle these cases, youths continue to suffer, many traumatised by the horrors they've already seen.
Momin was 15 and desperate for money when he decided to work in an Islamic State-run restaurant in Mosul in 2016. He left when the group refused to pay him. He's been in the centre since June after being apprehended at a checkpoint, but has yet to be given a lawyer or see a judge.
The prison social workers keep telling him that it will happen "tomorrow", he said. In the meantime he sits and waits, the memories of his past replaying in his mind.
"I saw Isis torture and kill people. One of them cut off someone's head in front of everyone because they said he was in Iraqi spy," said the now 17-year-old, hanging his head. "I kept thinking about my relatives and wondered if maybe one day they'll kill them in front of me."
*Update: The names of the teenagers in this article have been amended to protect their identities.