Nongoma in northern KwaZulu-Natal, 2009. ANC president Jacob Zuma is electioneering in the build-up to the national polls.
He is, typical for this campaign, about three hours late for a rally in what has traditionally been a stronghold of the Inkatha Freedom Party (IFP).
It is hot; political tensions are running high because the IFP is also holding a rally in the area and the army has been called in to help police to maintain order. This doesn't stop skirmishes between rival political supporters or the shooting of three ANC members later in the day.
The temperature is also hitting the upper 30s and shade is as scarce as a Zuma household budget. The bussed-in punters are getting restless and Msholozi's praise singers, the maskandi group Izingane Zoma, are trying to keep the crowd entertained.
Suddenly, a vertically challenged person in fatigues is thrown off the stage; he hurtles through the air, lands on his ass and completes a series of forward rolls. The crowd cheers with relish — and a touch of cruelty. Their baser instincts, as whenever Zuma breaks into song or thrusts out his tackle, are tickled.
Alongside the state capture project's rapacious pillaging of government coffers, the entrenching of social conservatism and rigid notions of tradition in society and political sophistry, which tortured both morality and rationality, one could add what was in more politically incorrect times referred to as "dwarf tossing" to Zuma's litany of fuck-ups.
But it is a moment of pure surrealism-meets-populist politics. It lathers the crowd up into a frenzy until the main act arrives. Zuma delivers a plodding speech, which very few seem interested in. Demanding murmurs of "Mshini! Mshini!" course through the crowd as he appears to reach the end. With a libidinous hip swivel Zuma relents and breaks into his signature song, Mshini Wami.
Teenage girls shriek and swoon. Gogos cheer. Men and boys sing along. For a period from 2005, when he was fired as deputy president of the country by Thabo Mbeki, until well after the ANC's elective 2012 conference in Mangaung, Zuma's song-and-dance routine had entertained and enraptured the ANC and the electorate.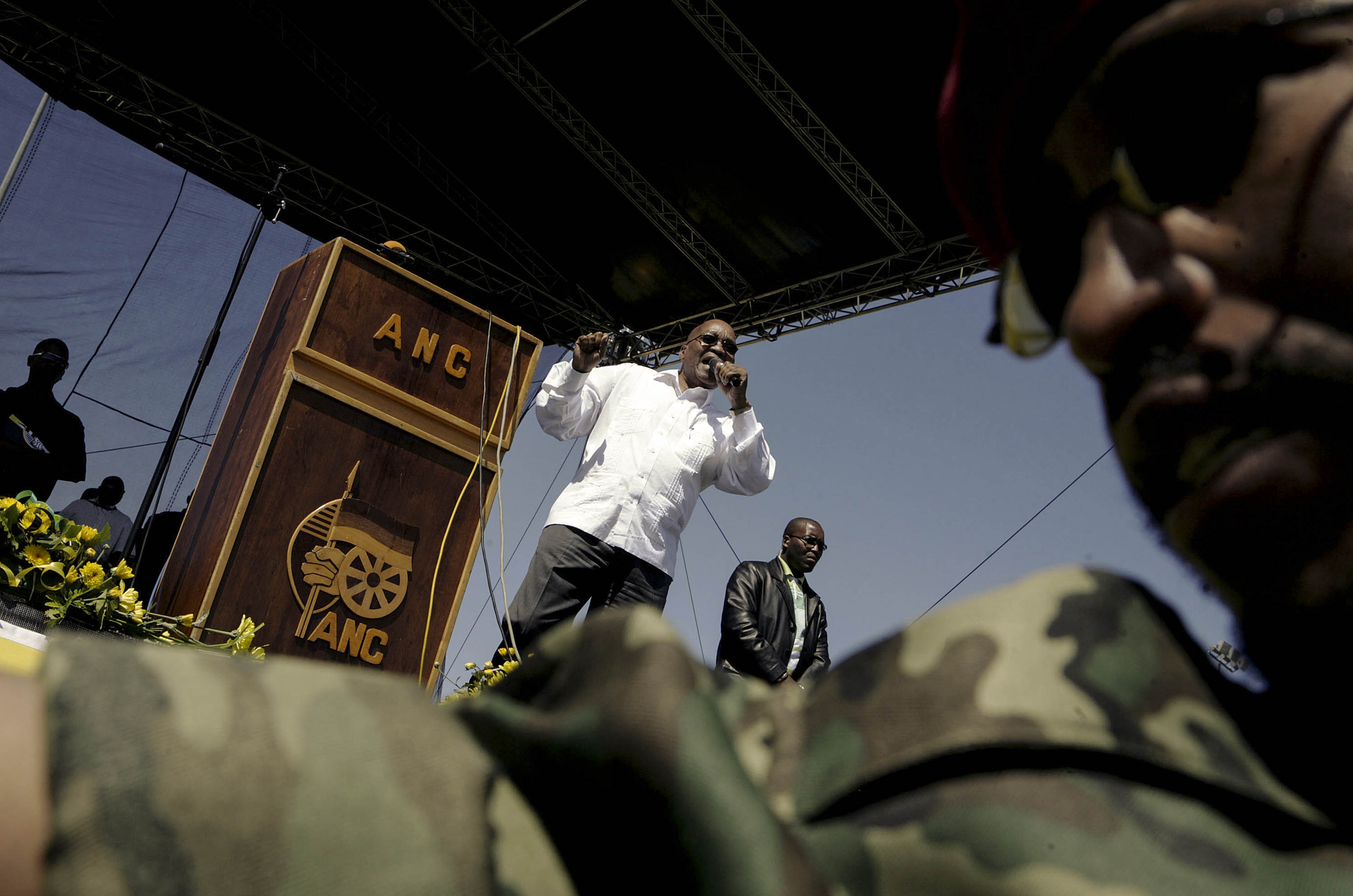 Jacob Zuma danced and sang in Khayelitsha ahead of the April 2009 elections. Photo: Pieter Bauermeister/AFP
Struggle songs, especially Mshini Wami (first sung during Schabir Shaik's fraud and corruption trial in which Zuma was implicated, but did not give evidence), were used by the former president to buttress his brand of populism. Alongside a Stalingrad legal approach, his co-option of journalists, political allies and spies, and his casting of himself as the victim of an Mbeki purge and as a guardian of ANC traditions and values, song became an important driver of Zuma's ascent to power. He was aided and abetted by popular groups such as Izingane Zoma, who released the album Msholozi.
During the Zunami, Zuma's campaign for the ANC presidency from 2005 to 2007, Mshini Wami was a mega-hit. Downloaded as a ringtone, pumped out by taxis, chanted by a character in a local soapie and its phrases used by announcers on Ukhozi FM. Considering that the station boasts six million listeners, one can safely say it permeated political and popular culture.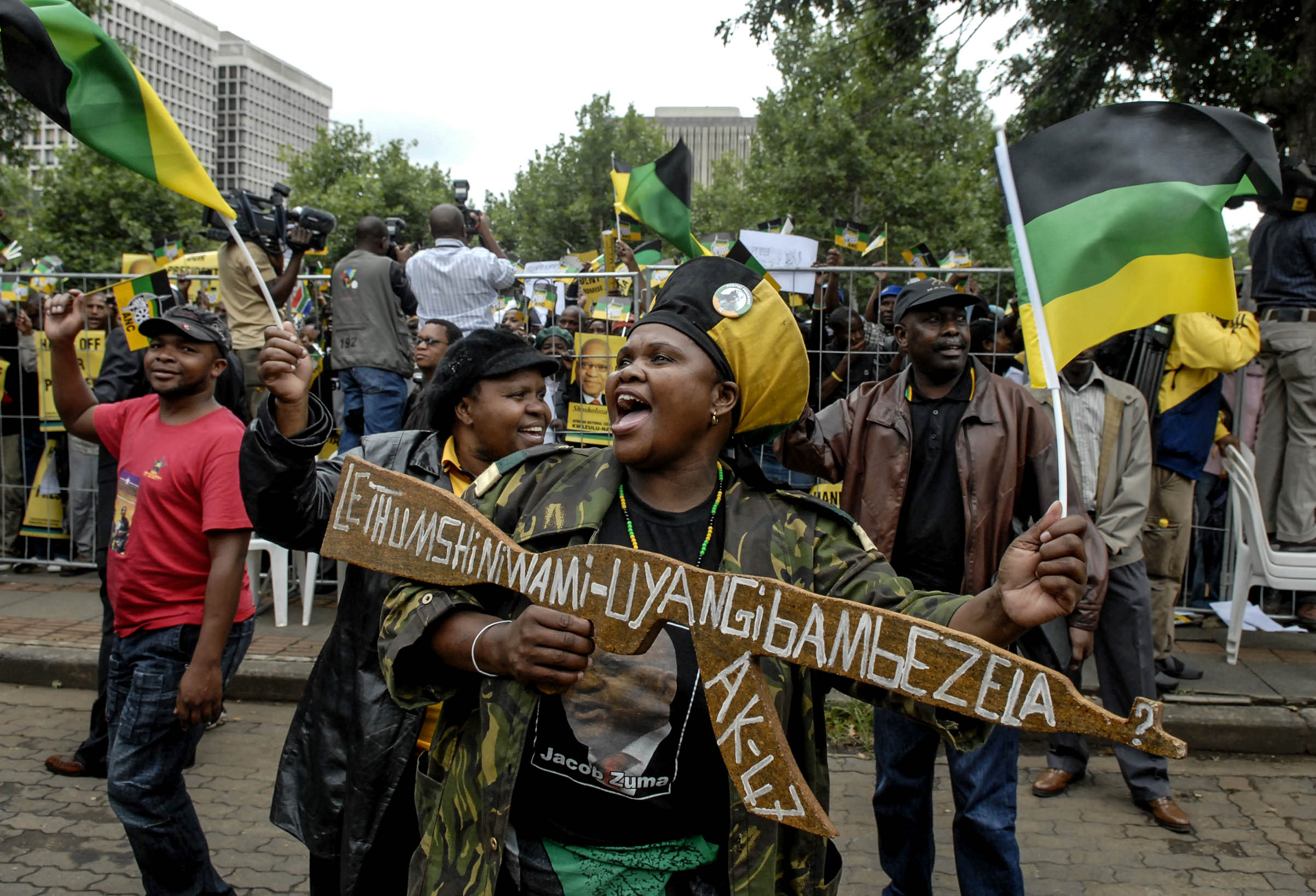 War of words: A Jacob Zuma supporter holds a wooden replica of an AK-47 with the lyrics of 'Mshini Wami' depicted on it. Photo: Rogan Ward/Reuters
According University of Johannesburg academic Liz Gunner, in her paper Jacob Zuma, the Social Body and the Unruly Power of Song, Mshini Wami "floated" across culture, region, language and class.
The song itself has several subtextual layers. Gunner found that Mshini Wami was created in Umkhonto weSizwe (MK) camps in Angola by the "guerrilla/outsider" wanting to return to South Africa to fight for the right to be a "civilian/insider". That insurrection by MK cadres was brutally crushed by commanders.
The song also captured the imagination of impoverished, disaffected South African citizens whose sense of marginalisation in the Mbkei-led democratic South Africa was similar to that felt by the MK cadres pushing for an invasion of South Africa.
During Zuma's first state visit as president in 2009, he travelled to Angola where then-president José Eduardo dos Santos was a keen supporter of his. Zuma visited MK's Pango military camp to commemorate comrades who had, because of their mutiny to return and fight against the South African army, been killed by their own. It seemed as though he was closing a chapter of inter-comrade rivalry between himself and Mbeki. Mshini Wami had returned victorious to its site of birth.
But Zuma is a nimble pop-culture Svengali. By the time of the ANC's 2012 elective conference, when cracks started to appear in his coalition of the captured, Zuma had stopped singing Mshini, instead heavily rotating Inde Lendlela Esiyihambayo [the lyrics continue to say] "kwasho uMandela kubalandeli bakhe [It's a long road, this journey we're embarking upon, so said Mandela to his followers]" instead.
With this song, Zuma wedded himself to an ailing Nelson Mandela and whatever rose-tinted nostalgia and goodwill people retained for him. Zuma's messaging was simple: "In me, you have another Mandela." It was cynical, opportunistic and "100% Zulu Boy".
Which is why the eThekwini municipality's recently announced R25-million budget to have Zuma record an album of struggle songs is not merely about capturing history for posterity and posteriors.
It is not even just about "blatant patronage where the people's money will be used to finance the former president's lifestyle", as the Democratic Alliance shrilled recently.
The deal is the basest form of self-enriching pop-culture politics. Song has become an essential mobilising form in South African politics. If Zuma does record this album, he would have a taxpayer-sponsored organising tool to attract support to his public appearances.
It is a desperate attempt to reinvigorate Zuma's waning political profile and influence among citizens in a year when he will eventually appear in court on the fraud and corruption charges he has evaded for more than a decade. It will be a year in which he may well have to explain himself to the judicial commission of inquiry into state capture chaired by Deputy Chief Justice Raymond Zondo. It is a fragile time when ethnic chauvinism is on the rise and a Zulu insurgency is threatened by the people of Zulu King Goodwill Zwelithini.
This is a desperate moment for a man who has fought for a large part of his life for freedom — his own freedom — and he needs a soundtrack for it.
---
---
How far Zuma's R25 million could stretch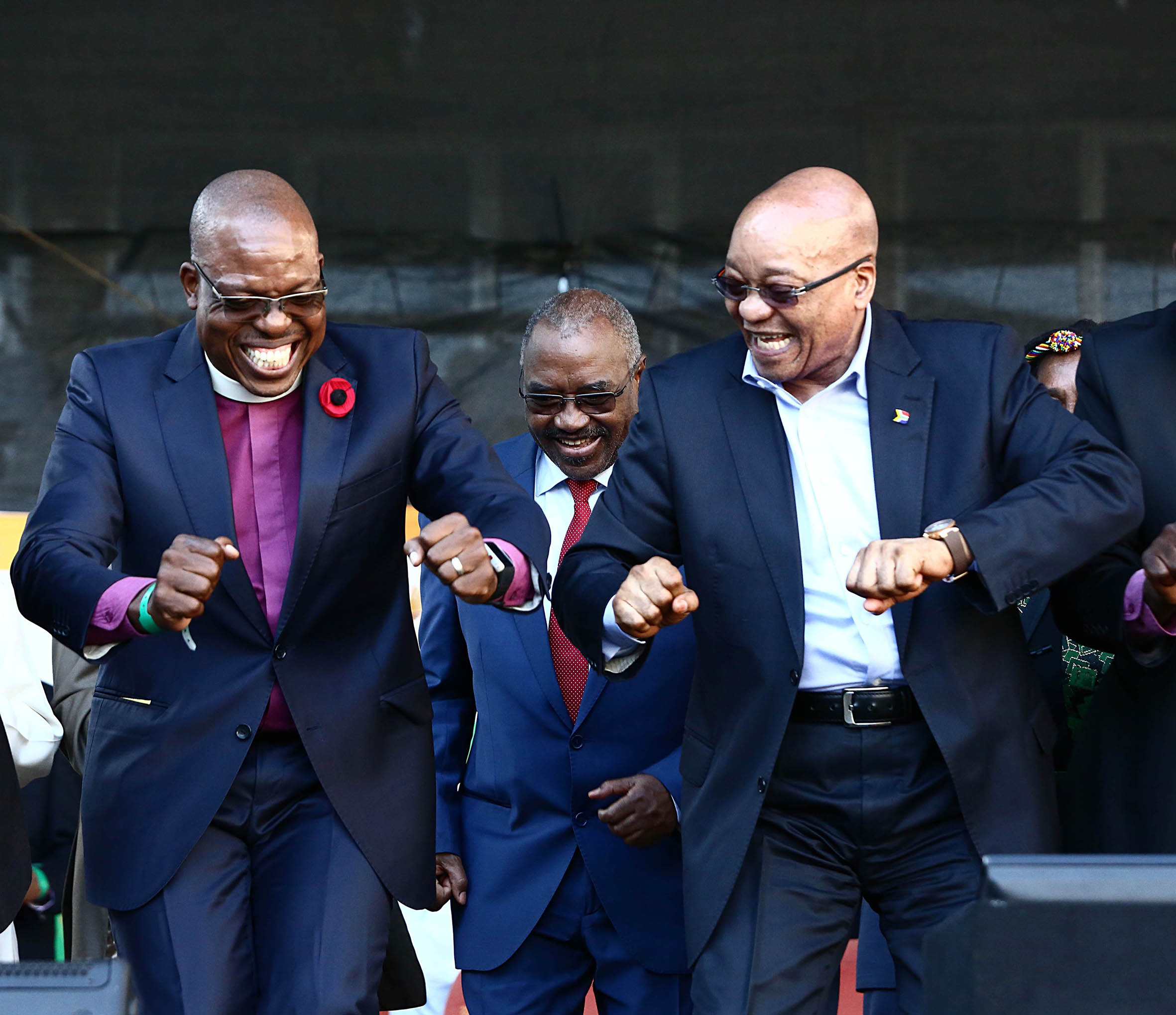 Jacob Zuma dancing with Reverend Vusi Dube and Thuli Dlamini. Photo: Gallo Images
Almost ten years ago I accompanied the judges of the Spier Contemporary biennale as they travelled the country sifting through entries and finalising submissions for their 2010 exhibition.
It was an open call, with everyone from internationally recognised artists to school children entering the competition in the hope of being included.
One entry in Durban consummately captured the ANC government's simplistic consideration of arts and culture in South Africa as nothing more than a nationalist tool. It spoke also, to how years of corruption and patronage had warped citizens' understanding of themselves in relation to the people they had elected to public office.
A high-school student had entered a portrait of then provincial minister of arts and culture, Weziwe Thusi, with a motivation that spelt out why he had chosen this particular subject matter. The student had created the painting in the hope that Thusi would see it, recognise his talents and make government money available for his artistic aspirations. For this rural kid, this was the only way — forget programmes by the departments of education or arts and culture — for him to fulfil his dream, his human potential, something safeguarded by the Constitution.
The ANC in government's approach to the arts has been horrifically simplistic and scattergun. It has a propensity to fund reductive "cultural" and "traditional" activities which deepen divisions rather than more challenging work which raises questions about our ever-changing identities. This current moment's lurch towards ethno-fascism is a consequence of this.
It is willing to spend millions on projects by people like Mbongeni Ngema or Jacob Zuma with little thought for the longterm, sustainable development of music, theatre, dance, fine arts and literary scenes and venues.
It has also conflated politics and popular culture to inflate the popularity of its leaders and ensure they attain celebrity status. The eThekwini Municipality's offer of a R25-million budget to former president Jacob Zuma is the most recent example of this but it is a phenomenon which goes back into the previous decade. Witness, for example, the road safety bashes thrown by current police minister Bheki Cele when he was provincial transport minister in KwaZulu-Natal, and where artists like Big Nuz performed regularly.
If the eThekwini Municipality were serious about developing the arts scene in Durban that R25-million proposed for Zuma's songbook of struggle would go a very long way towards creating hundred of jobs and developing a live music scene which is dying in the city.
Neil Comfort is the owner of the Rainbow restaurant and Jazz Club in Pinetown, just outside Durban. The Rainbow was founded in 1981 and has a rich struggle and musical history. Anti-apartheid activists, trade-unionists and students of all races frequented the club during the 80s while greats such as Feya Faku, Zim Ngqawana and Philip Tabane played there regularly. Archie Gumede and Terror Lekota were regulars. The club is in danger of closing down because of the high crime rate in the area and the proliferation of drinking holes in the taxi-rank area where it is situated.
Comfort says a R1-million subsidy would be used over four years to add two ticketed gigs a month to his programme and he would be able to hire an additional 15 people for additional security and food and beverage services — he can currently only keep twelve employees working during a gig because of financial constraints. The extra gigs would also mean at least twelve musicians and four technicians would have more work every month. The subsidy would also allow Comfort to foot the bill for a free monthly gig to showcase the talents of a young, emerging local artist.
Maybe it's time the eThekwini Municipality's department of parks, recreation and culture did their maths.