Consumers put the brakes on festive season spending, hurting JSE-listed heavyweights such as Mr Price, Woolworths and Massmart, whose results sparked a big sell-off in their shares.
Massmart, which includes Game, Makro, Wired and Dion, saw its share price fall by 21% on Tuesday after reporting flat sales.
Food retailer Shoprite, a market darling, dropped by 5.3% on the JSE (although it returned to previous levels by the close of the market on the same day) after it reported sales growth of just 2.6% for its supermarket business. Its overall turnover, held back largely by its non-South African operations, grew by only 0.03% over the past six-month reporting period.
"The economy is struggling and consumers up until November were facing the highest petrol price in the country's history," said independent retail analyst Syd Vianello. "Although petrol prices did finally come down in December and January, it was a bit too late to change attitudes."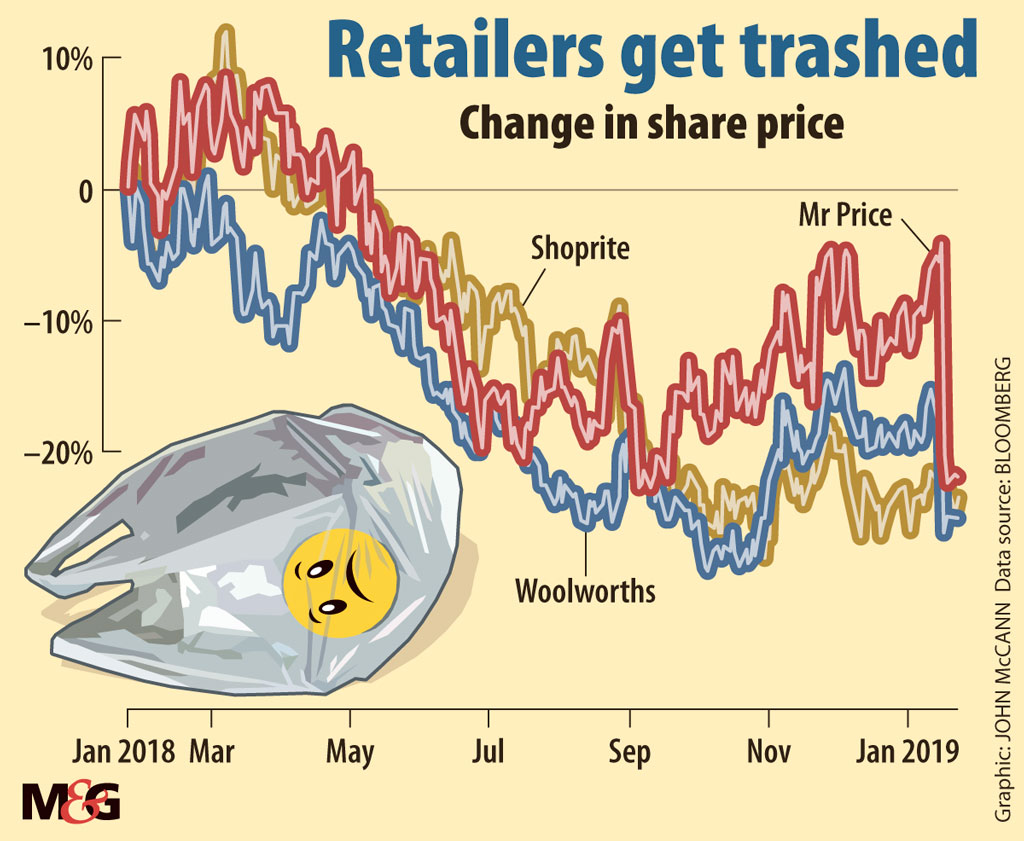 But the latest retail figures from Statistics South Africa do not paint such a gloomy picture. It reported that retail sales grew by 3.1% in November compared with the previous year. The largest annual growth rates were recorded for retailers in household furniture, appliances and equipment with 13.5% growth, and retailers in textiles, clothing, footwear and leather goods at 4.2%,.
"All of the updates with an exception of Foschini have pointed towards slowing and failed momentum," said Abax Investment portfolio manager Justin Hollis. "If you look at Shoprite, which is relatively a defensive company with a food offering, its sales in South Africa was the lowest rate of growth for the first time in several years. This talks to the fact that the consumer remains under a lot of pressure; they are struggling to spend money on food."
Shoprite reported that its Christmas sales included school essentials, which outperformed traditional discretionary purchases. "The mere fact that consumers were not buying toys, they were buying back-to-school merchandise, shows that they did not have money and had to prioritise," Vianello said.
Woolworths recorded a sales increase of only 1.9%. The store's fashion, beauty and home section declined by 2%, compared with a 3.4% drop in the same period last year, but its food sales increased by 6.3%.
"The outlook for Woolworths remains challenged given the subdued trading environment in its key markets [South Africa and Australia], sombre outlook for department stores [such as David Jones] and several management changes," Hollis said. "Concerningly, like-for-like volumes continue to slide, indicative of a challenging macro environment and an offering that isn't resonating with their customer base."
Mr Price reported a 3.5% growth in sales compared with last year's increase of 8.3% in the same period. "Mr Price will prove more resilient versus its domestic competitors. Its business model and offering remain relevant and management has a long-term track record of driving robust returns," Hollis said.
Two retailers that bucked the trend were healthcare product retailer chain Clicks and fashion retailer Foschini. For Clicks, the 20-week period to January 13 in group sales went up by 7.8%. Hollis said Clicks continued to benefit from structural tailwinds, including the consolidation of retail pharmacies.
The TGF group, which includes Foschini, Sportscene, Totalsports and The Fix, had turnover growth of 9.5% in its African operations.
Hollis is bearish about consumer spending. "Consumer inflation is expected to remain inside the South African Reserve Bank's 3% to 6% target. However, unemployment remains at unacceptably high levels and consumer confidence is depressed.
"President [Cyril] Ramaphosa is on the reform track but structural rigidities [remain education, labour markets, electricity supply] and the debt burden of the public sector and state enterprises will weigh on growth prospects.
"The general election this year should help cement Ramaphosa's power base and, with that, accommodate more decisive reform which the market has long been hoping for. This is expected to pave the way for better growth prospects for 2019."
Tshegofatso Mathe is an Adamela Trust journalist at the M&G