'Are you sure? Fok, these leeskringe are usually a bunch of old white women," Herman Lategan messages me in response to me telling him I would be attending the Johannesburg launch of his book, Opstokers, Fopdossers en Tweegatjakkalse, a collection of his biweekly columns in Rapport newspaper.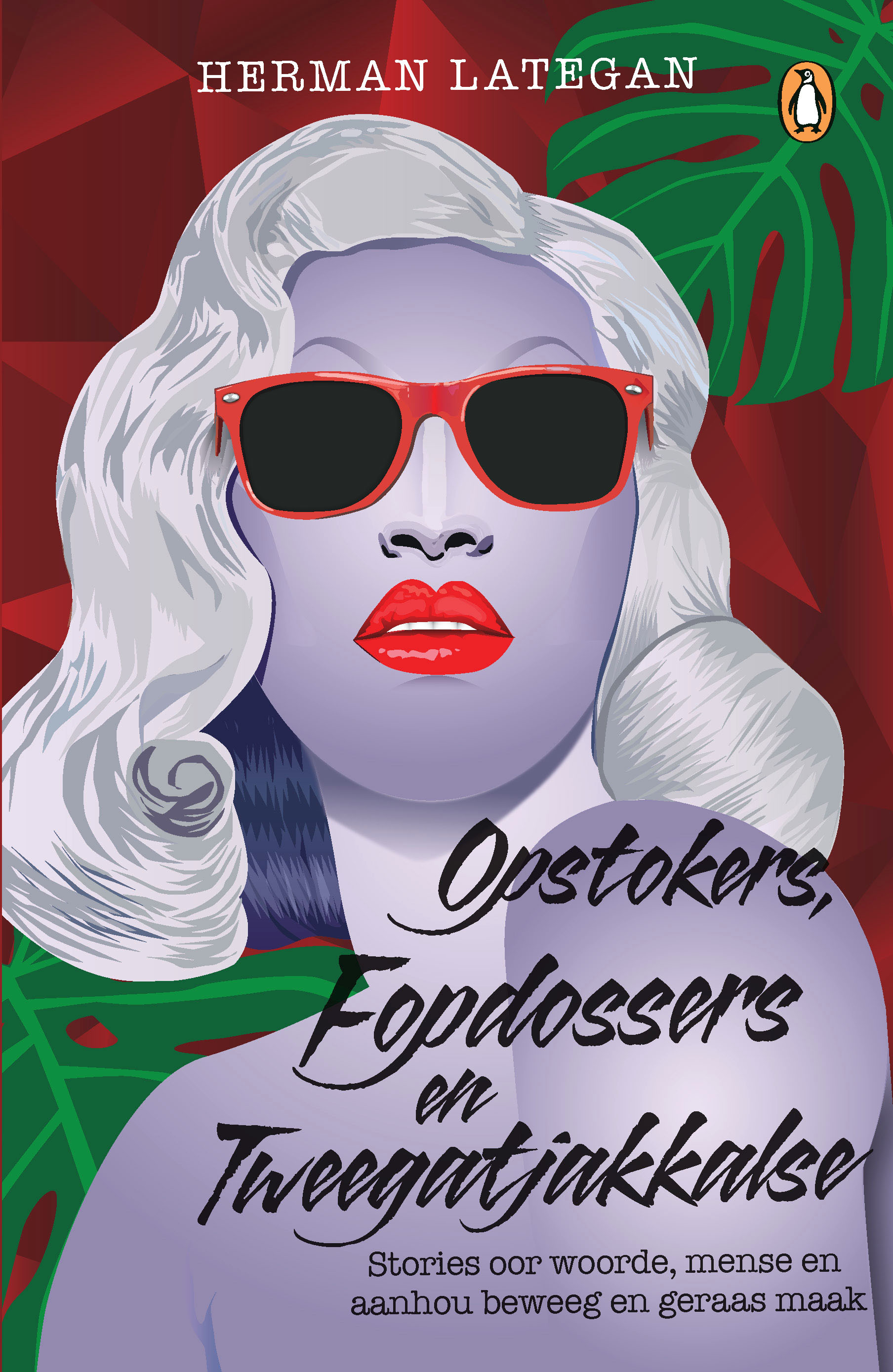 Opstokers, Fopdossers en Tweegatjakkalse by Herman Lategan.
For the column, titled Woorde Wat Wip, Lategan would weave a story around a word that is rarely, if ever, used in the Afrikaans spoken today.
As he correctly predicted, the launch, held in one the city's affluent suburbs, is filled with well-heeled white folk — a world away from the one Lategan inhabits and that he documents with disarming and lyrical beauty in the collection. His world is one of drag queens, brown folk, long bus rides across the country, poor folk, bergies and the crazy characters that make up the fabric of Sea Point.
Here, the author speaks candidly about his struggles with his predominantly Afrikaans audience, writing as a tool for change and Sea Point's "complex and cruel" nature.
During the discussion at the book launch, you mockingly quipped: "Daar is baie wit mense hierso [There a lot of white people here]" …
The fault lines are there after all these years [laughs]. It's the truth. Look, it was very nice and the organisers were kind and all of that. But I find that I go to these book clubs and it's all lovely. Daar is koeksisters en tert [there are koeksisters and tart] — but I find that there is still this divide, with the colour issue, and it doesn't make them bad people. Those people who arrived there were kind, good, hard-working, friendly people. It's just a terrible reality that this is the way it is. And maybe it is because I wrote that column specifically for an Afrikaans newspaper, which is mainly read by white and so-called coloured Afrikaners. So black people won't read that, you know.
Let's talk about the characters you write about, you speak of …
I have an eye for the underdog and the outsider. Because I myself was born out of wedlock and my mother had a terrible time with that. I had this outrageous mother, you know, who had drag queen friends, gay friends and women who were single mothers and a lot of coloured friends in District Six. I remember going with her as a child to visit friends in District Six and the Bo-Kaap. I was lucky to be exposed to a not-so-typical white South African childhood. Being exposed to that in the sixties and 70s was quite informative for me.
One of the people I write about in the book is this drag queen friend my mother used to have. He used to have all these coloured boyfriends and gave them names like Telly Savalas. He would arrive with a boyfriend and say: "This is Julio Iglesias." Of course we knew those weren't their real names. It was just part of the fun. It was completely avant-garde and out of touch with the rest of white South Africa at that stage.
A lot of what you write about seems to be focused on Sea Point?
Ja, because that is where it all happened, mostly. In those days, in the 1970s, Sea Point was not a posh area, believe me. It was a totally normal area with a lot of poor, single white women, a lot of moffies, and black and so-called coloured people who worked for Jewish people. But they all lived there, they all mixed and walked in the streets. There wasn't much apartheid in Sea Point, really. Except for the [public] swimming pool, where the maids, as they called them then, weren't really allowed to swim. You know, they could take the white children there, but they weren't allowed in the water.
I felt that Sea Point was far less segregated than the rest of Cape Town. Although, obviously, there was a great deal of segregation. I mean, if you look today at those old maids' rooms, they were tiny. There was enough space for just a bed and maybe a bathroom, if you're lucky, and a little kitchen. So it's a double-edged thing: on the one hand, it was cosmopolitan and on the other there were those little rooms. The maid had to look after the little white children, but her own children couldn't stay with her. She had to go on the weekends to visit her children — only if the white family allowed it. So you know it's so complex and so cruel.
Recently there's been a strong push by organisations such as Reclaim the City to secure affordable housing in Sea Point. What are your thoughts on this?
I think they're doing a very good job and I think they need to push it further. The people that lived there for years can't live there anymore. There is a woman I know, Klara Fortuin. Klara Fortuin [has] worked in Sea Point since she was 20; she is now 55. Her children have gone to school in Sea Point. The people she worked for have died and she can't afford to live in Sea Point anymore, so she has to fuck off. What is she going to do with her children? Klara Fortuin is just one of example of many like her, who have lived most of their adult lives in Sea Point. Their children grew up there and are still growing up there. They cannot find a place to live anymore and now they have to fuck off, because it is so expensive. It's completely unfair. I really do believe there should be affordable housing for people like Klara and her children.
What is your main hope? I know you didn't set out with a particular goal to start the column, or to have the book published, but if you could have it do one thing, what would that be?
With the particular market I am writing for, I think I'm a bit of a maverick. I write a lot about being gay, about so-called coloured people, about stuff that makes them feel uncomfortable yet they are attracted to it. It's a weird thing. They know I am telling the truth, but at the same time, it makes them highly uncomfortable. I am highlighting drag queens and people of colour and what they went through, but at the same time I am speaking their language. They think it's mos their language. Hulle ma se poes, man. The real Afrikaans is spoken on the Cape Flats. My column is my Afrikaans experience and what I've encountered with bruin mense and drag queens and poor people and so forth.
There is a fantastic columnist in Rapport as well, called Nathan Tarantaal, who does the same thing and [is] doing it even better. He writes a fantastic column in Kaapse Afrikaans. And in the beginning, the readers went befok; they hated him. There were letters that arrived at Rapport saying: "Nobody speaks like that." That's how switched off they are.
Do you think that writing can in some way break down those kinds of barriers?
The story I wrote about Shereen Bester [a woman whose mother worked as a domestic worker in Sea Point] is a very important one. Because if you look at that, you see that a lot of the psychological damage that has been done to people on the Cape Flats can be traced to that. There was no mother [in the home]. Or there was no father. I mean, we were poor but I at least didn't get afval kos [waste food] like Shereen and her family did. With that Shereen story, I got so much positive feedback, especially from middle-aged Afrikaans men. I'll never forget it. They got back to me and said: "We never knew; we never thought about it."
It showed me that, no, people don't think about these things until someone tells them. I mean, I myself didn't think about it until Shereen told me that night. People are generally so fucking switched off, until they are in that situation themselves. I mean I as gay man I can have a certain lived experience. But if I don't know about your experience, then I think the art of storytelling is probably the way to go, you know?
Carl Collison is the Other Foundation's Rainbow Fellow at the Mail & Guardian