The M&G Data Desk analysed the previous 29 State of the Nation addresses (Sona) delivered since 1994. In total, 97 530 words were pulled from the government's website and categorised according to their dates and related speakers.
Of all the presidents, Jacob Zuma spoke the most about land. In 2013, 10% of his total 2 606 words were about land redistribution.
Runner-up Thabo Mbeki spent 5% of his Sona in 2006 highlighting land ownership patterns. (In general, his speeches mostly focused on the economy and investment. In 2003, he mentioned the economy 20 times.)
About 2% of Nelson Mandela's words and 1% of Cyril Ramaphosa's were about land ownership, the former regarding the introduction of the Land Claims Court in 1996 and the latter about the need to accelerate land reform in 2018.
Another topic Zuma focused on was education. He referenced the term 14 times in 2013, the most of any presidential speeches.
And the number of words the presidents spoke during their addresses?
Mbeki on average spoke 3 809 words during his speeches.
Zuma filled his time on the podium with an average of 2 964 words —the least of all presidents. Mandela and Ramaphosa, on average, spoke a moderate 3 113 and 3 306 words respectively.
Kgalema Motlanthe delivered the longest Sona — 4 000 words in 2008.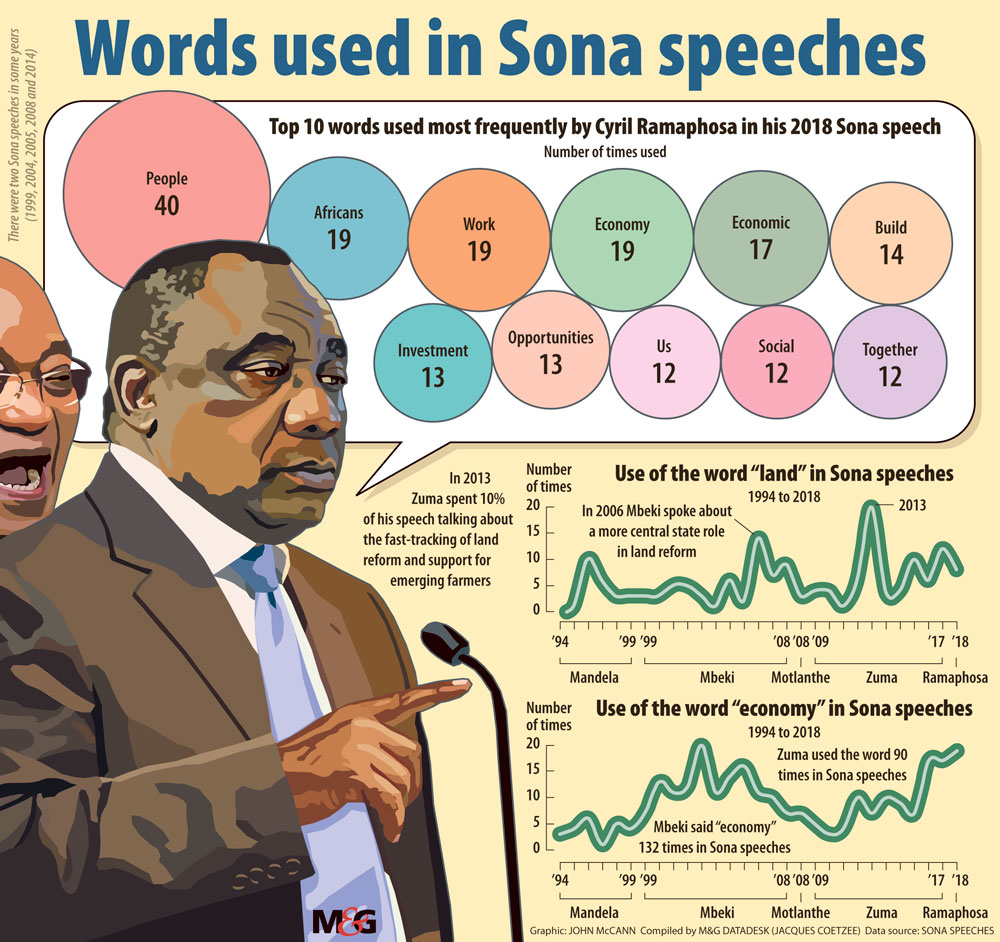 Jacques Coetzee is the Adamela Trust data fellow at the Mail & Guardian, a position funded by the Indigo Trust