Hope, optimism, resilience and progress — that was the message of President Cyril Ramaphosa's State of the Nation address on Thursday. He looked confident — and very much still like the man who stood in the same spot a year ago, invoking the spirit of thuma mina.
Though he must still battle his way through the morass of ANC factional politics in Luthuli House, inside the National Assembly, he looked upbeat, and very much in charge. What's more, he sounded like a president confident of the trust of the electorate.
"Our people have embraced the renewal that our country is going through and are much more hopeful about a better tomorrow," he said.
"Our people's hope is not baseless; it is grounded on the progress that is being made."
Reflecting on interventions in state-owned enterprises and crucial state agencies such as the National Prosecuting Authority and the South African Revenue Service, he emphasised that "meaningful progress" had been made. It's not all bad, he seemed to say, with repeated reminders that much more will have to be done for a more just society to be achieved.
Over the past year, Ramaphosa has not shied away from addressing the problems that beset his government. He recently irked former president Jacob Zuma by describing Zuma's presidency as nine wasted years. But he still struggles to explain his complicity in those nine years.
When he spoke about the various commissions of inquiry underway on Thursday, he noted: "The revelations emerging from the Zondo commission of inquiry into state capture and other commissions are deeply disturbing, for they reveal a breadth and depth of criminal wrongdoing that challenges the very foundation of our democratic state."
It is the idea that even as deputy president he did not know the extent of the rot, that many will struggle to believe.
And Ramaphosa understands well that, just as time has not treated Zuma well, time may well still prove unkind to his legacy.
"We only have a few months to go in this administration, and then, boom, a new administration," he said.
Still, he was upbeat, confident, approaching the coming storms with apparent equanimity.
---
Master of the art of politicking
For weeks leading up to the State of the Nation address, the Red Berets threatened to disrupt the occasion.
They insisted they would demand answers from President Cyril Ramaphosa about the R500 000 donation to his campaign from the services management company, Bosasa, before his election at the ANC's Nasrec conference in December 2017.
Right up until Thursday afternoon, the Economic Freedom Fighters' (EFF's) chief whip told reporters that the party would caucus 30 minutes before the scheduled start of Ramaphosa's speech to decide whether to disrupt it.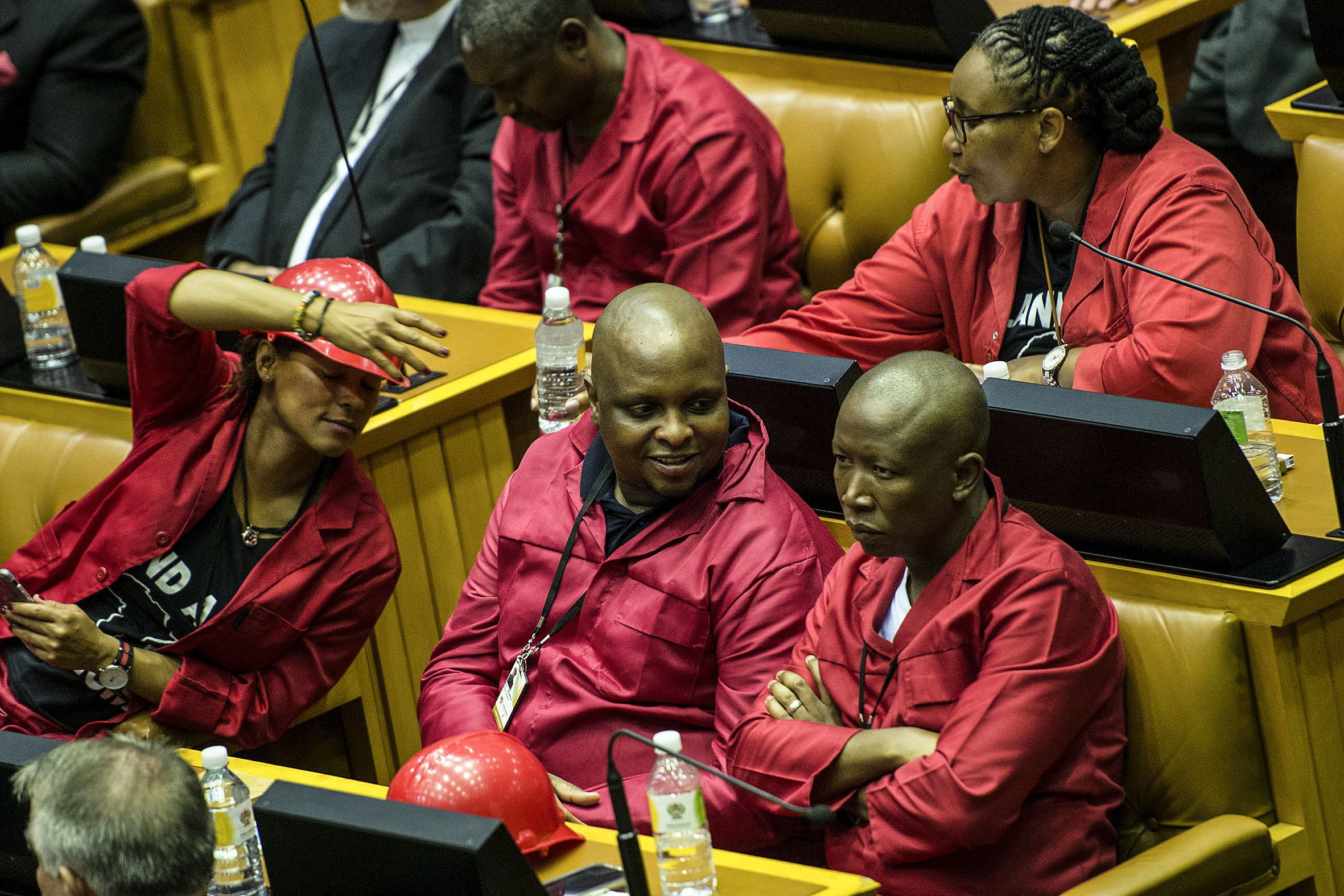 Julius Malema, leader of the Economic Freedom Fighters, sulks in his seat. (David Harrison/M&G)
All the noise, however, came to naught. With a single digit representation in Parliament, the EFF had made their haranguing of former president Jacob Zuma a mainstay of parliamentary "debate" in the previous administration.
In the public eye, deploying the same blunt tactics for Zuma's successor, or vanquisher, depending on your reading of history, seemed foolish.
Minutes into his prepared speech, and with the Red Berets increasingly vocally muttering "Bosasa", Ramaphosa diverted from his address, telling the auspicious gathering of a chance meeting with Malema.
The president relayed a short, amusing account of how he had promised that he would sing Thuma Mina to Malema if the EFF leader became president. In fact, he would even rope official opposition leader Mmusi Maimane into the choir.
Malema leaned back into the padded leather bench, amused and grinning from ear to ear.
With that deft politicking, Ramaphosa disarmed a political opponent who is so often the master of the big show. It ought to remind Ramaphosa's other opponents, both inside and outside the ANC, that he is as wily as he is charming.
Malema spent much of rest of Ramaphosa's address scrolling through Twitter.