Kaliyu-topia, Kiveshan Thumbiran's MA exhibition, takes a look at South African Indians in post-apartheid South Africa, and remixes epic Hindu texts with contemporary dystopic realities. Thumbiran sat down with Youlendree Appasamy to talk through his art-making process, which is a combination of digital art, video art and printmaking.
How long did it take you to make images for the exhibition, and then collage them into various scenes?
Kiveshan: The artwork itself took about a week to create for no other reason than that the size of the print took very long to save and process on a computer. With regards to each print it could take up to two to three hours. This is actually quite fast but it's because I have been working in and teaching Photoshop for almost four years now.
What was the thinking behind printing on PVC banner? It reminded me of advertising banners, which further lends to a capitalism as dystopia theme, in my mind.
Kiveshan: Besides it relating to ideas of economic dystopia as well as the characteristic of dystopia to replace the real with synthetic (like real grass with astroturf or animals with cyborg; the PVC would replace paper), the PVC banner becomes a piece which is mobile and has longevity. My work could be disconnected from the gallery space and placed into the public space and able to withstand the elements and wear and tear without fear.
Were the scenes thought through beforehand, and then images made?
Kiveshan: Yes, before engaging with the scenes I first think of the idea and narrative and go through a writing process where I write the narrative of my work as though I'm a sage who is attempting to write this story for future generations. Finishing this, I then go into the artmaking process.
What interests you about collaging in your art-making?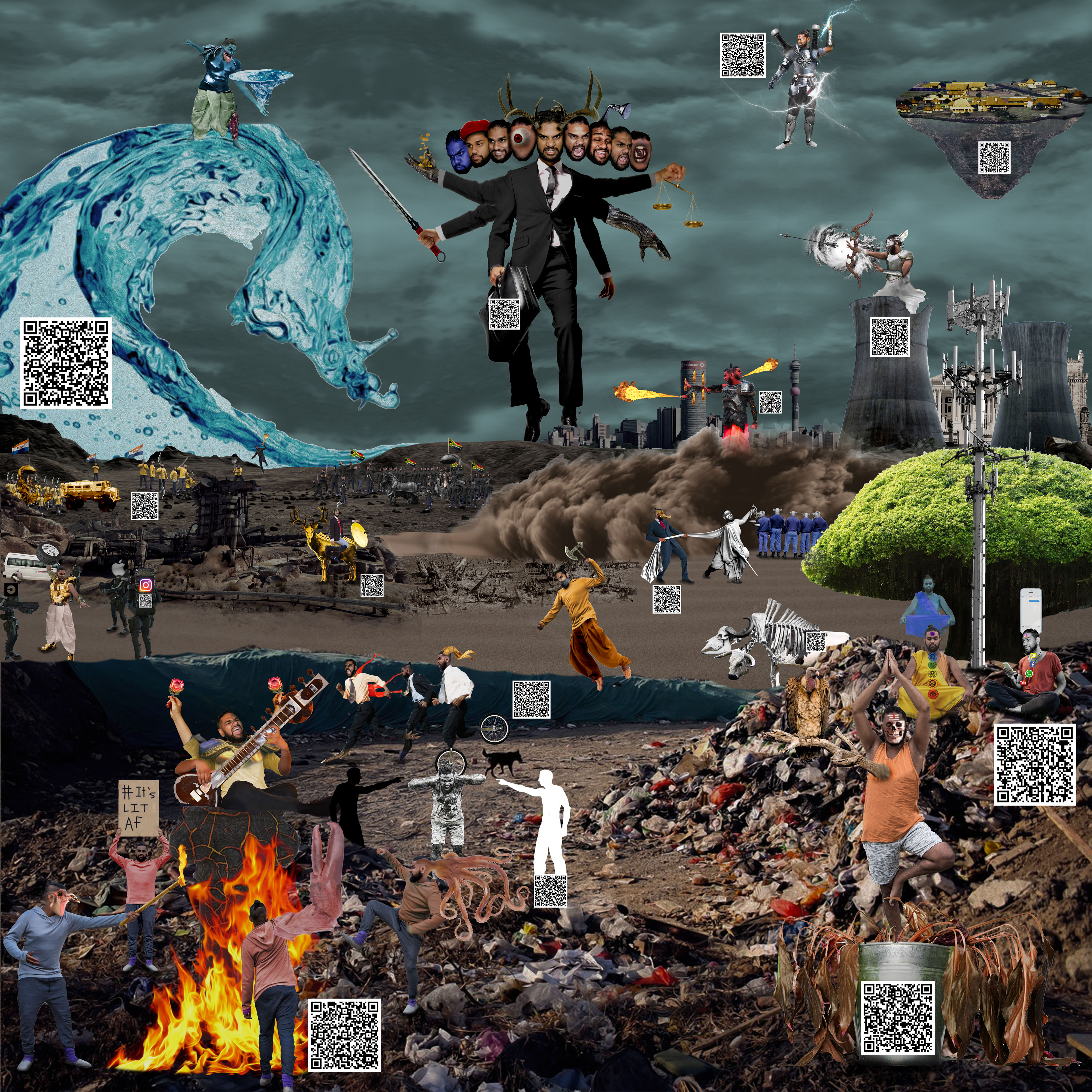 Kaliyutopia by Kiveshan Thumbiran. The artist sees collage making as more than a prelude to creating art work
Kiveshan: The collage has always been an interest of mine as it has always been a prelude to something else in the academic artmaking space. One collages images to create a reference for drawing, painting, sculpting or use in printmaking. Many artists do not realise that the reference itself is an artwork that can hold its own. To take the collage away from the sub-category of reference I have instead incorporated it into the digital print. The idea of cutting something up and making something else of it has been an interest of mine. Combined with my knowledge in Photoshop and ability to conceptualise imagery that can make use of the process, I find myself looking at imagery that could not be conceived without this process.
What kind of materials do you work with in your art-making process, or what materials do you gravitate towards? Why?
Kiveshan: As an undergrad and graduate I found myself caught in the romanticised ideas of drawing and sculpture as the ways to make work. However, the unsaid rule of moving from undergrad to grad and postgrad in an environment such as an art school, one must look to constant pushing of their boundaries. So, after moving into drawing and digital collage in my fourth year in 2016, my post grad abandoned drawing and traditional art forms for the digital experience. The world is changing; the art world is no exception. The rule of progress is, swim with the wave or die. I believe that digital art is the future and that to become a sort of pioneer in the field is necessary. The digital medium is the medium of the future.
How long have you been making video work?
Kiveshan: It was a module in my second year of studies in 2014, but I never really made video work until I got into doing my master's.
Why did you choose to use QR codes?
Kiveshan: The QR code technology is a really big right now, especially because it's being implemented into our contemporary payment systems where you can scan a QR code and pay. I thought that it might be a good way to engage with the databases on my work.
Could you walk me through your typical process in making Kaliyu-topia? On Instagram I saw you drawing Honourable Ravan – did sketches come into the making of Kaliyu-topia?
Kiveshan: No sketches on paper. I use the actual Photoshop software to plan out and create my work. So my process begins with thinking of an issue I would like to deal with. I then look at Hindu mythology for scenes, characters or incidents which could relate to said issue. This leads to me searching the internet for images which I think could work and then begin the process of cutting, collaging and reimagining these images into my vision. This process could easily take two hours.
The exhibition is on at UJ, where Thumbiran now lectures in new media studies, until March 29