The Zondo commission of inquiry into state capture continues on Tuesday, with former ANC MP Vytjie Mentor set to be cross-examined.
Mentor concluded her evidence before the commission — chaired by Deputy Chief Justice Raymond Zondo — on Monday and will now take the stand to defend testimony she previously gave in August 2018. Mentor has implicated a number of people in her testimony, including former president Jacob Zuma, but the main opposition to her testimony will come from the Hawks.
During the course of her testimony, the former ANC MP revealed she had resolved to lay charges against "a number of people" at the Durbanville police station. This was after she divulged the details of her alleged 2010 meeting with Gupta patriarch, Ajay, in a 2015 Facebook post.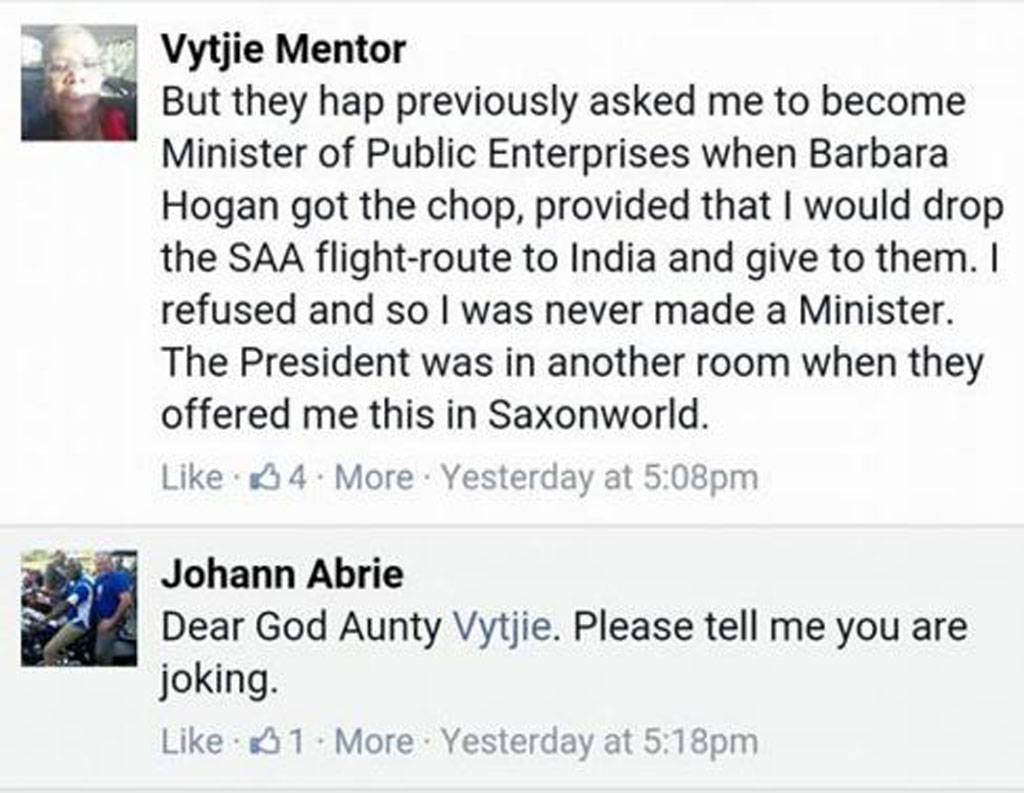 Mentor claimed she was taken to the Gupta family's Saxonwold compound in October 2010, where Ajay Gupta offered her the job of public enterprises minister in exchange for her co-operation in shutting down the South African Airways route to Mumbai. She further alleged that Zuma emerged from one of the rooms in the residence to calm her down after she refused the offer.
She told the commission that when she had resolved to lay charges, she had requested to make her statement at home, because her allegations implicated high-profile officials. Mentor recounted how two police captains came to her house the next morning, where they transcribed her statement.
"We had breakfast, we had lunch, we had dinner; we continued with the task," Mentor recounted. They only finished taking her statement at 9pm, Mentor said.
She said her handwritten statement was "airlifted" in a private jet to Pretoria at the behest of then Hawks boss Berning Ntlemeza. She was approached by Hawks advocate Mandla Mtolo some time towards the end of May 2016, who presented her a "corrupted" version of her statement, she alleged.
Mentor read out her original handwritten statement during her testimony last year. In it, she said certain ministers, "as well as the president to a certain extent", have "a corrupt relationship that gives unfair advantage to the Gupta family".
According to Mentor, Mtolo told her to remove the phrase "as well as the president to a certain extent". Mtolo has been granted leave to cross-examine Mentor.
Mentor was not the only witness to implicate the Hawks. Former deputy finance minister Mcebisi Jonas alleged last year that senior Hawks officials had tried to foil an investigation of a bribe he was allegedly offered by the Guptas in exchange for his co-operation after the family installed him as finance minister.
Jonas recounted how the head of the Hawks' anti-corruption unit, Major General Zinhle Mnonopi, allegedly attempted to coerce him into signing a statement that would halt the police investigation into the matter. The statement was presented to him by Mnonopi, dispatched to deal with the Democratic Alliance's complaint by Ntlemeza.
Phillip Mokoena SC, who led the testimony, asked Jonas whether the police statement he was asked to sign was false, to which he replied the affirmative, saying he had refused to sign it.
Mnonopi was suspended in light of Jonas's allegations. Mnonopi applied to cross-examine Jonas, but subsequently withdrew her application.