There is a bed with a crumpled duvet exposing the sheet underneath. The curtains are closed, and in one corner of the bedroom, a lamphead droops over its stand. A bright light attached to the roof illuminates the room so that when Bongekile Simelane, known as musician Babes Wodumo, is violently lunged at by her boyfriend, Mampintsha (Mandla Maphumulo), the swing of his arm moving viciously at her is clear for everyone to see.
This is the video that shocked South Africans this week.
When Simelane streamed the video from her Instagram account on Sunday night, she revealed the kind of violence that survivors and victims of domestic abuse suffer. Police crime statistics for 2017-2018 show that 67.3% of reported domestic abuse cases in South Africa involve physical violence.
Some women spoke about what has happened in their bedrooms, that intimate space where they are meant to feel safe but where instead they feel fear.
The bedroom where Thembi Mazibuko* lived with her baby
"We were living in a one-room flat so all the occasions happened in the bedroom," says Thembi Mazibuko.
"One night he came back from God knows where, as he felt he was not accountable to me. It was in the evening and our three kids were in bed already. I was in my nightdress and getting ready to sleep when he arrived. I gave him his food and prayed for it. He then said: 'Why are you disrespecting my God by praying while you are naked?'
"He then beat me up and insulted me. He would say I am a useless bitch who does not even know her father.
"I am a child of a single parent, by the way.
"I tried to run away but just after I got out, he caught me before I closed the front door. I was planning to lock him inside and get enough time to escape. We both struggled with the door. Him trying to open as he was chasing me, me trying to close and lock so I can get away.
"While he was pulling the door towards him, he balanced against a wardrobe that was near the threshold. The wardrobe fell on the bed where our five-month-old daughter was sleeping. He did not care that I was crying out, saying the wardrobe must have fell on the baby. He continued to beat me up. One of his fists caught me and I bumped my head against the wall.
"The neighbours were outside the door but nobody intervened. I think they did not want to interfere in people's business.
"I fell and was out for some time. When I came to, people were talking next to me. He was there too and he was busy justifying his actions. Telling everyone how I deserved what he was doing as I was disrespectful. Fortunately the baby was not harmed.
"When everyone went away, we both went back inside and I tried to sleep. He started where he left off with the insults and he wanted to beat me up again. I went out of the room. He looked for me but couldn't find me. I knocked on one of our neighbours' flats and asked to sleep with her. This is one of many incidents."
The bedroom where Tshepang Musi nearly died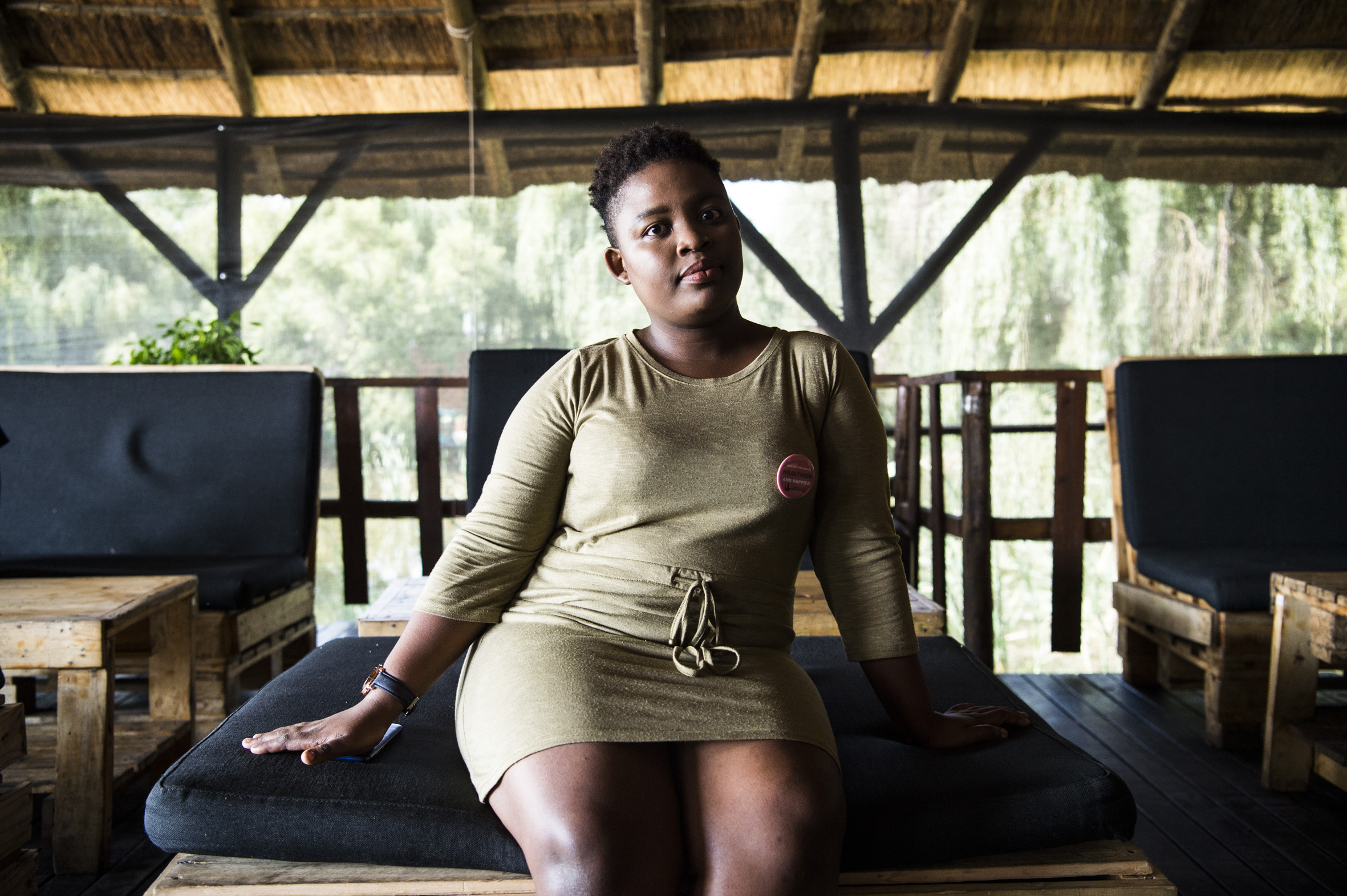 Survivor: Tshepang Musi loved her ex-boyfriend, but then things changed. He tried to stop her from studying and videoed her naked. Then he beat her senseless and dumped her in a cemetery. Photo: Delwyn Verasamy
"I loved him more than I even loved myself. This incident happened when we were at his house after a wedding," says Tshepang Musi.
"His house was a house with two bedrooms. He asked me why his cousins were talking to me at the wedding. Then he left it.
"He went to the kitchen to drink some alcohol. It was like that. He would go to the kitchen, then come back to the bedroom and ask me something.
"He asked me to drop out of school. I was doing a human resources and management course. I wanted to empower myself so that one day I'll be able to leave him. I felt like I couldn't leave because I was still a student. The money I was receiving at home was not enough.
"So I said no. He made me shoot a video of myself naked. I was even crying in the video. He kept telling me to drop out of school and I said no.
"He started to hit me and I fell to the ground. Then he started kicking me until I couldn't stand up.
"When I tried to get up, he took a taser that he had and placed it on my neck and that's when everything went blank. I don't remember what happened.
"I woke up in hospital a day or two later. A lady had found me in a cemetery wrapped in a sheet. He thought he had killed me. He wrapped my body in a white sheet and put me in the boot of his car. He drove to the cemetery.
"When I woke up the nurse said: 'You've been raped. We found three different kinds of semen.'
"I don't know what happened but I was raped by men I don't even know. She told me I had an STI [sexually transmitted infection] and they thought I might be pregnant but they would do further tests.
"I am a very strong woman. After that, I never saw him again. The police found him and he was charged with assault and attempted murder. Before he could complete his sentence, he died. He died on my birthday in November 2017. They said it was heart failure."
The bedroom where Andrea Walters couldn't sleep
"He seemed like a good listener. In retrospect, he was rather obsessive in finding out what I liked and the people that were important to me, making grand gestures to make them feel special too," Andrea Walters says.
"He was a renowned South African sportsman. Hypermasculine, short-tempered and abusive. I never stood a chance but there's always fight or flight. Every woman in that situation will know.
"Overseas on tour, he would call me, screaming accusations about affairs — absolute rubbish. He isolated me from my family and friends but that didn't stop him from making sexual advances to my friends, my sister and even my mother.
"I was hospitalised after suffering a nervous breakdown because of his continued psychological and physical abuse.
"After three weeks there, I returned home with strong antidepressants and sleeping pills.
"One night, when I was fast asleep, he charged into the bedroom and flung a bottle of flavoured water into my lower back. As I turned, he reached the bed and poured the water over me and wrenched me out of bed, ripping my top so that buttons popped, spilled everywhere.
"I went blank with rage. I latched on to his face and I know I would have killed him if I could. This time, he had gone too far. Forty kilograms heavier than me, I just didn't stand a chance. Any woman provoked this far, constantly watching and unable to sleep peacefully knows what I mean.
"I urge every woman who is being abused to take the hands of those that care and want to help you, before it's too late. I promise you, there is nothing like sleeping knowing that you are safe."
Vuyelwa Gwebane Mpambo's bedroom that was never hers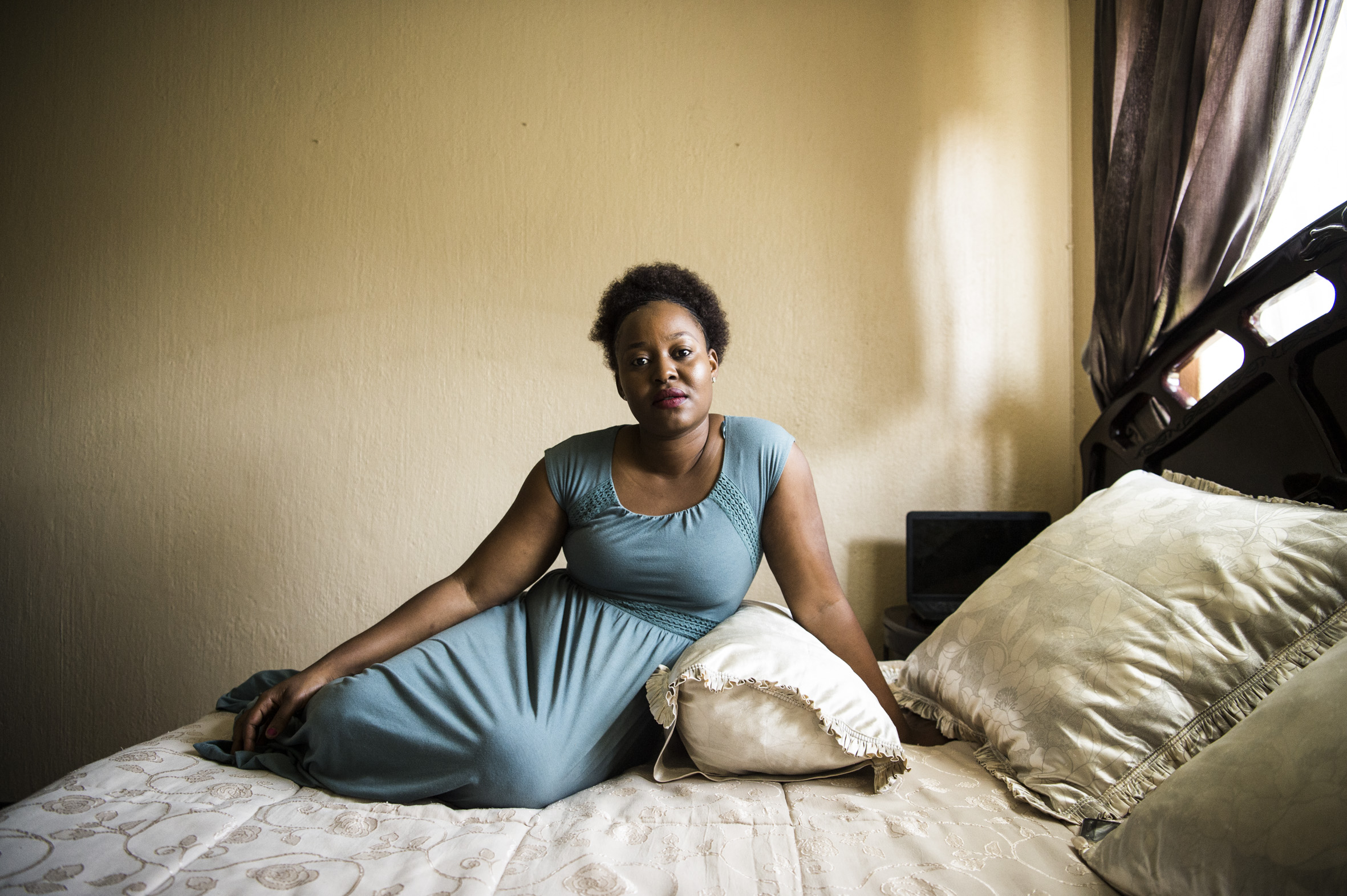 Repeated rape: Vuyelwa Gwebane's husband would beat her with a buckled belt and kick her with his big safety boots and then rape her. Photo: Delwyn Verasamy
"We first met when I was 17 and he was 26. We got married when I was 20. The abuse started about two years later," says Vuyelwa Gwebane Mpambo.
"I was working the nightshift as a nurse, so I would knock off at 7am and he would expect me home by 7.45am. If I was late, he would beat me.
"There was one night I told him that, before I came home the next morning, I would go to the shop to buy a new stove, because we were remodeling our kitchen. He agreed.
"The following morning, when I came home, he was very angry. He didn't go to work. He told me that I knocked off at 7am but now I'm coming back at 10.30. I told him I went to Game and they open at 9am so I had to wait for them. I showed him the papers as the proof that I was there.
"But he was really angry.
"We had a nanny at home because my son was still young and we were both working. She was there that day.
"I walked to the bedroom. I had begun to take off my clothes. I wanted to take a bath and sleep. I was from night shift and I was tired. I was in my bra and panties. But he stopped me from going to the bathroom.
"He closed the bedroom door and he took off his belt first and then he started hitting me with it. I ended up in a foetal position on the bed. He was getting angrier and angrier. I still have marks on my back because he used the buckle as well.
"He then threw the belt away. He pulled me by my hair and threw me on the floor and that's when he started kicking me violently with his big safety boots. He worked in machinery maintenance so he had these big boots for work.
"He kept on repeating: 'I'm fixing my family.'
"Afterward, the tone would change. He would say: 'You're provoking me, I love you so much.' It was blaming me for his abuse.
"He kicked me on my left temple, the neck and all over the body. I waited until he was finished then I got under the covers. We had sex afterward.
"To me it was never rape. It was 'I'm the wife so I must submit'.
"So now, when people [are] talking about rape, I ask, 'Have I been raped so many times?'
"We separated in 2015 and divorced on February 28 2019. It took so long for the divorce because there was also court battles.
"When he left, I took all his clothes from the bedroom and threw it in the garage. Everything in that room had him all over it.
"Now, it felt like it was my space for the first time."
In Palesa Khanya's bedroom where she hid the abuse
"We met while I was going through a rough patch. I had just broken up with the father of my child. So when it all started it was basically like a friendship," Palesa Khanya says.
"I have an outside room at home at my parents' house. I used to bath in this room, watch TV in this room. It was my personal space. This is where I felt safe, it was my home. At least my parents were close to me. Even one time when he tried to come in, I thought to myself he's not going to try anything because I'm at home.
"He actually came in to help me fix things in there. When I didn't want to listen to what he was saying, he would threaten me quietly because he thought I was going to scream. But I didn't want to scream. At that time my parents were in the house so I didn't want them to know.
"He put his hand on my leg and said to me: 'I am trying to fix things here and you think you [are] better. I can get any woman I want.'
"It was like a sexual threat when he put his hand on my leg. I sat up very quickly and he pushed me right against the wall and put his hands on my throat like he wanted strangle me. He threatened to kill me.
"He left my room after that because I remember hearing my father open a door or something. He waited just a bit and then he left.
"I went to the police on several occasions and the police told me: 'You'll be fine tomorrow, you'll work it out.' "
*A pseudonym
---
---
The chains that bind women
A lack of self-worth and financial dependency are two reasons women remain in abusive relationships, according to Professor Rachel Jewkes, the secretary of the Sexual Violence Research Initiative at the South African Medical Research Council.
"Women come to excuse or forgive the rough times because they appreciate the good ones and generally feel they lack much better options," Jewkes said.
For Vuyelwa Gwebane Mpambo, the good times kept her believing that she should stay in her marriage with her abusive husband.
"I'm so angry with myself, because I kept on giving him a chance. I would see his good side and I remember one day he said I made him like that, because he loved me so much. He said he had never loved like this before and that is why he is acting the way he acts," she said.
Money
Being financially dependent on an abusive partner is another reason for not leaving abusive relationships, said Jewkes.
Andrea Walters remembers that, when she tried to leave her husband, he threatened to take everything she had away.
"He said to me: 'You will leave with nothing.'
"When I left, I didn't even have clothes. I had to borrow clothes from my mother and my best friend," she said.
Mental health
Walters's life was so badly affected by the abuse she suffered that she had a nervous breakdown and withdrew from her family and friends.
"He managed to mentally break me down to the point where I ended up in a mental institution. He alienated me from my family and friends, and I'm a very outgoing person normally.
"I ended up being completely and utterly housebound," she said.
Fear of being a failure
The widespread violence in South Africa is also a reason why women believe they cannot leave abusive partners, Jewkes said.
"They see violence as something that women have to tolerate and often they have seen that in their family and community growing up," she said.
Thembi Mazibuko* said she thought she would be seen as a failure if she left her marriage.
"I was ashamed of being seen as a failure. I hoped he would change," she said. — Ra'eesa Pather
*A pseudonym