Every two years the National Skills Authority (NSA) facilitates an awards ceremony to honour the institutions and individuals who have been vital in creating opportunities for South Africans, especially young South Africans, to realise their goals and human potential in the skills training and employment sector.
Minister of Higher Education and Training Naledi Pandor remarked on this year's ceremony: "People love to be recognised and it is important that as a department we establish such platforms to keep people inspired to do more and better. These awards recognise the good work done by men and women of our beautiful country, who are charged with the responsibility of equipping our people with usable skills."
This year, nominees — both skills development implementers and other stakeholders — all showed a dedication to realising the National Skills Development Strategy III goals.
Best practice in skills development awards:
These awards were given to companies who have opened their workplaces to provide training, work placement opportunities, retention and employment.
In the Chemicals Industries Education and Training Authority sector (Chieta), the winners were:
Gold – Media Works Interactive Tutor
Media Works is an organisation with a solid history and outstanding record in providing Adult Education and Training interventions and services. Media Works specialises in creating customised educational solutions, by effectively integrating technology, courseware and support services.
Silver – Africa Skills Village
Africa Skills Village was founded in September 2006 by Elsie Harmse, who had a vision to establish a training and skills development private college that was easily accessible to rural communities. A training and trade test centre was established in Thembalethu (George) two years later.
Bronze – South African Petroleum Refinery (Sapref)
Sapref is a Crude Oil refinery established in 1963 and based in the Durban South Basin, with a refining capacity of 8.5-million tonnes per year. Sapref is an accredited training centre with 461 learners in various programmes, learnerships and apprenticeships.
In the Education Training and Development Practices Sector Education Training Authority (EDTP Seta) category, the winners were:
Gold – False Bay College
The college was established in 2002 and serves a wide geographical footprint, including communities such as Ocean View and Masiphumelele, and now has five campuses. The mandate of the college is to broaden access to education and training opportunities for youth from impoverished communities.
Silver – College of Cape Town
The College of Cape Town has a long history dating back to the beginning of the 20th Century and is a leading TVET provider. Courses offered are recognised and provide accredited qualifications that are in high demand in commerce. It offers higher education programmes in partnership with University of South Africa and Cape Peninsula University of Technology.
Bronze – Umfolozi TVET College
The college offers national certificate and national diploma courses in the business and engineering fields. In addition, Umfolozi engages in learnerships and co-operative training, while its eight skills centres ensure a strong focus on providing training at sites that are accessible to rural residents.
In the Fibre Processing and Manufacturing Sector Education Training Authority (FPM Seta) category, the winners were:
Gold – Aranda Textile Mills
Aranda Textile Mills was established in 1953 by the Magni family as a blanket manufacturer. Aranda makes a range of blankets, from throws to traditional Basotho blankets. Its vision is to continually strive to improve their responsiveness to the needs of our customers, employees, suppliers and the markets they serve.
Silver – Thandeka Vocational Education Trust
Since its inception in 2003, Thandeka Vocational Education Trust's core competency has been the administration and implementation of a range of learnership and skills programmes as well as short courses. Their team comprises specialists including industry experts and professional teachers.
Bronze – Umgungundlovu TVET College's Richmond-Indaleni Community Skills Development Centre
The college is used to provide teacher training, and specialises in arts and crafts education in the area. It is involved in garment, shoe and furniture making, IT and welding.
In the Mining Qualification Authority (MQA) category, the one winner was:
Bronze – Glencore Operations South Africa: Eastern Mines
Glencore was established in South Africa in 1974 and has a strong presence in the coal and ferroalloys sectors. It is a major contributor to the local, provincial, and national economies. Glencore produces chrome ore, ferrochrome and vanadium, and is one of the world's largest and lowest-cost producers of these resources.
In the Public Service and Sector Education Training Authority (PSeta) category, the two winners were:
Silver – South African Revenue Service (Sars)
Sars was established by the South African Revenue Service Act 34 of 1997 and is South Africa's only tax collecting agency. Sars enjoys some autonomy, falling within the financial and fiscal affairs categories, under the auspices of the minister of finance as the executive authority.
Bronze – Ekurhuleni East TVET College
This TVET College is spread over five towns in the eastern region of Gauteng, in the Ekurhuleni Metropolitan Municipality. The college offers programmes in business studies, ICT, hospitality, tourism, mechanical and civil and electrical engineering.
In the Transport Sector Education Training Authority (Teta) category, the two winners were:
Silver – Transnet Group
Transnet is a state-owned entity with more than 11 000 employees and began its history of supply and service to South Africa's railway networks back in 1859, when the country's first locomotive arrived at the Cape Town harbour. Today, Transnet engineering continues in its role as an advanced manufacturer of rail stock.
Bronze – Networx for Career Development
Networx for Career Development is an accredited black female-owned company established in 2005. It began from a home skills development consulting business. The company was born out of a passion for people development, with the objective of using innovative skills development practices in the fight against unemployment.
Recognition awards
The recognition awards were presented to nominees that have not qualified for the best practice in skills development awards, but whose input is still valuable to increase skills capacity in South Africa.
Recipients:
Arcelor Mittal SA
Toyota SA Motors
Ford SA Motors
Zurel Bros SA (PTY) LTD
Tendele Coal Mining (PTY) LTD
Department of Finance North West
Algoa Bus Company (PTY) LTD
Vikunduku Ngola Trading
Namunthla Training and Development (PTY) LTD
Pro-Earth (PTY) LTD
Guest Resource Services
Most outstanding skills development stakeholder award:
Gold – False Bay College
Silver – College of Cape Town
Bronze – Aranda Textile Mills
Most outstanding Seta Award:
Gold – Fibre Processing and Manufacturing Seta
Silver – Services Seta
Bronze – Mining Qualifications Authority
Minister's award for recognition of most outstanding individual
This award was given to recognise an individual who has distinguished herself in her organisation and community.
Gold – Isaac Boshomane
Isaac Boshomane of Kgabo Cars in Soshanguve started a small training centre after realising the struggles youth go through to qualify as motor mechanic artisans. Kgabo Cars operates as a workshop to upskill the TVET college learners who have acquired the theoretical component but need the workplace experience in order to go for the national trade test.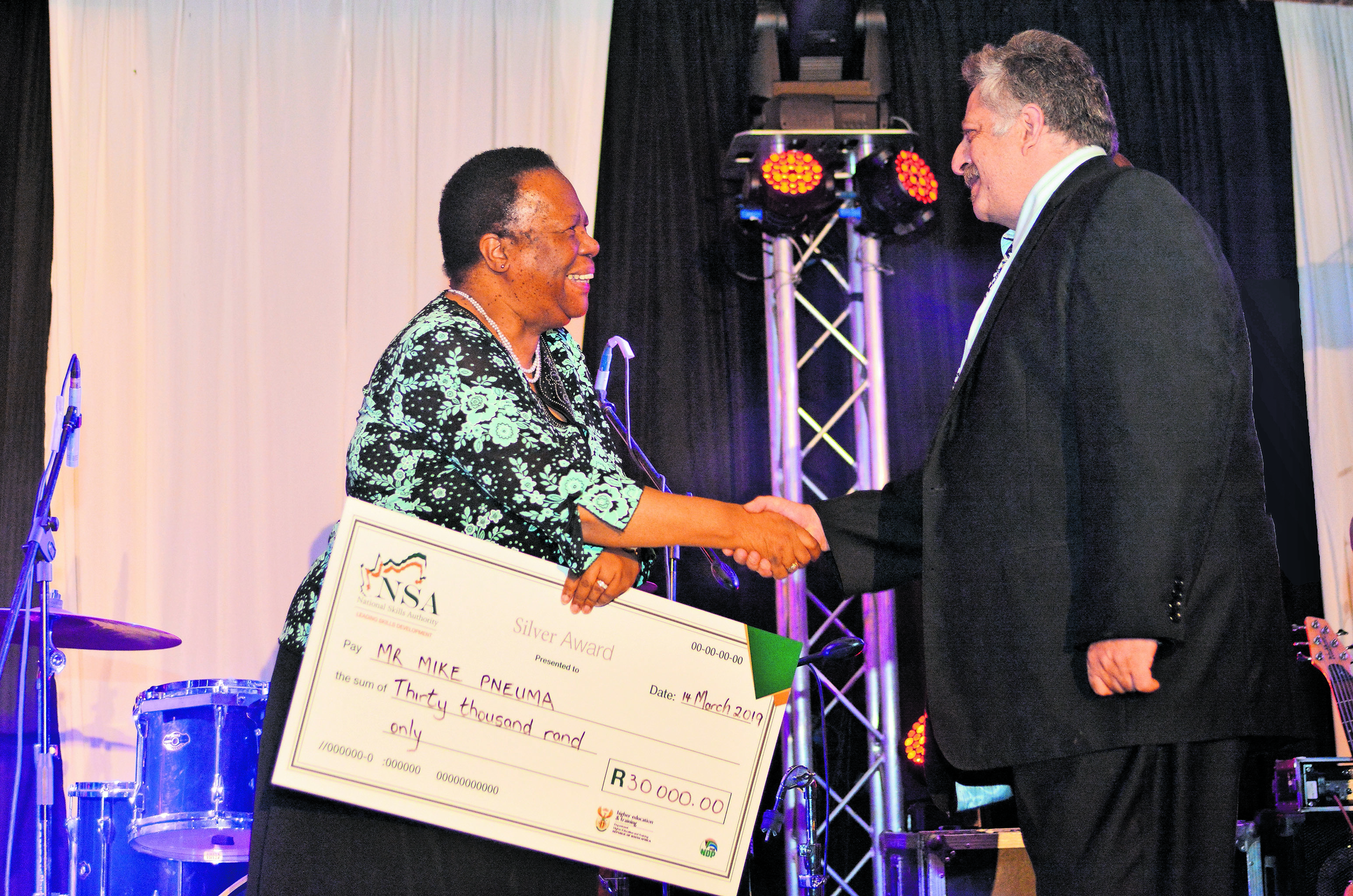 Silver – Mike Pneuma
Mike Pneuma has been a jewellery manufacturer since 1983. In 2002, he was asked by MQA to write learnership materials so the sector could be capacitated. In 2005, he decided to start training, and started the Foundation for Skills Empowerment Section-21, now known as PAE.
Bronze – Felleng Yende
Felleng Yende is a qualified social worker who always looks for genuine ways in which she can give back to disadvantaged, rural communities on a pro bono basis. Yende serves as non-executive director of Sci-Bono Science Centre and Dreamfields, promoting careers in maths and science across Gauteng.