The Judicial Service Commission (JSC) this week heard that tensions among the judges of the Supreme Court of Appeal persist, with fresh allegations of "uncollegial" conduct by the court's senior justices dominating the interview process to fill vacancies in the highest courts of the land.
On Wednesday night, the JSC announced it would give President Cyril Ramaphosa a list of five candidates suitable for the Constitutional Court: Gauteng high court judges Annali Basson and Jody Kollapen, Western Cape high court deputy judge president Patricia Goliath and Supreme Court of Appeal justices Stevan Majiedt and Zukisa Tshiqi. From these names, the president may choose two. The day before, the JSC had filled five vacancies at the Supreme Court of Appeal (SCA).
The Constitutional Court is South Africa's most powerful court and is the final court of appeal, with just 11 permanent justices, who are all supposed to sit in every case. These two appointments will be Ramaphosa's first to a Bench almost entirely appointed by former president Jacob Zuma — only Justice Edwin Cameron was appointed by former President Kgalema Motlanthe.
But in this week's interviews — even for the Constitutional Court — it was the SCA that dominated. In 2017 the Mail & Guardian reported that SCA president Mandisa Maya had laid bare tensions among colleagues at her court. This week there were fresh allegations, including one of a very recent incident of unacceptable conduct by one of the court's most senior members towards a female acting judge.
The incident was not described, the senior judge not named; but everyone who spoke of it was appalled.
During Tuesday's interviews for the SCA, the "Top Six" was the name half-jokingly given to an unnamed group of senior justices who were alleged to be at the centre of the tensions.
In his interview for the Constitutional Court, Majiedt — "not part of the Top Six," he joked — said that things at the SCA had improved under Maya's leadership, but that there were still problems. He said the situation was more "complex" than straightforward race and gender tensions, although there was "justifiably" a perception that women junior and acting judges "suffer the most". It was also not all senior justices who had behaved badly, he said.
The senior justices on the appeal court had to shoulder a greater burden of the very high workload and had to maintain high judgment standards. Tensions usually began with judgment writing, said Majiedt. "You write, and senior colleagues find fault with it, mostly justifiably so, because experience is not something you can get overnight."
It is not unusual for JSC interviews to become arenas for commissioners to battle among themselves. Tuesday's interviews could have turned into such a battle because SCA Justice Azhar Cachalia — a senior justice on the appeal court — was standing in for Maya, who could not sit because of a potential conflict of interest. Cachalia was not named as part of the Top Six, but did not enter the fray to defend his senior colleagues. He said in one interview that his duty was to assess candidates' suitability for the Constitutional Court, "not to respond to any comment, or to subject [a candidate] to a debate within the JSC". Cachalia instead asked candidates about academic criticism that had pointed to a lack of commercial law expertise on the country's highest court.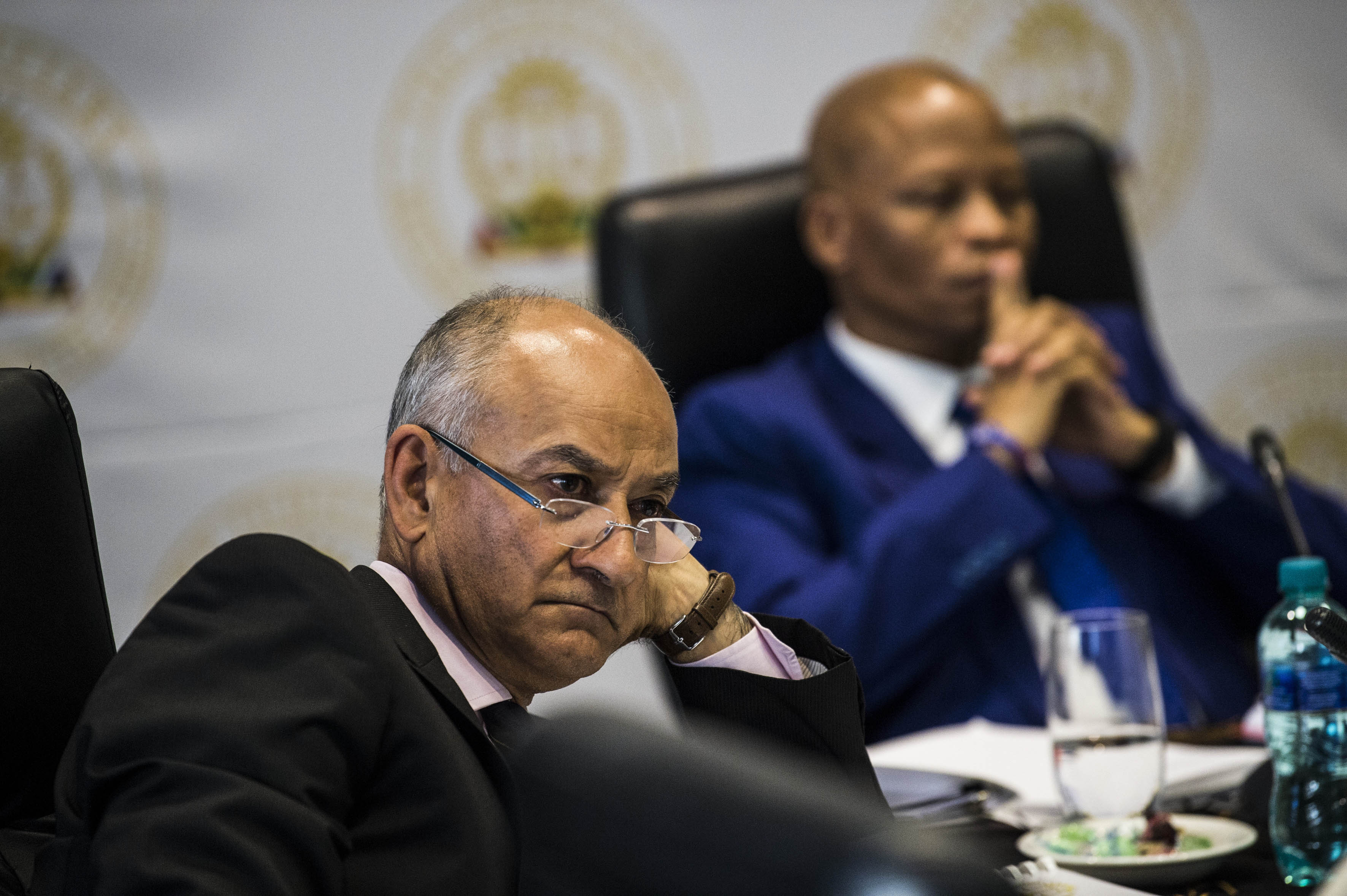 Justice Azhar Cachalia interviewed Constitutional Court candidates. (Delwyn Verasamy)
Since the Constitution was amended to make the Constitutional Court the highest court of appeal in all matters and not just constitutional ones, candidates' broader expertise has cropped up as the subject of comment or questioning.
But Cachalia's line of questioning was met with a dim view by some commissioners — especially the chief justice and Dali Mpofu SC, who said the complaint of a lack of commercial law expertise on the Constitutional Court "must be rejected with contempt".
Mpofu said there was "one system of law". He said: "What we are testing here, as the JSC, is your ability to adjudicate; you can never know every piece of legislation under the sun or every area of law."
He said the complaint was "ideologically loaded", and that there had never been a complaint of a lack of criminal law expertise or road accident fund expertise on the Constitutional Court.
"Enkosi Tata, enkosi," Chief Justice Mogoeng Mogoeng responded to Mpofu.
---
Mogoeng criticises 'agendas'
During the interviews for the Constitutional Court on Wednesday, Chief Justice Mogoeng Mogoeng responded to criticism in the media and by academics, saying he reads "academic articles sparingly, because some of them, you don't know if there was an agenda or not".
Mogoeng referred to a critique published in Daily Maverick by a "Professor Balthazar" about the fact that a particular judgment had been a split decision with no clear majority. He said a response to that piece had said there was "a trend, which almost looks like a campaign, to gratuitously attack me".
"On that occasion it was being said there was a tie because I was not sitting. And [the writer is] saying but the minimum [the quorum for the Constitutional Court] is eight judges and we must wage a fightback, because there is a concerted effort to discredit the Chief Justice," said Mogoeng.
He said some academics were "protectionist" of the common law, such as the law of contract, seeking to insulate it from development in line with the spirit and values of the Constitution. The values of the Constitution "can inform all other areas, like African customary law, but when it comes to this somewhat untouchable area, you are in for a riding if you are going to try and tamper with it". — Franny Rabkin