I explored Limpopo's Kapama Private Game Reserve in its abundant Marula season and discovered activities that would delight any nature lover. We catch a red-eye flight north to Limpopo in order to connect with nature and all she bears for three days.
Hoedspruit is a small agricultural town between the Kruger National Park and the Blyde River Canyon. It's a five-hour drive from Johannesburg and a three-hour flight from Cape Town. Before starting our descent, I look out of the aeroplane window and, in stark contrast to the Cape, all I can see is lush green bushes.
A step out of the aeroplane and we are welcomed by a warm gust of wind. The heat is excruciating, I feel it strike my forehead. The Hoedspruit Airport is very intimate, with just two airlines flying between two major cities, twice a day. Our luggage is packed in an over-lander and we drive to Kapama Private Game Reserve, our home for the next three days.
Kapama Private Game Reserve is 13 000 hectares in size and boasts abundant wildlife, including the Big Five. As we drive towards Kapama River Lodge, we spot impala, kudus, duikers, warthogs and even giraffes. We learn that over 250 migrant bird species pass through the area during the summer months. Kapama is the largest private game reserve owned by one family in the area.
Limpopo is renowned for the iconic Marula tree, which is rumoured to make elephants drunk after eating the fleshy fruit off these trees (this is actually an old wives' tale though). We set off on an hour's drive from Hoedspruit to Phalaborwa to visit the Amarula Lapa, where the fruit is made into Amarula liqueur.
Marula trees are found in the subtropical parts of southern Africa (Limpopo, northern Kwa-Zulu Natal, Botswana and Swaziland) and can grow up to 18m high. Marulas belong to the same fruit family as mangos, cashews and pistachios, and just one tree can produce roughly 500kg of fruit per year. The fruit is as small as a plum with a sweet fragrance. The locals in this area are very resourceful when it comes to the marula tree, as the fruit itself is rich in oil, Vitamin A and C. The bark is also used as a traditional medicine for stomach ailments, while the leaves are used for skin infections and insect bites. The marula pip makes for a tasty snack. The oil extracted from the fruit is used for lotions and moisturisers, and some believe the fruit is able to induce pregnancy in women.
At the Amarula Lapa, we learn about how the yellow fruit is hand-selected to make marula pulp, which then goes through a fermentation process before being transported to a distillery in the Western Cape. Once in the Western Cape, the marula spirit is stored in French oak barrels for two years. Vanilla extract, spices and dairy cream is added to the marula spirit, creating a rich texture that produces the famous Amarula liqueur.
Once back at the reserve, we set out for a sunset game drive with our game ranger Marnus and tracker Bernard, stopping at a special spot for sundowners. As we drive back, we spot a sleeping leopard. In fact, over the three days, we were lucky enough to see all of the Big Five. The close proximity of the leopard makes me very grateful it was asleep. It's pitch black outside and the only source of light is Bernard's flashlight and the stars. This romantic setup could also be someone's worst nightmare — being out in the open bush surrounded by wild animals in the dark. I found it to be sheer bliss.
The day ends with a scrumptious buffet dinner and traditional song by the staff at Kapama. We enjoy dinner with our guide and deepen our connection; we've spent a lot of time together on game drives. The buffet caters for meat lovers and non-meat eaters alike. A stroll back to the River Lodge is much needed after a huge meal. The sounds of nature are the perfect lullaby.
The Marula Festival takes place annually during harvest season and starts in February at the Impala Park Stadium in Phalaborwa. Attracting international visitors, the festival brings a positive impact to the home of Amarula and the community of Limpopo benefits economically through job creation. The big calendar event also includes live performances from local acts. Tickets start from R150.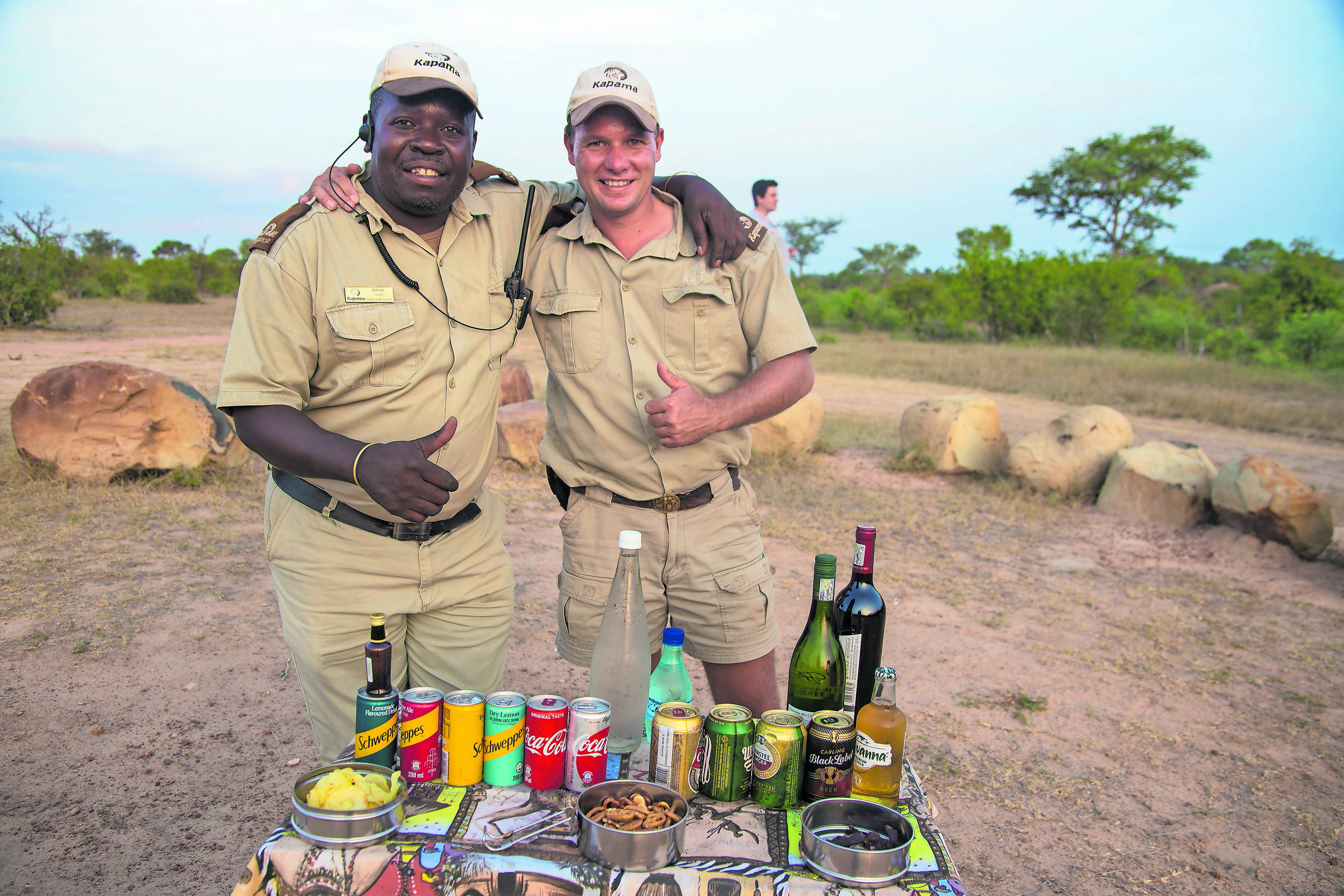 TOP 5 THINGS TO DO AT KAPAMA
1. Photographic safaris
The photo safaris at Kapama Private Game Reserve are hosted by wildlife photographer Albie Venter. Suitable for all levels, the sessions allow you to enjoy nature and photography. If you've never operated a camera before, he'll teach you about both the technical and artistic side of camera functions. Bringing your own camera is advised, but renting one is also an option. The photography session includes a game drive on a private vehicle, photography tuition notes and training materials.
2. Spa Treatments
Whether you feel enjoy working up a sweat or simply getting a body treatment, you'll walk out feeling wonderful. The River Lodge Spa has treatment rooms that surround an infinity pool, looking out over a watering hole. This is also where you will experience stillness and the bushveld like nowhere else.
3. Game Drives
Twice a day, at 6am and 4pm, you're accompanied by a guide and tracker to spot animals and birds in the game reserve. Most of the wildlife appears in the evening and your tracker teaches you how you spot animals in the dark using the flashlight.
4. Bush Walks
Done by a guide from Kapama, you have the experience of tracking animals and being told their story by their footprints. All animals are viewed at a safe distance and the guides provide information on each species spotted.
5. Elephant interaction
The early morning excursion to Camp Jabulani is worth it! Nintey minutes of interacting with elephants so close-up is simply magical. The first herd of elephants arrived in Camp Jabulani in the 1980s. The elephants were rescued from Zimbabwe and placed in Camp Jabulani for rehabilitation. It's evident in the way the herd interacts with their elephant manager that there is a sense of trust and love at the camp. Riding the elephants here is forbidden. The interaction is feeding them and standing alongside them to take a photo. Camp Jabulani took the decision to go against elephant-back safaris in May 2016 because of the abusive way the elephants are often treated. The owner of Camp Jabulani, Adine Roode, says: "With our strong conservation ethos that underpins all our activities and our approach to animal welfare issues, we are in full agreement with the negative sentiments relevant to abusive methods of training. I am now looking to apply knowledge to the rescue and rehabilitation of orphaned and injured elephants, particularly those orphaned due to poaching. A number of infant elephants have already been brought to us over the past five years and were introduced to the herd with minimal human intervention."