'I must get a few questions out of the way before I commit to something of this nature," I hesitantly mutter to Kelly Knight from Cape Town Tandem Paraglide, as we finalise the bookings for my adventure. "How many hours should I eat before the take-off? On a scale of one to five, how scary is it?" She giggles as if to say, "this young lady is absurd".
The day of the flight arrives. The Cape Town Tandem Paraglide departure area is on the top of Signal Hill. Depending on the wind direction on the day, there is a possibly of departing from Lion's Head. Peter Masakwa and Tim Henderson speak to me, as a way to distract my nerves, as I fill in the indemnity form. However the safe practice might be, this adventure, like many, is done at one's own risk. The gentlemen brief me and I begin to get dressed in the paragliding kit. "Don't stop running when you disembark. And make sure you listen to Manu, your instructor. Manu has over 20 years of experience, so you will be in safe hands," says Masakwa. To say my legs are numb is an understatement.
As I prepare to disembark, Manu Wegmershaus — who owns the Cape Town Tandem Paraglide with his wife Tiva Wegmershaus — says that the average wind speed of what is considered to be good flying conditions is 27km/hour. The wind at the bottom of the hill is blowing at 41 km/hour, which is strong enough to sway us into town, instead of the Seapoint Promenade, where the final landing destination is. A new time slot is rescheduled. I heave a sigh of relief.
Two days later we are back at it and this time I am ready to soar. Filled with excitement, I arrive at Signal Hill at 8am and the team enthusiastically greets me. I get strapped up into the gear. This time, my legs feeling much more are stable. I am excited but more curious to know what birds experience on a daily basis.
"Ready?" asks Manu. We begin to run. Manu runs with a GoPro in his one hand to capture my moment in the sky as he steers the parachute in the other hand. We are in the air, floating. The air is crisp. Depending on the day and the wind speed, the amount of time spent in the air varies from anything from a five to a 30-minute flight. My flight lasts for 20 minutes; by this time I have taken numerous selfies above the ocean.
We prepare for the landing. The landing takes place effortlessly, with my feet firmly on the ground. One of the driving forces for my paraglide was to experience what it feels like to be a bird, but surprisingly, there were no birds in sight during my time spent in the air. Rather odd, wouldn't you say?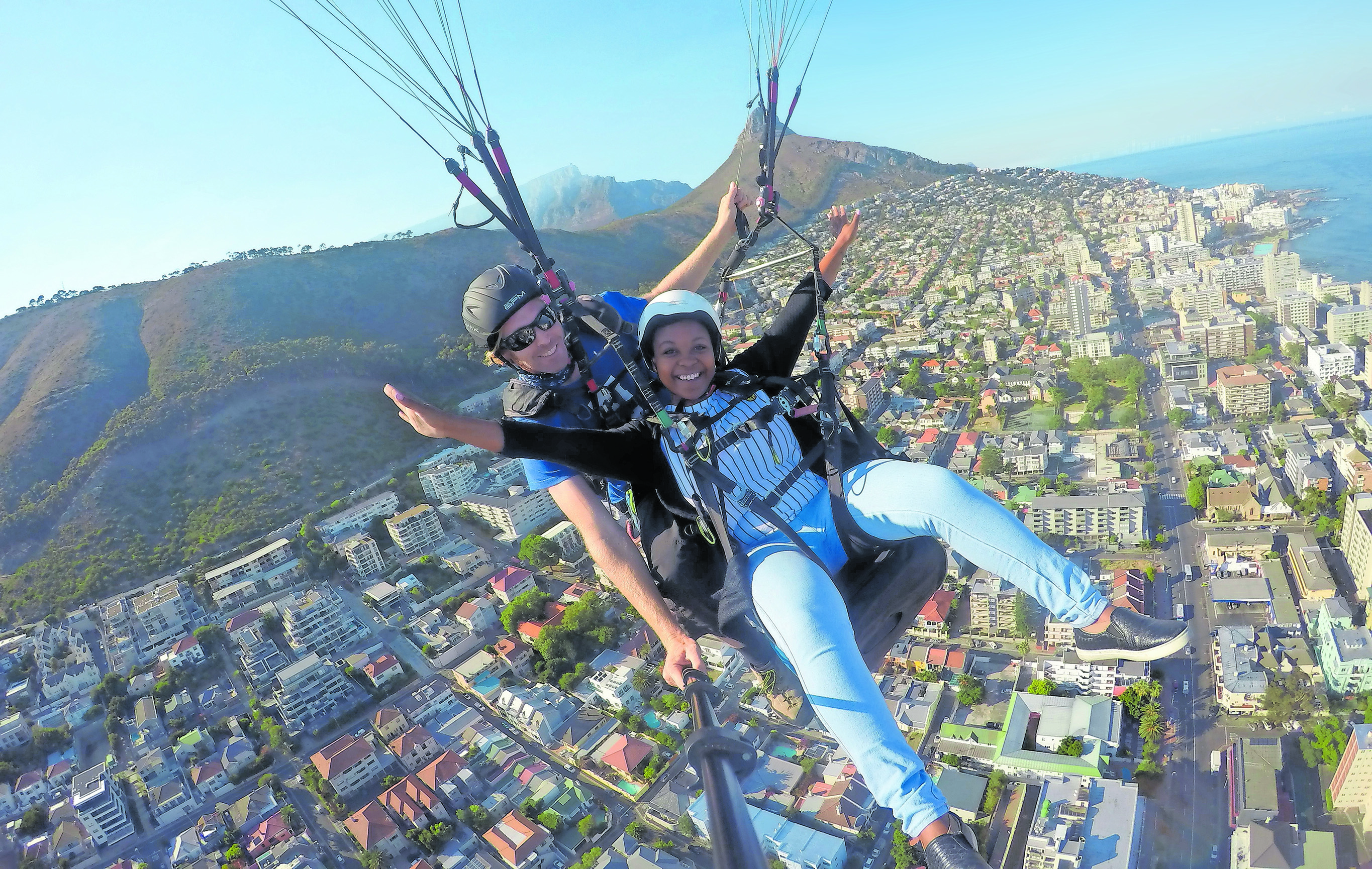 Here is why you should give it a try:
For R1 300, the Cape Town Tandem Paraglide flight is one of the most spectacular ways to see Cape Town. You receive a convenient 4GB micro SD card with your inflight video and images (charged separately for R300) after your adventure.
The Cape Town Tandem paraglide opens at 8am. This is an experience that should be had by everyone and the Cape Town Tandem paraglide is disabled friendly. The team takes you back to where you parked your car, after your flight. Find them on Social Media: Facebook at Cape Town Tandem Paraglide, Twitter @ctparaglide; 076 892 2283; paraglide.co.za