Art critiquing, similar to curating, is a sophisticated skill that requires understanding even when one is simply out of one's depth with a specific area of artistic study. More than 20 years ago, artist, writer and teacher David Koloane said: "The visual arts in the South African context are often perceived as elitist and a specialist undertaking because they are associated with power and affluence."
He made this statement in a 1998 article titled Art Criticism for Whom? in which he explained why he shouldn't bother participating in something that was virtually nonexistent in the broader context of the South African community.
Much of his observations still resonate with the current disparity in art criticism in South Africa today, where the visual art landscape has paradoxically maintained a predominantly male-dominated and elitist space but also "democratised" the consumption of art with the inclusion of (Black) women.
In addition, these days, anything can pass for art and anyone can become an artist or an art critic. Koloane's reflection on art criticism is thus important as a basis for framing why certain views on visual arts are often grossly misplaced, forming part of a larger symptom of a lack of art education, pedagogies of institutional power and patriarchal systems controlling who gets to speak authoritatively on matters of artistic expression.
At the centre of this institutional power — as many areas of research and study have revealed, including in the visual art discourse — is how patriarchy in particular has played a role in shaping race, class and gender relations in every facet of society. Koloane's insights inform this reflection on the way in which the exhibition A Black Aesthetic: A View of South African Artists (1970-1990), mounted at the Standard Bank Gallery in Johannesburg, was received and written about in various platforms for various reasons.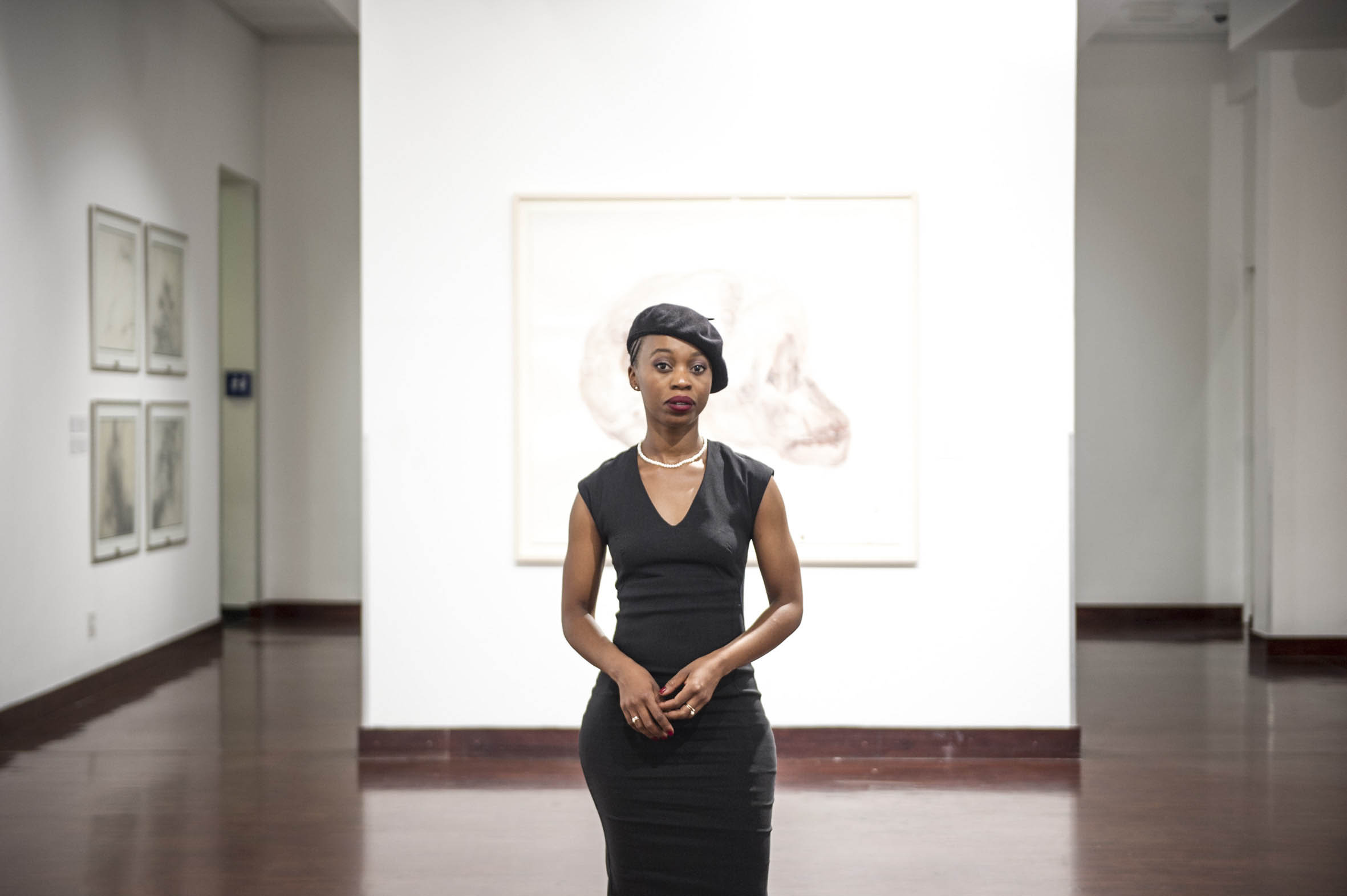 Ripple effect: Same Mdluli, curator at the Standard Bank Gallery in Johannesburg, says art writing and criticism is still rather limited in this country. (Delwyn Verasamy)
His views — as a Black artist, writer, curator and art teacher, like most of the artists whose work is on show in this exhibition — do not only express the anxieties of a trajectory of art writing and arts education, they also illustrate the influence of his scholarship and practice in shaping the current state of the arts.
The issues he highlights are perhaps too broad to discuss in this brief reflection, but they also point to the limitations of arts writing in South Africa, where often there is not enough space allocated in print media to deal with the multitude and multiplicity of debates that exhibitions often present for engagement.
A well-versed art history scholar and art critic would be privy to the fact that Koloane was responding in 1998 to a text written by the late Colin Richards in which Richards declared there was no art criticism in South Africa — a declaration made without consideration of his own privileged position or acknowledgement of the real conditions that produced the situation raised by his critique.
Koloane was also pointing to a problematic attitude towards art criticism where it comes across as careerist, with so-called art specialists often claiming knowledge on certain areas of study related to Black subjectivity, thereafter becoming self-appointed representatives who feel compelled to delegitimise any work that seeks to expand or even provide a different perspective.
It is therefore important to re-emphasise that while, at a subliminal level, this exhibition appeared to confront and debunk large concepts of what constitutes modernism or modern art, this did not need to be explicitly stated as it is already embedded in the content of the exhibition itself. The other objective of this exhibition, comprising, as it did, historical artworks in a contemporary context, was to establish a dialogue about curatorial practice.
Any curator who has worked on a large-scale exhibition understands it is about making pragmatic decisions informed by an acute understanding of the fact that curatorial practice has been continuously evolving in a much more organic manner than what the art discourse and formal institutional spaces have prescribed.
In his 1998 article, Koloane added: "Artistic discourse on the whole is based on abstract thought processes rather than visual symbols."
It is therefore important to once again highlight the exhibition's main objective, which was to expand the gallery space to be accessible to a wider audience through the kind of content and context in which the artworks were displayed.
The successful achievement of this objective is supported by record attendance by the public and bank staff, and many conversations about the exhibition on digital platforms.
Curating is thus a process of understanding and interrogating space as a critical component for opening up a dialogue in both a physical and philosophical sense; it is about creating rather than imposing a narrative as a form of knowledge production.
This exhibition was therefore also a means to present a case for a curatorial and scholarly dialogue rooted in a larger inquiry into an intellectual project that starts to examine ways of mapping a more comprehensive South African Black art history — one that would raise a level of consciousness about visual art and offer a meaningful engagement for all it is meant to serve, not just the "art lovers", writers, critics or historians.
Khwezi Gule, a speaker at the exhibition's opening, said: "Exhibitions are designed to do a lot of things. One of the things is that they enable us to see things that we wouldn't ordinarily see, to make new discoveries and to make new connections between artworks and practices that even seasoned art professionals wouldn't have made so easily."
Although the exhibition received a good balance of well-considered coverage reflecting on its significance in the South African visual arts landscape, it is important to note that none of these attempted to present a theorised, scholarly and academic interrogation of the art pieces. This illustrates how concise the exhibition was in achieving its main intentions, which are more long term than a narrow shortsightedness of analysing the spectacle of the exhibition as an event.
Another objective of this exhibition was to encourage a more rigorous and further engagement with the works of the Black South African artists it presented and the thematic ideas about its curatorial framework. Curatorial intentions are therefore not always immediate and explicitly stated but rather measured by the kind of ripple effect the curatorial project produces in shaping rigorous scholarly discourse in other research areas.
Most of the positive art reviews about the exhibition appear to have understood its intentions from the outset. These were expressed and disseminated through various mediums such as interviews with the curator; engagements with the exhibition's press release, a series of video clips and the catalogue; and an extensive walkabout and workshop programme.
Yet other critiques stood void of fully grasping the broader picture of the narrative presented in an exhibition of this scale and, indeed, its significance in presenting a discussion about the state of art history in South Africa.
Regrettably, such reviews expose the kinds of misogynistic attitudes expressed through a trend in which certain individuals do not view and engage Black women in professional (visual art) spaces as any different to the art; that is, as objects that decorate the place.
Such idleness in arts writing is also not only detrimental to demystifying the perception that art is elitist, but is also part of a current brigade of pseudo-politically ambitious thinkers who lack charisma but are desperately seeking validation in the seemingly free-for-all visual art space.
• Same Mdluli is the curator and manager of Standard Bank Gallery. The views in this article are her own.
• A Black Aesthetic: A View of South African Artists (1970-1990) ran from February 22 to April 18