Google search trends reveal that Democratic Alliance (DA) leader Mmusi has been the most searched for political leader in the past 24 hours. Over 5 000 searches by South Africans on the world's biggest search engine related to Maimane. The spike in searches for Maimane occured after the party's Phetogo rally in Dobsonville, Soweto on May 4.
In the last 72 hours, however, Economic Freedom Fighters (EFF) leader Julius Malema — followed by ANC president Cyril Ramaphosa — has been the most popular on Google. These are followed by Maimane and Vuyo Zungula — leader of the newly formed African Transformation Party.
The past 24 hours have seen searches for the Red Berets coming mainly from the North West, Limpopo and the Eastern Cape provinces. But, the ANC has gained the most searches from eight of the nine provinces excluding the Western Cape according to Google Trends.
Most provinces show more search interest in the ANC when compared solely to the DA and EFF. The ANC gains a 50% interest in google searches in four provinces such as Limpopo, Mpumalanga, KwaZulu-Natal and the Northern Cape.
The DA dominates the Western Cape when compared to the ANC and EFF as Google search interest is at 41%. The province also shows the worst number for the EFF as their search interest dips under 30%, while they seem to be a popular search in other provinces.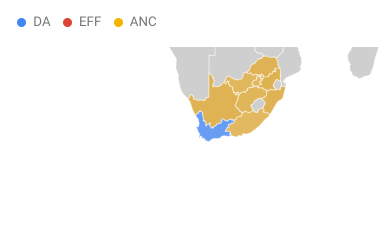 When it comes to the leaders of the three parties however, EFF leader Julius Malema dominates interest of searches from all regions when compared President Cyril Ramaphosa and Maimane.
Mich Atagana, head of communication for Google explains that there's been a massive spike in search activity from South Africans in the last few days leading up to voting day.
"Google has seen an increase in search queries related to where South Africans can vote, how to check whether they are registered to vote, what time polling stations open, and even whether shops will be open," she says.
Top Google questions on elections in South Africa in the last 72 hours:
Is election day a public holiday?
Who to vote for in SA election 2019?
Where can I vote on election day?
How many parties in 2019 election?
Who will win elections in 2019?
What time do voting stations open?
Will EFF win 2019 elections?
When was the last election in South Africa?
How to check if you are registered to vote?
Will ANC win the 2019 elections?
Will shops be open on election day?
Will DA win 2019 elections?
Can I vote anywhere?
When will election results be announced?
When was the first democratic election held in South Africa?
Top Google searched candidate in South Africa in the last 72 hours:
Julius Malema
Cyril Ramaphosa
Mmusi Maimane
Vuyo Zungula
Mangosuthu Buthelezi
Hlaudi Motsoeneng
Patricia De Lille
Andile Mngxitama
Bantu Holomisa
Mosiuoa Lekota
Similar to Google search trends, social media platform Twitter shows that hashtags supporting the EFF such as #VoteEFF and #IAmVotingEFF have received the most interactions, According to social analytics platform Tweeplers at the time of publishing. These are followed by #VoteANC. Hashtags related to the DA, however, do not appear in the top 20 trending categories.
In June 2018, Facebook decided to do away with 'Trending'. The feature was introduced in 2014 as a way to help people discover news topics that were popular across the Facebook community. However, it was only available in five countries and accounted for less than 1.5% of clicks to news publishers on average. From research, Facebook said it realised that over time people found the product to be less and less useful.