'Ugh," my friend sighed derisively on the other side of the line as I told him I would be covering this year's Mr Gay World competition. "Pageantry of this type is … low-level and old-fashioned. These things are just so heteronormative."
I couldn't help but agree. Especially because, at Cape Town's city hall where the "grand finale" was held, heteronormativity was clearly the order of the day. Aside from a smattering of ball-gowned drag queens, those attending the event did their cisgendered best, dressed in wholly unremarkable his and hers aand-by-die-teater (night-at-the-theatre) attire. The venue was packed, which should come as little surprise. According to one of the contestants, the 20-plus men competing for this year's "coveted title" collectively have "about 655 000" social media followers.
Now in its 11th year, the competition — which was started as a way to "open the public's eyes that in many regions, being gay is a challenge and a fight for human rights" — has become a popular fixture on the global queer calendar.
This year, hospitality started from the very top. Taking to his Twitter account, President Cyril Ramaphosa "extend[ed] a warm welcome" to this year's delegates: "South Africa is pleased to host Mr Gay World delegates during #FreedomMonth."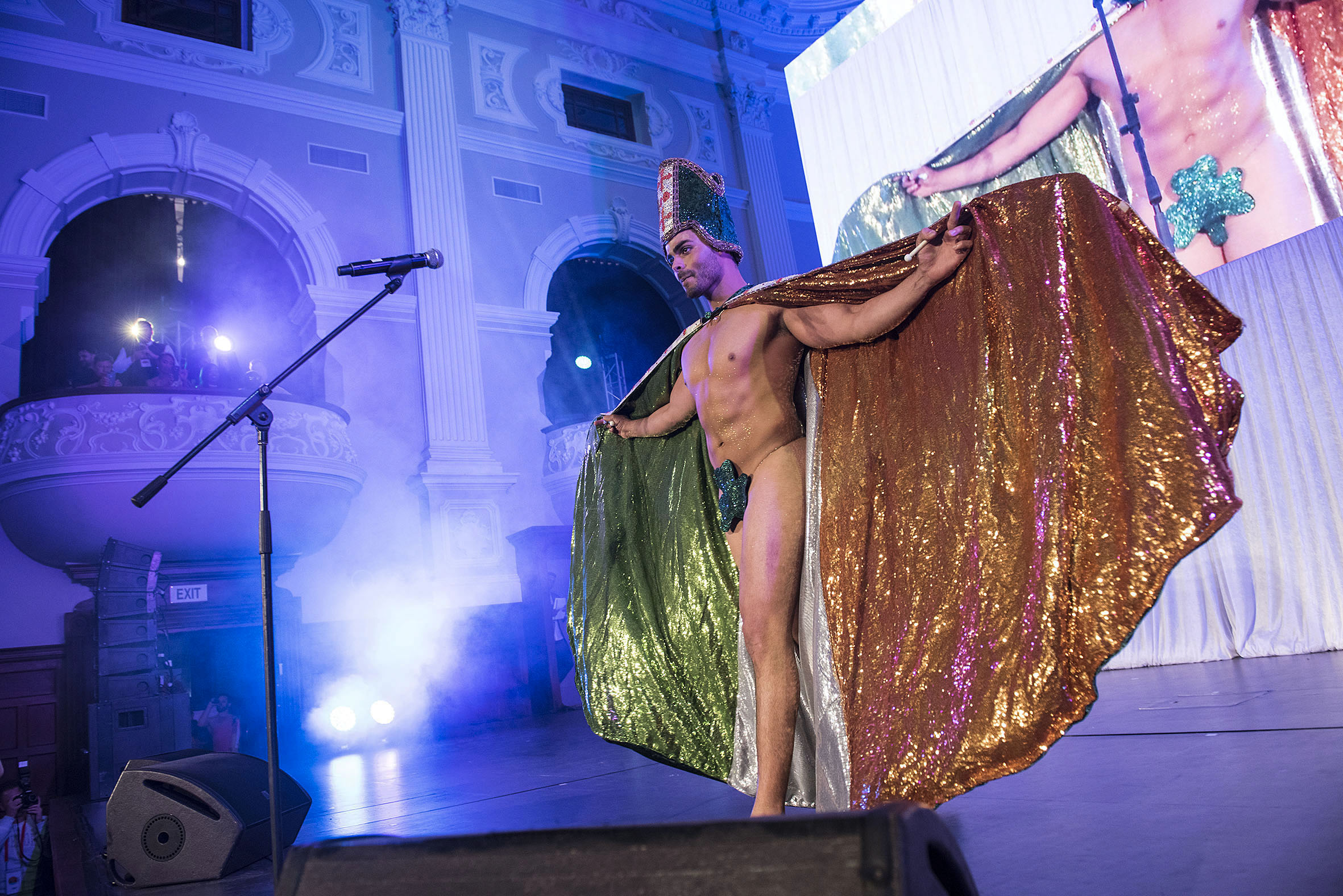 Mr Gay Ireland on stage. (David Harrison M&G)
Backstage, the frenetic atmosphere and over-zealous security officials made it clear that everyone was feeling the event's importance. Crew and organisers flitted about with hurried self-importance while contestants —mincing, manicured Muscle Marys in masks and make-up —got their hair done or took turns posing for photographs. "Gentlemen, your sashes are in the room," someone informed them, while another asked: "¿Está bien mi maquillaje?[Is my makeup okay?]"
With delegates from all over the globe, the area was a veritable Tower of Babel. Representing South Africa was Knysna-based Chris Emmanuel. A former business strategist and now gym owner, Emmanuel was decidedly relaxed the day before the final leg of the competition. Speaking to me from the plush hotel where the delegates were housed, he said: "You know, I am sitting in the middle of Bantry Bay and freedom for gay men and women in this area is something that … has been achieved. But I cannot claim to be free until everybody globally can express their sexual orientation. And, unfortunately, we are on the continent where things are still pretty dark."
For this reason, he added, the president's tweet was "a critical statement".
"It's the first time that we've had that level of political shout-out," he said. "Because of what we're going through on the African continent, such a statement is far more powerful than people seem to think it is. It's an active verbalisation of support …and really affirms my belief that as gay people in South Africa, we are some of the luckiest LGBTIQ [lesbian, gay, bisexual, transgender, intersex and questioning]people in the world."
But what effect, I asked, does having a Mr Gay World —or Mr Gay anything, for that matter —really have on improving the lives of queer folk globally?
"It's really up to the person that wins," he said, adding that he thinks a significant part of his remaining year as Mr Gay South Africa will be spent "working with Mr Gay Brazil, through various political channels, to make statements to their country".
A few days prior to this conversation, Brazil's notoriously homophobic president, Jair Bolsonaro, told reporters: "[Brazil] can't be known as a paradise for the gay world. Brazil can't be a country of the gay world, of gay tourism. We have families." The contrast to Ramaphosa's "warm welcome" could not be more marked. Raphael Dos Anjos, Mr Gay Brazil, said when he saw Ramaphosa's tweet: "I just said: 'I wish our president was like that.'
"It is very important for us to have someone at this level of importance in your country that can support you. Because I am not asking you to invite me into your home, to eat with me or date me. I am just asking [you] to let me live my life. Let me be who I am. Because I pay my taxes. I work hard. I contribute to the country. All I want is to feel safe. But in Brazil today, we do not feel safe."
The sign language interpreter said that since the election last year, violence and discrimination against LGBTIQ people had increased by 51%.
"I am a married man, and since this election, [my husband and I] are actually living in fear."
Dos Anjos's main focus is on political awareness and "educating LGBTIQ people about their rights". He is part of a group that put together the #MyPrideMyRight hashtag, which helps people to share information about what the government is doing, as well as information about people's rights. Dos Anjos said the latter was a real problem: "Just chatting with my friends, I see many don't know what rights they have."
This being his first trip outside of South America, Dos Anjos added that meeting the delegates from other countries made him "see the good things that are happening in other countries that I can use in my country".
A day after the event —at whichcrowd favourite Mr Gay Philippines, Janjiep Carlos, clinched the title —I had another telephonic chat with my friend and suggested we try to put our cynicism aside.
"I can see they are trying," he said. "It's just the beauty bit that sticks in my craw. Do these 'activists' have to be so …Instagrammable? [But] if they are actually agents of positive change, I guess it's a good thing. So that it's not just a beauty pageant for pretty people. Because that's just backwards. Just really …ugh."
Carl Collison is the Other Foundation's Rainbow Fellow at the Mail & Guardian