There are many reasons why the Nelson Mandela Foundation and the Human Sciences Research Council agreed to come on board with Nelson Mandela University to jointly establish the new Transdisciplinary Institute of Mandela Studies (TIMS) at the university.
Nelson Mandela Foundation's Director of Archive and Dialogue, Verne Harris, said the university was one of around 60 institutions worldwide authorised to carry Madiba's name but "it was very seldom that an institution carrying the name comes to us with a proposal to do really meaningful work".
He said a second reason for coming on board was that after Madiba in 2007 gave the foundation a new mandate to transform the Foundation from a post-presidential office to a human rights-oriented NGO "promoting social justice through difficult memory and dialogue, we very deliberately sought partnerships with universities and with the academy more broadly. To us, this partnership adds to what is a whole medley of relationships with universities".
He said Nelson Mandela scholarship was "really in its infancy" and was a space "dominated by white voices, by male voices, by voices from outside our country", an indication of the deficiencies within existing Mandela Scholarship, which tends to repeat the same dominant narrative over and over again.
"This project offers us a fecund [fertile] place to explore what could be done here … We need to be encouraging more robust, critical work."
He said he also hoped the project would enable better access to information around Mandela. "Access to information is still a critical issue for our country and for this particular project: Who has access? Who has access to the academy? Who has access to publishing partners? Who gets to be heard on platforms? … Any project that is both engaging with the legacy [of Mandela] but also trying to pursue the unfinished business is simply going to have to grapple with those issues."
Giving reasons for why the HSRC came on board, the organisation's chief executive Crain Soudien said: "I am absolutely taken with the incredible possibilities of thinking about Mr Mandela as a figure of modernity [the times in which we find ourselves today] and how we come to understand Mr Mandela as a mode for us of entering the space of the modern.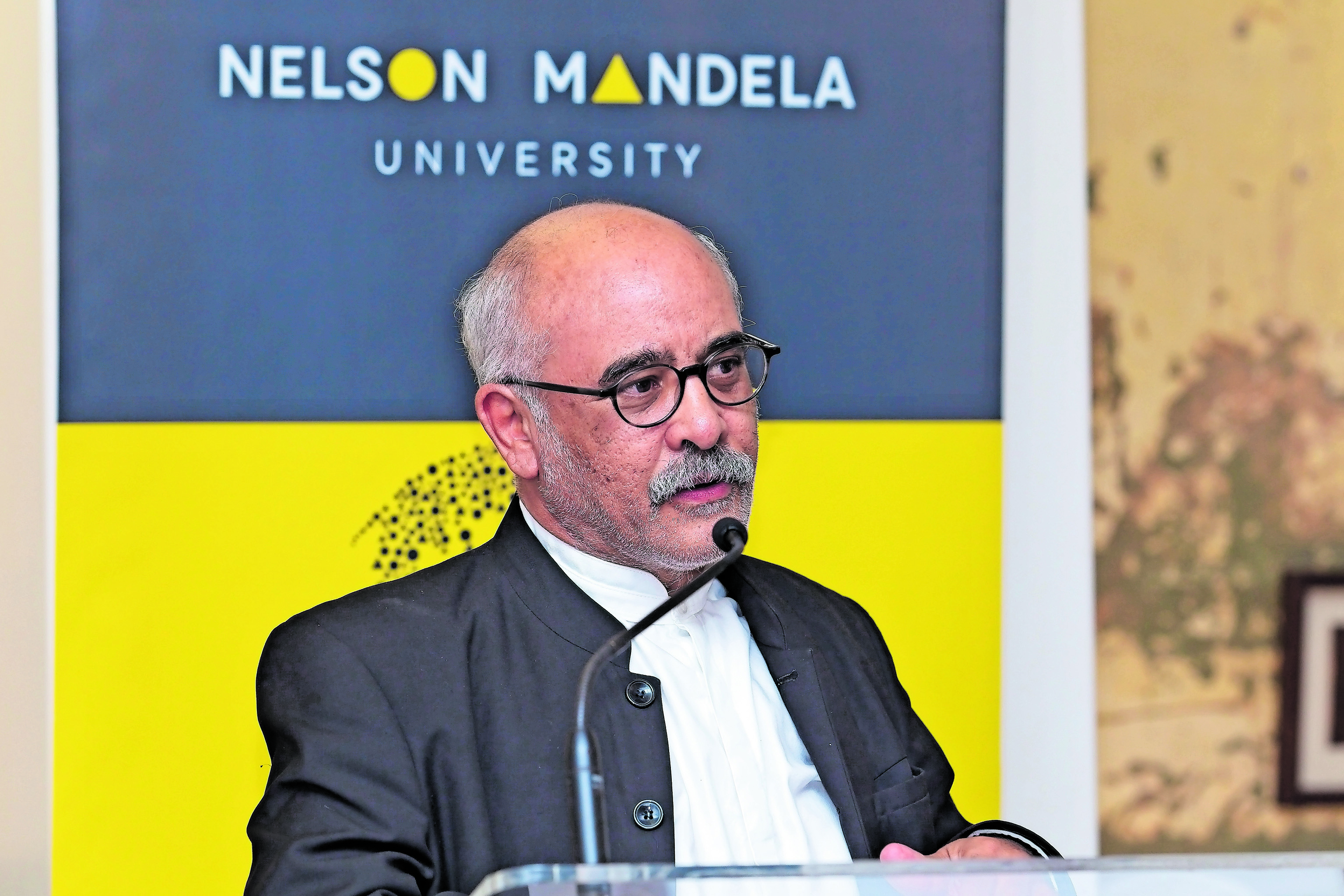 HSRC chief executive Professor Crain Soudien
"I have lots of books on Nelson Mandela, but I'm constantly amazed by the new things that keep emerging and there are new things coming out all the time, but we haven't yet come to pay attention to how this history provides us with an opportunity of thinking about South Africa's emergence into colonialism, [and] into modernity.
Soudien said he hoped the idea of TIMS would be carried further than Nelson Mandela University. "I really hope this is not the only place this is happening. This is an idea of what South African universities could be.
"Here we have a real opportunity for engaging with history, sociology, politics, anthropology and a whole range of disciplines. The opportunity is of course about facts but it's also about interpretation, how you come to these fields, how you come to be a sociologist, how you come to be a literary theorist.
"The challenge that we have here, and that's the decolonial stuff, the challenge is that a lot of our disciplines are totally derivative. We depend so much on other people. I'm wanting to argue here that we have an opportunity. It's not an opportunity we must be arrogant about, but we must be bold, we must be courageous and take big steps. We must get things wrong and deal with getting them wrong."
Nelson Mandela Foundation chief executive Sello Hatang said the project needed to have relevance for today and the future. "Any project we think about must impact the lives of those who are still to be born."
He said it should speak to key issues in our society, including poverty, inequality and violence.
"The trauma we [as South Africans] are going through every day is our woundedness and that woundedness in my view is something a project like this needs to be looking into.
"How do we deal with the depth of the soul of this country? And deal with that woundedness?"
He said the project also needed to touch many lives beyond the Eastern Cape.
He said just as Mandela is viewed as "the ancestor of hope" (by Bishop Malusi Mpumlwana) and how many think of his former wife Winnie Madikizela-Mandela as "the ancestor of active citizenship", Hatang said he hoped the project would "help us become active citizens and living ancestors of hope … that whoever looks at us can also say I want to also be a part of that."
André Keet, Chair for Critical Studies in Higher Education Transformation (CriSHET) at Nelson Mandela University, said, through the exploration with scholars,the ideas aroundintellectual work relating to Mandela was increasing, which he called "a fascinating and great development".
"Put that together under a programme with so many collaborators and the possibilities are endless. It's something that we're looking forward to.
"Universities are complex systems and processing these various ideas into a programme that can respond both to the bureaucratic impulses of the university and also the creativity of the intellectual project is what the vice chancellor is processing through the different sets of structures.
"We have left the idea and its format very open as part of this journey to co-travel and to co-create and also to bring in a stronger young student voice into this space.
"Our responsibility is to work on an every-day basis towards the social justice ideals a university should stand for.
"If this is one avenue in which we can do that, with a particular kind of tagging with Madiba, then that will be great."
Students debate Mandela's positioning in the #FeesMustFall movement
On one Nelson Mandela University campus, students and recent graduates debated the positioning of Nelson Mandela and his social justice ideals in the #FeesMustFall movement, while on another campus, a protest around fees was in full swing.
That was the backdrop to the [email protected] session at the Mandela Colloquium, held from March 6 to 8 at Nelson Mandela University. The opinions were varied and at times critical — some seeing the "dancing grandfatherly" image of Mandela they grew up with as far removed from current student activism.
Sumaya Hendricks, an analyst on the Dialogue and Advocacy programme at the Nelson Mandela Foundation who is completing her doctoral studies, referred to Madiba's 1997 speech during the handover of leadership to Thabo Mbeki. He said he was handing over the baton received from generations before to the next generation, to serve the interests of people and society.
"He didn't see himself as someone who ran the whole race. My contention is that [the #FeesMustFall] students weren't given the baton, but found it lying on the floor — at the time, it was really discarded — and they picked it up and have taken it forward. It's something we should all be proud of."
She went on to say the younger generation did not identify with the idea of Mandela as being part of the traditional radical activists "even though one can't discredit his revolutionary credentials". However, she said the post-prison Mandela they watched as they grew up was part of the old order, a hero of their parent's generation, no longer a "cool" role model for this generation.
"You want to rather draw on Fanon or Malcolm X. Maybe it's symptomatic of the human condition. We are forgetful. What we saw before us was a kindly old man who dances at concerts. It hasn't helped that people have reinforced this time and time again. So that what people in society praise is this kindly old man … It's not surprising that students reject Madiba because that image has come to embody and characterise who Madiba is."
She also said students were "over-critical" of Mandela and spoke of "a failure to see that we are saying something about ourselves in that harsh criticism".
Pedro Mzileni, who was Student Representative Council (SRC) president at Nelson Mandela University during the #FeesMustFall protest and is now a research assistant within the Chair for Critical Studies in Higher Education Transformation and a candidate for doctoral studies in sociology, presented a different view: "Mandela is my leader. I know what he did for me to be here today … I don't have time to chase nonsense that he was a sellout."
But he said Mandela had also become a commodity, the market had created its own version of him. "Our duty is to pull back all the time, to be critical of that commodification of Mandela … to pull him back all the time to the comrade we know he is.
"We can't dispute Madiba's struggle credentials. All we can do is take the baton and move forward."
However, he said Mandela wouldn't be "immune from criticism from comrades who want to know: where did you go wrong? With all the injustices of apartheid, how come white people haven't been held accountable for apartheid? What happened to the land and property questions? And we will carry on with these questions of struggle until we reach a logical conclusion."
He said it was key that "whatever we do around interrogating Madiba's legacy takes us towards decolonial and progressive possibilities".
Patronella Nqaba, researcher for the Atlantic Fellows for Racial Equity South Africa (AFRE-SA), said her work with South African and United States leaders had revealed conflicting appeal for Madiba, with the dream or promise of Madiba on the one hand and, on the other, disenchantment about the promise that never came.
"We've had to wrestle with what that means and have had to redefine leadership. What do we take with us? What do we leave behind? And not just in terms of leadership in the future but in how we define ourselves and our purpose.
"It's been difficult, but it's also a very productive space as we reimagine what's currently not here."
Responding to a question on how Mandela University can go forward in a reimagined space, Mzileni said: "Critical studies must continue, and the scholarly project of Mandela Studies. There must be progress towards decolonial and progressive possibilities [with management held accountable for these].
"For a university that carries Mandela's name, we need critique, there must be no holy cows … The student movement must never get tired of pulling universities back to the service of people."
He also touched on the cultural justice questions raised by the #MustFall movement.
"These institutes still socialise us into whiteness. How do we dismantle the cultural bias and carry the culture of communities of people? We need people to go out and tamper with the status quo of society."
Sense-maker Tembeka Ngcukaitobi, author and human rights advocate, said: "The greatest challenges when it comes to seeing Nelson Mandela is that we don't understand enough of him. There is so much of him that is still invisible.
"Our response is to try and make visible that which current scholarship has made invisible."
However, he said the deep digging into who Mandela was — and the uncovering of possible uncomfortable truths — needed to be done in a way that was "compassionate and tries to understand the man in the context of his own circumstances".
"But we must nevertheless make that visible."
He said just recently at the Pretoria archives, he had found an affidavit where Mandela admits striking his first wife with his elbow.
"How does one engage with this in the context of the big man, the hero? How does one try to tell that story? In a way that's compassionate and tries to understand the man in the context of his own circumstances. But we must nevertheless make that visible. How is it that so many people who have written about Mandela have missed this part of the evidence? … And why don't we know about the personal correspondence between Robert Sobukwe [from the Pan Africanist Congress] and Mandela? Why is Mandela always seen as an enemy of the PAC? … What is the way of making visible that which scholarship has made invisible?"
He said another problem was why Mandela was divorced from history.
"Why is it that the only understanding of Madiba is Mandela, the teddy bear — and yet Nelson Mandela is one of the greatest revolutionaries of the 21st Century?
"Today, we are critical of Nelson Mandela and perhaps rightly so, but we are using today's lenses, we are not placing ourselves in that past moment in time.
"We do Nelson Mandela a disservice by focusing too much on his legacy as president. Possibly, he was just a normal president, a dismal president, but that shouldn't blind us from Nelson Mandela, the revolutionary."