Weeks before the elections, the Inkatha Freedom Party (IFP) said that it would arrest its drastic decline in votes every election: "We are not going anywhere. We are here to stay."
For the past 15 years, the IFP has lost votes hand-over-fist, seeing their biggest decline between 2004 and 2014, where it lost 4.57% points.
Now the party can safely say that they will have enticed close to 4% of the electorate.
Mkhuleko Hlengwa, member of Parliament, told the Mail & Guardian that they had noticed that party was experiencing a rapid decline over the years.
"The biggest decline arose out of the ANC's sponsoring of the NFP project. The ANC was hell bent on establishing a political hegemony in KwaZulu Natal to wipe us off completely off the political radar as that has been their historical mission since 1979. We are not surprised at their shenanigans," he said.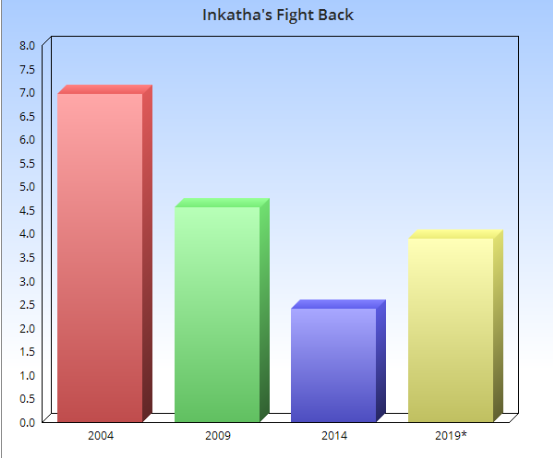 With close to 90% of the votes counted, the IFP has 502 898 votes and sits fourth on the party log, just ahead of the Freedom Front Plus.
According to the predictions by the Council for Scientific and Industrial Research the IFP will be the official opposition in KwaZulu Natal.
But that did not come easy as Hlengwa states that they had to go back to the drawing board and re-engineer their strategy.
"We went back to branches and that started paying off in 2016. The strategy has come full circle now because we have successfully arrested an electoral decline and not just stabilised but sent ourselves on a trajectory of growth which we had set into motion a few years ago."