Last week, guests of the Met Gala honoured the invitation by adorning their bodies in too much of everything — and then more.
Rapper and reality television star Cardi B came dressed in an ox-blood red Thom Browne dress — reminiscent of menstruation and a quilted HomeChoice duvet — with a train that needed an entourage of 10 people. Lupita Nyong'o wore her hair in an Afro with five gold Afro picks to match her rainbow-coloured shimmery organza gown. Janelle Monáe, wearing four hats and dressed in a Christian Siriano balloon-hipped outfit with an eye that blinked, covering one breast, mimicked an abstract portrait.
Arguably one of the most camp looks of the night was that of actor Billy Porter. His Sun God ensemble was made up of an embroidered catsuit, 3m wings, a 24-carat gold headpiece, gold-leaf Giuseppe Zanotti boots and a wig made of gold chains.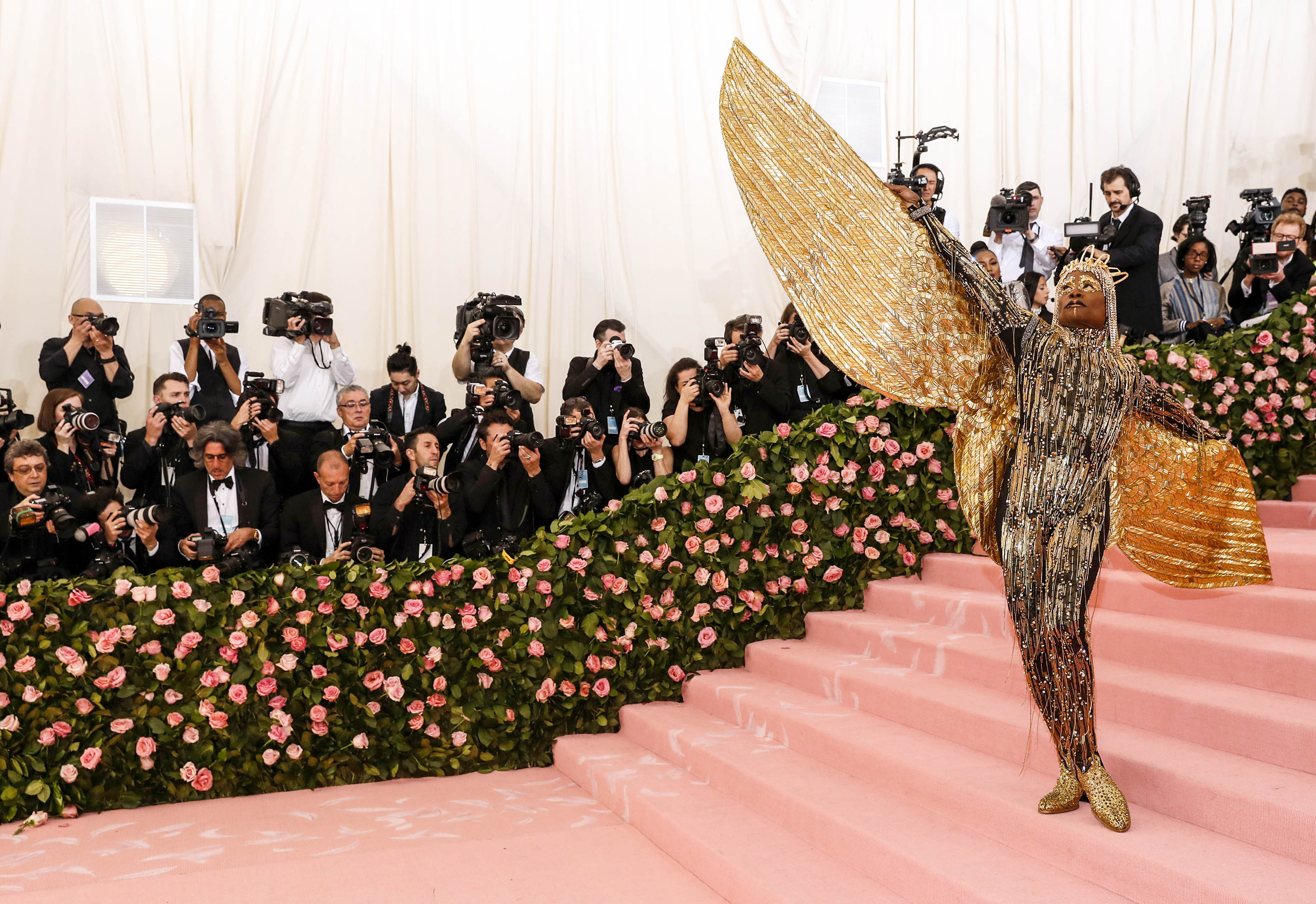 Claiming camp: Actor Billy Porter said his Egyptian-inspired gold outfit was to celebrate being taken seriously. (Andrew Kelly/ Reuters)
While walking the red carpet, Porter told YouTuber Liza Koshy that his Egyptian-inspired look was in celebration of the fact that he has built a career out of being taken seriously. "For many, many years [camp] has been used as a pejorative," Porter said. "When you have something like this, it brings the respect back to something that is high, high art."
Taking place on the first Monday of May since 1948, the Met Gala is an annual fundraising event for the Metropolitan Museum of Art, the United States's largest art museum. All proceeds from the gala go towards the museum's Costume Institute to finance its annual fashion exhibition, which makes its debut on the night of the gala. To raise the funds, guests are charged a hefty entry fee. With a guest list curated by Vogue's editor-in-chief, Anna Wintour, the actors, musicians, designers and artists who attended this year's gala paid about R427 233 for a ticket.
Since Wintour sat in the presidential seat of the gala in 1989, it has been considered what former New York Times fashion critic Cathy Horyn referred to in 2006 as "a frenzied red-carpet romp that now surpasses, at least in terms of frocks, the Oscars".
Every year, the Met Gala's theme is based on the Costume Institute's latest exhibition. Titled Camp: Notes On Fashion, the 2019 exhibition is framed around Susan Sontag's essay, Notes on "Camp". Since its publication in 1964, the essay has been regarded as a seminal piece of work by cultural analysts when making reference to camp.
In the almost 6 000-word essay, Sontag describes camp as follows: "Indeed, the essence of camp is its love of the unnatural: of artifice and exaggeration … It is the farthest extension, in sensibility, of the metaphor of life as theatre … Camp is art that proposes itself seriously, but cannot be taken altogether seriously because it is too much."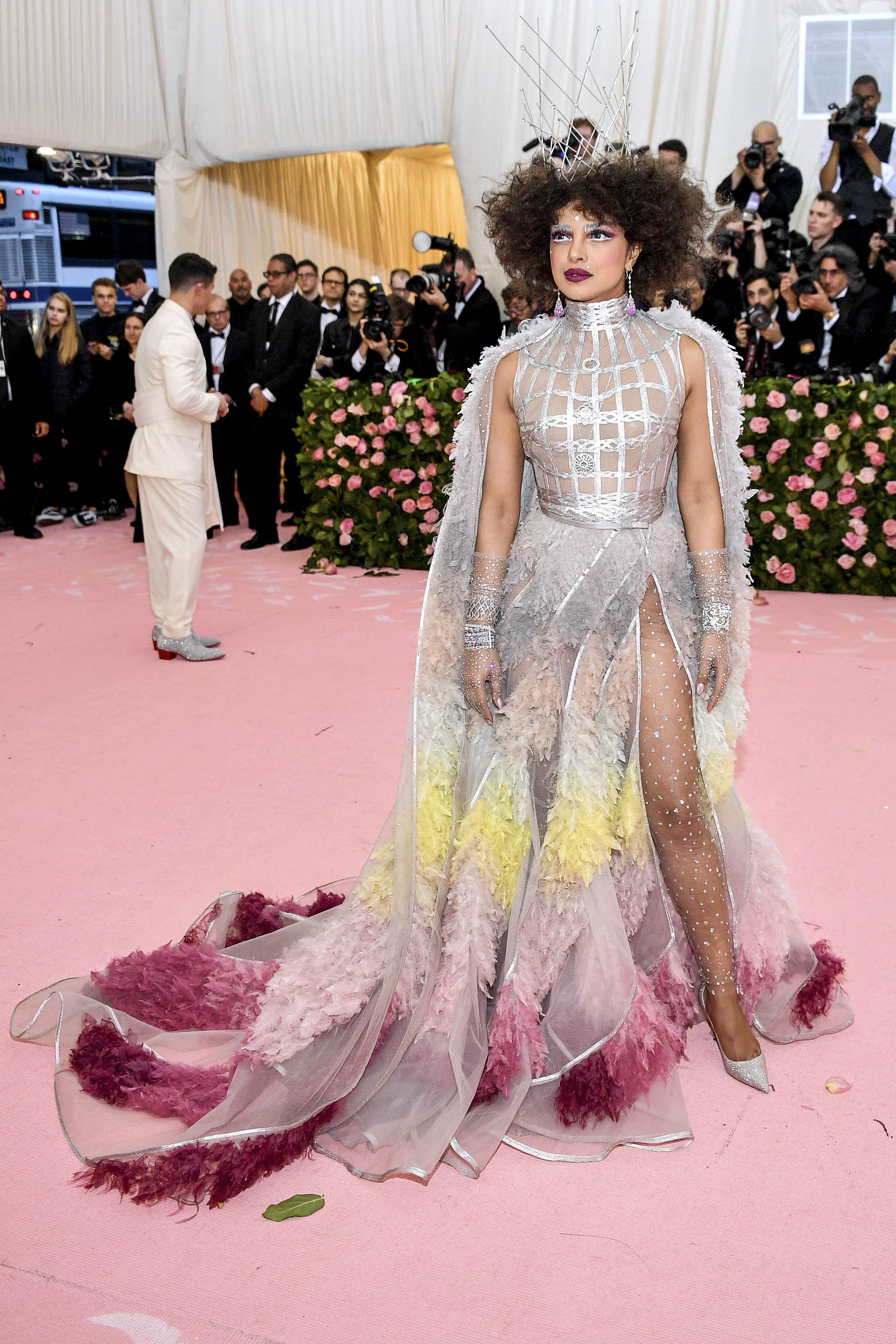 Priyanka Chopra celebrated otherness in her over-the-top costume. ( Dia Dipasupil/ FilmMagic)
Andrew Bolton, curator of the Costume Institute, told Vogue's Hamish Bowles that he chose the theme because "it would have a lot of cultural resonance" with what the world is going through culturally and politically.
Part of what Porter touched on has to do with how Sontag neglected to acknowledge the queer community's influence and ownership of camp. Leading up to the 2019 Met Gala, pop culture platform Refinery's Erika W Smith argued that "it's impossible to discuss camp without looking at the influence of queer folks, particularly queer and trans people of colour".
This is because the manifestation of this phenomenon is most evident in the 1980s ballroom scene showcased in the FX (and Netflix) series Pose and the reality competition show RuPaul's Drag Race. And it goes beyond the aesthetic. It lives in linguistics through the redefining and exaggerated use of words such as "queen", "slay", "realness", "walking" and "reading". In the same way, camp disrupts small-mindedness. Smith's argument suggests the performance that traditions such as ballroom culture put on to celebrate queerness are synonymous with what Sontag referred to as defying "intellectual narrowness".
Thebe Magugu, designer, winner of the 2019 International Fashion Showcase and self-dubbed scholar of fashion, said that he looks to mixed medium artist Athi-Patra Ruga as a local reference for camp.
"I don't think he uses it in the light-hearted manner people associate with camp. Camp relies on exaggeration and absurdity as vehicles to further conversation, or rather commentary, and Athi uses it to examine critical issues," explains Magugu.
The absurdity Magugu refers to can be seen in many of Ruga's works. In a story published in November 2017 by the Mail & Guardian about Ruga's 2017 Whatiftheworld show, Queens in Exile, Thulile Gamedze describes his works as refusing "to offer easily consumable representations". In The Death of Beiruth I, a photograph from Queens in Exile, the subject emerges from a manhole in a helmet that overflows with hair from all its openings. Another example is The Knight of the Long Knives in which a body of balloons, wearing pink stockings and dancing shoes, sits on a bedazzled zebra while faceless flower-people keep watch. Ruga makes use of these unnatural and impractical sites to shine a light on the forgotten: queerness, femmedom and black womanhood.
Other South African camp figures include the likes of Somizi Mhlongo, FAKA duo Fela Gucci and Desire Marea, Moonchild Sannelly, Nataniël and Thandiswa Mazwai. Although they have not stated identifying with camp, the manner in which their public appearances exist on the outskirts of what is considered comfortable, familiar and acceptable to the viewer makes it camp.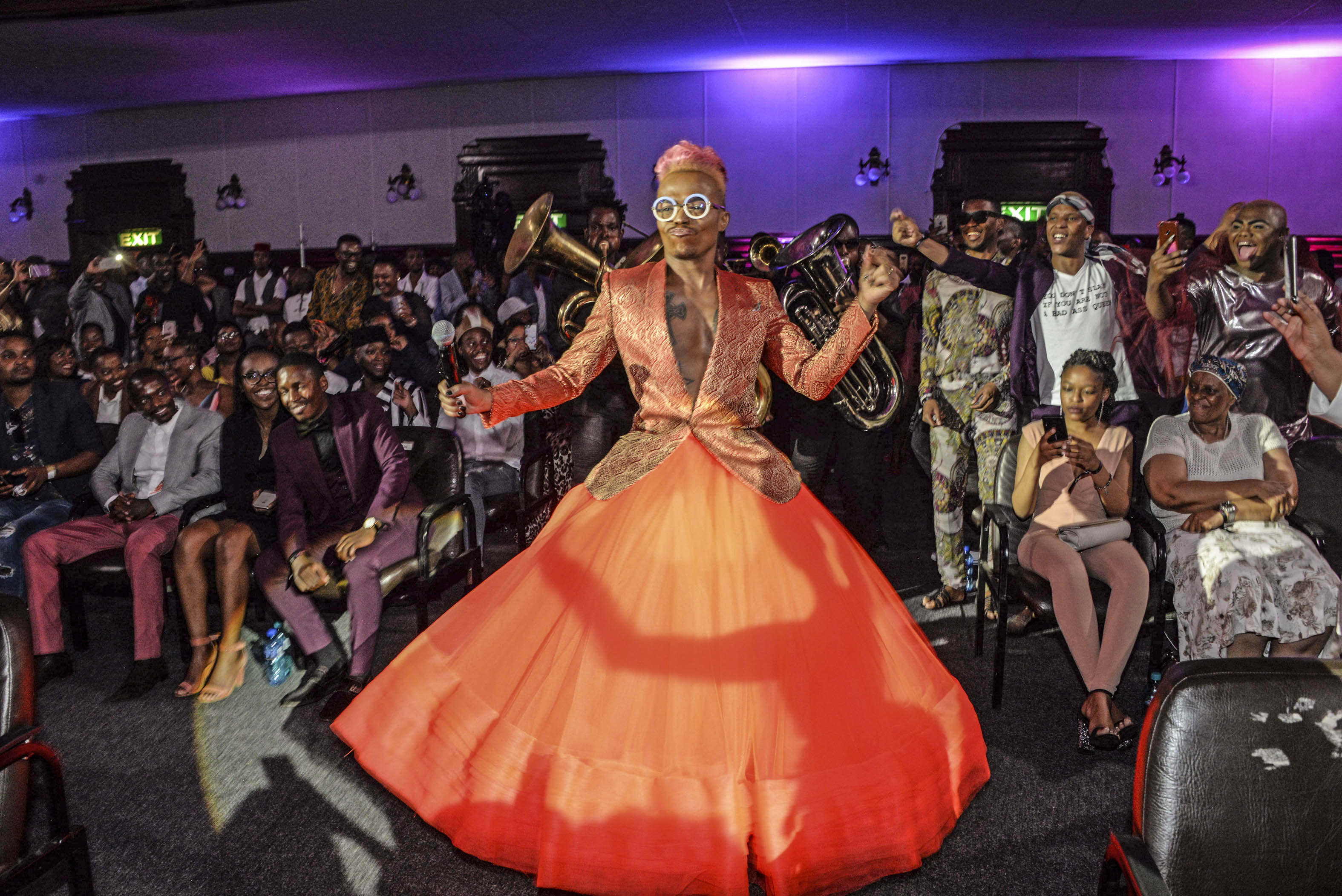 Choreographer and television personality Somizi Mhlongo gives his take on camping at home. (Oupa Bopape)
South African camp is Mhlongo wearing a white, low-cut, bedazzled catsuit and matching thigh-high boots with wavy extensions to the 2018 MTV Video and Music Awards. It is FAKA in matching skintight latex pants with Gucci in a fur top and Marea in a silk blouse dancing in an open veld ekasi. It is Moonchild Sannelly on stage in blue yarn braids, fishnet stockings, a thong bodysuit and teddy bears for shoulder-pads. Camp is Nataniël's intense eye make-up and red lipstick while wearing a floor-length coat covered in stuffed animals to a stage production. It is Mazwai performing in upper-body rope bondage, a tulle skirt and sneakers at a Fetish concert.
Camp is a celebration of what is othered and shunned. It is pop culture's grassroots means of disrupting a norm that is not inclusive, and a necessary means to confuse and nullify the conservative, ableist, queerphobic narrowness that many South Africans have to navigate.