The Association of Mineworkers and Construction Union (Amcu) has signed a wage agreement with Rustenburg-based Siyanda Bakgatla Platinum Mine, which will see miners paid a basic wage of R14 309 a month in the third year of a three-year agreement.
This is substantially less than the R17 000 a month Amcu is demanding from major employers Anglo American Platinum, Impala Platinum and Sibanye-Stillwater.
The agreement could lay the foundation for a looming showdown in the platinum sector ahead of the wage negotiations with other companies and unions in the industry.
Amcu's rival union, the National Union of Mineworkers (NUM), has rejected the agreement with Siyanda, saying its members demand an increase of 6%.
NUM deputy general secretary and chief negotiator William Mabapa admits that it could face problems when it meets Siyanda later this month to renegotiate the deal, because it is the minority union at the company.
"In terms of wages, it's a take it or leave it. We have negotiated; we have reached a stage where we must declare a dispute," he said.
Amcu national treasurer Jimmy Gamasaid the union had concluded its negotiations with Siyanda earlier this year, after the company had approached workers requesting that talks be completed before its financial year-end on February 28.
Gama added that the mining company has committed to backdating the wages to March, which would cost it about R34-million.
But Gama denied that the deal could set a precedent for the upcoming talks between Amcu and other platinum bosses.
"Every company has a method [by] which they negotiate wages. Negotiations are based on how the company has fared in the financial year," he said.
In the agreement with Siyanda, employees in the supervisors' bargaining unit will get a R983 (5%) increase in the first year, R1 063 (5.2%) in the second year and R1 186 (5.5%) in the third year, bringing the monthly wage to R14 309 in the three-year period.
Additionally, the agreement, signed two weeks ago, allows a living out increase of 4% in the first year and 4.2% and 5% in years two and three, respectively. This covers the period between March 1 2019 and February 28 2022.
Employees in the operators' bargaining unit will receive a pay increase of R950 for the first year and R1 000 each year for the second and third years. The agreement allows a living out increase of 4% in the first year, 4.2% in the second and 5% in the third.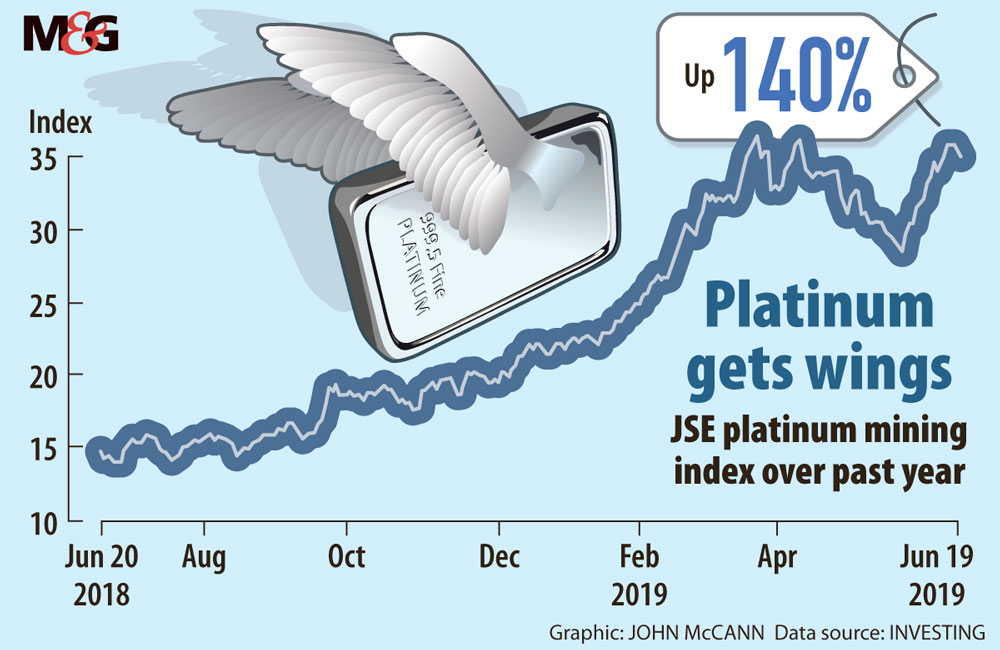 At Northam Platinum, NUM has signed a 7% increase in basic salary, reaching R12 557 a month by 2020. At Sibanye's Kroondal mine, NUM agreed to a 6% or consumer price indexincrease on basic rate of pay, whichever is greater. The union has also signed a one-year deal at Ivanplats for R7 312, a 7% increase for the lowest-paid worker.
Amcu rose to prominence in 2012, when it led a strike at Lonmin's mine in Marikana, demanding a R12 500 minimum wage. Two years later the union embarked on the industry's longest workers' strike, demanding a salary increase from R5 000 to R12 000. After five months of industrial action, the workers accepted a minimum salary increase to R8 000 spread over three years.
In 2016 Amcu accepted a 12.5% wage increase, after initially demanding a 47% raise.
"These kinds of high demands are pretty normal for the start of wage negotiations," said Sibanye spokesperson James Wellstead. "The numbers that Amcu present are usually quite high."
Amcu is fresh from a failed five-month strike in the gold sector, which saw 14 000 of its members accept the original three-year wage agreement signed by three other unions, after employers agreed to a R4 000 "cushion" payment and a R5 000 loan for each of its members.
Wellstead said Sibanye hopes the negotiations in the platinum sector run more smoothly than those in the gold sector.
"When we concluded the strike, the agreement was that we would have constructive engagement going forward. We hope that they will adhere to that," he said.
Unlike in the gold sector, the platinum group metals (PGM) operations do not negotiate wages through collective bargaining but on a company by company basis. This could give the companies an upper hand, especially considering mining companies have seen large profit increases over the past year.
Mergence Corporate Solutions mining analyst Peter Major said Amcu could use its dominance in the platinum sector to apply pressure to the other mining companies that have not yet signed agreements.
But Major has not ruled out the possibility of protracted negotiations because Amcu has already set a precedent by signing the agreement with Siyanda.
"Nobody wants to have a protracted wage negotiation because it costs everybody a lot of money."
At a news conference last Friday, Amcu said it has based its demands on the increased basket price of the PGMs. According to its research, the price of rhodium has risen 300% since 2016 and palladium 150%. As of February this year, rhodium was trading at $2 645 an ounce, palladium at $1 488 and iridium at $1 460.
According to the National Platinum Strategy 2050 report released by the Minerals Council South Africa, these healthy numbers are a far cry from the 2016 numbers, when production had dropped to a 10-year low of 8.5-million ounces, valued at R96.5-billion. At the time the industry faced serious problems, including significant changes in supply and demand, the weakening rand, escalating cost increases and falling jewellery demand in China.
By last year the PGM sector saw signs of improvement, producing and exporting 259 tonnes of platinum, earning R96-billion in revenue and employing 168 000 people. It paid employees R48-billion in wages and salaries and contributed R900-million in royalties to the fiscus.
Impala spokesperson Johan Theron says although the industry has seen increased profits, it is by no means "out of the woods".
"There's significant ongoing consolidation and restructuring in the industry. There's a lot of job losses. The industry is still fighting for survival and relevance," he said.
Thando Maeko is an Adamela Trust business reporter at the Mail & Guardian