'I've always been a car guy. My father was a car guy and I'm a car guy," says Adriaan Turgel, who is sitting in his office on a bright, frigid Johannesburg morning. But, unlike a typical petrolhead, petrol is not a feature of his passion. Instead, it is electric vehicles that occupy Turgel, who has come to own 17 over the years.
He is into vehicles that are "simple, cost-effective, environmentally friendly and appropriate for task transport".
Turgel has recently been awarded a licence to manufacture, import and build vehicles, and has a showroom and workshop in Cape Town. Turgel, the owner of Liebermann Pottery, something of a Johannesburg institution, focuses on small electric vehicles for niche and cargo applications. The cars, which are double or single occupancy vehicles and come from China, will not "go Cape to Cairo", but will work for people with a commute of less than 100km a day.
The numerous other applications for these cars — from delivery services to quiet security patrol cars — are what really get him excited. The electric vehicles, which can be charged on a three-point plug at home, are "fucking fantastic".
The 65-year-old's enthusiasm is, however, sharply tempered by a deep frustration with what he likens to a Kafkaesque bureaucracy and the failure by policymakers to promote electric vehicles in South Africa.
In regions such as China and the European Union, "there are so many incentives, advantages and encouragement by the state to make electric vehicles your choice", ranging from tax concessions to preferential parking concessions. These incentives should be urgently adopted by South Africa's policymakers, says Turgel. Instead, they "are up their own jumper".
Globally, the world's transport systems are moving towards electrification, with countries such as France and the United Kingdom targeting outright bans of petrol- and diesel-engined cars in the coming decades. A host of other countries have set targets for electric vehicle sales.
China is by far the world's leader in electric vehicles, according to the International Energy Agency. The China Association of Automotive Manufacturers stated in April that its sales of battery electric vehicles had risen 83% on a year-on-year basis. Sales of plug-in hybrid vehicles had risen 91% over the same period.
But the switch to electrified transport in South Africa comes with a series of potential pitfalls that require active policy interventions by the government to manage the negative effects and maximise the positive ones, warn experts. But there are clear opportunities — notably in areas such as electrifying public transport — which could mean large benefits to South Africans, including in better air quality and higher disposable incomes as citizens spend less on their travel.
In a paper by consulting firm Change Pathways and the think-tank Trade & Industrial Policy Strategies, authors Anthony Dane, Dave Wright and Gaylor Montmasson-Clair outline the policy implications of a transition to electric vehicles.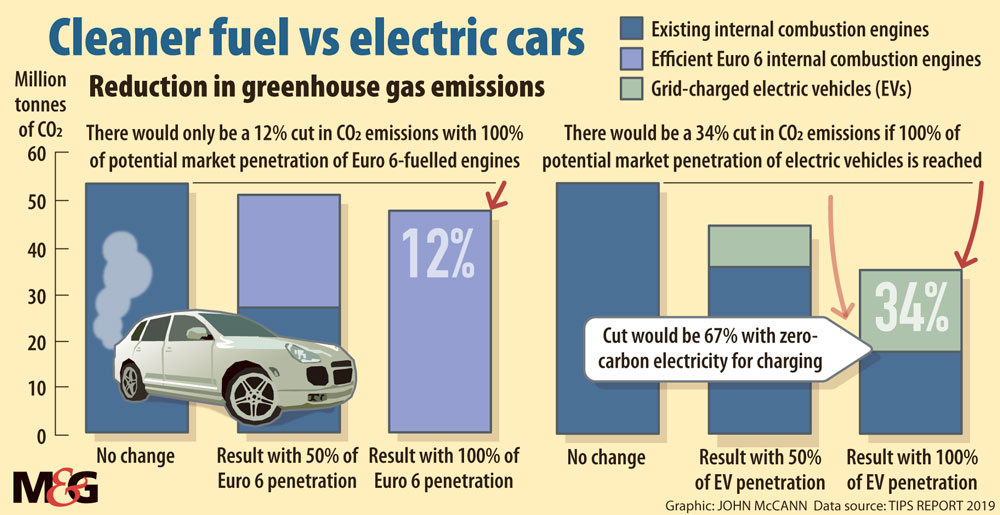 Some of the key areas where uptake in electric vehicles would be felt include declines in government revenues from fuel and other levies on cars with internal combustion engines.
In 2017-2018, fuel levies contributed R70.9-billion to government's revenues, according to the authors. A decline in sales of cars with internal combustion engines would lead to reduced carbon tax revenue, which raised R1.3-billion on these vehicles in 2017-2018.
But the negative effect would be ameliorated by decreased crude oil, petrol and diesel imports, which cost $11-billion in 2017 or about R155-billion at current exchange rates. These imports would be "displaced by locally produced electricity, with favourable impacts on South Africa's foreign exchange reserves, the rand exchange rate and economic development", according to the paper.
As the price of electric vehicles falls — they are expected to be competitive by 2024 and reach parity by 2029 on an unsubsidised basis — commuters across all segments could see their transport costs decline by 57% to 60%, according to the authors. Private car owners would benefit directly and public transport commuters indirectly, assuming a full pass-through cost for consumers.
The paper also argues for ways to manage the transition to electric vehicles to retain the competitiveness of the local automotive industry. The sector receives substantial industrial policy support — through the Automotive Production and Development Programme and the South African Automotive Masterplan, which takes effect from 2021 — to produce petrol and diesel cars, the majority of which are exported to markets such as the EU, as domestic demand has declined.
Given the shift to electric vehicles, preserving the local industry's position would require significant investments by original equipment manufacturers (OEMs) — the international car companies that manufacture or assemble vehicles here — to update their facilities to produce electric vehicles, say the authors.
"While government has no direct control over the models manufactured by OEMs in the South African plants, proactive policy options are available to facilitate the transition and ensure that the country retains a strong automotive manufacturing industry in the long run," it said.
In the 2017-2018 year the local automotive industry received about R30-billion in support. Directly and indirectly (including retail and car maintenance businesses), it supports about four million jobs, the report said.
But, according to Hiten Parmar, the director of the uYilo eMobility Programme, which promotes electric mobility, although 60% of vehicles are exported to the EU, neither the Automotive Production and Development Programme nor the future South African Automotive Masterplan provides supporting mechanisms to promote the uptake of electric vehicles.
Many EU countries are banning the use of new petrol and diesel vehicles as early as 2025, he said, meaning the automotive industry is likely to lose its principal markets.
"Proactive policy reform is required for South Africa to adapt to the global value-chain technology transition grappling the global automotive industry," said Parmar.
Importantly, the local market for electric vehicles needs to be promoted. Electric cars are not manufactured locally, and taxes on imported electric vehicles are subject to the same duties as ordinary cars.
All imported passenger cars are subject to a 25% tariff, with the exception of vehicles with internal combustion engines from the EU, which are taxed at 18%, according to the paper. They are also further hit with an ad valorem tax, based on their relatively higher retail prices. These taxes should be reduced, Parmar said, because it would boost demand and not harm the local manufacturing sector.
Renai Moothilal, the executive director of the National Association of Automotive Component and Allied Manufacturers — which represents components manufacturers in the sector — says current industrial policy and incentives programmes are "technology neutral".
But, until South Africa's domestic demand profile for electric vehicles changes, it makes little sense for OEMs to change their production platforms to make electric vehicles locally, he said.
However, should this change, and given the global nature of the automotive value chain, Moothilal said he would be "unoncerned that we cannot or will not be prepared for that change".
The OEMs are global companies, as are the majority of their components suppliers, he said. "All of them will already, at their various global headquarters … be planning for whatever the vehicle demand trajectory looks like in the next 15 or 20 years."
When South Africa eventually gets its first electric vehicle production platform from an OEM, said Moothilal, those suppliers will just "naturally upgrade" their production capabilities to meet this new demand.
Until electric vehicle prices decline, electrifying public transport — particularly buses — makes the best business sense for South Africa, according to Khanyiselo Kumalo, an energy analyst at GreenCape, a Western Cape nonprofit organisation that drives the adoption of green economy solutions.
"Electric vehicles at the moment are quite elitist; they are for high income earners," said Kumalo. "The only way that marginalised groups, or the people who travel the furthest … are able to benefit and access this technology, is if it's applied to public transport."
Electrified buses address not only the problem of greenhouse gas emissions, but congestion problems too, she notes.
"Unlike passenger vehicles, buses are fit for purpose," she says. They are more efficient, moving more people with less energy, and they cross- subsidise commuters across different income groups.
According to GreenCape, buses are already manufactured in South Africa. They are subject to between 70% and 80% local content requirements and they enjoy duty-free imports of all drivetrain components.
But, a diesel bus typically costs between R2-million and R3-million, and an electric bus can cost between R6-million and R10-million, depending on its scale. So, although the running costs may be substantially lower, the upfront capital cost for electrified buses can still be prohibitive.