The azaan, the Islamic call to prayer, spirited its way through Makhanda this week during the 44th edition of the National Arts Festival — into places and spaces of colonial and apartheid trauma, religion and dispossession, while simultaneously moving into contemporary minds.
It was heard in Neo Muyanga's musical composition accompanying Interlaced, a visual art installation in St George's Cathedral by the festival's featured artist, Berni Searle. Muyanga had used the azaan as the basis for the piece, which was first performed on the carillon of the Belfry of Bruges in Belgium, where Interlaced was filmed and initially screened.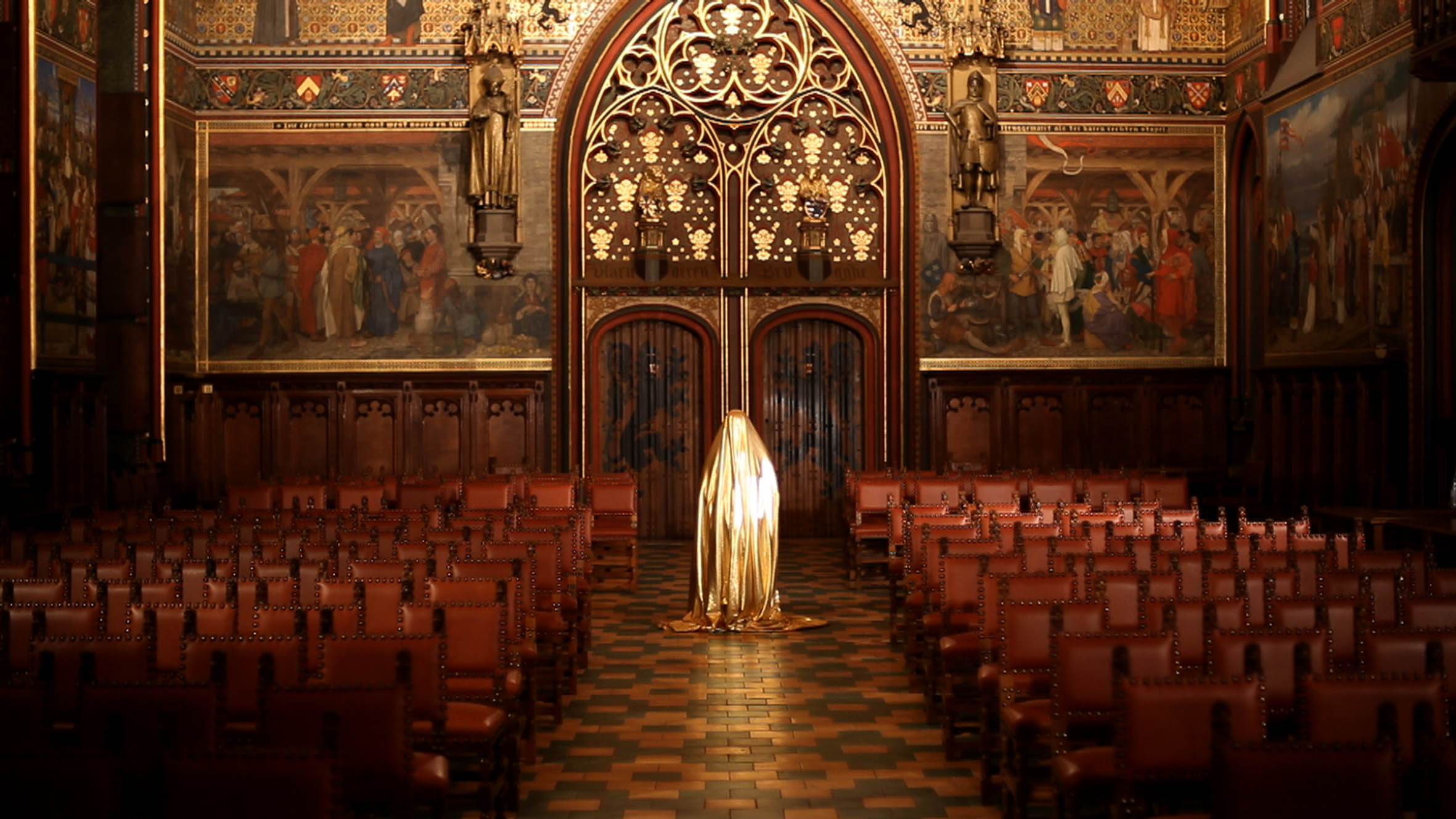 Interlaced featuring artist Berni Searle. (Supplied)
It trailed up and down the east-facing slope leading to Fort Selwyn and the 1820 Settlers Monument, which towers over the Eastern Cape university town formerly known as Grahamstown. The blustery winds that swept through Makhanda for a few days activated the mountainside music boxes/ancestral shrines, which formed part of artist Thania Petersen's outdoor installation, Ziyarat (a form of pilgrimage). Each box, set to the bayati makam, the musical mode used in the azaan, whirred into ghostly recollections of shared and personal histories, whispered around notions of what is alien or the "other", of what and who belongs, or doesn't.
It preceded the menacing, ominous rumble of the bulldozers coming to destroy Cape Town's District Six in All Who Pass, the powerful story of forced removal and the mechanisms we use to cope with trauma, by the 2019 Standard Bank Young Artist for theatre, Amy Jephta.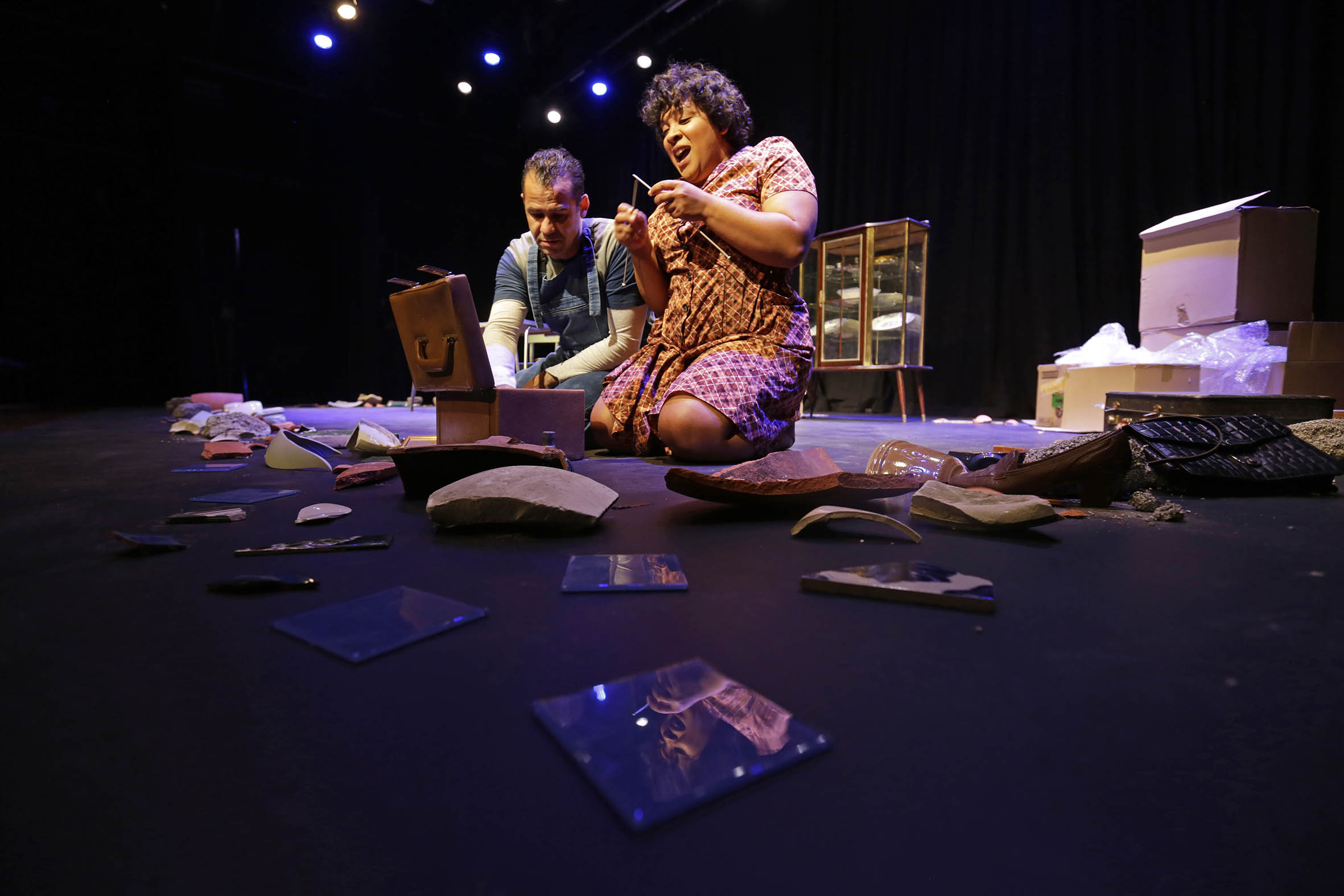 Elton Landrew and Iman Isaacs star in All Who Pass. (Mark Wessels)
The azaan's presence in what is unashamedly marketed as "frontier country" was a challenge to Makhanda as much as it was to our increasingly polarised age — a time when, around the world, vilification of class, race and religion is easily mainstreamed for populist and fascist expediency and violence.
It was a reminder that art and artistic inquiry remain essential to adding light and depth to the myriad conversations we have as South Africans in a country inescapably connected to the rest of the world during one of humanity's most dangerous, and fractious moments — even if money is tight, the arts sector is shrinking, as are audiences with disposable incomes, and the state appears intent on growing an ethno-nationalist form of arts and culture.
It was a call, perhaps not so much to prayer, but to self-reflection, contemplation, curiosity and a commitment to exist in the present.
This was something bassist Shane Cooper pointed to during his band Mabuta's set at the 32nd Standard Bank Jazz Festival. Introducing the piece Log Out Shut Down, Cooper said: "Sometimes you have to switch off and be in the here and now. That's what I love about music: you are 100% at the sharp point of time."
The requirement for people to be at time's sharpened point, rather than on the wrong side of history, was evident in many of the acts performing at the jazz festival in Makhanda.
During their set last Friday, Standard Bank Young Artist for Jazz, trumpet player Mandla Mlangeni, and his six-piece Tune Recreation Committee performed an especially mournful version of their song KeSona, a critique of the absurdist grandstanding and bouts of violent disruption that characterised Jacob Zuma's State of the Nation addresses when he was the president.
The composition opened with guitarist Reza Khota co-creating a disturbing, dysfunctional ambience with pianist Afrika Mkhize, their interplay highlighting the warped edges of democracy, before it built to a point where blood appeared to drip from every piano note and Mlangeni's trumpet playing ached with the pain of a democratic dream so definitively deferred for South Africa's black majority.
The set demonstrated another level of assurance in Mlangeni's stage performance and also included the track, The Troubles We Enjoy, another trenchant examination of our collective present.
Swedish jazz funk legend Nils Landgren's big band made clear during their superlative performance that politics and music, even if the latter gets you grooving and booty-shaking, remain intertwined. The set included pieces like Cannonball Adderley's Mercy, Mercy, Mercy!, a "funky Abba" jazz take on Super Trouper, called Walk Tall, and a blistering version of Marvin Gaye's classic, What's Going On?, which demanded you dance — and contemplate mothers crying because sons are dying, and fathers wanting to escalate wars while picket line brutality persists. It is a timeless song —ever pertinent in an age when black lives continue to not matter.
The sense that humanity is careering towards its self-destruction looms over a world manipulated by Big Men like Donald Trump, Narendra Modi, Jacob Zuma and Vladimir Putin.
The human condition appears not far off from the rabies-infected state of "self aggression" described by Jemma Kahn's virologist to the suddenly talking rabies virus in her petri dish in the deeply considered theatre piece Cellist with Rabies. It is what happens when the rabies in a dog's saliva is at its peak but it has no one to bite — the dog turns on itself.
It's an idea taken to its brutal conclusion in the dance performance piece The Boat, which examines corrupted neocolonial African states and the migration their violence against citizens causes. And the subsequent violence of these migrations.
In one of the piece's most disturbing scenes, people fight over graves because there are no other resources left to plunder.
A refreshingly outward-looking piece that considers the continent with pitch-perfect choreography and set design, The Boat is a collaboration led by the 2016 Young Artist for Dance, Themba Mbuli, and includes music by Xolisile Bongwana.
Our wounds, whether inflicted by apartheid or the failures of democracy, remain. They are repressed and are continuously reproduced.
It is a trauma and consequential dance with psychological pain made clear in G7: Okwe-Bokhwe, about the Gugulethu Seven, the stubborn stains of the past which cannot be erased and a "new" South Africa built on "the backs of our faceless martyrs [where] democracy is a placebo and the dead keep dying".
Our wounds are, as a character forcibly removed from District Six in All Who Pass succinctly describes, the prevailing state of our nation: "I'm still angry. There, under the surface. Some days I scratch at the anger and it inflames. It bursts open again, bright red, ugly, a freshly split wound. It won't heal and I won't be ashamed of it. But I can't walk around these streets — live here — with that wound wide open."
Media is replete with evidence of traumatic dispossession in contemporary South Africa, as shacks are demolished and shack dwellers are shot at.
Gentrification has also heightened the precarious state of those forced to the margins of society. This is one of the themes examined in Searle's A Place in the Sun, a new multichannel video installation commissioned by the National Arts Festival and supported by the Maitland Institute where Searle was artist in residence.
A Place in the Sun is situated in a decommissioned pool in Maitland, an area that Searle described during her artist walkabout as one of the most diverse parts of Cape Town with its mix of African migrants living there. The area is due for "redevelopment" along what is called the "Voortrekker Road Corridor". These diverse groups are under a similar threat as the mixed race groups were during apartheid.
That South Africa has been unable to respond structurally to the problems debilitating us — gender-based violence, the criminalisation of the poor by a state that often lurches towards authoritarianism, the concentration of the economy among a white elite, an incapacity to effectively redistribute land — was made clear during the National Arts Festival.
Especially in This Song is For…, the work of the Standard Bank Young Artist for Visual Art, Gabrielle Goliath.
Verbatim testimony by eight rape survivors occupies one wall of the Monument Gallery, salvaged from the invisibilisation that rape endures in this country.
On two opposing screens, women- or queer-led musical groups perform cover versions of songs chosen by the survivor for their personal significance. There is a glitch in the live recording: an organic repetition by the performer/s, like a stuck record, which causes the audience to delve into that space created. To contemplate. To consider. To inhabit a space of "traumatic recall".
Nonku Phiri and Dion Monti perform Soundgarden's Black Hole Sun, which is dedicated to rape survivor Gabriel Xavier, The Wretched perform Beyoncé's Save the Hero, dedicated to Sinesipho Lakani. Msaki, featuring Lebogang Ledwaba and Thembinkosi Mavimbela, performs the Xhosa traditional hymn Uyesu Ulithemba Lam, which is dedicated to "a woman who chooses to withhold her name" but in her testimony is clear that, "You must fight for life."
Despite the pressures the National Arts Festival faces, it remains a space where there are very few songs for political anaesthesia or amnesia. It lends hope that this moment, after the Marikana massacre, is similar to the post-June 16 1976 massacre moment in Soweto.
It was "seedtime" then, the poet Mafika Pascal Gwala noted in No More Lullabies. When, "What went round has come around/ This time the plants will grow/ and bear fruit to raise up more seed/ There'll be a refreshing persistence of the wits/ Because this time/ There'll be no more lullabies."