Botswana storyteller Tanlume Enyatseng is becoming himself, and he will not have it any other way.
"It was a dark, dark night."
This sentence won Enyatseng a spot in his school's newsletter, its public ­noticeboard and his English teacher's heart. He was five or six years old, too young to comprehend the beginnings of an obsession with storytelling and too perplexed by the attention he received for ­completing what was, to him, a "very simple classroom exercise".
With an equal measure of pride and defeat, the writer and artist recounts this ­memory as one of many moments that have led him to the conviction that all he has ever been — or wanted to be— is a storyteller.
Today, roughly 25 years after his debut "dark, dark night", Enyatseng describes himself as a ­"passionate advocate for creative intellect and culture … through my work as a writer, creative director and content producer telling stories in new and unusual ways".
In his blog, Banana Emoji, Enyatseng's work weaves together lived experiences, fantasy and social commentary related to the construction and ­representation of memory and imagination. Implicit in his work are topics of masculinity, queerness, blackness and love.
His has been spotlighted by WeTransfer, a heavyweight of the creative industry, as well as by AfroPUNK newsletter, local online magazine Bubblegum Club and local website Between 10&5. By all these weighted ­metrics for success as an artist, he is "on the rise". But the journey towards becoming himself has been anything but linear. It has involved multiple income streams, deferred dreams and online courage — and it is ongoing.
"Did you see the one with the giant penis?" he asks.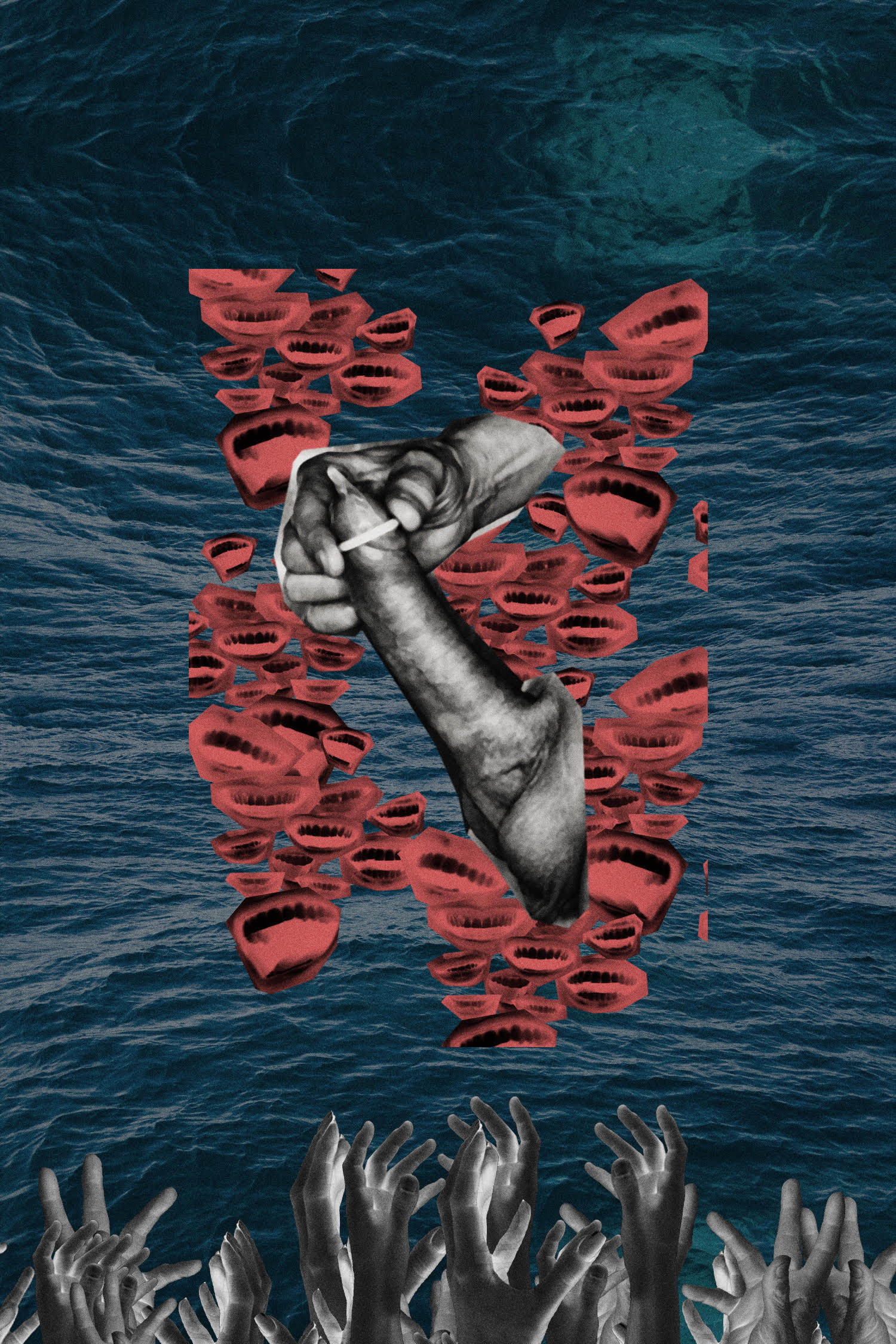 Work from Tanlume Enyatseng's collage series New Crime
We're discussing his first exhibition at No End Contemporary Art Gallery's group show, Piece by Piece, in Johannesburg this past week.
His digital collage series, New Crime, "explores traditional media's unrealistic representation of HIV and Aids over the years".
It pieces together the jingles, ethnocentric catchphrases and print ads representing people living with the virus as "happy-clappy over-comers in a Seventies cult". He references director David Lynch as well as existing media and pornography as inspiration for his darkly funny visual satires.
"They must have stuck [the penis collage] at the furthest corner of the exhibition because it was so big," he says, with mingled horror and amusement. Unaware of the specs of the gallery when he printed his work, his pieces were at least twice the size of any of the other artist's work on display.
With an introspective laugh and a sip of Turkish coffee, he acknowledges that he is aware he does not play by most people's rules, but he is also aware that he has no clue why he is like this.
As the fourth child and first son in his family, Tanlume explains that his name translates directly into "Mister Man": "Ta" meaning "mister" and "Lume" for "ma".
"I feel like it was my dad's way of establishing the fact that he'd had his first son … and then I turned out to be the complete opposite of a macho type of man," he says.
Not one to place all the blame for his creative identity on his parents' naming strategies, he divulges that, as a child, all he wanted to do was "to produce and direct ­horror stories".
He recalls being about seven or eight years old, writing scripts and forcing his sisters to read them. All of this told is with a playful hint of remorse for what he says he put his siblings through.
"That was my obsession … I was so obsessed with Scream I even wrote my own version of the film. It was really bad," he laughs.
He skips quickly past chapters of his own youth, such as "That time as a teenager I watched too much of The O.C. And wrote an entire erotic novel," said with a laugh. We pause to consider him as a celebrated Fifty Shades of Greyish writer, only to acknowledge the exercising of a writing muscle that is hardly easy to discipline.
For Enyatseng, film and writing are two mediums that reinforce each other. In his view: "Film is the closest we'll get to seeing what the inside of someone else's imagination looks like, and writing is an exercise in introducing imagination to the world."
His short film They Shoot Boys, Don't They? is his more recent exercise in both writing his imagination and visualising it. The film tells the story of two young men in love, who experience different reactions after coming out to their families.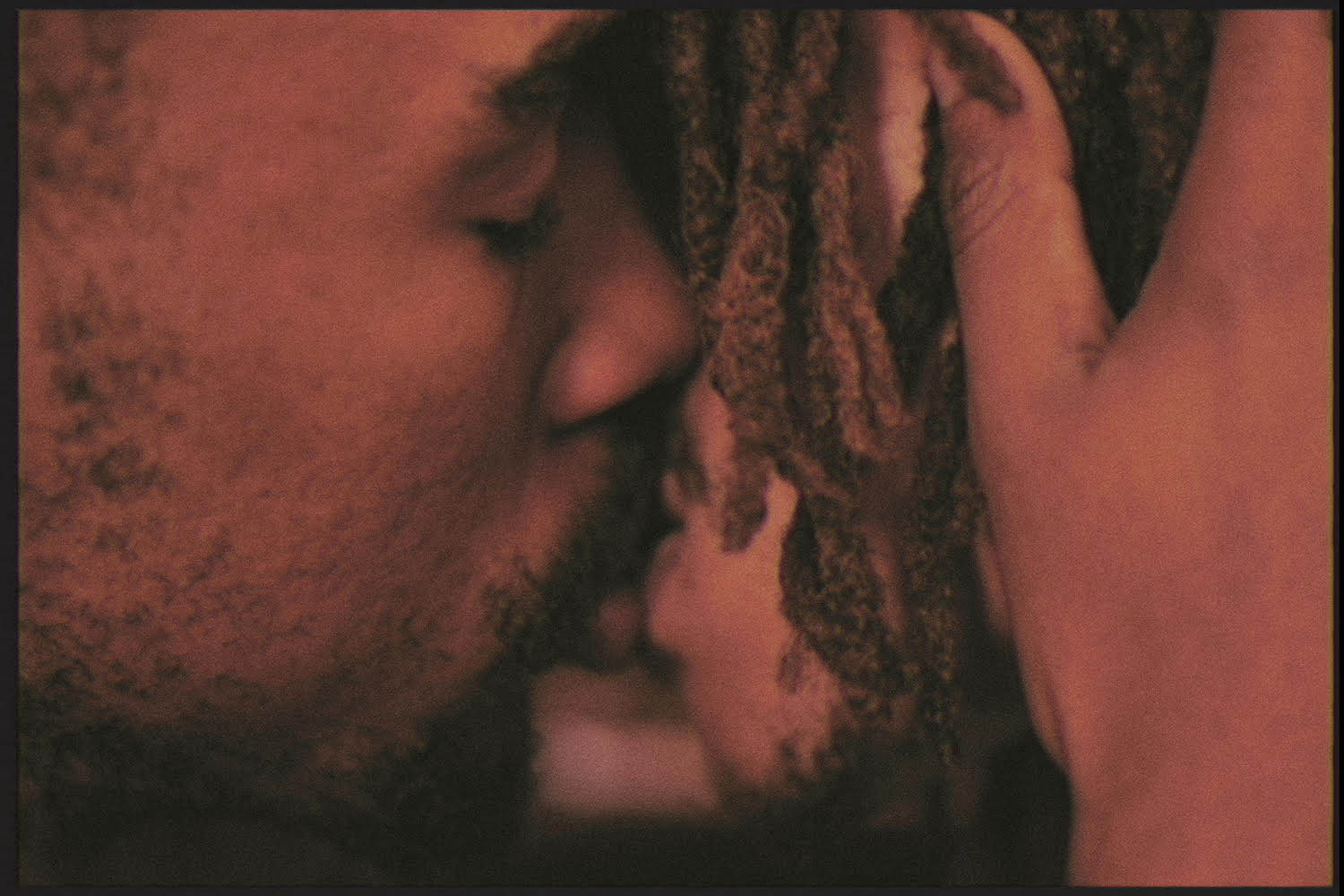 Tales: Tanlume Enyatseng's short film They Shoot Boys, Don't They? deals with young men in love and coming out
Told as a memoryscape, the short film touches on topics close to home. Although queerness is "tolerated", as he explains, gay marriage is still illegal in Botswana, and ­questions about navigating family, love and community without true acceptance still plague those who identify as queer.
Observing him chart the dimensions of his becoming as a storyteller — from one seemingly disconnected, yet intuitive, influence to another — the spirit of Octavia Butler's autobiographical essay, Positive Obsession, springs to mind.
In Enyatseng's lexicon, his work is less a series of political statements and more stories born out of shared and imagined experiences, told in as creative a manner as possible, with the resources available at his fingers.
The fact that his subjects happen to be black, male and queer a lot of the time is the expression of real, underrepresented experiences, but his subject is always love — "just universal love".
Except for that one time on a "dark, dark night".
Piece by Piece is on at No End Contemporary Gallery until 8 December