Toyota is set to lead the alternative fuel movement globally through its environment-friendly vehicles. Driving the latest Lexus IS 300 Hybrid model, it's easy to understand why: it's both economical and luxurious.
Clynton Yon of Lexus notes: "There is a movement towards alternatively fuelled engines, a striving towards greener cities. We as Toyota are playing in the hybrid and fuel-cell vehicles spaces. Toyota is definitively interested in the alternative fuel movement."
Driving into 2025, all Toyota and Lexus passenger vehicles will have fully electric options, a tipping point in the world of automobile manufacturers; the components used to build cars will be vastly different from those used presently.
The shift to a more environment-friendly consciousness is a global movement. South Africa has had a slower uptake, but the need for such has become more pronounced as the nation plays catch up with the rest of the world. Fuel costs continue to plague many South African drivers, and hybrid vehicles provide the solution.
"We are certainly not making diesel out to be the villain, but we cannot deny what is happening when it comes to diesel. Lexus is poised to take advantage of this new enviro concern," says Yon.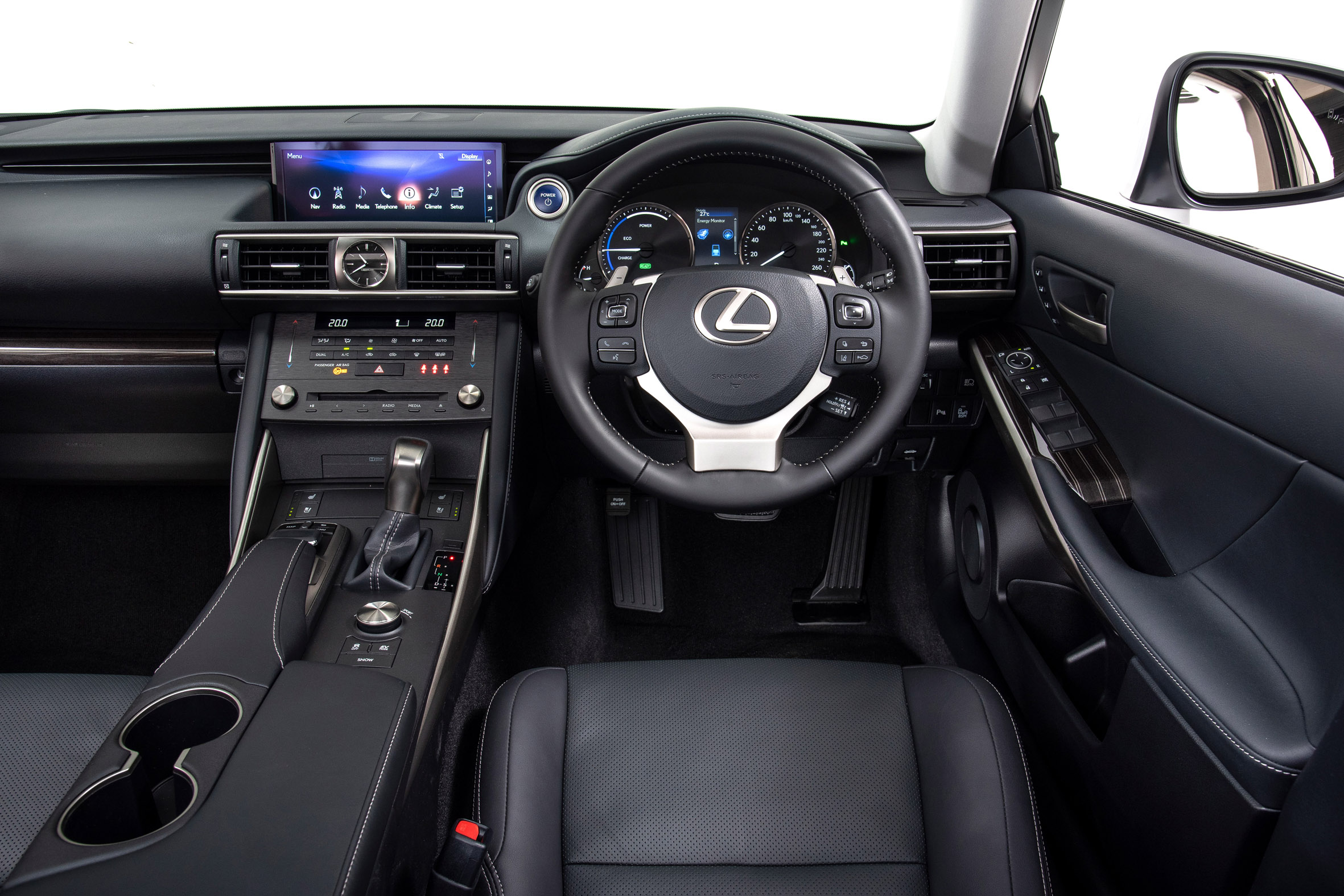 The interior is cleverly designed and user-friendly
Hybrid vehicles are fuel efficient and reduce carbon footprints. Lexus is well suited to fill the gap with its hybrid vehicle range, with Toyota and Lexus (Lexus is the luxury vehicle division of Toyota) owning a 50% share of global hybrid sales to date. With many manufacturers offering stiff competition for hybrid vehicles, for both commercial and personal use, driving a hybrid car is the embodiment of 21st Century travel.
The Lexus IS 300h boasts three driving modes: Sport, Normal and Eco. Its Drive Mode Select switch enables an impressive selection of any of these desired modes. The Japanese manufacturers' attention to the finest detail once again transcends the expectations of most in this particular segment.
Japanese vehicles are known for their practicality and reliability. With its 2.5-litre hybrid engine, it's extremely pleasant to experience the car's smooth, quiet ride, especially during stop-and-go traffic, where it incorporates cutting-edge hybrid technology: the car seems to float on a carpet of air.
The future of motoring incorporates fuel efficiency, being environmentally friendly and high tech advances, all based upon the customer of the future. Aesthetics and function meet on a higher scale in the Lexus IS 300h. It has a well-designed and functional interior. A firm favourite is the car stereo screen, which operates using a Remote Touch Interface and in-car WiFi options, providing enough entertainment for driver and passengers alike.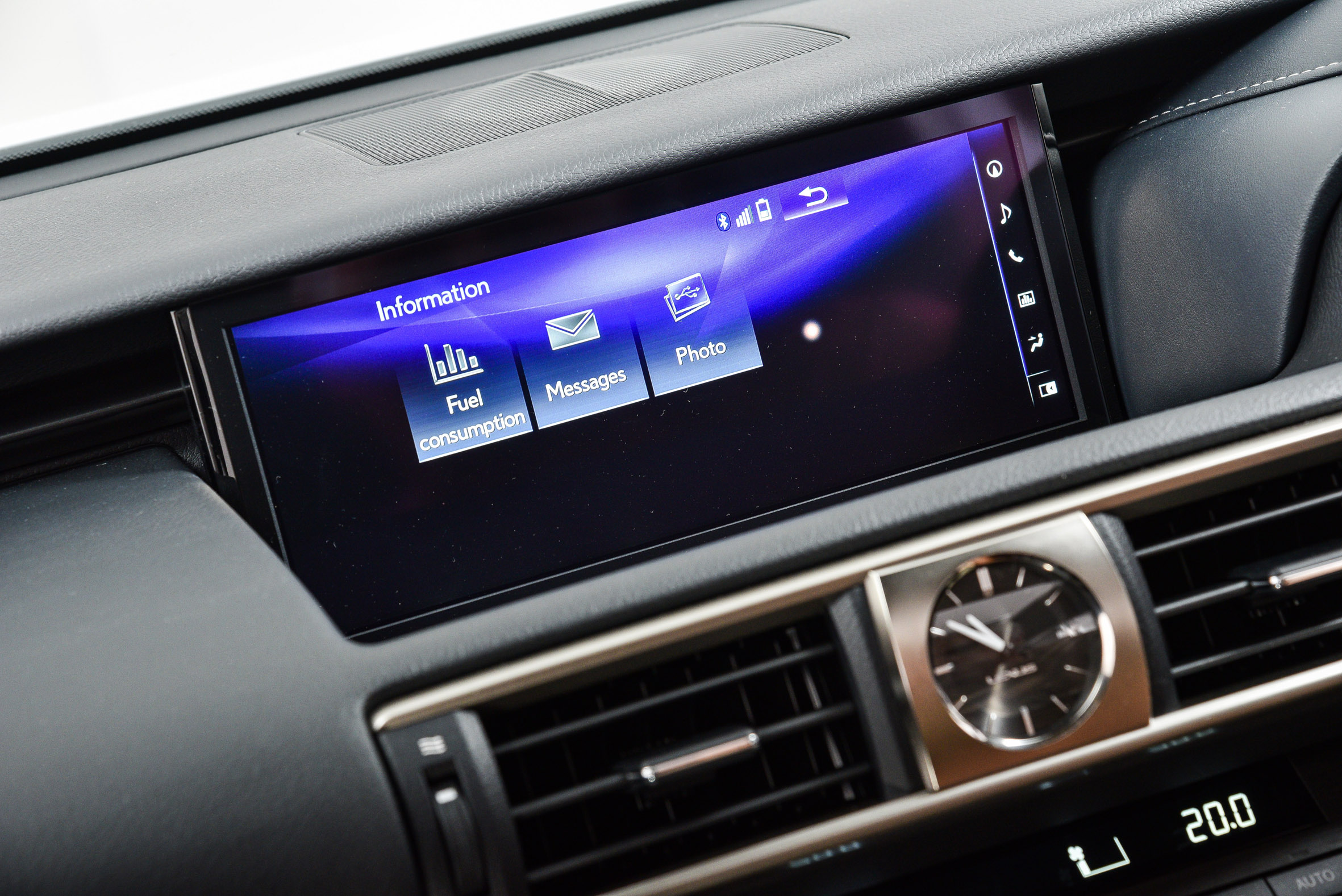 There are plenty of entertainment options for both the driver and passengers
Its additional legroom is a convenience for tall people and provides ample headroom for them too. The exterior is no different. The aerodynamic and compact body is sophisticated in its design. Its 17-inch Alloy Run-Flat Tyres provide a smooth and quiet drive while maintaining the safety and security of the passengers. There is no compromise on quality at all.
The Hybrid offers a longer driving range, but does not compromise on performance. The car's punchy torque ability on any surface is the very definition of premium quality in any vehicle. This model reaches 200 km/h at top speed — quite a performance for a vehicle in its class!
The sleek sporty look is refined by its three lamp-low beam lights and the model is available in nine colours, with four interior colours to choose from. The trademark Lexus hybrid symbol is uniquely displayed in blue on its 3D spindle grille. The tilt-and-slide sunroof is a nifty design, especially when whisking through traffic-laden streets on sunny days.
The retail price is R753 800; it comes with a full maintenance plan and seven year/105 000km warranty. Other perks include a blind spot monitor, lane departure alert and an included pre-collision system, to name but a few.
Hybrid vehicles are the cars of the future. As South Africa considers the role of incentives to contribute to a greener economy and increase affordability, the Lexus IS 300h will certainly fit the bill.
Do you dare to join the movement?
Fast Facts:
Model: Lexus IS 300 Hybrid
Price: R753 800
Engine: 2.5-litre, four-cylinder engine
Power: 133 kW @ 6000 r/min
Hybrid Battery Warranty: eight years
Torque: 221 [email protected] 4200-5400 r/min
0-100 km/h: 8.5 seconds
Top Speed: 200 km/h
Fuel Consumption: 5l/100km
CO2: 117 g/km
Transmission: CVT (continuous variable transmission)
Airbags: Eight
Maintenance Plan: seven years/105 000km