SPONSORED
The World Expo is the biggest mega-event in the world. Sumathi Ramanathan, director of destination marketing at Expo 2020 Dubai, told delegates at Meetings Africa 2020. Her big inspiration comes from a 70-year-old African American man who told her that the Expo held in Queens, New York in 1964 was one of the best experiences of his life. He wants to attend at least one more Expo before he dies.
Ramanathan gave some tips to business travel specialists from her experience at Expo 2020 Dubai
• We are all in the business of connecting people and of bringing people together for events. The power of events is not filling hotel beds and serving conference meals: when events are done properly, they have a real purpose and can touch humanity. The World Expo has, for example, showcased many life-changing inventions in its 168-year history.
• The significance of a mega-event is not only creating a great visitor experience, it is also about leaving a strong legacy, for example the Eiffel Tower after the World Expo in Paris in 1889; Dubai will get the Al Wasl Plaza.
• When you are hosting a mega-event the world's attention is on you, as when South Africa hosted the Fifa World Cup. Countries and destinations should use this opportunity to ensure that they attract as many eyeballs and as many participants as possible.
• When hosting a mega-event, you have to think of a space or arena that will enable you to have a number of satellite events, which helps bring up the number of visitors and allows you to upscale quickly.
• Economic impact is crucial. During the six months of the Expo 2020 Dubai there will be a projected 1.5% GDP equivalent added to the economy.
• The event can have a lasting impact on people. Expo 2020 Dubai will distribute $100-million to new, innovative entrepreneurs, with Africa receiving 70 grants.
• Event organisation is about skilling up. Ramanathan has had three job titles and four bosses in just under two years of being with Expo.
• Hire people who are flexible and agile. Events organisation is not about an end goal: it's a milestone game. Things change very quickly, for example, the team responsible for signing up countries for Expo 2020 Dubai transitioned to events time operations once all the signing up was done.
• Engage the community, because the project is for them. Expo 2020 Dubai has created a community engagement team to talk to the community throughout the process. This helps them to understand how they can get involved.
• Expo 2020 Dubai is the largest volunteer project undertaken in the UAE, with 30 000 volunteers on site even before the opening. This enables the citizens and residents to get involved in projects close to them.
• From a marketing perspective, Expo 2020 Dubai had to bust the myth that it's just for trade professionals. Different guest groups — leisure visitors, students, business visitors and official participants — were created, and visitor experiences were custom-built for them.
• Partnerships are powerful. For example, Expo 2020 Dubai has partnered with a company that can help repurpose and recycle 85% of the refuse on site.
DRC are the new kids on the tourism block
The Democratic Republic of Congo made its debut at Meetings Africa 2020 this week, erecting an exhibition stand filled with pictures of gorillas and volcanoes for the first time in the 15-year history of the conference.
Sam Mayaka, ministerial adviser and representing the DRC's National Tourism Office, said in an interview that the country's new president, Félix Tshisekedi, has a new vision for the country's development. "The DRC has been absent for a while at international level to promote local tourism," he said.
"The new dynamics, starting with the president himself, is to attract partnerships to the country."
Mayaka said the DRC had a stand at Meetings Africa 2020 to "interact with the tourism sector" and attract such partnerships. "We believe that it can be a strong and durable process for the country to be reinstated in the concert of nations."
He said the DRC lacked infrastructure development such as roads and convention centres, which made it difficult to host big events, but this also made the country unique in that it has vast areas of unspoilt nature.
The negative narrative of the country as a conflict-ridden and Ebola-infested destination did not help to attract international visitors. "The main challenge we have now is to communicate. Everything you hear in the media is exaggerated."
He said the ministry of tourism would go out of its way to accommodate business travel, and help with the arrangement of visas and ground transport for groups who go there. The country is also geared towards helping to facilitate investment, he said.
The DRC is the second-biggest country in Africa and has a population of about 82 million.
Anchored in ubuntu – and going places
Success didn't come overnight for Zodwa Msimang, owner of Ikhono Thrive Global. Her company's been doing communication and events for 20 years, and is expanding to exclusive event furniture hire. It is also acquiring a facility to host events and getaways.
Her motto, "anchored in ubuntu", is being applied in her Ikhono Foundation, through which she's giving back by imparting her knowledge of business management and financial management to women and young people in the rural areas of her home province, KwaZulu-Natal, where her business is based.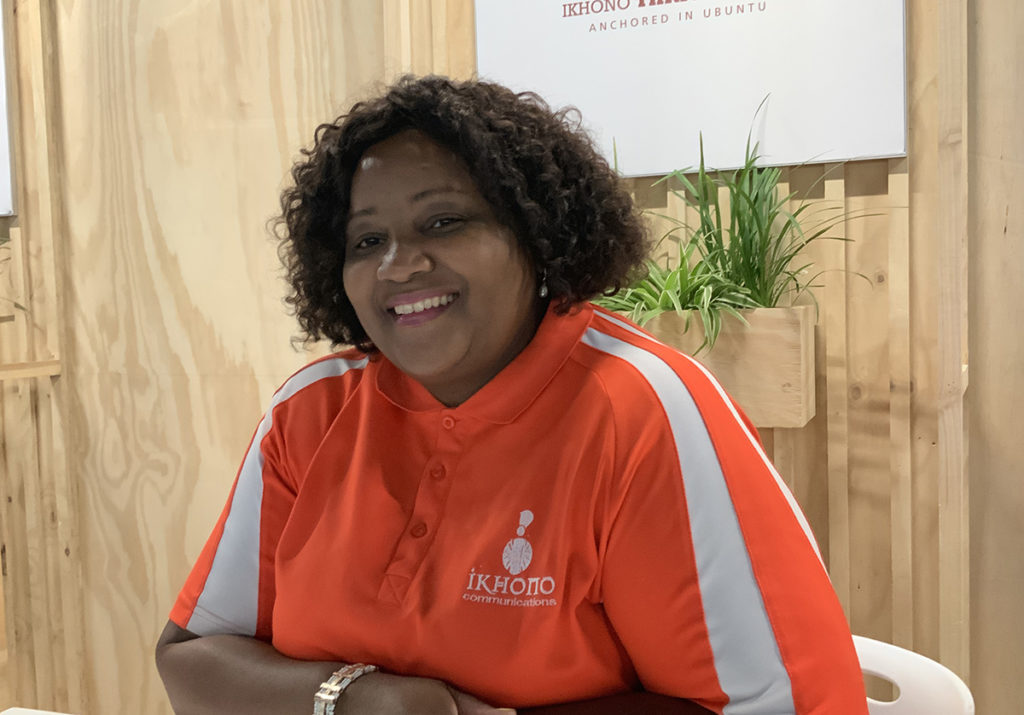 "There is the issue of self-belief when you're in the rural areas, and of not being sure that what you're doing is good enough, and not taking yourself seriously," Msimang says. "Financial literacy is key. You need to take care of your finances and then your business will flourish."
Msimang's was one of 20 small businesses invited by South African Tourism to Meetings Africa 2020 to have an exhibition in the development zone, but she also played a role in the event organisation for the first time with BONDay on Monday, which featured networking opportunities and talks.
"It's been beautiful and we enjoyed ourselves. It was what we do every day, but it's just more exciting when you're doing it for the first time," she says.
Her team had quite a few meetings during Meetings Africa 2020 and identified at least three big events that they want to pursue for business opportunities.
Ikhono employs 10 permanent staff members but Msimang's business impacts many more, as she often ropes in extra hands when there is an event. "[This industry] always has a ripple effect in terms of providing employment opportunities. If I get an opportunity to do an event, someone must to the printing, sound, catering and tech, so there is always an opportunity to hire additional people," she says.
Coronavirus cancellations a possible 'opportunity' for SA
South Africa should think about how to prepare and ready itself to deal with the fall-out of the coronavirus epidemic around the world, Tourism Minister Mmamaloko Kubayi-Ngubane said. But it should also think further, about what opportunities there are in the market beyond the coronavirus, she added.
"I don't think there is a need for us as South Africa to place restrictions on Asian travellers, because one of the things we should never do as the world is to stigmatise the Chinese," she told the Mail & Guardian in an interview on the sidelines of Meetings Africa 2020. "We need to stand in solidarity [rather] than isolate them, especially as they are doing their best to address the problem."
She sent a video message to the 15 exhibitors from China who had to cancel their attendance to say "we stand in solidarity and we understand your difficulty".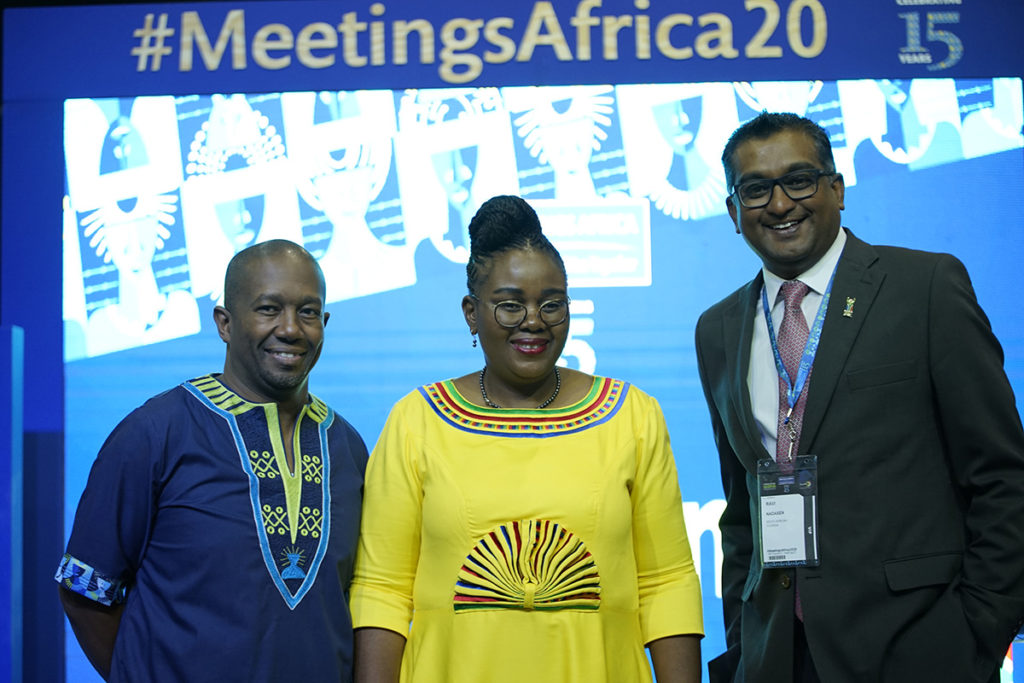 South Africa, which so far hasn't had reported any cases, isn't about to close its borders to Chinese travellers, she said, adding she was "comfortable with how they are managing [the virus] and their restriction on the movement of people". She also said systems were in place in South Africa for how to screen travellers.
South African Tourism chief executive Sisa Ntshona said conferences are increasingly being postponed or cancelled worldwide because of the virus, but South Africa could benefit by hosting these events.
"We are boldly writing to those conferences to say, 'listen, don't postpone them, don't cancel them, we can hold them in South Africa, we are capable of it'," he told the M&G.
In Germany, where a few cases were detected this week, the ITB Berlin, a large tourism conference scheduled for next week, is at risk of being cancelled. "We are saying we are buying in, we can host it," said Ntshona.
He said South Africa had thorough screening procedures at ports of entry to prevent infected people from coming into the country. "It's basically about ensuring exhibitors that measures have been taken," he said.
The corona scare also hit home quite closely for South African Tourism, when its Hub Head for Asia Pacific Mansoor Mohamed was quarantined for two weeks upon his return as a precautionary measure. "We have an office in Beijing, and we asked the people from there to stay home as part of the measures taken in China to work from home. Our hub head, luckily at the time when we made the decision, was in Japan somewhere and we told him to come home," said Ntshona.
He said the coronavirus is a global issue and it will dampen global trade because the world is so reliant on products and trade from China. It will also affect tourism because since its advent "people don't move around that much".
South Africa, as a state friendly to China, will keep its borders open for now. "We are not about to close our border to anyone, but what we are going to do is build a fort around the front end, at all our ports of entry, to ensure that we can test and assess basically for potential coronavirus issues," said Ntshona.
Meetings Africa 2020 goes green
Zero plastic bottles on the conference floor is but one of the ways in which Meetings Africa 2020 did its bit for the earth, in partnership with the Event Greening Forum. Shuttles were ditched in favour of the Gautrain to ferry delegates to and from the airport, and exhibitors were invited to plant trees to offset their carbon footprint.
It's a largely paperless event, with a nifty app and large information boards guiding attendees through the programme.
For lunch, there's local produce, and local entrepreneurs are brought in to sell from their food trucks. There is also a sustainability village on the catering floor where conference-goers can support local businesses selling bags, jewellery, pottery and beauty products.
"For us in this industry, the world is here to buy Africa, and Africa is actually putting on their best clothes for this event," said organiser Amanda Kotze-Nhlapo, the chief officer of the South African National Convention Bureau at South African Tourism. "We are conscious about not wasting and being green. We want sustainability. It's not just about the circus moving in and out every year. We are giving humanity to the world."
This model landed Meetings Africa a gold award for best large sustainable event at the WTM Responsible Tourism Awards last year.
Meetings Africa 2020 presented green awards of its own on Wednesday, and for the first time a number of African countries other than South Africa featured strongly in these Green Stand Awards, with Uganda and Rwanda getting special mentions and Uganda scooping an award in one of the categories.
Until seven years ago, the awards were for the best stands, but Kotze-Nhlapo said the organisers decided to add the green aspect, because "if we are the owner of the event as the government of South Africa, we need to give our part for sustainability and greening".
The stands are judged against the Event Greening Forum award criteria, with design, materials, operations, transport, communication and innovation taken into account. There is also an emphasis on green awareness by exhibitors and the stand builders themselves.
The winners are:
• Cape Town International Convention Centre (small stand category) for their gorgeous gift bags made out of recycled banners from last year's stand, wooden phone and business card holders manufactured from last year's stand, and their potted spekboom décor.
• Uganda Convention Bureau (medium stand winner) for their reusable stand made of untreated wood, and the use of potted plants instead of cut flowers.
• Century City Conference Centre and Hotel (large stand winner) for repurposing materials from stands from the last five years, storing their materials in Johannesburg and thus disposing of the need for transport, and eliminating paper hand-outs by going digital.
• The Maslow Hotel Sandton (green hotel winner) for its food garden, worm farm, and wastewater and energy initiatives — and for the fact that the staff members could explain these initiatives during a surprise visit from the judges.
They said it
"Why not Africa? It's time to tell our own stories, to press our own narratives, and to bring our phenomenal advertising and creative industries together and showcase all we have to the world." — Tosin Lanipekun, executive director of Advertising Week
"It was refreshing, because once in a lifetime you literally walk [around] and you do not have to answer questions that almost sound as if you're defensive, but [you are] having conversations with people who are giving you feedback about how they feel about South Africa in a positive way — that was really pleasant". — Tourism Minister Mmamoloko Kubayi-Ngubane in an interview after her walkabout and engagement with exhibitors at Meetings Africa 2020
"One thing that struck me when I heard it, is that people are negative [about Africa] and they stay away, but if you are able to win them, they come over, and they actually start saying 'why did I not come a long time ago?' Then the challenge we have in our task is to convince people to come here, because once they have been, they return." — Kubayi-Ngubane in an interview
"We want to attract the best talent. The best talent only moves to a country when they know what the country is like." — Xhanti Payi, economist, at the BONDay panel discussion on Building Africa's value proposition in the current global economy
"We are here to stay, and we represent South Africa, and we are going to continue as the national carrier of this great country. So the message to customers is: fly South African, fly that flag, and we are here to help and serve you." — Manish Raniga, acting chief commercial officer, South African Airways
"We are under-indexed in harvesting our true share of what we should get from the rest of the world. For Africa to succeed the economy needs to grow, or else the challenges will continue to prevail. We need to produce stuff the world wants to buy and sell the product that brings money in." — Themba Khumalo, South African Tourism chief marketing officer, during a panel discussion on why the first Advertising Week Africa, in Johannesburg in May, is important
"We all know about the two narratives that have been plaguing Africa. The first narrative, many years ago, is: Africa is impoverished, Africa is a dead continent, Africa is going nowhere. The second narrative came: Africa is rising, which means the opportunities are there. If the rest of the world is recognising that now is the time for Africa to rise, it means we have a competitive edge." — Doris Parsons, SRC Agency, at the BONDay panel discussion
"Every day we [in South Africa] are told how different we are [from each other], and we are scared a lot of the time, but man, we are capable of so much when we look in the same direction." — Jane Linley-Thomas, co-founder of the KindnessCan Movement, during a BONDay talk
"………………………………….." — Steve Barnett, aka The Silent Conductor, during his BONDay performance
Meetings Africa in numbers
• 8 000 meetings
• 2 951 attendees
• 329 exhibitors
• 118 square metres more floor space sold than in 2019
• 20 African countries
• 40 runners in the first-ever Meetings Africa Fun Run
• 25 exhibitors planting trees
• 15 years that Meetings Africa has been going
• 0 plastic water bottles provided by the organisers