"If you can't accept your own sexuality, you can't accept others' sexuality," says Karin Eloff, journalist, and author of Stiletto, an Afrikaans book on her own experiences in the local sex industry. She says this in light of South Africa's pandemic of extensive abuse of sex workers by police and clients, which she blames on the conservativeness of the general South African psyche.
Stiletto was launched in Cape Town on Sunday, but had already started titillating the shelves of bookstores from Wednesday.
Eloff worked as a stripper under the nom de plume Zoë, for three years, as well as an erotic masseuse, before becoming editor of Afrikaans pornographic magazine Loslyf. She told M&G Online that she finally "broke away" from the industry in 2007.
She started writing the book just over five years ago when she fell pregnant with her daughter. "I still danced when I was pregnant," says Eloff, "but it was the first time in years that I was actually sober," says Eloff. "You can't drink and do drugs when you are pregnant. I had to face myself in sobriety and try to make some sense of my life." So she penned Stiletto, which she sees as a type of "journey of discovery".
She chose the title, because she felt it describes the sex world most accurately. "For me, it taught me to know myself, but it also damaged me — like a dagger. You can't simplify the porn industry," she says.
South Africans are very judgemental, she says. "Sex work is a job that puts food on the table, otherwise these people would be on the streets."
And even though Eloff describes sex work as "anything that has to do with human sexuality", the judgement seems to start right within the industry. "Some prostitutes came to my strip club once, and said 'how can you expose your body to so many people at the same time?'"
While stripping is a legitimate sector of the industry, other sectors, like prostitution, are illegal. But people don't always realise that they are two different things. "A lot of customers would ask me to go back to their hotel with them," she says. "They assume that if you're a stripper, you will have sex with them."
But it's not unheard of for strippers to do a bit of both. It is accepted among sex workers and advocates for decriminalisation of prostitution, that there is a significant amount of cross-movement between the legal and illegal sectors of the industry.
Eloff says that as strippers get older, and younger competition appears on the scene, many do turn to prostitution to make their living. She knows this from personal experience.
"I tried prostitution for two days," she says. "It was awful. Having sex with someone you are not attracted to is the most unnatural thing. The only way I could do it was by shnarfing so much coke that I just didn't stop talking."
On the recent developments around potential changes in prostitution laws — proposals for which are currently open for public comment — Eloff feels that the biggest change that could come with decriminalising prostitution would be the safety of the sex workers.
The disrespectful and often abusive nature of clients and police towards sex workers derives from the lack of acceptance of them and their work. "South African people are too conservative," says Eloff, "and Calvinism has a lot to do with it. There is no tolerance for anyone whose sexuality falls outside of the Calvinistic idea of what it should be."
She considers the sex industry in South Africa to be "very Afrikaans". She says the clientele is predominantly Afrikaans in Cape Town and Pretoria, and a mix of English, Afrikaans and Indian in Johannesburg.
The strippers, she says, are mostly Afrikaans girls. "You can't repress a person's sexuality," she says. "It will boil over in another way. Calvinism has repressed a lot of Afrikaans people's sexuality, so Afrikaans girls are prone to rebel."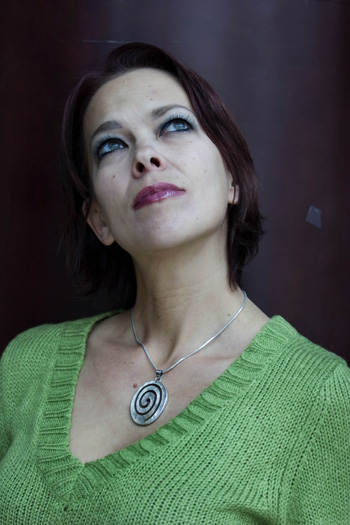 Karin Eloff, author of Stiletto
"This is why Afrikaans people are so angry," she says. She is referring to the comments on the website of a national Afrikaans weekly newspaper, where an excerpt of her book has attracted enough comments to keep the scroll down button held down for at least a minute. Many of these have been strong worded and angry, with one reader commenting that "'n hoer bly 'n hoer [a whore will remain a whore]".
When asked if the book would be translated into English, Eloff asks with sincere surprise, "Do you really think English people will want to read it?"
"This book is about acceptance," she says. "You can only love yourself if you know yourself." She also hopes that what readers will take from it is to "not judge someone if you don't know what's happening inside their soul".
Stiletto is dedicated to Eloff's daughter. "When she is 18, she can read it," she says. "She might be so damn embarrassed about my tattoos and things, but I want her to know about my journey."