'Do more marriages and more deals!" exhorts ANC treasurer general Mathews Phosa in his welcoming speech. Phosa and his wife Pinky are seated at the table right in front of the stage where the KwaZulu-Natal Philharmonic is playing When the Saints Go Marching In.

Loud applause and laughter erupt from the 2 500 members of South Africa's black (and white) elite gathered for IT billionaire Robert Gumede's wedding to Dr Portia Mkhize in Nelspruit last weekend.
Also at the two top tables are the Zambian finance minister, Dr Situmbeko Musokotwane, posing for pictures with Ivor Ichikowitz, chief executive of arms company Paramount; and the big-spending president of Congo-Brazzaville, Denis Sassou-Nguesso. The French ambassador to South Africa, Jacques Lapouge, representing Sassou-Nguesso's main arms supplier, is there too, with politicians' financier Vivian Reddy.
Among the great and good are local Cabinet ministers Edna Molewa, Collins Chabane and Geoff Doidge; Zambian Mining Minister Maxwell Mwale and even the former president of Madagascar, Marc Ravalomanana.
Loud cheers greet youth leader Julius Malema when he makes his entry and Phosa welcomes him as "my boy, Juju". "This is not the Gumedes, this is not the Mkhizes — this is the ANC!" Malema says, laughing, to loud audience approval.
There is less enthusiasm when he starts banging on about the nationalisation of mines. The love is not political — it is the love of the formerly poor and now very rich for one another.
A young woman at our table even has a picture taken of herself, radiantly smiling, with Juju on her arm. Her husband, who photographed the wedding ceremony at the golf club "where Robert Gumede used to work as a caddy when he was eight years old", proudly shows off the picture.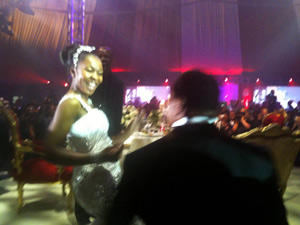 Robert Gumede and Dr Portia Mkhize get down during the decadent after-party. (Photo: Riot Hlatshwayo, Sowetan) The bridal couple has changed for the evening reception: her dress is gold and he is in creamy white, in line with the white, vermillion and gold theme. Mkhize, there to be admired, is draped next to her bulky groom on a white and gold sofa, atop a white and gold rotating stage in the middle of the venue.
This is the Mbombela stadium, covered for the occasion with white drapery and gold-framed mirrors. If we recall Mpumalanga politics, it's claimed that some people literally died for the stadium contract —
Poor Bheki Cele, bragging that his hat came "from the Galeries Lafayette" in Paris — as if Mkhize would have been seen dead in that department store! Her dress, with its six-metre train, was designer-made and came from the French capital.
The invitations pick up the continental accent — in bad French. Global Conferences should stick to "RSVP" in future; "Respondez s'il vous plait" doesn't cut it.
There are quite a few middle-aged not to mention ancient — men here with Girls of the Playboy Mansion lookalikes. At the next table, one such man, of impressive girth, rubs his pregnant partner's belly with satisfaction, as if saying: "There grows my next president". "He wants a boy," his partner confides.
The main course is served on bejewelled skewers; the dessert is a "decadent honey nougatine mousse with a ferrero roche (sic) centre, served with a berry coulis and topped with a 24-carat gold-leaf sprinkled quill".
Kenny Lattimore was flown in from the US with his entire band and the guests were accommodated, at Gumede's cost, at the Emnotweni Sun and other Nelspruit high spots.
The only indication M&G reporters have of the identity of their table partners is provided by Mbombela mayor Lassie Chimayo, who comes across and hugs them all. "This is a good crowd," he enthuses. "You're among good people." This must be the Mbombela elite, then.
The man in the white suit rattles off the names of the VIPs, taking pictures and beaming with delight. "All these presidents are here! And Zuma himself is coming, he's definitely coming, and Bheki Cele is sitting right there at the next table, and there's Fikile Mbalula too!" Indeed, you couldn't miss Mbalula. He was among the first to be saluted by Malema when he made his big entrance.
White Suit sends back his whisky after one sip: "Ugh, this is way too old." The puzzled-looking waiter dutifully removes the R1 500 tot.
"If the government spent money like this, it would be wrong. But Gumede made his own money. He spends a lot on charity, he puts computers in schools, he does a lot for the people," he says. "If he still has 80 million left over, why can't he throw a party?"
That's what Gumede is thought to have spent on the bash, the cloth-bound and calligraphy-adorned invitations alone are said to have cost R3-million.
Whatever the real cost of the wedding, it was evidently affordable following Gumede's recent much-criticised "Who Am I" tender, which cost the home affairs department R2-billion and entails delivering state-of-the-art identity technology and services.
Interestingly, Home Affairs Minister Nkosazana Dlamini-Zuma and her former director general, Mavuso Msimang, who awarded the contract, are not in attendance.
Neither is Zuma, proudly announced on the programme as the main speaker. "Sorry, he had to go to Namibia," Collins Chabane says when he takes the stage.
MC Trevor Noah translates the messages from Mkhize's parents, spoken by her father and sung by her mother in Zulu. "They're so happy that Robert Gumede has chosen a simple girl, even though he has loads of cash."
Starry-eyed and self-satisfied, the crowd drinks it all in: the white drapery over the stadium-become-ballroom, the red carpet and the chandelier, the ministers and the heads of state, the luscious salmon roulade, the Three Afro Tenors with their Italian arias, and the gold-encrusted "G" for Gumede emblazoned on the posters, the cars that ferry dignitaries and even the friandises.
The same day, in Mpumalanga's Leandra township, 16 more people are arrested in violent protests against poor service delivery.
Gumede's mystery big business break
There is an interesting gap in Robert Gumede's official biography. In 1988, it says, he "had to leave government due to his political activeness". Yet without a job, according to the biography, ­ he was able to start the Gijima security company and buy Mpumalanga's Dangerous Darkies soccer team.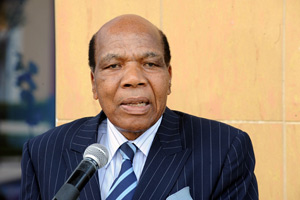 Gibson Thula, the KwaZulu homeland's former 'ambassador' to South Africa is a good friend of Gumede. (Photo: Sunday Times) Where did he get his big break? He had made a good friend when he studied law in KwaZulu-Natal: Gibson Thula, the KwaZulu homeland's former "ambassador" to South Africa, an old-time trader and now director of Vela International.
Mathews Phosa, in his address at the Gumede wedding, thanked Thula "for having affected Robert Gumede's life in so many ways".
In 1988 Thula worked with a number of local and foreign businessmen in the technology sector. One of them — with whom Thula worked in Advanced Technologies and Engineering — was well-connected Frenchman Alain Guenon, who was involved with a company called Gijima Express.
Thula has said that, like other businessmen at the time, "Guenon was extremely generous to politicians, especially returning exiles and former political prisoners".
Among the returning exiles were Gumede's good friend, Phosa, who admits knowing Guenon but denies ever being in business with him, and Tokyo Sexwale, who, in his own words, went to "look at Mirage parts" with Guenon in 1992.
Was Guenon's Gijima helpful to Robert Gumede in starting up the Gijima security company?
At the time of going to press, Gumede's office had not responded to questions about the origins of his entry into big business in 1988. However, Thula's spokesperson confirmed that Gumede and Thula had formed a business relationship by then.
Asked whether Thula had helped give Gumede access to Guenon's Gijima, the spokesperson said that Thula "had been asked that question, but only responded: 'This is it for today.'"
However, it is a fact that many established local and foreign businessmen scoured South Africa in the late 1980s for promising political allies. Spotting openings for lucrative contracts with the new ANC government, they courted activists and former freedom fighters and set them up in business.
In this way overnight tycoons, groomed only in deal-making and the landing of state contracts, came to run vast empires.