In this section: Marlon Parker, Sheraan Amod, Gareth Knight and more …
Marlon Parker
Social Entrepreneur
Awareness of the number of people in his community — Silvertown on the Cape Flats — in need of social upliftment motivated Marlon Parker to become a social entrepreneur.
Parker, who has a master's degree in information technology (cum laude) and is now working on his PhD at the Cape Peninsula University of Technology where he lectures in information technology, uses technology to strengthen the community.
About three years ago, in partnership with a community organisation, Impact Direct, he started up an organisation called Reconstructed Living Labs (Rlabs) in order to 'reconstruct communities through innovation". Rlabs uses social media to help community members affected by substance abuse and gang violence to tell their stories, and use those stories to 'share hope with other people out there".
Parker has been encouraged by the way Rlabs has been driven by the community itself. 'It started off as a project, but it is now a movement" driven by its members — former drug addicts and gang members, he says.
'The highlight is how they are growing and how they are keen on changing other people's lives."
The movement has started creating tools for its own needs, devising ways in which it can offer 'mobile counselling" using technology like Mxit. Rlabs hopes to launch the movement in the Eastern Cape, Asia, India and the United Kingdom. — Vuvu Vena
Lunch spot: Primi Piatti, Waterfront, Cape Town
---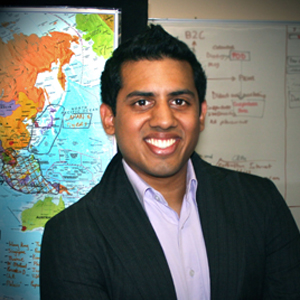 Sheraan Amod
Technology Entrepreneur
Sheraan Amod started his first company at the age of 18.
Trafik Student Networks was a small marketing agency that he began working on in his dorm room at the University of Cape Town. But that business closed down two years later, when Amod's co-founder left the city, forcing him to make a decision: either continue with the business or finish his undergraduate degree in electrical and computer engineering.
He decided to finish the degree, but not long after that he started his second company, Personera, a 'Facebook-based personalised publishing service for businesses and consumers", dropping out of his master's in engineering management to do it.
'I've always been a born marketer. That's just what I take to," says Amod. 'From high school I became a very eager reader of blogs written by entrepreneurs in Silicon Valley and that really inspired me to pursue this path," he says.
Personera's unique platform enables the automatic integration of a person's Facebook content into a variety of different print products that can be ordered for personal use from personera.com, or applied to corporate direct mail marketing campaigns.
Amod soon realised that building a business is not about winning competitions — and he has won quite a few, including the Enablers Cape Town Entrepreneur Competition and the Top Technology 100 — but about creating massive value for your customers. — Vuvu Vena
Lunch spot: Caveau at the Mill, Newlands, Cape Town
---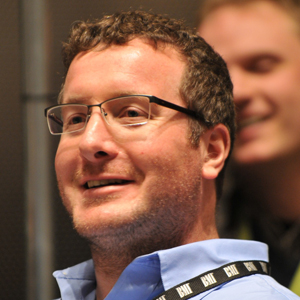 Gareth Knight
Technology Entrepreneur
In 2005 Gareth Knight started a software company called Technovated, with a clientele based mainly in London. And in 2007 Technovated developed a family social network arm called Kindo.
Then the two merged and, well, then things got really interesting. 'We grew to 17 languages and users in 220 countries in six months," says Knight. But not long after that, Kindo was bought by My Heritage, a global genealogy software company based in Tel Aviv.
Late last year Knight decided to pick up Technovated again: 'We are pretty much software people but we know how to build things for the consumer web," he says.
At the moment Technovated is building a dating site that's mobile and computer-based; it's rooted nationally but branches out globally as well. Knight says his zoology studies at the University of the Witwatersrand helped him to think differently about technology.
'I think in a lot of ways. I do not come from a traditional IT background, so I approach things from a different point of view," he says.
'It's also given me a sensibility for people and some of the problems that people have. I think about things in a different way and that reflects in the way I work." Knight said Technovated aims at building global products from South Africa, 'because we have really smart people in this country, very talented, and the rest of the world sometimes does not give us that credit". — Vuvu Vena
Lunch spot: Tasha's Café, Rivonia, Johannesburg
---
Tyler Reed
Chief Executive, Aduity
While attempting a BCom in economics through Unisa, Tyler Reed soon decided that university was not for him. 'I wanted to go into the stock-brokering world," he says. 'But I decided that entrepreneurship was more exciting and that's where I feel most comfortable." His first business, Younique, was a social media consultancy that dealt with custom development work; it didn't survive.
But the 22-year-old bounced back, starting his second company, Aduity, an advertising platform for mobile technology. 'We help publishers and advertisers to make sure that they are reaching the right audience," says Reed. 'It's a global business, a technology platform that can be used anywhere in the world." — Vuvu Vena
Lunch spot: Koi Restaurant and Sushi Bar, Sandton
---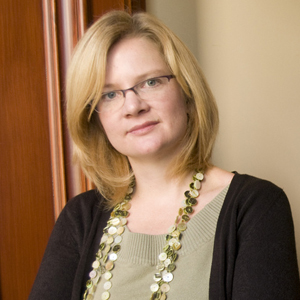 Heather Ford
Founder: Creative Commons South Africa
Heather Ford downplays the story about the day Al Gore offered her a job. 'He wrote it on a napkin. It said something like, if you ever need a job or a mission, call me. I don't know if he was serious," she muses, 'but I still have the napkin." She moves in impressive circles.
Ford has worked with Lawrence Lessig and Jimmy Wales, the founders of Creative Commons and Wikipedia, been invited to parties by the founders of Google, whom she refers to as 'Larry and Sergei", and rubbed shoulders with the chief executives of companies such as LinkedIn.
So how did a girl from Pietermaritzburg who didn't even use the internet until her third year of university end up in Silicon Valley? She volunteered.
After landing a scholarship from Benetech to attend Stanford University, she became heavily involved in Creative Commons, a non-profit organisation dedicated to increasing 'the body of work that is available to the public for free and legal sharing".
She later launched Creative Commons in South Africa, then became executive director of iCommons, a British charity that supports the ideals of open education and free software. In this role, she oversaw a $1-million annual budget, ran summits around the world and organised scores of volunteers. Ford also served on the Wikimedia Foundation's advisory board.
Last year she initiated GeekRetreat, an annual event that brings leaders in the South African IT community together to improve the internet. Today, Ford has started to lose faith in the possibilities for both Creative Commons and Wikipedia, which she believes are not inclusive enough of the developing world. And she hopes to find better ways to improve access to information in Africa, particularly for educational use. But for the time being, she's just another information master's student at the University of California, Berkeley, albeit one with a summer fellowship from Google. — Faranaaz Parker
Lunch spot: Next to Mike's Kitchen in Parktown there is a little grassy verge with plastic tables and a caravan that serves the best pap, chakalaka and chicken curry known to man or woman
---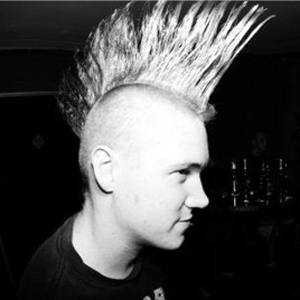 Andrew MacPherson
IT Developer
Born in London, Andrew MacPherson travelled the world with his mother at a very young age after his parents' divorce; it was then that she introduced him to computers. 'And I've been punching keyboards ever since," he says.
When MacPherson was five he and his mother moved to Pretoria. Now, as an IT developer at Paterva, he says he deals with pretty much everything. 'We do information mapping, we link info together on the internet," he says. 'I also make tea, and, when it gets cold, I help out with the fire."
But MacPherson, who has a bachelor of information science degree from the University of Pretoria, also happens to be one of two people who have developed Maltego, an innovative open-source intelligence and forensics application that enables people to find relationships between different pieces of information.
'For example, if you have databases of subscribers and one database just has someone's name and email address and another has an email address and a telephone number, if you use Maltego you can find what other names the telephone number relates to — and if it's a company number, then you can conclude that all these people work at the same place. It finds relationships between data you can't find without an application like this."
MacPherson's non-techie description is much simpler: 'it's a good-looking receptionist. She makes all the good work look nice. And the stuff that we do goes into this application." MacPherson says the application is used mostly by those in the intelligence, business and government sectors and by people interested in computer assessment, adding that it works better on structured data such as mail servers and IT domains, as opposed to gathering information about individuals, as that may change. But his biggest challenge doesn't have much to do with computer development — it's actually his Mohawk. 'People don't seem to take you very seriously when you have ridiculous hair." — Vuvu Vena
Lunch spot: Barn 52, South Downs, Centurion
---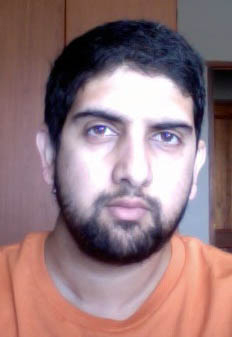 Haroon Meer
Founder: Thinkst Haroon Meer, armed with a BCom degree in information systems from the University of Natal and an honours in computer science from Unisa, is currently busy with his master's in computer science at Rhodes University. But don't think of Meer as some sort of serial student — he's busy working in one of the globe's most skilled IT fields: the niche world of internet security. Meer left Durban in 2001 to join 'five guys in Pretoria" with an internet security company (SensePost) that 'started off in a bedroom" .
There, his main focus was on research and development. But he got out quite a bit. 'I got to speak at Oxford University and at lots of conferences, in the United States, Austria and Malaysia," he says.
'We also gave training in places like Australia and in US government departments." But this year Meer broke out on his own.
With Thinkst, his aim is to have 'people who have tough problems give them to people who like to solve them by using applied research" and to 'take some of academia's research tools and solutions and come up with real world solutions". — Vuvu Vena
Lunch spot: Spur, Rosebank, Johannesburg
---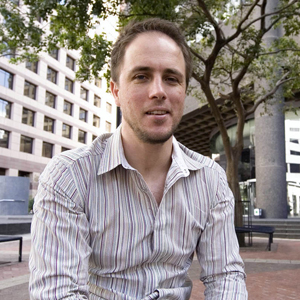 Alistair Fairweather
Social media and online Strategist: Media24 Magazines
Alistair Fairweather is paid to be on Twitter and Facebook every day. It's part of his job. A small part, as Fairweather also helps the digital teams at Media24 Magazines to maximise the benefits of and reduce the effort involved in their social media channels.
And then there are the editorial strategies and measurements he has to put together because, let's face it, online audiences don't grow themselves. More often than not he spends his time convincing business people that social media technology is not a fad just because their kids spend much of their time on Facebook.
But if business is reluctant to move into the social media age, it simply can't ignore the fact that Fairweather knows how to grow a fan base — he grew Huisgenoot's from 4 000 to 15 000 on Facebook in a matter of weeks.
Not bad going for a 31-year-old who studied journalism at Rhodes University and started his career as a web designer. Somehow Fairweather, who discovered the internet when South Africa was first discovering democracy, found his way to MWeb where he learnt some hard lessons about web editorial and online product management. It's also where he launched his first-ever web application — MWeb's photo — album system.
By 2007 Fairweather was a product management specialist, with the good fortune to have strong teams capable of launching new products such as Laaik.it, Play24 and Answerit as part of 24.com's social networking and media division. Part consultant, part evangelist, Fairweather believes social media technology has the potential to become the most powerful mass action medium ever, citing the Obama campaign as a good example of this.
All it needs is strong leadership to take the like-minded into battle. That, and accessible broadband, of course. Here's one man who can't wait to see cheaper broadband arrive here. — Cat Pritchard
Lunch spot: The Roundhouse, The Glen, Camps Bay
---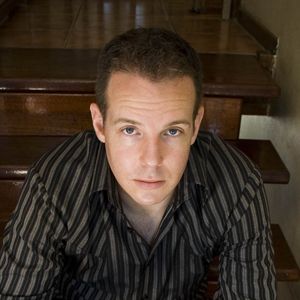 Guy Taylor
Social Technologist and Organisational Designer
Guy Taylor is addicted to change — changing systems, behaviours, frameworks; anything that helps business move into a more human space. As a behavioural theorist, analyst and change agent, Taylor works with social tools that will create freedom of thought, interaction and community and provides the technology to make it happen. Why? Because he believes that business is done in a way that doesn't makes sense to people.
It's a useful skill to have in a world dominated by systems and people when the two don't often understand each other.
Luckily, Taylor loves both. Having started out as a support techie, he has worked through enough systems to help organisations change theirs. As chair of the Johannesburg Drupal Users Group, Taylor offers free introductory courses in technology and makes sure he regularly gives back to communities.
Now, if he could only change the education system in South Africa, Taylor would be a changed man. — Cat Pritchard
Lunch spot: So Yum, Hyde Park, Johannesburg
---
Shana Kay
Managing Director and Co-founder: Info Integ
Shana Kay calls herself a geek chick. 'I love technology because it enables us to run our businesses from anywhere in the world, and to connect with people all over the world," she says.
The former chief executive of software development company MAXXOR Solutions recently started her own business, Info Integ, an online verification provider. Which, to translate for the not-so-geeky, means, 'when you have an online business or website and if you'd like to be seen as credible in the industry we'll give you a stamp of approval ". And it has not been slow going.
Info Integ has already won two awards so far: the SAB Kickstart Award in the start-up development category and second place in the ICT sector of the Cape Town Entrepreneurship Competition. But Kay, who holds a BCom information systems degree from the University of Cape Town, isn't stopping there. She aims to create businesses within the ICT space exploring a variety of avenues. 'One of my passions is information sharing as well," she says. 'I love that technology allows you to do this." — Vuvu Vena
Lunch spot: Wakame, Mouille Point, Cape Town