Grand old homes hold rich tales of exiled royals who once lived in the city, writes Hamilton Wende
Once, as a child, I was told that the Shah of Iran lived in the magnificent white-balconied house that sits prominently on Linksfield Ridge. It seemed to me then somehow romantic that we had been graced with the tawdry glory of the Peacock Throne.
Jo'burg seems to lose its memories faster than most cities. It is a metropolis of ruthless architectural destruction and I was never sure of the Shah's presence here. So I recently phoned Flo Bird of the Parktown and Westcliff Heritage Trust.
Prince Leka, the son of King Zog of Albania, lived for many years in Fourways. (Reuters)
"No," she told me. "The big white house is Tracey's Folly [built by mining magnate Percival Tracey in the early 1900s]. The Shah lived at 41 Young Avenue."
The Shah arrived here with his wife and six of seven sons in 1942 after he was ousted by a joint British-Soviet invasion the year before. He was forced to abdicate in favour of his son and then sent into exile. He died in Jo'burg in 1944.
"He was sent first to Mauritius," the chairperson of the Iranian Society of South Africa, Ali Reza Zehpour, told me. "But the weather there was no good for his heart, so the British sent the family to Jo'burg. He was heartbroken when he came here. Everybody says that was the reason he died."
A more recent royal exile in Jo'burg, who lived for many years in Fourways, was Prince Leka, the son of King Zog of Albania, who was exiled when Italy invaded that country in 1939. Leka was a tiny baby when the family was forced to leave the country. They lived first in Egypt, Britain and France. The monarchy was abolished by the communists in 1944, so in Paris in 1961 Leka was proclaimed not "King of Albania", but "King of the Albanians".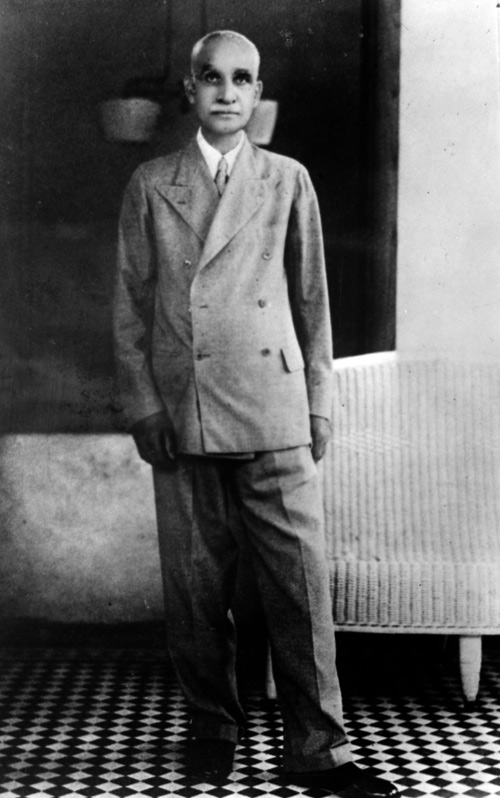 After being ousted by a joint British-Soviet invasion, the Shah of Iran and his family took up residence in Parktown in 1942. (Getty Images)
Leka, who, incidentally, was the ninth cousin of former president Richard Nixon, married Australian school teacher Susan Ward Cullen and they moved from country to country. He once gave Ronald Reagan an elephant and he was forced to leave Spain in 1979 amid controversy that involved Thai bodyguards, a stint of jail in Thailand and an arms cache in his home.
The trail to Jo'burg included a stopover in Gabon, where his bazooka-wielding bodyguards forced soldiers to withdraw and not extradite him to Albania. Then-Rhodesia offered him sanctuary, but when Robert Mugabe came to power he had to leave.
In 1999 he appeared in court in Randburg on a charge of possessing illegal weapons, though there is no proof he was involved in arms dealing. His son, Prince Leka Anwar Zog Reza Baudouin Msiziwe, was born in Sandton. The family returned to Albania for good in 2002. Susan died in 2004. Prince Leka now works for the Albanian government and his father is retired.
"It wasn't only the Shah," historical researcher Alkis Doucakis told me. "During World War II Prince Paul of Yugoslavia and his wife Princess Olga of Greece lived in a magnificent Tudor-style residence in Milton Avenue in Senderwood called Hathaway." Theirs was a tragic story. Paul was regent of Yugoslavia and pro-British. When World War II broke out, Yugoslavia declared itself neutral. But in 1941, under extreme pressure from Germany, Yugoslavia signed an agreement with the Axis powers. Two days later a British-inspired coup toppled him and he and his wife were sent to Kenya where they were placed under house arrest.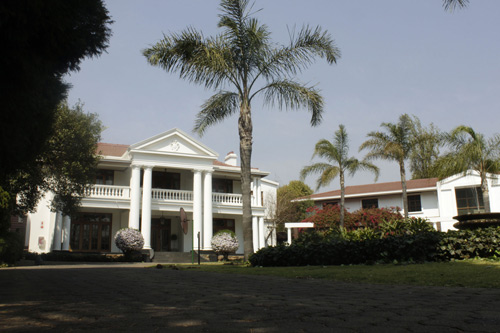 Greek Crown Prince Paul and his wife Frederika lived in this house on Oxford Road. (Ayanda Sitole, M&G)
Doucakis says that Jan Smuts intervened to bring them to the mansion in Senderwood. Olga was a celebrated beauty in her day, photographed by Cecil Beaton, and her granddaughter is Hollywood actress Catherine Oxenberg.
In 1941, when Greece was invaded by the Nazis, King George II of Greece and Crown Prince Paul and his wife Crown Princess Frederika came to live at the imposing pillared house at 50 Oxford Road at the invitation of Jan Smuts. Prince Paul and Frederika rapidly became at least worthy of widespread gossip. Smuts was in his 70s and she in her 20s and she visited him often at the presidential residence Libertas in Pretoria, (Mahlamba'ndlopfu today).
He taught her to shoot and gave her a gun as a present; they often had philosophical discussions and she became a student of "holism", the philosophy he developed. A quick browse through the Selections from the Smuts Papers reveals a wealth of correspondence by Smuts concerning "the thoughtful, well-read … very young and good to look at" Frederika.
There is no proof of any illicit relationship in the Smuts papers, but I did come across an intriguing letter to George II of Greece who, in June 1943, was in Egypt with Prince Paul in the vain hope of being soon able to return to Athens. "Your majesty, I take the liberty to send you, through General Theron, this letter by the same plane that carries the crown princess [Frederika] back to Cairo. I have not troubled you about this step, assuming that you would welcome her return to her husband — I personally feel that the time has come for her to rejoin her husband, and also to be near your majesty."
The language seems strained. It reveals a powerful man who may well have been reacting to a rift between them or, more likely, pressure from his wife, Isie, to end, or at least, limit their friendship. However, in November of the same year, Frederika returned to Jo'burg from Egypt on the same plane as Smuts.
In the shadows of Jo'burg's old palatial homes there must be many untold stories of these nearly forgotten royals and their African exile. In the confusing way of European nobility Olga of Yugoslavia was actually Greek and was a cousin of Prince Paul, while his enigmatic, beautiful wife, Frederika, was Prussian and they were all in Jo'burg during the heady days of World War II.
One wonders how they enjoyed the Highveld summers and the jacarandas and what they discussed over a Castle or two, reminiscing about what they had lost forever.