Two perfect strangers meet under fairly ordinary circumstance and enter into an extraordinary love affair filled with fiery passion. She is the perfect balance between sexiness, independence and intelligence, while he is a handsome demigod with the looks of a male supermodel and the charm of a perfect gentleman.
A story straight out of the Mills and Boon romantic book series? Close. But this time the stories are about South African black middle-class men and women who are successful, goal oriented and looking for true love.
The new series is published by Sapphire Press, in partnership with Thought24. They're aiming to appeal to a fast-growing niche of sophisticated black middle-class women living fast-paced lives and dreaming of eternal love.
Sapphire Press is an imprint of Kwela Books, a part of NB Publishers.
The Mills and Boon series, founded by Gerald Mills and Charles Boon in 1908, became a major hit in the 1930's during the years of the Depression. An increasing numbers of British readers turned to the easily accessible romance novels as a form of escapism. Since then the books have enchanted millions of ordinary women from around the world.
Feminists have slammed the books for advancing female stereotypes. Although the heroines are successful and independent they all ultimately desire to get married to their handsome princes
However the simple story lines and happy endings make for compulsive reading — much in the way of chick flicks.
As far as chick lit goes, these books are as South African as you can get. We got our hands on the first six that have been released.
The Bridesmaid's Lover by Tsire Mushoma

Set in Johannesburg's northern suburbs — the stomping ground of a new class of black middle-class women — The Bridesmaid's Lover tells the story of Zandi Zungu, a 29-year-old Wits University graduate who has mastered her career as an economist but hasn't had much luck in love. After her relationship with varsity beau Jeffery ends unexpectedly, she finds herself awkwardly unable to get back into the dating game. With her best friend's wedding fast approaching she invests in a bridesmaids dress and a suit for her date — a date which she has yet to find. When she meets Rhulani Mingha, she is swept off her feet and imagines a bright future ahead of them. However, surprise surprise, many nasty challenges befall them and it seems that her fantasy relationship might never happen. The book was penned by writer Tsire Mushoma, who grew up in Venda in the Limpopo Province and resides in Johannesburg. In 2005 one of her Tsivenda short stories was included in the POWA Women's Writing Anthology. In 2007 her English short story A New Beginning was awarded fourth place in the BTA/Anglo Platinum Short Story Writing Competition and in 2008 Tafelberg Publishers published her first novel: Nne na Inwi. The Bridesmaid's Lover is her second novel.
Love's Courage by Mokopi Shale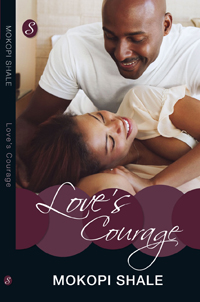 Two sexy and single strangers meet at a bookshop while reaching for the same book. In a flirtatious exchange, they agree to share the book between them but little do they know that fate has something greater in store for them. Lesego Khumoetsile cannot imagine that someone as handsome as Kenneth Tumaole could possibly be single and besides, has no intentions of getting into a serious relationship. However, the more she gets to know him, the deeper she falls in love without realizing it. Mokopi Shale's book is filled with the usual clichés but grapples with the challenge facing many young black twenty to thirty-something year olds trying to balancing their careers with their personal lives, plus their desires to both pursue their ultimate jobs whilst remaining true to their cultural beliefs. The author has had a short yet successful stint as a radio drama actress whilst studying for a degree in drama and industrial psychology at Rhodes University (1998). She went on to present and later produced a youth educational magazine program on SABC1, Take 5. She is currently commissioning editor in the drama unit of the SABC's Content Enterprises. Love's Courage is her debut novel.
Kwaito Love by Lauri Kubuitsile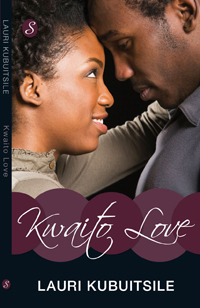 Mpho Kgosieman is a hard working 24-year-old woman. By day she serves food at Monate Takeaways in Park Station and by night she is fashion design student. Apart from being intelligent, hard working and talented, she also happens to be incredibly beautiful, which is why her older brother is overprotective of her. It is no wonder that Thabang — a handsome stranger from her past — enters her life and falls deeply in love. The tension between her brother and her new man destroys the budding romance and as she juggles between her work, studies and family she realizes she is too determined to let anyone or anything stand in the way of her career goals. She cuts ties with Thabang but becomes confused when he keeps showing up, determined to win her back. Although author Lauri Kubuitsile lives in Botswana, she writes with the knowledge and familiarity of Johannesburg as though she walks the streets daily. In her career as a fulltime writer she has published three children's books, two detective novels and a collection of short stories for children co-written with other Botswana writers. She has won several awards for her writing, including the Baobab Literary Prize (USA) in the junior category.
Cherry Marbles by Shukie Nkosana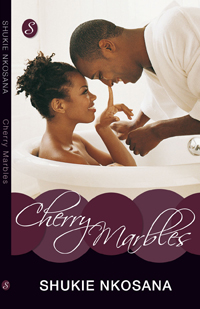 Lana Buthelezi has the life she has always dreamed of: she owns her own events company, and is engaged to Richard — her boyfriend of two years. However when she has an embarrassing encounter with Regile Mabhena at a pharmacy in Paktown, and then later discovers that she has to work closely with him, she is confused by her strong feelings towards him. Working together comes with its own challenges as there is a constant struggle for power between them. However a passionate kiss during one of their arguments betrays them, and it is obvious that they are head-over-heels in love. Shukie Nkosana, born of a Zimbabwean father and Zambian mother, began her career as a writer when she worked part-time at Xarra Books in Newtown, Johannesburg. She passed away unexpectedly in January 2010 at the age of 24 after her manuscript Cherry Marbles had been accepted for publication.
The Player by Akhona Bota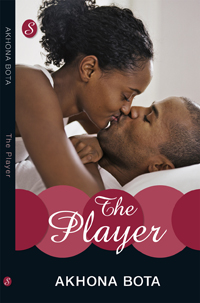 When successful accountant Hlobo Sondolo has a chance meeting with a gorgeous stranger, she does not realize how captivated he is. She is even more surprised when they start dating and he proposes to her. But her new fiancé Sizwe Bala is unike any other person she knows. He is a well-known rugby player for the Blue Bulls with a long string of friends and admirers. Hlobo is not sure she can trust him — there are rumors of him being a player. Can he honestly be ready for such a serious commitment and is he genuinely in love with her? Akhona Bota is a pseudonym for Fezi Cokile and The Player is his second novel. At the tender age of nineteen he writes with an unusual understanding of the conflicting emotions that an adult woman faces when dealing with the challenges of a high-profile relationship. He is currently studying law and lives at home with his sisters and nieces.
Can he be the One? by Lara Kubuitsile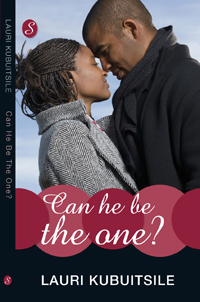 Ayanda Nkosi is determined to make it as an investigative journalist at the Joburg Tribune. With one award-winning story in the bag, she needs her next scoop to be a hit. But it seems that all the people she loves are involved in the dangerous activities her story will expose, and she must decide whether to put her family's needs before her career. Her scoop also seems to threaten her relationship with a hotshot BEE businessman — Sipho Dlamini, the MD of Egoli Investments. The more she gets to know him, the more she realizes that everything about him seems to go against the grain of what she believes in. Is it a good idea for her to continue to pursue this relationship and do they stand a chance at real happiness? The book is written by Kwaito Love author, Lara Kubuitsile. Kwaito Love is her first romance novel published by Sapphire book Press and Can he be the One is her second.
Books can be bought through the Romance Book Club. In order to join the club, email [email protected]ooks.com. Members of the club pay R50 per month (excluding postage), and for the first month you get one book free.