The business interests of the Zuma family have attracted sustained controversy. Now the president and his wives are branching out into the non-profit sector, with business and government donors lining up to contribute. Is it philanthropy or influence trading? Zuma Inc has become shorthand for the rise of the Zuma family's business interests, but since Jacob Zuma's accession to power there has been a similar growth in what might be termed "zuma.org" — a wide range of benefactor organisations whose operations are subject to little oversight or scrutiny. Their growth since Zuma became president and the increasing donations they appear to be garnering from private business are a source of concern, because at least some of them could have political and personal, rather than philanthropic, motives and their funding, spending and governance are opaque. Zuma is the patron of the Jacob Zuma RDP Education Trust and the Jacob Zuma Foundation, and he chairs the Masibambisane Rural Development Initiative. Last week the Mail & Guardian revealed that Masibambisane is driving a R2-billion initiative to build South Africa's newest town just 2km from the president's personal compound in Nkandla.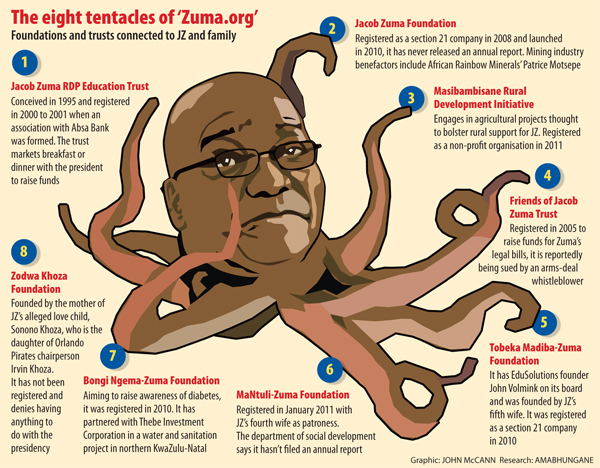 The M&G also revealed that the department of agriculture, forestry and fisheries allocated a staggering R800-million to support Masibambisane. Zuma's wives, Bongi Ngema-Zuma, Thobeka Madiba-Zuma and Nompumelelo Ntuli-Zuma, and his lover, Sonolo Khoza, daughter of soccer boss Irvin Khoza, have all set up their own foundations since Zuma rose to power — although it is generally unclear whether they have ­succeeded in raising funds and become active. The president also remains the beneficiary of the Friends of Jacob Zuma Trust, initially set up to cover his legal fees when he was facing fraud and corruption charges relating to the arms deal. Known donors to this expanding Zuma-linked network include such major companies as Patrice Motsepe's African Rainbow Minerals, De Beers and Harmony Gold. The proliferation of organisations raises the risk that some donations could be used to procure political influence, or competitive advantage in state tenders. Other known donors include major beneficiaries of government business such as EduSolutions, the company at the heart of the Limpopo textbooks row, and major antiretroviral drugs supplier Cipla. In both cases, the donations were revealed on the companies' websites. Big contracts EduSolutions also procures and distributes textbooks in Mpumalanga, Limpopo, KwaZulu-Natal and Gauteng at an estimated cost to the state of R1-billion a year. None of the foundations or trusts, with the exception of the Jacob Zuma Education RDP Trust, has lodged an annual report with the department of social development, which means the sources of their funding and the way they use their money are hidden. When non-profit organisations (NPOs) are registered, they are required by the Nonprofit Organisations Act to submit annual reports to the social development department within nine months of the end of the financial year. Little is known about how the Zuma family NPOs operate: their websites typically offer superficial information and they seldom open up to the media. All the organisations claim legitimacy. The Jacob Zuma Foundation, for example, "prides itself on its ethics, integrity and credibility". However, its aims are not altogether clear and its operations lack transparency. Suspicions This has also deepened suspicions that, besides their professed philanthropic aims, the trusts and foundations could have been set up to draw support from the private sector to maintain the lifestyles of the large Zuma family, buy patronage or strengthen Zuma's support base, particularly in provinces where it is shaky. Masibambisane, for example, recently handed out tractors in the Eastern Cape, where the ANC is divided over Zuma's leadership. The tractors appear to have been sourced from the provincial agriculture department. Agriculture Minister Tina Joemat-Pettersson announced the donation of R800-million to Masibambisane at a government function in Qumanco in the Eastern Cape three weeks ago. A department official told the M&G that the minister had in effect diverted the R100-million budget for the department's Zero Hunger programme to Zuma's project. The programme is a government initiative set up to buttress smallholder farmers and food security in rural areas. The Zuma family's NPOs benefit from their connection with the state in other ways. The public service department, for example, organises a fundraising golf day that channels funds to the Jacob Zuma RDP Education Trust. Independent of the state? The Government Communication and Information System describes Zuma as chairperson of Masibambisane, the Jacob Zuma Foundation and the RDP Education Trust — despite the fact that all these structures are wholly independent of the state. And it was reported that Telkom, in which the government has a controlling shareholding, made a R1-million donation to the Jacob Zuma Foundation last year as part of a branding exercise. Motsepe is among the largest backers of Zuma Inc's non-profit endeavours. He reportedly made a R10-million donation to the Jacob Zuma Foundation in October 2010 and was present at the launch of Masibambisane in early 2011 in Nkandla. Motsepe donates either through the Motsepe Foundation, African Rainbow Minerals or companies in which it has a stake, such as Harmony Gold. His office did not reply to the M&G's written questions. Super-rich Another super-rich donor with an interest in large state contracts is Iqbal Survé, chief executive of Sekunjalo Holdings. In January, Sekunjalo subsidiary Premier Fishing won an R800-million tender from the department of agriculture fisheries and forestry for the policing of South Africa's coastal waters. It later backed out of the deal after hitting major flak over a perceived conflict of interests. "We withdrew because we believed the tender benefited or was tailor-made for another bidder even though we won," Survé told the M&G at the time. Sekunjalo appears keen to win the good opinion of the Zuma government. In November last year, the company reportedly paid for 24-hour armed security for the private household of International Relations Minister Maite Nkoana-Mashabane for 12 months at a cost of R100 000. The minister failed to declare the benefit to Parliament. Billionaire bankroller Durban billionaire Vivian Reddy, whose company Edison Power has won major contracts with the eThekwini metro and is a known bankroller of ANC struggle veterans, is also a donor. Contacted for comment, his office said he was on leave and could not answer questions. A controversial foreign donor to Zuma's RDP Education Trust is Nigerian-American businessperson Kase Lawal, chief executive of Camac International, an energy company involved in the exploration, development and operation of oil properties in Africa and South America. Lawal has been linked to at least two controversial business deals in Africa. In 2003, the M&G revealed that he allegedly benefited from an oil deal that appeared to defraud the South African and Nigerian public with the backing of former president Thabo Mbeki. His lawyers denied impropriety. And this year, the United Nations pointed a finger at an allegedly illegal gold transaction between him and a wanted Congolese warlord.
The Jacob Zuma RDP Education Trust
The RDP Education Trust is Zuma's oldest established funding vehicle, conceived in 1995 when he was the KwaZulu-Natal minister for economics and tourism. Each provincial minister was given a discretionary fund of R500 000 and, according to the trust's website, Zuma immediately funnelled this into education. However, it only became a registered trust in 2000-2001 when Absa Bank was brought on board. Shortly after the formation of the trust it absorbed another post-democracy NPO with political aims, the Peace and Reconciliation Foundation. According to one former member, it was used to reward communities that abstained from factional conflict, particularly between the Inkatha Freedom Party and the ANC in KwaZulu-Natal. The foundation's chairperson, Frank Mdlalose, a former IFP strongman and KwaZulu-Natal's first premier, then became the chairperson of the Jacob Zuma Trust in 2002-2003. Since Zuma's rise to power, the trust has grown in prominence and now boasts a host of influential backers. Golf challenge One of its current fundraising initiatives is at the annual Presidential Address Golf Challenge, organised by the department of public service and administration, at which a breakfast or dinner "opportunity" with the president is auctioned for at least R1.2-million if one makes a contribution to the trust. The golf day traditionally coincides with the State of the Nation address and the "partner package" is offered on its website. The "partner" is expected to "commit a minimum of R1.2-million from its annual corporate social investment budget over three years with an annual escalation of 10%". It says this commitment will "open the door to build a more long-term relationship with corporate entities" and enables the relationship "to take on a new form". A "key partner benefit" is the breakfast or dinner with the president in the partner's city of choice. The partnership includes the adoption of a school, whose representatives are invited to the meal with Zuma. The partner is also required to mentor the top pupils and provide an opportunity for internships and possible employment. Combined donations to the trust from the 2011 and 2012 golf days amounted to about R10-million. This excluded the sponsorship packages taken up in both tournaments. R4-million for a 4-hour lunch One of the donors at last year's golf challenge, held at the De Zalze Golf Estate in Stellenbosch, was mining baron Timothy Tebeila, whose Timothy Tebeila Foundation donated R4-million to secure a four-hour lunch with Zuma. Tebeila said he would bring 16 other people to the lunch, each of whom was expected to donate R500 000. The department did not reply to written questions about its role, despite saying it would do so. Until the 2009 election, the trust had raised about R11-million, according to its annual report. But the same report said it almost doubled that in the 2009-2010 financial year — the first year of Zuma's presidency — raising a further R10-million. The website of Texas Southern University, where Zuma received an honorary doctorate in September last year, stated that the trust had budgeted R25-million for tuition and accommodation for the beneficiaries of the trust for that year. Educating disadvantaged youth The article, which marked the conferring of the honorary doctorate on Zuma, said the trust had raised a total of R45-million for the education of disadvantaged youth and supported 1 200 beneficiaries. On the same visit, Lawal's Camac International signed a partnership with the trust to provide for a R1-million donation every year for five years, to cover the costs of three students to attend the university from 2012 to study international business and petroleum engineering. The Lawal arrangement suggests the possibility that donations to the trust could be used to buy both influence and credibility. Apart from the controversial 2003 deal, the M&G reported in February this year that the United Nations believes Lawal paid R50-million to a wanted Congolese warlord, Bosco Ntaganda, in an illegal gold transaction. In a statement in February this year, Camac disputed the "allegations and statements made in that small portion of the recent UN report", denied any "illegal payment" and said the Congolese government had filed no charges against Lawal. But it confirmed that people linked to his business had been arrested.Survé surveyedIn an interview, Survé denied that donations to the education trust were intended to seek political favour. "We support a number of non-profit organisations every year and, in this case, this trust is mandated to help poor and rural learners, something we see as necessary," he said. EduSolutions also said that its contributions to the trust had not helped it to secure government contracts. It said it "supports worthy corporate social investment initiatives for the same reasons that anyone else would — improving the lives of those who are less fortunate and contributing to the creation of a better, more equitable society". The company added that it believed in "giving back to the communities in which we operate" and that it also supported the Royal Yacht Club to empower young sailors and a number of smaller community-based organisations. South African pharmaceutical giant Cipla Medpro South Africa Limited announced in September 2010 that it had donated R1.5-million to the trust over a three-year period, primarily to assist post-matric studies in engineering, medicine and pharmaceutical fields. The donation was made a month before the official unveiling of a R329-million upgrade of the company's manufacturing plant in October 2010, which Zuma opened. Capacity According to a newsletter released in November 2010, the Durban facility's annual capacity is two billion tablets and capsules, 19.4-million blister strips, 20.7-million foil strips, 200 000kg of powered medications and 15-million sachets. The same circular said that, should Cipla "secure a good portion of the tender for antiretroviral [ARV] production, the cost implications would be hugely beneficial in increasing access to the drugs". Cipla is one South Africa's largest suppliers of ARV drugs and a major beneficiary of state tenders. In December 2010 it was awarded a health department contract valued at R633-million, 15% of the overall national tender, to provide ARVs between January 2011 and December this year. It also contributed to the 2011 RDP Education Trust Christmas party, held annually in Nkandla, and handed out bicycles, backpacks and soccer balls. Cipla did not respond to the M&G's written questions. In September 2010, The Witness reported Zuma as saying at the Inkosi Matomela lecture in Greytown that the trust had raised a further R1.5-million. At the event, Zuma said his foundation was working with the Matomela Trust to create an educational trust that would cater for every child belonging to the Zuma clan. Matomela was, according to the report, a trusted warrior and confidant of King Shaka.
The Jacob Zuma Foundation
The Jacob Zuma Foundation is chaired by Dudu Myeni, who is said to be close to Zuma and, according to the foundation's memorandum of association, runs the foundation from her private house in Richard's Bay. It also has an office in Rosebank, Johannesburg. The M&G reported in May this year that Myeni was removed as chairperson of one of KwaZulu-Natal's biggest water providers, the Mhlathuze Water Board, after failing a probity test — but was allegedly reinstated to the position after making direct re-presentations to the president. The foundation is a more opaque organisation than the education trust. It has not released an annual report since its launch in 2008 and its mandate is somewhat vague. According to its website, it builds houses, hosts the annual Msholozi Soccer Tournament and makes donations to the Jacob Zuma RDP Education Trust. Its memorandum of association states that it is a public benefit organisation, promoting community-based projects and the provision of educational programmes for "abandoned, abused, neglected, orphaned or homeless children". 'Not for political party support' However, it is not a voluntary organisation with the power to remunerate its staff and directors. The memorandum of association also stipulates that it must not "use its resources directly or indirectly to support, advance or oppose any political party". Although registered as a section 21 company in 2008, it was only officially launched in October 2010 at the Albert Luthuli International Convention Centre. Motsepe is known to be one of its main benefactors. At its launch, he publicly donated R10-million to it over three years. The M&G understands that Motsepe has made repeated donations, either in his personal capacity or through African Rainbow Minerals. The company's website reveals that in May this year it financed the construction of a Salvation Army church in Nkandla at the request of Zuma's oldest wife, Sizakele Khumalo, better known as MaKhumalo. De Beers & Harmony Gold Other mining groups have also made donations to the foundation. De Beers confirmed that it had donated R400 000 in 2010 and Harmony Gold is understood to have made a similar donation, although it did not respond to the M&G's request for clarification. On July 2011, at a Women's Day celebration at the upmarket Westcliff Hotel in Johannesburg, Telkom handed over a R1-million cheque to the foundation for what its spokesperson, Pynee Chetty, said was part of a "branding exercise" for the group because the donation would be televised on the SABC2 show Motswako. Vivian Reddy publicly donated R1-million at the foundation's launch when he bought a shirt belonging to the president. Reddy has made further donations through his Edison Power Group. According to an M&G report in February 2009, Reddy has won massive KwaZulu-Natal government contracts, including ones related to the R7-billion Dube Trade Port, uShaka Marine World and Durban's Moses Mabhida Stadium. The article quoted Reddy as saying "it's in my nature" to support struggle veterans. He famously provided financial support for Zuma before the ANC's 2007 Polokwane conference, but said Zuma had paid him back "every cent" in terms of a formal agreement. Other VIPs who attended the foundation launch included Zulu King Goodwill Zwelithini and Queen Zola Mafu, Venda King Toni Mpephu and KwaZulu-Natal legislature speaker Peggy Nkonyeni, who is embroiled in the Gaston Savoi medical equipment corruption case. Open lobbying The foundation is known to lobby openly for funds and is currently looking for a "fundraising consultant". An advertisement in The Times last month announced that it was looking for a candidate who is "well-connected in the fundraising environment" and has an "ability to negotiate at a high level". The foundation also lobbies foreign-based organisations and foreign interests on trips abroad. On October 25 2011, Myeni made a pitch to the Swiss Chamber of Southern Africa in Zurich, and in May this year she met the Azerbaijan ambassador at the foundation's office in Rosebank, Johannesburg. Azerbaijan, a central Asian country with no formal agreements with South Africa, opened its embassy in January this year. According to Azerbaijan ambassador Elkhan Polukhov, it is hoped that there will be co-operation in future. "We will either finance [projects] or support with expertise training and teaching," Polukhov said. According to the department of international relations and co-operation, South Africa has no bilateral agreements with Azerbaijan. Business delegations Members of the foundation are part of Zuma's entourage when he goes abroad and people known to have donated to it are also included in the business delegations on these trips. A representative of the foundation accompanied him on his state visit to the United Kingdom in March 2010, as did Survé, EduSolutions founder Shaun Battlemann, known Zuma backer Ajay Gupta, whose family has interests in computer firm Sahara and The New Age newspaper, Motsepe and Reddy. The foundation's memorandum of association includes an attorney's letter, dated June 9 2009, to the registrar of companies stating that Zuma was to be removed as a director "since he has resumed his duties as president". The same letter states that the foundation "has secured substantial funding from industry". The foundation, which has obtained a tax-exempt status, also became a member of the Institute of Directors in Southern Africa in February, a networking NPO whose membership represents "over 5 000 prestigious and diverse South African business leaders".
Masibambisane Rural Development Initiative
Launched last year in Nkandla to much fanfare and registered as a non-profit organisation in December, Masibambisane has rolled out agricultural projects in KwaZulu-Natal, the Eastern Cape and Mpumalanga, and North West is likely to be next in line. There are suspicions — particularly after its donation of tractors to black farmers in the Eastern Cape — that one of its unstated purposes is to build support for Zuma in rural areas before the ANC's national conference in Mangaung in December. Last month, Democratic Alliance agriculture spokesperson Annette Steyn raised questions about the organisation's "lasting economic benefit", calling it a "hand-out scheme used by President Zuma to curry favour in the province[s] where he is most embattled". According to Deebo Mzobe, who oversees the day-to-day running of the initiative, the concept was first discussed in 2000. Mzobe said it was resurrected after Zuma became president with the close co-operation of traditional leaders in a number of provinces. So far, 175 amakhosi had bought into the concept — 120 from Zuma's home province of KwaZulu-Natal, more than 15 in the Eastern Cape and more than 40 in Mpumalanga. Mzobe said the initiative "doesn't have the capacity to roll out projects", but facilitates public-private partnerships, for example in the Umlalazi-Nkandla Smart Growth Centre. Mzobe said that 10 of the tractors handed over in the Eastern Cape in May this year came from the private sector and 14 from the government. However, according to Eastern Cape agriculture department spokesperson Ayabulela Ngoqo, all the tractors belonged to his department and ultimately came from the national department of agriculture. Last year the national department and the Agricultural Research Council awarded nine tenders worth R360-million for nearly 700 tractors for all the provinces. It appears that the ones handed out by Masibambisane were among them. Masibambisane is also the driving force behind development in Zuma's hometown of Nkandla. It has not yet produced an annual report. Mzobe is from near Eshowe and is reportedly a distant relative of Zuma and a business partner of Durban businessperson Thoshan Panday, who is facing fraud and corruption charges in connection with an alleged R60-million police accommodation tender scam during the 2010 Soccer World Cup. Mzobe denied in The Times that he was in business with Panday, despite company records indicating otherwise. The companies in which they share directorships include Dynamo-Duck Trading and Projects, Shining Future Trading and Projects, and White All Trading and Projects. In November 2011, the Mpumalanga human settlement department awarded Mzobe a R33-million tender to build 599 houses, part of a R331-million housing initiative in Nelspruit. Zuma, according to City Press, attended the handover ceremony. The tender process was deemed irregular by the Mpumalanga human settlement department's chief financial officer, Cyril Dlamini, and supply chain manager Lucky Monareng. The two officials were subsequently fired or suspended by the head of department, David Dube, an ANC provincial executive committee member.
Friends of Jacob Zuma Trust
The Friends of Jacob Zuma Trust, launched to raise funds to cover Zuma's mounting legal bills before he was elected president, is still active. Before the end of the year, the trust may itself be in court in a R1-million defamation case brought by arms deal whistle-blower Richard Young. The M&G has reported that Young is suing the trust over posts on its website between 2006 and 2008 describing him, among other things, as "a crook" and "darling of the Broederbond". The Friends of Jacob Zuma Trust was registered with the master of the supreme court on July 13 2005. The members of the board of trustees are Don Mkhwanazi, a businessperson and founder of the Black Management Forum, unionist Fikile "Slovo" Majola and Sizwe Shezi, former president of the National Youth Council. How much money it contains, how much it has spent on what and the identity of its funders cannot be established. At the time of Zuma's earlier legal battles, the trust said it would eventually speak out about its nature and funding. However, Mkhwanazi, its chairperson, recently told the M&G that the board of the foundation had decided that "we don't have to make any statements". The trust raised funds to defend Zuma both in his rape case, in which he was acquitted, and when he was charged with fraud and corruption in relation to the arms deal. The latter charges were controversially dropped. According to the trust's legal counsel, the delay in the defamation case is merely administrative. The legal wrangle could set a precedent on the legal liability of website publishers for anonymous postings. The trust said it would defend the matter based on the "principle of freedom of expression".
The Thobeka Madiba-Zuma Foundation
This foundation's founder is Zuma's fifth wife, Thobeka Madiba-Zuma. Its board includes John Volmink, a former education department official and founder of the company that evolved into EduSolutions, as well as health professionals and academics. According to its website, its main mandate is to provide health-related services. It says it is "passionate about the plight of the impoverished". "Madam Zuma", as the site calls her, is the former chairperson of the Forum of African First Ladies against Breast and Cervical Cancer. The website says she is responsible for "planning, initiating and implementing their individual and collective action plans at country, regional and international levels" for the forum. Programmes and causes that her foundation claims to support include Cancer Smart South Africa, Maternal Children and Women's Health, HIV, tuberculosis and malaria programmes and the empowerment of rural women. It says its partners include pharmaceutical companies, government departments, foreign and local aid agencies, academic institutions, clinicians, researchers and the private health sector. The foundation was registered as a section 21 company on February 2 2010 and with the KwaZulu-Natal department of social development on December 14 in the same year. It has not yet filed an annual report with the department, although it says that its auditors are dealing with the matter. The M&G's questions were referred to its attorneys, Cox Yeats, on the grounds that the foundation did not have the finances or capacity to answer them properly. A week after the questions were sent, Cox Yeats said it could not meet the deadline for responses. City Press recently reported that Madiba-Zuma attended a child rape case in the Scottsburgh Magistrate's Court and that her foundation had supported the victim and his family
The MaNtuli Foundation
The patron of this foundation is Nompumelelo Ntuli-Zuma, Zuma's fourth wife. It was officially registered with the department of social development on January 19 last year, despite media reports that it was launched in 2008. On its website it says that its main objective is to "assist new and already existing non-profit and non-governmental organisations in their operations". It says although there are funded NGOs in fields such as HIV/Aids and education, most of the funds are "squandered" because they lack skills. The foundation believes it can assist with training. "We insist that they [NGOs] focus on public good, rather than private gain, in accomplishing their goals," it says. According to the department of social development, the foundation has not yet filed an annual report. The M&G was unable to contact MaNtuli and there is no publicly accessible information about the foundation's sources of funding. However, the Sunday Times reported in December 2010 that it assisted a family in Weza village, in Willowvale in the Eastern Cape, after 16 homes there were destroyed by fire. MaNtuli has been embroiled in controversy in connection with another NPO. In April this year, Sunday World claimed that MaNtuli, as treasurer of Intsika Yembokodo Development, whose board members include Cosatu general secretary Zwelinzima Vavi's wife, Noluthando, had drained the organisation's finances. She was alleged to have kept its bank card. The presidential spousal office denied the allegation, saying: "MaNtuli did claim some amount of money from the NGO to recover her money that she had used to fund the NGO's function, which was held in Durban. That this could be labelled embezzlement is rather unfortunate.
The Bongi Ngema-Zuma Foundation
The Bongi Ngema-Zuma Found­ation says on its website that it aims to increase awareness about diabetes, its risk factors and preventative and management measures with the aim of changing the lives of diabetics for the better. Ngema-Zuma is Zuma's sixth wife and the website describes the foundation as "the living embodiment of First Lady of the Republic of South Africa". Established in August 2010, it was registered with the Gauteng department of social development in November 2010. No annual report has been filed with the department. In November 2011, it hosted a 5km fun walk in Sasolburg in the Free State to mark World Diabetes Day. The foundation has also partnered with the Thebe Investment Corporation in a water and sanitation project in northern KwaZulu-Natal. According to its Facebook page, the foundation is "at its formative stage, but has firm and far-reaching ambitions". Ngema-Zuma also joined a diabetes walk in June in Soweto and posts regular social media updates on the disease. The foundation did not respond to the M&G's questions.
The Zodwa Khoza Foundation
This foundation was founded by Sonono Khoza, daughter of Orlando Pirates chairperson Irvin Khoza and mother of a child by Zuma. On its LinkedIn page, it says that it was formed in January last year. However, it has not been formally registered with the social development department. It says it focuses on "the pursuit of excellence in research, treatment, training and prevention of HIV and related infections in Southern Africa". In a written reply to M&G questions, Khoza said the trust had not yet been formally launched and had nothing to do with the presidency. But, she said, if her connection with the presidency "is able to assist in my collecting funds", the money would be used solely for the benefit of the people it had been set up to help. Once the foundation was up and running, all income and expenditure would be made public, she said. * Got a tip-off for us about this story? Email [email protected]

The M&G Centre for Investigative Journalism, a non-profit initiative to develop investigative journalism in the public interest, produced this story. All views are ours. See www.amabhungane.co.za for all our stories, activities and sources of funding.