The Old Testament, that influential compendium of pastoral metaphors, doesn't go into much detail about how Noah kept his animal cargo while at sea, or how he dispersed them after the great floodwaters receded. According to the Book of Genesis, Noah, an early prototype of the concerned zookeeper, simply left the ark with his wife, three sons, their wives and an unspecified multitude of "every beast, every creeping thing and every fowl". He then had a braai.
Two sun parakeets were among the fowl that survived Noah's celebratory roast. Also named sun conures, these gregarious yellow, orange and green birds from South America are known for their shrill screams. Popular as cage birds, the strident banter of a flock of these cheery parakeets formed a constant soundtrack – along with the din of rubber on tar from the nearby N1 –during my interview with Lorraine Spence, owner of the recently closed Tygerberg Zoo.
I asked the 71-year-old quad bike-riding native of Cape Town, who wears her grey hair cropped short, to detail the Noah-like task she faced when, earlier this year, she decided voluntarily to disband her collection of wild animals. To be clear: at no point did she instruct these wild animals – among them tigers, white lions, chimps, caracals, marmosets and parakeets – to "go forth from the zoo!"
"It has been a huge operation," she said when we met in late October, on the eve of the zoo's closure. The 24-hectare plot, its lawns untended and cages half-empty, had already been auctioned. "It is a very physical thing. It has to be done very carefully."
To underscore her point, Spence invited me to watch the removal of two Bengal tigers by a team from the Drakenstein Lion Park, a sanctuary near Paarl. The procedure was painstakingly logistical, definitely not biblical.
Paul Hart, Spence's son from her first marriage, used a gun to dart the big cats. Rani (11), born in the East London Zoo, was sedated first. Tigger (13), a large male tiger acquired from circus legend Brian Boswell, refused to go down after an initial dose and was darted again.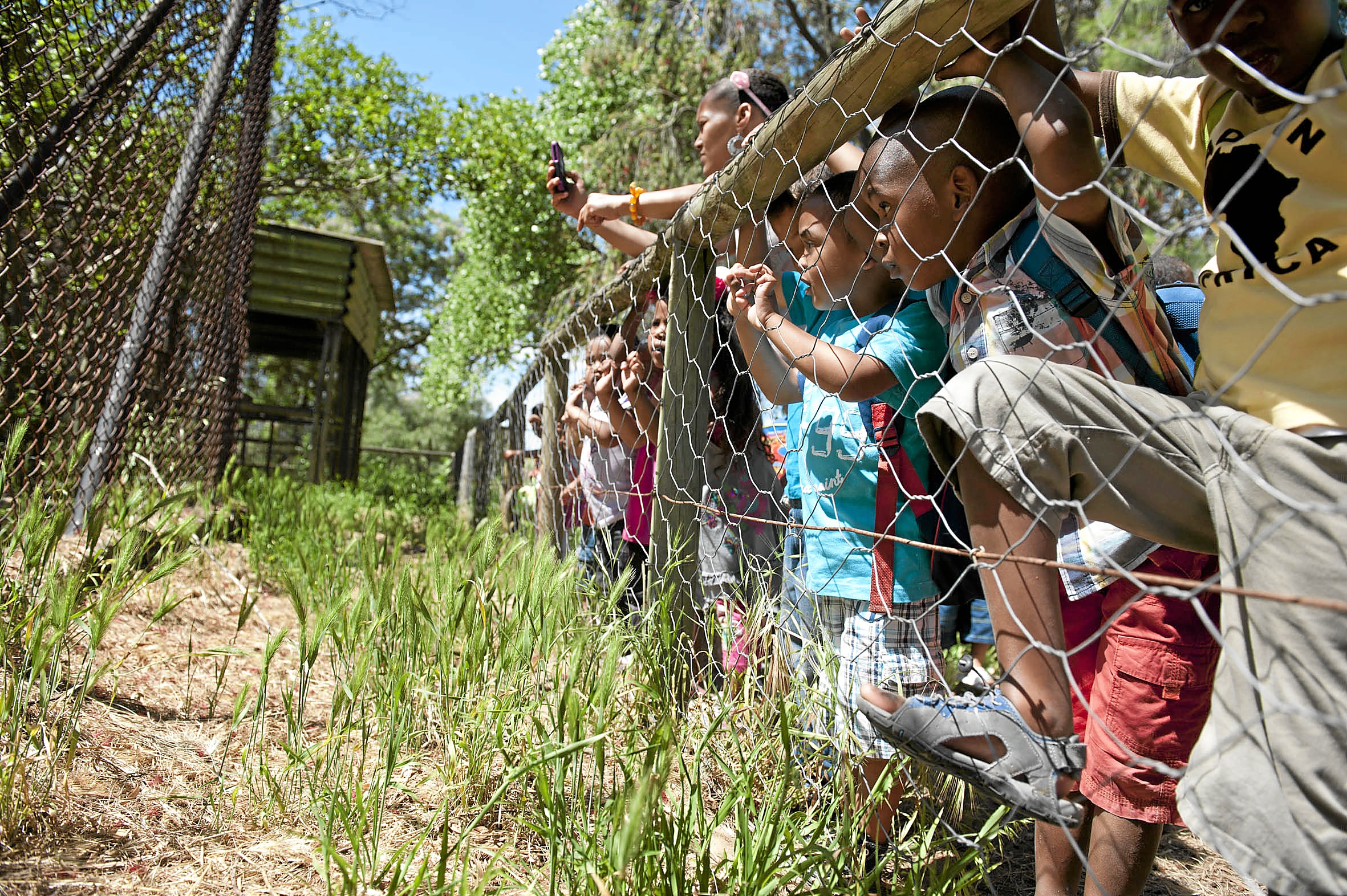 In it's heyday the Tygerberg Zoo had 61 mammal species and 160 bird species. (Jac Kritzinger)
Then a team of labourers – many of them originally from Van Wyksdorp near Ladismith and most now out of work following the zoo's closure – ventured into the cage. Like Rani, Tigger was put on a stretcher and taken to a closed-in bakkie. The workers then climbed into the bakkie to look at Tigger. Cellphones were brandished, photos snapped. Spence, a fashionably dressed zookeeper, quietly observed this strange, almost reverent exchange from a distance. So did her caged chimps.
Silverback
"They know something is going on," she said as I rode pillion on her quad bike past the chimps. Unhappy with my presence, a dominant male flung faeces at us.
Spence's decision to close the zoo followed the death of her husband in 2010. Deferentially referred to as a "silverback" for his long-standing work in conservation, John Spence and Geoff McLachlan founded the zoo at a site in Kraaifontein in 1966. The pair met in Port Elizabeth. Both were enthusiastic about birds; McLachlan, a Cambridge PhD, revised Austin Roberts's classic field guide to the birds of Southern Africa.
Not long after opening their venture on Cape Town's northern urban edge, they relocated to a site adjacent to the highway. At its peak, the zoo had 61 mammal and 160 bird species. Frequented mostly by families, it filled a vacuum created by the demise of another local zoo.
The Groote Schuur Zoo – or the Cape Town Zoo as it was also known – was established in 1897 on the slopes of Devil's Peak by mining magnate Cecil John Rhodes. On display were lions, crocodiles, ostriches, zebras, eland, wildebeest, kangaroos, wallabies and emus. Its birdcages were stocked with nightingales, ­chaffinches, thrushes, blackbirds and rooks.
The quarried stone remnants of this zoo, which are overgrown and covered with graffiti, suggest an unhappy prison rather than a place of wonder. Famous escapees include European starlings and a pair of Himalayan tahrs, obtained from the National Zoological Gardens in Pretoria in the 1930s. Both the birds and the wild goats prospered and are now considered pests; the tahrs, though, have long outwitted rangers and specialist snipers contracted to eradicate them.
The opening of the Groote Schuur Zoo predated the establishment of the country's largest zoo, in Pretoria, by two years. Like the empty historical cages at the flagship national institution, also like those at the nearby Johannesburg Zoo, a municipal venture established in 1904, the ruins at the Groote Schuur estate speak of a time when animals were collected like stamps and displayed as trophies.
The French historians Eric Baratay and Elisabeth Hardouin-Fugier tell in their 2004 book Zoo, a fascinating, picture-rich survey of the evolution of Western zoos, how the "menageries of exotic animals" erected in European capitals and on large baronial estates during the 19th century fulfilled a number of functions. They promoted amateur science, made manifest the discoveries of colonial adventurism, provided an outlet for leisure (promenading), contributed to urban regeneration and served as vectors for property development.
Narrow interests
Although celebrated as "the most distinctive marks of culture a city has to offer", these zoos served the narrow interests, whims and social aspirations of their aristocratic and wealthy mercantile founders. This is no less true of Rhodes, whose animal husbandry initiatives extended to the creation of a small zoo at his reserve in the Matopos near Bulawayo.
"I must have my lions and tigers roaming about in their natural state," he told an aide. "I cannot have them cooped up in a little den."
The exchange is quoted in The Founder, Robert Rotberg's exhaustive 1990 biography of Rhodes. The meagre lion cages he erected instead suggest that sentimental over-­identification with his fearsome cats trumped debate about the ethics of captivity.
Spence remembers visiting the Groote Schuur Zoo as a child. It cultivated in her an early dislike for zoos. "It was awkward, on a slope, very rocky," she said. "It was very Victorian, especially the cages for the monkeys."
When the Groote Schuur Zoo closed in 1975, some of its monkey population was driven along the N1 to her husband's fledgling zoo set in the endangered Swartland shale renosterveld ecosystem. This predated Spence's arrival at the zoo in 1985 – she was 42 when she met her second husband at a wildlife meeting in Worcester.
Seated under a large tree that shaded the veranda for guests, Spence was frank about her decision to close the zoo.
"I have looked at this place so often now and thought: 'We are not a world-class zoo; we are a postage- stamp collection.' That's the way John built this place. 'Oh, I like that. Yes, that is looking for a home.'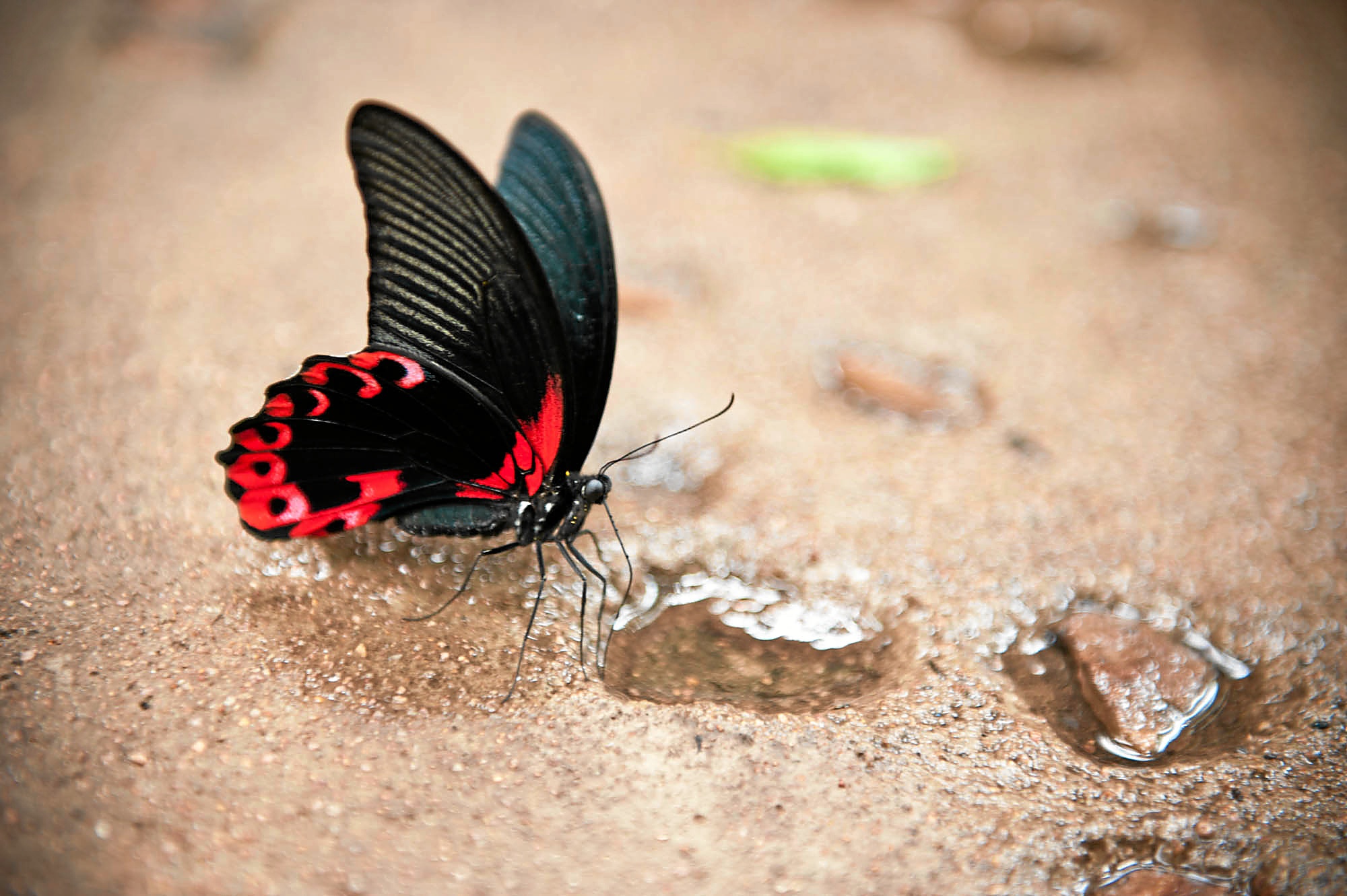 Butterfly World is a privately owned. (Jac Kritzinger)
"It is not the way to build a zoo. If you want to do something world-class, on the standard of the Singa­pore Zoo or one of the Euro­pean zoos, it will cost R100-million. And you wo­n't get rich."
Motives of profit
None of the people I met during my research linked what they did – owning or managing a zoo – to making big money. Passion often outweighed motives of profit.
Stephen van der Spuy is a tall man with striking blue eyes and a generous laugh. As the executive director of Paazab, the African Association of Zoos and Aquaria, he is sometimes obligated to wear a suit and tie, although he generally looks more at ease in bush-ready khaki. Despite his impressive title, he is the sole functionary of the 23-year-old association.
Formerly the director of the Johannesburg Zoo, Van der Spuy took over the running of the association in August. He is contracted to spend only three days a week on handling its affairs. His duties range from administration and fundraising to the implementation of standards and protocols relevant to the association's 41 members. Most are South African, but there are also member zoos in Nigeria, Cameroon, Ghana, Uganda, Egypt and Ethiopia.
"I am a vet so I have a number of ways I can survive," he said when I asked how he would supplement his income.
After graduating from the Onder­ste­poort Veterinary Institute in Pretoria, Van der Spuy ran an exotic animal practice for five years, specialising in snakes, birds, primates and fish. "I did all those things generally no one else wanted to do."
His patients included a sickly koi that cost its owner R80 000. He then went on to run Montecasino Bird Garden. The popular casino and leisure resort north of Johannesburg is home to an odd assortment of animals, including rainbow lorikeets, macaws and cockatoos, venomous snakes, lemurs and sloths (of the animal sort). By definition, Montecasino is a zoo.
"A zoo is in essence a facility that maintains animals that is open to the public and doesn't make most of its money out of selling animals," Van der Spuy said.
He opened his laptop and read out the association's formal definition of a zoo. It is an update of a simpler 2005 description, which defined a zoo as "a permanent legal establishment, primarily open to and administered for the visiting public, for the ethical maintenance and exhibition of living organisms for the demonstrable purposes of education, conservation and research".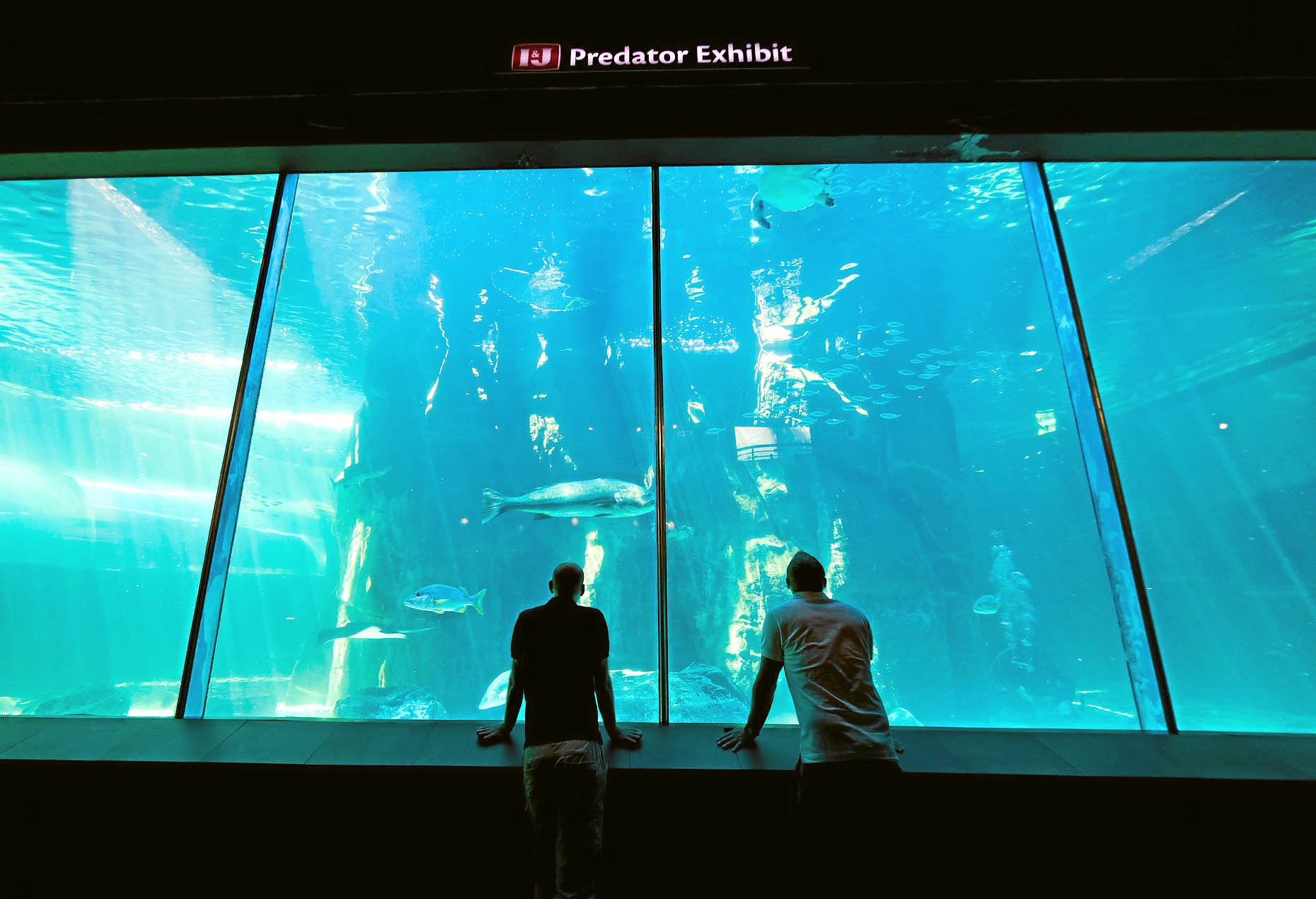 End of an era. (Jac Kritzinger)
Outdated and underfunded zoos
The Johannesburg Zoo is a member of the association. Van der Spuy joined the zoo, which is slap bang in the middle of suburbia, in 2004. Four years later he was appointed its director.
Despite the limitations of his new job, he is committed to making African zoos leaders in conservation, education, recreation and research. He is quick to defend the continent's often outdated and underfunded zoos.
They include the Brazzaville Zoo, a Belgian-built colonial relic that made headlines in 2007 when 20 Congolese Pygmy performers at a music festival were lodged in tents in enclosures at the zoo. Western media reporting on the story failed to mention that, in 1906, a Pygmy named Ota Benga was displayed at the Bronx Zoo. "It is absurd to moan over the imagined humiliation and degradation Benga is suffering," declared the New York Times at the time. "The Pygmies … are very low in the human scale."
"In Africa we have a number of zoos that are heavily criticised, but it is not a matter of walking in and closing them down," Van der Spuy said. "Although the public may have issues, they perform a valuable social role in their community. They also act as a drop-off point for wildlife that gets injured or lost."
His background as a zookeeper – that is, someone committed to the display of wild animals for a public audience – necessarily colours the way he engages with zoos whenever he visits them.
"I end up looking at what the benches and barriers look like."
Dominic Moss, executive manager of conservation and research at the Johannesburg Zoo, agreed. "We walk around zoos and look at dustbins."
Sensible profit-making scheme
He joined Van der Spuy for the interview. I asked them why zoos failed.
"Tygerberg Zoo was a legacy of John Spence," Moss said. "It was his baby. To the best of my knowledge he passed away and that was it. He was the zoo, whereas Johannesburg Zoo is not one person."
Although zoos are not the most sensible profit-making scheme, profit-minded private entrepreneurs have played an important role in expanding the potential of zoos, Van der Spuy said.
History validates his insight. The spread of joint-stock zoological societies in Europe at the start of the 20th century brought with it the first liberalisation of access to zoos, write Baratay and Hardouin-Fugier, attracting leisure-seeking middle-class clientele with cash to spend. Montecasino's brand of eco-tainment – it hosts "educational and entertaining bird shows" in an outdoor Tuscan-style amphitheatre setting – is an extension of this.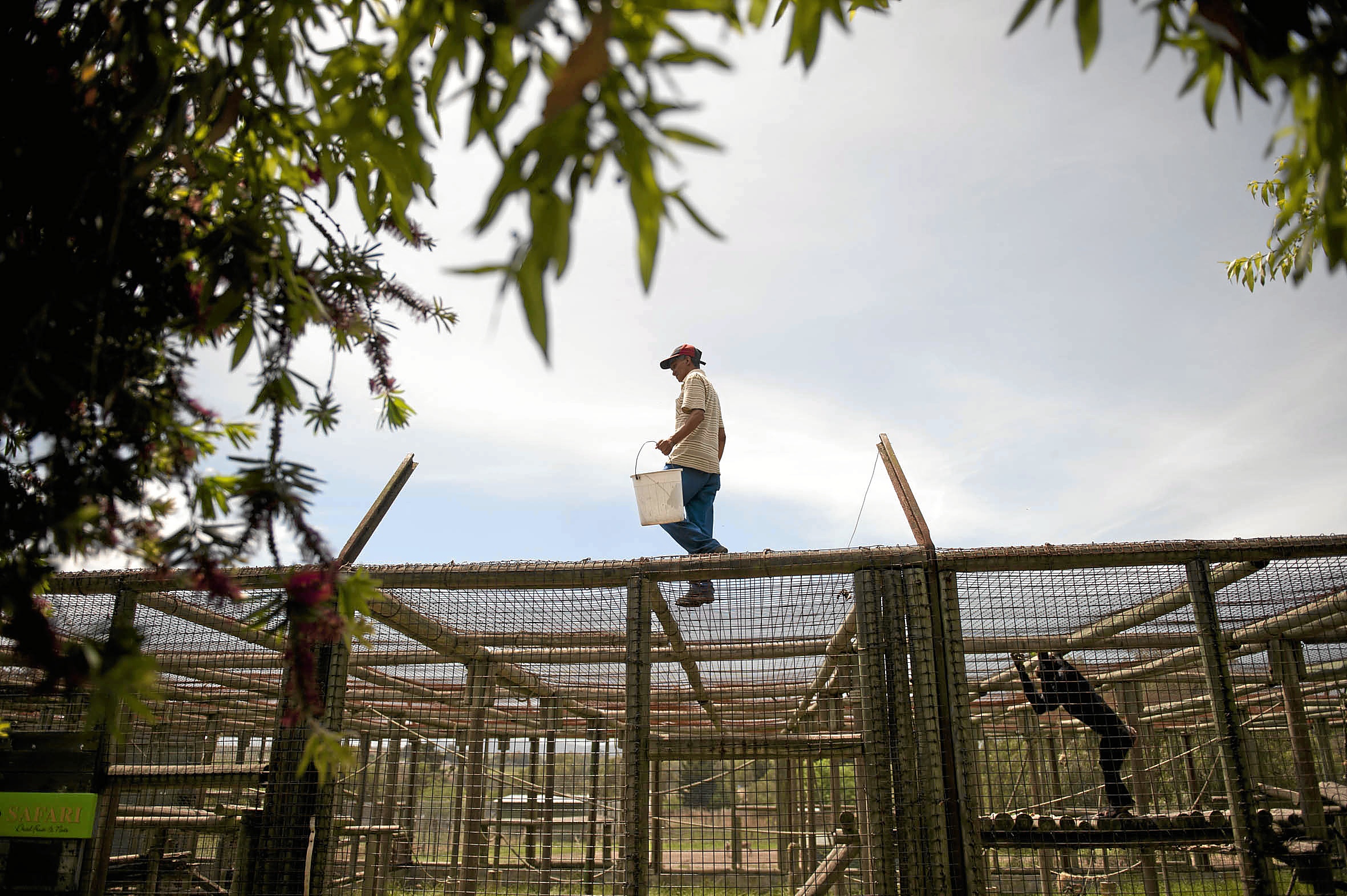 The Tybergerg zoo's cages are now empty and overgrown. (Jac Kritzinger)
Although not principally in the zoo business, Montecasino, which bills its zoo as "Jo'burg's best-kept secret", offers an example of how corporations have augmented their activities by catering to the human impulse to stare at wild animals. In Cape Town, the popular Two Oceans Aquarium, a joint venture between V&A Waterfront Holdings and Investec Bank, is another example of a successful corporate-owned private zoo. Corporations have deep pockets and complementary business operations.
Butterfly World, a privately owned specialist zoo outside Cape Town, has neither.
Founded 17 years ago by Esther van der Westhuizen, a former zoology lecturer, and her mother, Butterfly World's displays include nectar-feeding tropical lepidoptera hatched from pupae flown in from Costa Rica, Ecuador, the Philippines and Thailand and a growing list of rescued animals, chiefly exotic birds and reptiles, including a bearded dragon suffering from osteoporosis.
"My income is a couple of million," Van der Westhuizen said during a walkabout of her facility. "I have to make sure I spend that income wisely. Sure, I make a comfortable living, but I don't have a luxurious life."
A story about food
The complexity of running any zoo is a story about food. Michael Farquhar, a curator at the Two Oceans Aquarium, said: "Unlike stamp collections, wild animals need to be fed."
To complicate matters, most wild animals are discriminating eaters.
"A lot of people think you can give rubbish and throw-outs to the animals," Spence said. "You get offered things but you have to say 'no, thank you'. John took a horse in one day that the vet swore had had no medication. John had his carnivores sleeping for a week from the drugs.
"You can't give animals rotten fruit and vegetables. If the bananas are too ripe, my chimps throw them back at me."
"We don't bugger around," Van der Westhuizen said. She sources her fruit – papayas and bananas mostly – from a supplier to Woolworths. The food is prepared in a dedicated kitchen. Menus are kept in a black folder and a wall-mounted chart details feeding schedules. Did Noah maintain similar standards? The great book is shtoom on this important detail.
Van der Westhuizen showed me a five-litre tub filled with crickets. "Mega Munchies" reads a label on the container. Priced at R96 each, an order of 32 of these containers will last three weeks.
"We got to the stage at the beginning of the year where it was costing us R120 000 per month for food," said Spence, giving a sense of the cost of running a zoo. She is happy she no longer has to deal with the seesawing price of hay for the farm animals she also kept.
Fish are no less discerning than their terrestrial counterparts when it comes to food. Farquhar showed me the huge kitchen where aquarium meals are prepared in much the same way as at Butterfly World. "I didn't even notice the smell," he said as we toured the kitchen, which is also used to cultivate phytoplankton feed.
Notwithstanding the wealth of its financial stakeholders, the aquarium is reliant on a R200000 annual donation of fresh fish from I&J. Freshness, although essential, does not guarantee revelry in the tanks. Kay, a large missile-shaped ragged tooth shark, recently stopped eating hake. She noticeably lost weight.
Conservation initiatives
"We managed to find a fresh fish supplier who delivered a few yellowtail to us and Kay ate happily," said Farquhar, a marine biologist by training.
It is a stop-gap solution. "We are in the process of getting a few more yellowtail and we are going to try to stuff hake with pieces of fresh yellowtail and see if that works."
The aquarium, which houses more than 3 000 species, is unique in two key respects. Besides some exotic spider crabs from Japan, its focus is exclusively on marine animals from the southern Atlantic and Indian oceans. Unlike terrestrial zoos, which have long since stopped relying on Indiana Jones types for the supply of their animal stock – the history of zoos is also one of big hunters – Farquhar is permitted to put on a diving suit and mask and head off into the sea to replenish his displays.
The aquarium runs several conservation initiatives, including movement studies of cow sharks and breed-and-release programmes involving loggerhead turtles and endangered African penguins. These initiatives are crucial to answering basic ethical concerns about the validity of zoos in contemporary society.
"There has been a shift to conservation in zookeeping," Moss said. It came down to answering fundamental questions about which animals were kept and why," he said and signalled a move away from "having a director's stamp collection of different things – a Noah's Ark with two of everything in different cages".
But the spectacle of domesticated danger remains the chief drawcard of zoos. The aquarium's shark tank is its most popular exhibit. Tygerberg Zoo's number one attraction was its wild cats. "Mostly, people aren't interested in the breeding programmes," Spence said.
Zoos and aquariums continue to attract substantial numbers of visitors. The World Association of Zoos and Aquariums estimates that 600-million people visit zoos annually around the world.
Capacity to influence
Locally, the figures are impressive. Pretoria Zoo attracts 600 000 revellers annually, Johannesburg Zoo 550 000 (up from 280 000 in 2001), Two Oceans Aquarium 400 000 and Durban's kitsch uShaka Marine World, whose Mamba tunnel ride should be on everyone's bucket list, between 700 000 and 900 000.
"The challenge has always been marrying ability to attract and capacity to influence younger visitors," said Van der Spuy, echoing a goal expressed by many zookeepers. "Our aim is to offer entertainment and information and through that to cultivate respect."
It is a delicate balancing act.
Writing in the June issue of Harper's, which devoted its cover story to the Bronx Zoo, David Samuels remarks how Western zoos have evolved from menageries into living museums and conservation centres. Emerging from them was another stage of development, which he describes as "ecotainment". It represents the era of "giddy amusement-park tricks offer[ing] a measure of relief from the knowledge that nature is only another man-made illusion".
The idea of nature as illusion can seem trite: hop in a car, drive a bit and there it is – or at least some fenced-in version of what we construe as wilderness now­adays. But not everyone owns a car.
Increasingly, particularly as the world inexorably urbanises, nature is what appears on television, in print or, if you attend a school in a low-income neighbourhood of the Western Cape, what arrives in the back of Thabo Sabeko's panel van.
A fragile encounter
Sabeko is an outreach teacher at the Two Oceans Aquarium. During the school term, he pilots his mobile ark (a Toyota Quantum) to schools on the Cape Flats and other Western Cape towns such as Lamberts Bay and Swellendam. Once set up, he shows children his collection of starfish, sea urchins, clams, sea cucumbers, anemone and rock lobsters.
He also has a plastic penguin, but no live fish. "Fish are very fragile. They don't like the vibrations of the van," he said.
His youthful audience ask recurring questions. "Do they have eyes?" Yes. "Are they alive?" Yes. "What do they eat?" It's complicated.
Sabeko, who was born and raised in the Eastern Cape near Queenstown, where he trapped and released locusts and rabbits for fun, came to his current job through a stint as a theatre technician. When he started his new job in 2008, he had to mop up after school visits to the aquarium's education centre. The labour terrified him – in much the same way the aquarium terrified his mother when she first visited.
"I was scared big time. I was afraid even to be alone in the centre. I didn't know what would come out of the tanks. I was encouraged by the kids – their fascination to touch animals."
Perhaps there is a biblical parable lurking somewhere in this story. Personally, I simply view it as snapshot of a fragile encounter from an increasingly broken planet, one whose sacred wild is increasingly a fiction in need of managed defence.
Sean O'Toole is a regular contributor to the Mail & Guardian. He lives in Cape Town