The elusive arms consultant Fana Hlongwane has been quietly dropped off the list of witnesses who will appear at the first round of public hearings to be held by the Arms Procurement Commission, beginning in March.
Hlongwane has been at the centre of allegations emerging from the multibillion-rand acquisition by South Africa of Gripen fighter aircraft from British multinational defence, security and aerospace company BAE Systems and Swedish aerospace and defence company Saab.
To some arms deal activists, Hlongwane is seen as the "low-hanging fruit" who was tantalisingly placed on the first list of witnesses to be heard by the commission. As the former adviser to late defence minister Joe Modise, Hlongwane's testimony, if it happens, would be unlikely to affect prominent ANC members who have been implicated in the 1999 arms deal scandal.
More on the arms deal commission: Seriti's 'family ties' tangle office politics
In November last year, commission chairperson Judge Willie Seriti told a press conference he was having trouble locating Hlongwane, but said the commission would persist in trying to deliver a letter asking him to give evidence at the upcoming public hearings.
It is not known whether the search for Hlongwane came to anything, but the commission now claims it is talking to his lawyer. A man who answered Hlongwane's cellphone when the Mail & Guardian called this week said he was sitting across the table from him in Johannesburg.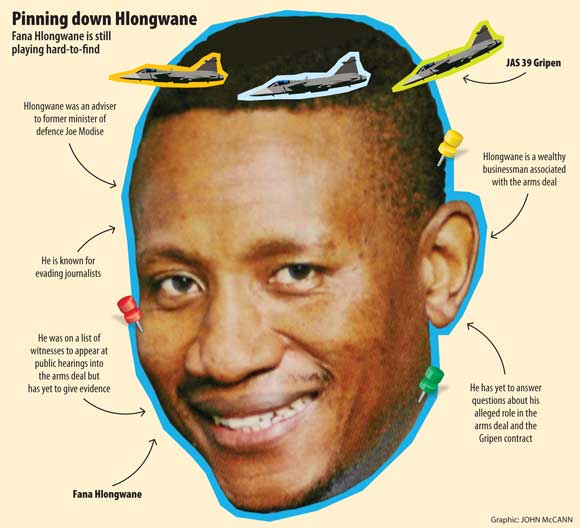 Graphic: John McCann
Hlongwane has a reputation among journalists for answering his phone and pretending to be someone else. "Fana Hlongwane is right here with me, but he is talking to someone," said the man, who did not identify himself. "Fana Hlongwane is sitting in the bright sunlight and I can see his face very clearly. He is not wearing any disguise."
Asked whether Hlongwane had gone to ground when the commission was looking for him, the man answered: "I can see him before me and I can assure you Fana Hlongwane is not in hiding. If anybody says they could not find him, it must just be because of laziness."
Allegations
The high-flying consultant owns a number of homes in South Africa and one in Zimbabwe. His luxury home in St Francis Bay in the Eastern Cape was rumoured to have been worth about R9-million, but it was among those affected by the devastating fire in the area in December.
A text message sent to Hlongwane by the M&G requesting an interview went unanswered.
Hlongwane's lawyer, Christo Stockenstrom, would not say whether his client has been served a letter or subpoena to appear at the first round of commission hearings in Pretoria. The matter is sub judice, he insisted. "All I will say is that I am Mr Hlongwane's lawyer," he said. "I don't discuss my client's issues with the press."
Although Hlongwane has not yet answered questions about his role in the arms deal controversy, allegations against him have surfaced from foreign shores. Shortly before the Scorpions were disbanded, the elite crime-fighting squad raided premises in Illovo, Johannesburg, linked to Hlongwane in 2008. The raids were conducted as part of ongoing investigations into fraud and corruption related to the Gripen contract. An investigation by Britain's Serious Fraud Office into bribes paid to a consultant in South Africa was reported at the time to be the motivation for the raid.
In March 2010, Hlongwane appears to have had a lucky break when the former head of the National Prosecuting Authority, Menzi Simelane, ordered that the freeze on his Swiss bank accounts be lifted, despite the mounting allegations against him.
Frisson of excitement
Then, two years ago, it was widely reported in South Africa and Europe that Hlongwane could be the local consultant who received a transfer of R24-million from BAE Systems through a company called Sanip.
The details of the transfer were revealed by Hakan Buskhe, the chief executive of Saab, who said the money was not recorded in financial statements and was transferred without the knowledge of Saab. Documents released revealed that payments could have been made in order to secure the sale of the Gripen aircraft to South Africa.
Although Hlongwane has not faced any criminal charges in South Africa, there was a frisson of excitement when his name appeared on a list of 12 witnesses who would be called to appear at the first round of public hearings into the arms deal. However, when the M&G inquired about the date Hlongwane would be appearing, the commission said he would no longer give evidence at the first round of hearings.
"The commission is interacting with Mr Hlongwane's attorneys in connection with further investigations being conducted and he will be subpoenaed at a later stage," commission spokesperson William Baloyi said.