The Central African Republic (CAR)'s childtren are suffering in the wake of a March 24 rebel coup by the Séléka alliance.
According to the UN office for the coordination of humanitarian affairs (OCHA), some 2.3-million children are directly affected by the breakdown of law and order and the interruption of basic services.
On April 12, 14 children were wounded in the capital, Bangui, when a rocket-propelled grenade fell on a playing field. Two days later, a rocket landed on a church, killing seven people, including three infants, and wounding 11 children – three of whom had to have their legs amputated.
"It's scandalous that children are being caught in crossfire as they go about their daily lives, playing football or going to church," said Souleymane Diabaté, the UN Children's Fund (Unicef) representative in the CAR.
"Children who fall sick with basic diseases" such as malaria are also in need of medical attention, said Ellen Van Der Velden, Médecins Sans Frontières (MSF) head of mission in the CAR.
Yet healthcare provision outside of main hospitals has been unpredictable.
"In some areas [of Bangui] the health centres are functional, in others they are closed, again in others minimal services are being delivered. The situation may change quite quickly. One day a [health] centre could be operational, the next it can be closed," said Van Der Velden.
Children's homes targeted
A Bangui centre for street children, run by the Voix du Coeur (Voice of the Heart) Foundation, "suffered a lot during these recent events", according to its director, Ange Ngassenemo.
"Two children died and several were injured during the looting. We were also visited by Séléka, on the pretext of looking for young thieves, and they also looted what little the children had," added Ngassenemo.
"We unfortunately don't have the necessary means … This situation is becoming harder and harder as more and more children come here, and taking care of them becomes a crushing burden for our little organisation," he said.
"We call on the state to help us. Couldn't they get us running water for the children, who need to wash themselves and their clothes … We estimate there are about 6 000 street children in Bangui. If they come to us and we send them away, it becomes dangerous and is not a viable solution. It would be better to help us help them," he added.
On April 13, armed men thought to be part of Séléka looted a Bangui orphanage run by SOS Children's Villages, after letting off their weapons to intimidate staff members.
"The children were hiding under their beds. Staff members were in tears when they spoke to me," said the city's archbishop, Dieudonné Nzapalainga.
"There are no guns in these houses. There are just children. What's happening? This was no weapons search, it was looting. Shooting in the air, scaring people to death … I am outraged by this situation," he said on Radio France Internationale.
Recruited by all sides
Various armed groups continue to recruit children, according to Unicef, which warned in a April 12 statement that such practices violated international law.
More than 2 000 children, both boys and girls, were associated with armed groups and self-defence organisations before conflict resumed in December 2012, the agency said, adding that the practice continued after the fall of Bangui.
"Recruiting children is both morally unacceptable and forbidden under international law," said Unicef's Diabaté.
"We have called on the new leadership in CAR [Séléka ] to ensure that all children associated with armed groups should be released immediately and protected from further violations [of law]," he said in the statement, adding that those now in power had demonstrated their intention to do just that.
"Unicef is committed to working with them to ensure that there is an immediate halt to new recruitments and support a process of identification, verification and reintegration of children."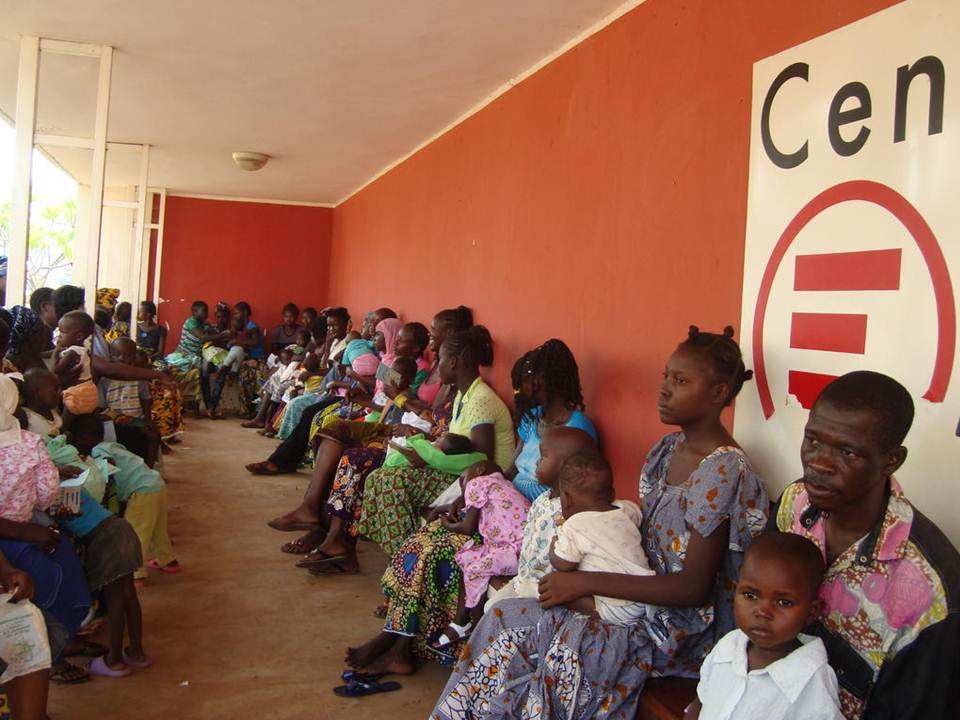 ​(Paul Ley, EMERGENCY)
This paediatric medical centre operated by the NGO EMERGENCY was one the few places children could access emergency care in Bangui during the crisis surrounding a rebel coup in late March 2013 According to Amy Martin, who heads OCHA's Bangui branch, "The presence of child soldiers is evident amongst the ranks of Séléka." "Recruitment into the national army was ongoing a few weeks ago but is less evident now," added Martin.
Out of school
Insecurity has forced thousands of children and teachers from schools in Bangui, and has interrupted educations in regions in the east and north of the country.
"Schools have remained closed in Bangui and elsewhere since March. There is vacation soon, so families who can afford to hire tutors for catch-up courses will do so over vacation. [But] not everyone can afford this," said Martin.
The education ministry remains sceptical about the re-opening of schools with insecurity still rife.
"The children are understandably at home because the security situation demands it," said Education Minister Marcel Loudegue.
Schools are also among the properties that have been looted since the rebel takeover, with teachers, like civil servants, remaining unpaid.
In a April 23 statement, Unicef warned that hundreds of thousands of students are at risk of missing out on the entire school year, "with half the country's schools shuttered."
Unicef's Diabaté said: "The new government must prioritize protection of and investment in the country's education system, in order to respect and fulfil children's basic right to education and to provide this generation of children with hope for a healthy future." Literacy levels are low in the CAR, with over one million children out of school in total, according to Unicef. – IRIN