Tweeters responded in anger after a 2OceansVibe story was circulated reporting that MyBroadband.co.za was asking users to "select the white name" from a list of suggestions when registering on the site's forum, which allows you to comment on its articles.
As a security question, the site asked users to pick out the white name and surname, with options including Thabo, Mandisa, Gert, Mandela, Sexwale, Venter and Zuma.
Rudolph Muller, editor of MyBroadband, said the site was trying to weed out human spammers and had very few options at its disposal.
"We've been trying to stop spammers. It's a question to prevent international spammers from registering on the site and spamming people, and one has to be quite clever in doing this. We need to find questions that South Africans will find easy to answer, but are difficult for most in South-East Asia – where most spammers are from," he said.
"For two months we've been trying different types of questions to see what would work. We have asked people to send through recommendations, and it's not easy to come up with something. For example, asking which is the biggest city with the options of Cape Town, Johannesburg, Durban and Port Elizabeth will be easy to google," he said.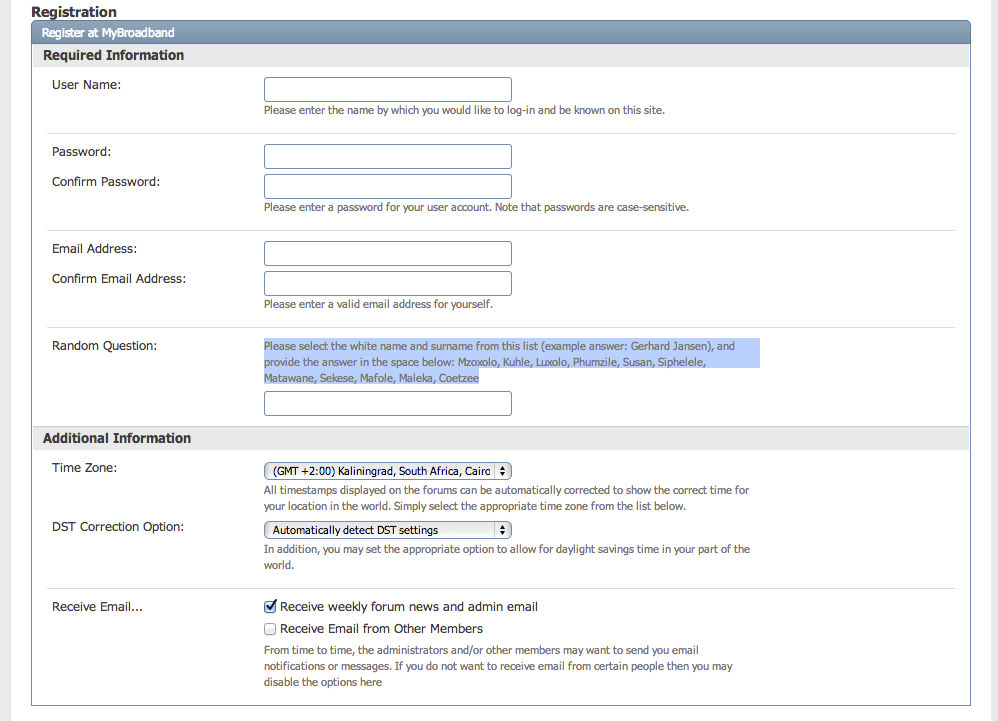 Muller explained that the question needed a cultural understanding to be answered correctly, which was why the race-based question was effective in keeping spammers at bay. Another requirement was that finding the answer needed to be time consuming.
"Such a question is not easy to put into a search engine and answer. It has taken spammers four days to crack this, which is incredible. Other options have yielded in a matter of minutes or hours," he added.
'Ways other than race'
When asked why the word "white" was used, instead of a South African language, Muller said it proved too easy to crack.
"Unfortunately, asking people to identify an Afrikaans or Xhosa name, for example, proved too easy for spammers to solve."
But the editor explained that there was another option that worked effectively.
The one other question that did seem to give positive results included an answer in scrambled letters. But the question had to be phrased in such a way that it would not be searchable and could only be obvious to South African users.
An example Muller offered was a question such as "where is the mountain?", with the answer – Cape Town – scrambled. The answer should be recognisable to a South African and not easy to decipher by someone with little to no knowledge of the country. The question as it stands is also not ideally searchable.
Muller said the questions were not permanent and would change as more options became available. He also pleaded with the public to offer better options that could be just as effective.
"We are looking for ways other than race and if anyone has an idea, please let us know. This is just the most effective way right now."
Muller added he was disappointed that 2OceansVibe did not ask the site for comment before publishing its story.