He told the crowd he supported them. "I'm here on behalf of all the workers in Mississippi. We are all supporting each other, we must stand together. Amandla!" he said in central Johannesburg on Thursday.
He was accompanied by Bob King, president of the United Automobile Workers' Union of America.
King and Glover were invited by the National Union of Metalworkers of South Africa.
Police and Prisons Civil Rights Union members (Popcru) in all provinces, except Mpumalanga, are taking to the streets to demand that the South African Police Service (SAPS) honours an agreement to change administrative staff salary grades.
Meanwhile, hundreds of Popcru members marched in Durban on Wednesday.
The union's KwaZulu-Natal chairperson Jeff Dladla said the employer should be prepared to better workers' salaries, as the union would not accept claims that there was no money.
'We are not going to sleep'
"We are not going to sleep as our members are earning peanuts," Dladla said on Wednesday.
"This is just the beginning. We are giving the employer 14 days to respond. If they fail, we will march in Pretoria and Cape Town."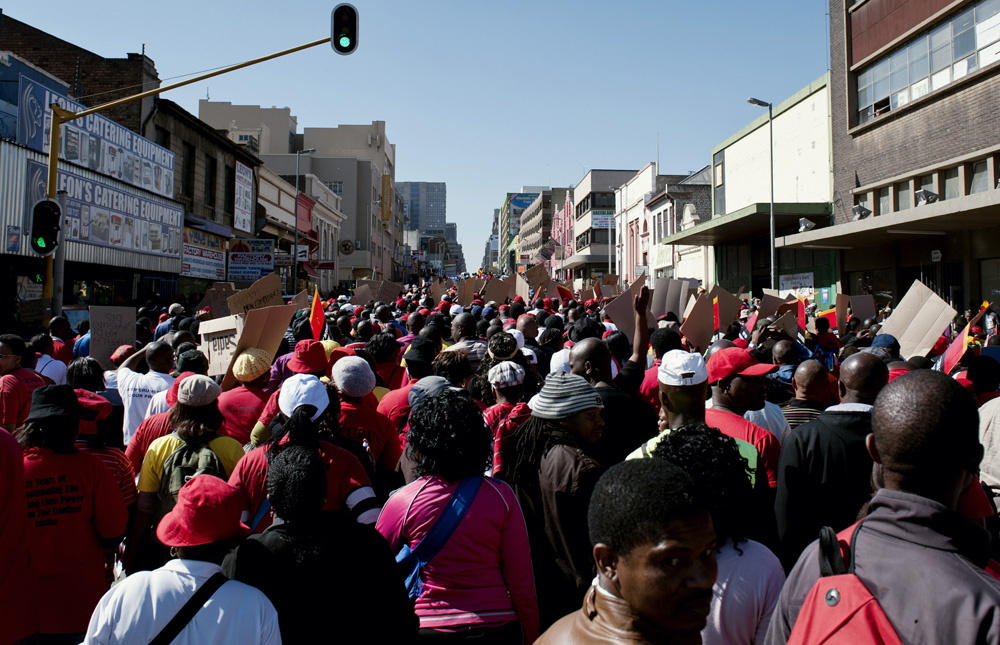 ​
Photograph: Madelene Cronje, M&G
At the time, Dladla said members of the Popcru would not be intimidated by threats of dismissal.
"There's no amount of intimidation that will stop us from fighting for our rights."
The protesters in Durban wanted police to honour an agreement to change their salary grades, and separate career planning for operational and administration staff.
Nicholas Duma, who had worked for the Jacobs police garage in Durban for the past 25 years as a driver and clerk, said he was earning less than R10 000 a month. He had a wife and four children and sometimes had to take out loans to make ends meet.
Popcru provincial gender coordinator Gretta Govender said members governed by the Public Service Act were fed up with the employer.
"We demand to be respected," she said on Wednesday.
'Ruled by different laws'
Govender said she had been working as an administration clerk at the Empangeni flying squad for eight years and said it was difficult to survive on the salary of a level three or four employee, as workers did not qualify for a bond and accommodation in government barracks.
Govender added that workers wanted government to do away with the two Acts that governed the SAPS. Police officers were governed by the South African Police Service Act and administrative workers by the Public Service Act.
"We are in the same department but ruled by different laws. It is not fair."
According to a memorandum submitted to provincial police commissioner Lieutenant General Mamonye Ngobeni, workers wanted all Public Service Act personnel moved from salary level one to five.
Other demands included the incorporation of Public Service Act personnel into the SAPS as a category of workers, and the upgrading of supervisory clerks to level seven.
Provincial police spokesperson Colonel Vincent Mdunge said police stations were functioning, as only a handful of people participated in the march. He said the protest was peaceful.
During the march on Wednesday, Popcru members carried placards which read: "Away with level three salaries for 20 years" and "Away with slavery packages". – Sapa