Livingstone, I presumed, is a town where postcard sales are lucrative and Hipstamatic images of white-river rafting and rainbows cutting through the "Smoke that Thunders" get more public likes and secret hates with every tourist season. In reality it's also a dusty town where fishermen, wildlife photographers and thrill-seeking youngsters cross paths at the local Shoprite before going off on their separate itineraries.
But just a few kilometres beyond the famous Victoria Falls lies the less tweeted Zambian story–a complex tale of slash-and-burn farming methods, unsustainable logging, bad land management and tree-cutting for charcoal that has resulted in an estimated deforestation rate of 250 000 to 300 000 hectares a year.
This less postcard-friendly side of Livingstone drew me there as a volunteer tourist, or "voluntourist", as it is more likely to be hashtagged. Instead of choosing to stand on a beer crate shouting "civilization is doomed" in suitable climate-change rhetoric, I hitched my goodwill and holiday itinerary to Greenpop, a platform that has done the groundwork for creating positive change.
Greenpop is a social enterprise aimed at making greening and sustainable living fun and accessible through tree-planting projects, green events, education and voluntourism projects such as "Trees for Zambia", which it started in 2012.
The premise for this now yearly volunteer project is simple–plant 5 000 trees in three weeks at schools, on subsistence farms and in deforested areas, all the while educating schoolchildren about the importance of trees and solar energy.
It doesn't matter to Greenpop that volunteers like me come with little understanding of the sociopolitical complexities surrounding charcoal burning and with even less practical experience. The organisation is prepared for part-time do-gooders who have the energy but not the know-how to effect change.
As a volunteer, all you have to plan is your length of stay–one, two or three weeks. Everything else is scheduled and mapped out. You don't have to cook, clean or even set an alarm clock. Greenpop has thought of everything.
The Greenpop Village, about 4km outside Livingstone, is clean and rustic. Lanterns hang from indigenous trees leading to the tented camp area, where volunteers share two-person tents. A totem pole in the grounds' centre offers directions and quirky facts about the world's most notable trees and became the daily meeting point for the 40-plus volunteers who flowed through the village over the three weeks.
In the common area, a small boma has been turned into a playful "imagination station" and an old bathtub encourages you to keep it overflowing with donations of clothing and soccer kits for the local children. And on those days when you feel like the Greenpop truck might have just reversed over you, the bathroom mirror reflects an encouraging message: "You look treemendous."
But if their execution is playful, Greenpop's message is serious. Before my stay was over I was taught to make a solar cooker from chip packets and cardboard, create beds for a food forest and plant ?trees alongside a primary school eco-club.
Some tasks took a few hours to complete, but some problems will take a lifetime to change. Money is the heart of the problem. In the nature reserve the old and solid teak and mopani trees are being chopped down to build charcoal kilns.
The meagre 600 kwacha (approximately R1 200) that this full month's work brings feeds families. It will also support the man who cycles the charcoal across the border to sell it legally in Zimbabwe. The same teak trees would fetch hundreds of dollars on the open market but workers are just meeting a demand that is as old and established in Zambia as the trees themselves.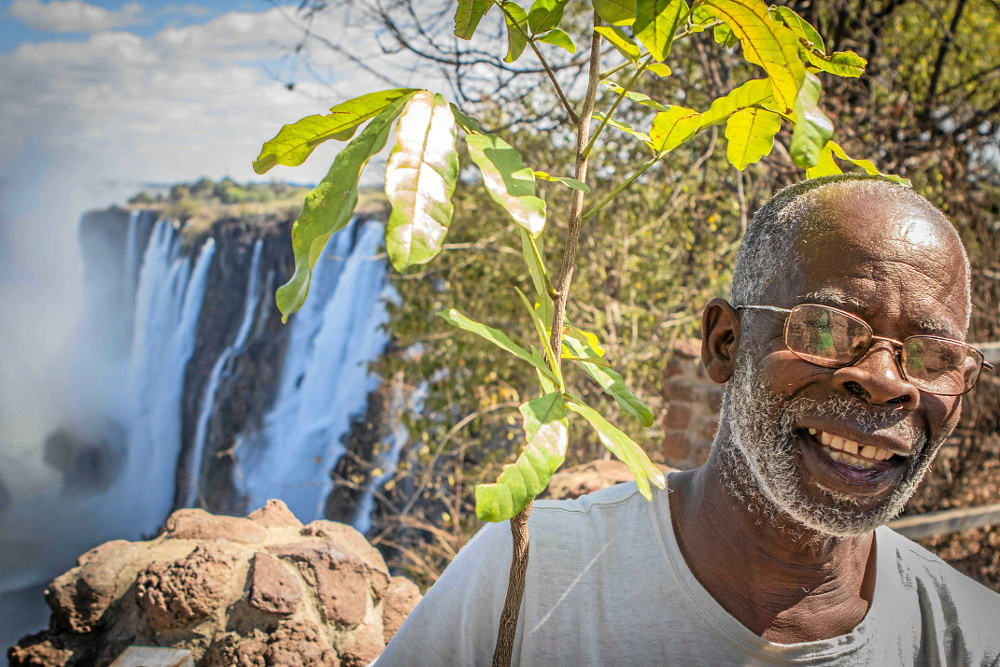 Today, 70% of Zambia still relies on charcoal for its daily energy consumption, and many argue that there is no political will to change that. Mother nature pays. With the large trees cut down, there is nothing to stop grasses taking over and when these burn fast and furiously during the hot summer months, soil erosion quickly follows.
Greenpop's orientation programme offers a holistic picture of the complex local setup. Regular fireside evenings complement the learning, bringing environmental films, local experts, guest speakers and debates to the village.
Even the weekends, blocked off for free time and relaxation, offer opportunities for excursions, music festivals and meeting local eco-warriors, free-thinking academics and just your general earth-friendly public.
It's all part of the Greenpop voluntourism package that you pay for in blisters, mosquito bites and yes, real money.
Many people confuse "volunteer" with "free pass" but in most voluntourism cases you volunteer your time and energy to the cause while paying for your comfort, support and peace of mind. Even here, Greenpop provides a creative answer, offering volunteers the opportunity to pay their way through funding trees, and even offering web support to help you to raise money for this.
My week at the village was like an interactive life class. I got to debate and explore issues through different cultures and experiences in the evenings, only to rethink ideas in the light of day when basic human needs sit uncomfortably with well-rehearsed rhetoric and idealistic principles.
That's what Greenpop does best–bringing different people and platforms together to get the most out of unique skills, global experiences and frames of reference.
Their focus is local as much as their reach is global. Over my eight days there, I interacted with an eclectic mix of volunteers and groupies–friendly people in the food queue, swopping comical tales about the tough camp ground and stinging insects, and those I met on the bus and around the campfire, among them a family from Bruges rounding off their African overland holiday, musicians from Jo'burg and environmentalists from Canada.
Greenpop has created a space where acclaimed dendrologists and local government officials share the same microphone as teachers and former charcoal burners. These are the kinds of people who get direct video messages from activists such as Wanjira Maathai, daughter of Nobel peace prize laureate Wangari Maathai, and create platforms for the passionate and the purposeful. You are encouraged to listen and to ask more questions.
Greenpop's leaders–Misha Teasdale, Lauren O'Donnell and Jeremy Hewitt–didn't start out as social workers or environmental experts. All they knew is that they wanted to reverse the damage caused by modern living and that there must be others who felt the same way. They started with a campaign to plant 1?000 trees in one month and get as many people involved. It worked and with time they have grown an award-winning social enterprise that attracts experts and employs passionate people.
When many nongovernmental organisations seem to expend their energy on funding proposals, Greenpop's focus is on rallying the troops to "join the treevolution". They get that change won't come from one exclusive group of do-gooders, and that it starts with realising it's more fun and meaningful to sweat out the solutions together.
Paying to volunteer is an often debated issue that usually starts with volunteers casually comparing experiences and ends with cautionary tales pairing developed-world ignorance and developing-world exploitation. The lesson is to choose your organisation wisely.
To me voluntourism is less about making my holiday more fulfilling by giving back to other communities and more about needing to have real, and less mediated, experiences that can get everyone thinking differently about our challenges.
---
Voluntourism tips
l Read Lonely Planet's Volunteer: A Traveller's Guide to Making a Difference around the World to help you to choose a meaningful volunteering experience.
l Research the organisation. Don't only read their website PR. Read blogs and online forums for personal accounts of experiences.
l Manage expectations by being upfront about your personal boundaries. Ask about: type and style of accommodation; transfer times and modes of transport; environment; interaction with voluntourists and residents; and type of service work expected.
l Look at the project's itinerary, which should include: voluntary service; connection to a destination's art, culture, history, geography, and other tourism activities; recreation; and personal downtime.
Contact Greenpop at greenpop.org or phone 021 461 9265