Although the ill-fated French queen Marie Antoinette never said "let them eat cake", her household profligacy, which included a court addicted to unreasonable confectionary, did help to bring down an empire.
Jacqui Biess, of Charly's Bakery in Cape Town, may love elaborate cakes and sculpting excessive chocolate, but whereas "Madame Déficit" was unconscionable, Biess sees cake as an opportunity and a means to nation building.
Charly's Bakery, established in 1989 with Biess's husband, Charly (who died last year), has steadily risen to fame. Originally on Thibault Square, before moving first to the V&A Waterfront and then to Roeland Street, the bakery is now on Harrington Square in its own building decorated in pink stripes and pastels like some grand gateau.
The bakery was already wildly popular before it shot to national fame thanks to the documentary-style reality TV series Charly's Cake Angels, which is produced by Justin Bonello's Cooked in Africa Films.
Season one was shown in more than 100 territories in Europe, the Middle East, Africa and Asia. A 13-part second series is currently being screened on the Food Network (DStv Channel 175).
The bakery, which Biess runs with her daughters Alex, Dani and Roche, now has a constant queue of sweet-toothed fans. The coffee shop is always filled to bursting and there are plans afoot to have a pop-up shop every few months.
The staff complement has gone from 12 to 40 in four years. There is a day and a night shift and soon there will be a third in-between shift to cope with demand.
Always in demand
Orders aside, the bakery runs through 200 petits fours (each with a thin layer of marzipan) and 1 000 cupcakes a day from foot traffic alone.
Cake is always in demand. For centuries, it has accompanied celebrations. The ancient Chinese made cake for offerings to the gods; apparently, the Celts rolled cakes down hills for Beltane; the Greeks, it is claimed, started birthday cakes; and the Romans began wedding cake by crumbling bread over the head of the bride.
Whether it's an anniversary, a birth, a graduation, a Bar Mitzvah, a confirmation (there is a big demand for Bible cakes, says Biess) or even a product launch, Charly's Bakery rises to the occasion.
On the day I arrive to interview Biess, Roche is busy with a Wiccan cake and there is a caramel derrière upstairs awaiting some sugared lace broekies.
"There is a big naughty-cake market and a weird-cake market," says Biess. "We stop at anything perverted … We don't model cakes on people's genitalia even though we have had requests!"
A forthcoming TV episode has a PG rating.
Biess shows me a box marked "omatondo and amabele" filled with harmless little pink winkies and boobs. There are also boxes of wired hearts, polka dots, stars, buttons, numbers, wedding figurines and high heels. It is a play land, a fun fantasy world, says Biess. As a child, her favourite book was Charlie and the Chocolate Factory.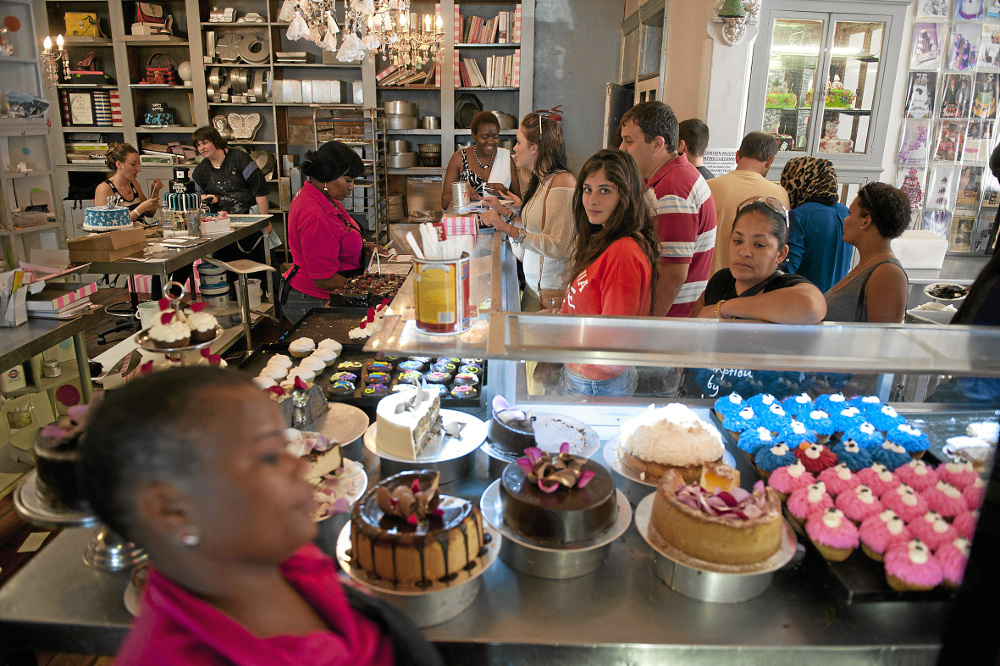 Edible dreams
People arrive expecting the "world of wonder" they saw on television. From the smiling faces on display everywhere, most seem to find it. But there is that percentage, says Biess, that find an old building, not exactly crumbling but dog-eared, in a dodgy part of town.
In the cold room there are cake bases at the ready waiting to be transformed into somebody's edible dream: baked cheesecake, lemon meringue, Madeira, chocolate mousse, trendy red velvet (using beetroot and not food colouring), and "hummingbird cake", which is made with carrot, banana and pineapple with a mango cream-cheese icing. For good measure, there is also dairy-free, egg-free and diabetic cake.
Is there a trade-off between size and taste, I wonder. Not when it comes to the wicked chocolate cake, the best seller, selling 40 to one. Certain cakes, such as cheesecake and carrot cake, don't work when it comes to craving.
Meringues can melt or collapse thanks to Cape Town's fast-changing weather. But you can do almost anything with the wicked chocolate cake.
"We didn't plan a brand," says Biess. "It just grew organically. Charly's is a family business. We will never franchise. And we never leave things to a management."
Cake and giving
All the staff have started at the bottom and worked their way up. They are a "rainbow collection" of "Oompa-Loompas", says Biess: Xhosa, Tswana, Sotho, Portuguese Angolan, Congolese, Jews, Germans and Christians.
A hallmark of the business is the amount of effort they make for organisations doing good work – such as Nazareth House and St Luke's Hospice (to be featured in episode six). In one episode, they take cake to the nearby Cape Town police station.
"We started with the Big Issue vendors, and have continued with them all these years," says Biess.
For years, it has worked with Operation Shoebox, which gives gifts to orphaned children. Charly's managed to raise 8 500 new toys for children in hospitals such as the Red Cross War Memorial Children's Hospital (shown in the upcoming Christmas episode).
Cake and giving seem to go together naturally. Most people don't buy special cakes for themselves but to surprise a loved one.
"I believe the success of our business," says Biess, "lies in keeping open the circle of giving."
Let them eat cake is her belief, but Biess is no disconnected Marie-Antoinette.
(Full disclosure: of course I left with a gift box of Charly's cupcakes and petits fours. I didn't take a bite. I gave it away to cake-starved children.)