She was one of the country's most celebrated and divisive media figures of the 1980s and 1990s, and the object of one of its greatest sex scandals.
The waitress known as ­"Juliette" is a mystery woman in the small United States town of Lambertville, New Jersey.
Despite working at the same restaurant for the past nine years, the most people here know about her is that she only wears black, and that she knows Latin but doesn't know how to cook an egg. She's so broke that she can't afford cigarettes, but has met people such as Charlton Heston and the Dalai Lama.
The resident who knows her best, Riste Vaher (35), says: "She's known around town as the crazy British lady with the tiny dogs. The one whose story was never quite straight. Was she from Britain or Africa? She's highly intelligent, but I've seen her actually buying pre-boiled eggs. And how come she's so friendly, but says such harsh things?"
Yet the very first entry in Juliette's new waitressing blog will give a clue to her true identity for South Africans old enough to remember her glory days.
"Rejoice all my enemies (come to think of it, I used to have enemies of a higher calibre; the president of South Africa once described me as an 'attention seeker'). I am, these days, waiting tables in sensible shoes and a bistro apron."
Twenty-five years ago Jani Allan – in a poll directed at elite white suburbanites – was voted "the most admired person in South Africa". She lived in a villa above Clifton beach and drove a Ferrari. She was a glamorous, towering former model, a major opinion-maker in her role as one of the country's premier newspaper columnists, and one of its very first media celebrities.
Trained as a concert pianist, Allan was once the target of an assassin's bomb and, in 2000, she claimed to have been "used" as a spy by the ANC. She was also, of course, the focus of South Africa's all-time box-office sex scandal: the beautiful, liberal media icon who allegedly had an affair with the racist Afrikaner Weerstandsbeweging (AWB) leader Eugene Terre'Blanche.
Allan's epic court battle over the Terre'Blanche claims – in a British documentary by Nick Broomfield – is remembered in the United Kingdom for the most salacious cat fight of the 1990s, with Allan trading humiliating sexual insults with a former friend, astrologer Linda Shaw. Welded into South Africa's memory was the court description of Terre'Blanche sitting in holey green underpants on Allan's sofa.
When Allan emigrated to the US in 2001, she left her country, her career and her identity behind. She vanished for 12 years, disappearing into anonymity even within her adopted rural town of Lambertville.
Now, with a blog with viral potential, a revival of old media connections and a book project on South Africa, Jani Allan is back. Again.
Adoption
Her waitress avatar, "Juliette", lives in a small ground-floor apartment, against a steel traffic barrier and a parking lot.
Apparently, the lot has drainage problems that pose a flood hazard for nearby residents. A hand-drawn protest sign draped over that barrier recalls Allan's columnist sarcasm, declaring: "Lakefront Property!"
She appears with three Pomeranian dogs at her feet. She's rail-thin and looks every fraught minute of her 61 years, but still toothily beautiful.
"Dearest!" she says, offering a bony hug. A layer of blonde dog hair coats her black T-shirt.
"Do you know, Dorothy Parker once lived around here? People have remarked that I share her dry ­sardonic wit, though maybe I'm just sarky," she says, in a remarkably ­neutral accent.
Allan says restaurant customers take bets on where she's from, to which she replies: "I'm from the kitchen." Despite her attention-seeker label in South Africa, she has kept her past celebrity a virtual secret in this town of 3 800 people.
Allan's bright-yellow VW bug is parked on the street; the car is so old that it still has a cassette tape deck. In the back, there is an empty bottle of Perrier-Jouët.
"When I was Jani Allan, I could delay the takeoff of an aeroplane. I remember I was a bit late for a flight to, I think, Durban. I went like this to the pilot," she says waving flirtatiously, "and they held it. They named a salad after me at a fabulous restaurant in Rosebank. At the time, I thought that was success. Now, I barely have influence over my Pomeranians."
Born in the UK in 1952, Allan was adopted by an upper-class couple, Jack Allan, an editor of an Edinburgh newspaper, and Janet Allan, the daughter of a Rhodesian Cabinet minister. She was named "Isabel Janet".
When her father died – six months after her adoption – Allan was brought to South Africa, and her mother raised her as a classical-music prodigy, nicknaming her "Juliette". She performed as a piano soloist with the Johannesburg Symphony Orchestra at the age of 10, and then studied at Greenside High School after a brief term at Roedean School.
She says: "When I fell off my pony, my mother told me: 'Cease that detestable boo-hooing and get back on your horse'. Thank God for her. She taught me courage and perseverance, and unwittingly prepared me for the hell that was to come."
Armed with degrees in music and the arts from Wits, as well as a modelling portfolio, Allan was picked up as a columnist by the Sunday Times in 1980, and renamed "Jani".
Doomed
Two years later, she married art collector Gordon Schachat, but they divorced after two years; an event she blames on her own "obsession" with her media career.
"He taught me so much," she says. "You know, he filled his Rolls-Royce with flowers for me. He let me drive his Ferrari."
Allan would go on to interview everyone from FW de Klerk and Magnus Malan to Roger Moore and her friend Pieter-Dirk Uys.
Looking back, Allan says her career was doomed after her first column on Terre'Blanche – someone she claims to have known nothing about – when she admitted to readers that she was "impaled on the blue flames of his blowtorch eyes".
Two years later, Allan says, she was chatting with journalist Marlene Burger at her Sandown Gardens flat when three men claiming to be maintenance workers entered her apartment. Soon afterward, a bomb exploded. Allan was in the apartment, but escaped uninjured.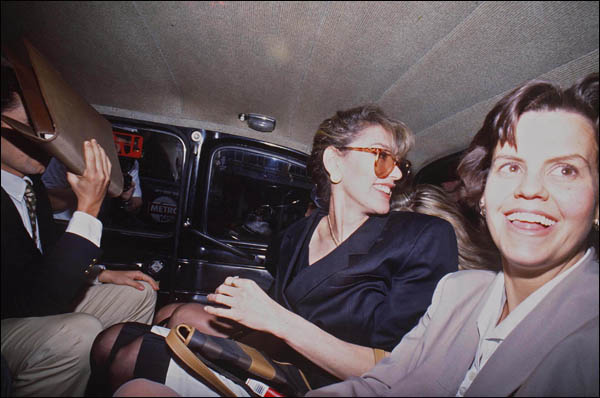 Courting controversy: Jani Allan leaving the London High Court 1992. (REX)
"They were AWB guys," she claims. "I later found out I was under surveillance by three different intelligence agencies; one of them planned to kill me with a crossbow."
She fled to London, but says a promised Sunday Times job failed to materialise when she was told that she had become the story.
In 1992, she sued Britain's Channel 4 for airing a documentary, The Leader, His Driver and the Driver's Wife, which suggested that she had an affair with Terre'Blanche.
But Allan failed to convince a British court that the claims were false, thanks largely to the testimony of her former friend and housemate, Shaw, who claimed to have seen the two embracing, and to have witnessed Allan beneath "a large bottom" when she peered through Allan's bedroom keyhole.
Racist buffoon
Allan shot back with searing portrayals of Shaw's alleged promiscuity, delivered with her trademark haughtiness. In the Daily Mail, she wrote: "[Linda] had started to look rather like a piece of rock salt licked by all kinds of passing cattle." For the Evening Standard, she quipped: "Her idea of safe sex was a padded headboard."
Allan lamented that she'd "always be known as the tart who slept with a racist buffoon" though she continues to dismiss those claims. (Regarding the bizarre circumstances surrounding Terre'Blanche's murder, she asks, with sincere curiosity: "Do you think he was really homosexual? It actually wouldn't surprise me.")
Newly converted to Christianity, she returned to South Africa in 1996, an event trumpeted on the cover of Style magazine, and reinvented herself as the irreverent host of Jani's World on Cape Talk, and, later, as a columnist for MWeb.
Allan says she struck up a close friendship with Mangosuthu Buthelezi, and went on to work as a part-time speechwriter for the Inkatha Freedom Party leader. In 1997, Buthelezi told London's Independent that Allan was "a good example of beauty and brains". Though Allan's columns in the 1980s and 1990s were notable for their seemingly cold contempt for all welfare for the poor, Buthelezi praised her "sensitivity and compassion".
Allan's political incorrectness and her interest in right-wing figures earned her the hatred of many ­liberal South Africans in the 1990s.
In a media interview from the US years later, she earned broader enmity by alleging its government was complicit in a "genocide" of white farmers.
Allan says her move to the US in 2001 was "an escape". Soon after arriving, she married a New Jersey entrepreneur, Peter Kulish, and moved to New Hope, an affluent town in rural New Jersey. The marriage, she says, was a "disaster" that lasted just two years, while Allan also battled Lyme disease.
Rather than retreat from her ex-husband's neighbourhood, Allan and her dogs simply moved 400m away, across the Delaware River, to Lambertville, and she took a job at a local five-star restaurant, largely, she says, because she admired the owner's taste.
Allan seems amused by the thought of how South Africans will receive the news that she's gone from jet-set elite to lowly server – "completely a spinster on the couch, with her Poms".
Cherished smoking habit
On top of being unable to afford either healthcare or her cherished smoking habit, Allan is profoundly alone, and says she has been since 2004. She has no family, and no country. But a brief tour of her neighbourhood reveals the Jani-down-and-out narrative is not quite right.
There are seven art galleries within two blocks of her flat. There's a classical music masterclass, a chocolatier, two antique dealers and three fine-dining restaurants within the same span.
Across the Delaware River, a plain-looking three-storey barn is, in fact, the Bucks County Playhouse. Actors such as Robert Redford have performed here, and both Richard Rodgers and Oscar Hammerstein lived in the neighbourhood. Despite being off the tourist trail, it is one of the most culturally rich towns in the US – a secret mink-and-manure getaway spot for wealthy New Yorkers.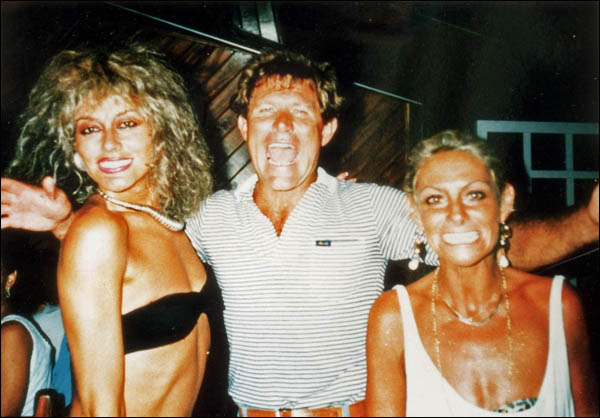 Jani Allan (left) with friends at Hampton Court in Surrey in 1995. (Supplied)
(Discovering Allan's choice of reclusive lair recalls the movie scene from Hannibal, in which the FBI realises that Hannibal Lecter has been secretly living his fugitive life in Florence. Of course! No matter her circumstances, she was always going to find her way to the most civilised place on the map.)
She has almost no friends older than 35, but is regarded as a heroine by young women in Lambertville for her plain-spoken opinions and taste for the finer things in life.
Spotted on the street, Allan is embraced by one local waitress, "Abigail" (23), who gushes "Oh den mother!", and sets out the details of a birthday bash for "Juliette".
"This is why I am so blessed," Allan says.
Her kitchen is almost bare. "The only reason I have a kitchen is because it came with the flat. My main food groups are chocolate and peaches." A stack of books on her coffee table include Christopher Hitchens's last polemic, something by SJ Perelman and Latin for All Occasions. There are no news­papers or news magazines.
There is just one piece of evidence visible that she is connected to South Africa at all: a bright red envelope, addressed to "D Bullard". It's a thank you card for books the columnist recently sent her.
Rapprochement
Allan says it was social media that rekindled her interest in South Africa – and the interest of South Africans in her – over the past year.
"I had an acrimonious divorce from South Africa, but there seems to be a rapprochement."
A Cape-Town-based linguistics student from Wales, Gareth Davies, tracked her down online, and opened a Twitter account on her behalf. She says he also penned the bulk of her massive Wikipedia page.
Now based in Spain, Davies says his interest was triggered by Allan's divisiveness and role as "a cultural figure".
"Jani has been misunderstood in so many ways," says Davies. "I believe she has an insight into a rather closed world. Perhaps shades of Gatsby."
Then a restaurant colleague convinced her to start a blog, My Grilling Life. Though thinly disguised as the slightly snobbish cultural reflections of the waitress Juliette, Jani Allan's identity is clear enough in the references. Also, the blog is bordered by a montage of her iconic Style magazine cover. Columnists David Bullard and Lin Sampson were among those who spotted it, and enthused about her return to writing.
In a chatty diary format, this New Jersey waitress somehow wields words such as "weft", and "festoon" and "equipollently", and casually invites readers to "recall the startled bemusement of Molière's Monsieur Jourdain in Le Bourgeois Gentilhomme".
Yet Allan's blog is singularly readable, as the confessed snob relates her wistful agony as she watches Americans using butter knives to cut bread rolls or forks to eat oysters, or lampoons every fake handbag, smile or compliment she espies.
"There is also a chance of collateral windfall," she writes. "An arguing couple once stormed out of the restaurant forgetting a bottle of Dom Pérignon."
The restaurant – which she requested not be identified – is all-white with blue fixtures, and has an elegant Mediterranean theme with an open kitchen. Its large murals were painted by a Broadway set designer.
Worldwide phenomenon
As the contrarian, over-educated server "Juliette", Allan has emerged as a minor cult figure here. The ­maître d', Matt, says patrons often ask for her, adding that, until September, he knew "almost nothing about her past".
"Its odd that someone that educated is here, but she just brings this European sophistication to the table," he says. "She also talks religion and politics with customers, which no one else would dare to do."
Even as a waitress, it seems, Allan cannot help being divisive.
Online restaurant reviews include this, from March last year: "The best part of the meal was our waitress Juliette. I'm not sure how [the restaurant] managed to lure her in! We all raved about her natural charm and elegance."
Another mentions "the nastiest waitress ever to be unleashed on innocent dining patrons: the evil and dastardly Juliette. If posted on YouTube, her menacing and sloth-like style of service, peppered with nasty colloquialisms, would truly become a worldwide phenomenon."
Now Allan is determined to complete an innovative online book project, in which South Africans can add their own memories of the times when Jani Allan ruled the national peanut gallery.
"I've been working on this book for ages, then I left it. But a publisher told me this is a movie waiting to happen; they even said they could see Nicole Kidman playing me," she says.
Bruce Cohen, a co-founder of MWeb, has set up the platform for the interactive memoir.
Cohen says: "The project is an experiment in direct engagement with the writer's audience, inviting them to participate actively in the creation of Jani's biography, to deepen it; provide colour and detail, adding to the collective memory."
Princess loved-a-lot
Lin Sampson says Allan was "totally misunderstood" by South African middle-class society; that the image of Allan as an attention-seeking vamp and a Marie Antoinette-style apologist for the right wing is utterly false. Perhaps Allan's humble life in Lambertville is proof of that.
"I admire her," says Sampson. "She's a good writer. It's really very sad what happened. What makes this narrative on Jani Allan so ridiculous is that I have always thought of her as not interested in sex. I don't believe she ever slept with Terre'Blanche, that's not her modus operandus [sic]: She is more subtle than that."
Allan appears to confirm this, saying: "I have not been on a date in a decade." And she says her political philosophy – libertarianism – was misconstrued as coldness or elitism in South Africa.
"Eighty percent of the things people think they know about me just aren't true. Much will be revealed in this book. Anyway, I have changed."
On her right wrist, she still wears the heavy gold bangles Jani always favoured, and she sports a thick, ornate ring on her finger; a gift "from a Zulu prince".
On her left wrist is a plastic, bright-blue children's watch, the kind of accessory the South African Jani Allan would have mocked mercilessly. The watch has a garish inscription on its band, which can be read from across the table. It reads: "Princess loved-a-lot."
Jani Allan's interactive biography will be launched on October 4 on janiallan.com
---
The journey
1980: Picked up as a columnist by the Sunday Times and renamed "Jani";
1982: Married art collector Gordon Schachat, but divorced after two years;
1987: Voted the most admired person in South Africa;
1989: Target of an assassin's bomb, she fled to London;
1992: Sued Britain's Channel 4 for a documentary, The Leader, His Driver and the Driver's Wife, which suggested she had an affair with Eugene Terre'Blanche;
1997: Inkatha Freedom Party President Mangosuthu Buthelezi told London's Independent that Allan was "a good example of beauty and brains";
2000: Claimed to have been "used" as a spy by the ANC;
2001: Migrated to the US, left her country, her career, and even her identity behind her;
2013: Back with a blog with viral potential, a revival of old media connections and a major book project on South Africa.