Donna Kukama is this year's winner of the Standard Bank Young Artist Award for Performance Art. This is the newest award of its kind and in the second year of its existence, it is the only one bestowed exclusively on a performance artist in South Africa.
A multimedia artist, she completed her postgraduate studies at the École Cantonale d'art du Valais in Sierre, Switzerland, and her work has been seen at the Joburg Art Fair, Art Miami, ARCO Madrid and FOCUS11 in Basel.
At home she is co-founder of the Johannesburg-based NON-NON Collective and a contributor to the artists' collective called.
According to the rather lofty award citation, Kukama "applies performance as a medium of resistance against already established 'ways of doing', and also as a strategy for inserting an alien voice and presence into various moments in history, as much as in existing public territories.
"Weaving major with minor aspects of histories, she introduces fragile and brief moments of 'strangeness' within socio-political settings – gestures of poetry with political intent, intended to destabilise existing perspectives of reality."
The Mail & Guardian interviewed the performance artist after the announcement of her win on Tuesday.
Your work is often based in real spaces and involves real people half of the time. So what, for you, are real spaces and what are unreal spaces?
I work in real spaces that kind of border between fiction and reality. That's why half the time its real spaces and real people and the other half it's like kind of imagined somewhere in the past or the future.
You said in the video insert that played before you received the award, that you are disillusioned with formal spaces where art is presented or performance is presented. What makes you disillusioned?
I'm disillusioned by the format of the spaces. But I do work in all of these spaces. I have presented performances in galleries and museums, but it is more what is being shown – or what those spaces limit people to – that throws me out of the equation and then I find ways of entry. And I find ways of existing in those spaces.
How do you find those ways, practically speaking?
By being fucking real about those spaces. Like, okay, so you get to the gallery and there are openings or walkabouts or speeches. All sorts of rituals take place in those spaces, and that's where I would focus as opposed to trying to create an image that's going to hang on a wall. But there's a limited economy around that because there's nothing to sell at the end of the day.
Is that a great frustration to you?
No.
So you're fine with being on the impoverished borderlines of the art world where you're not a commodified artist?
I'm very happy with not being a commodified artist. But I'm definitely not happy with being impoverished and a borderline artist. So I find ways of being commissioned to create in alternative spaces or to make alternative realities that are not part of expected or part of the everyday.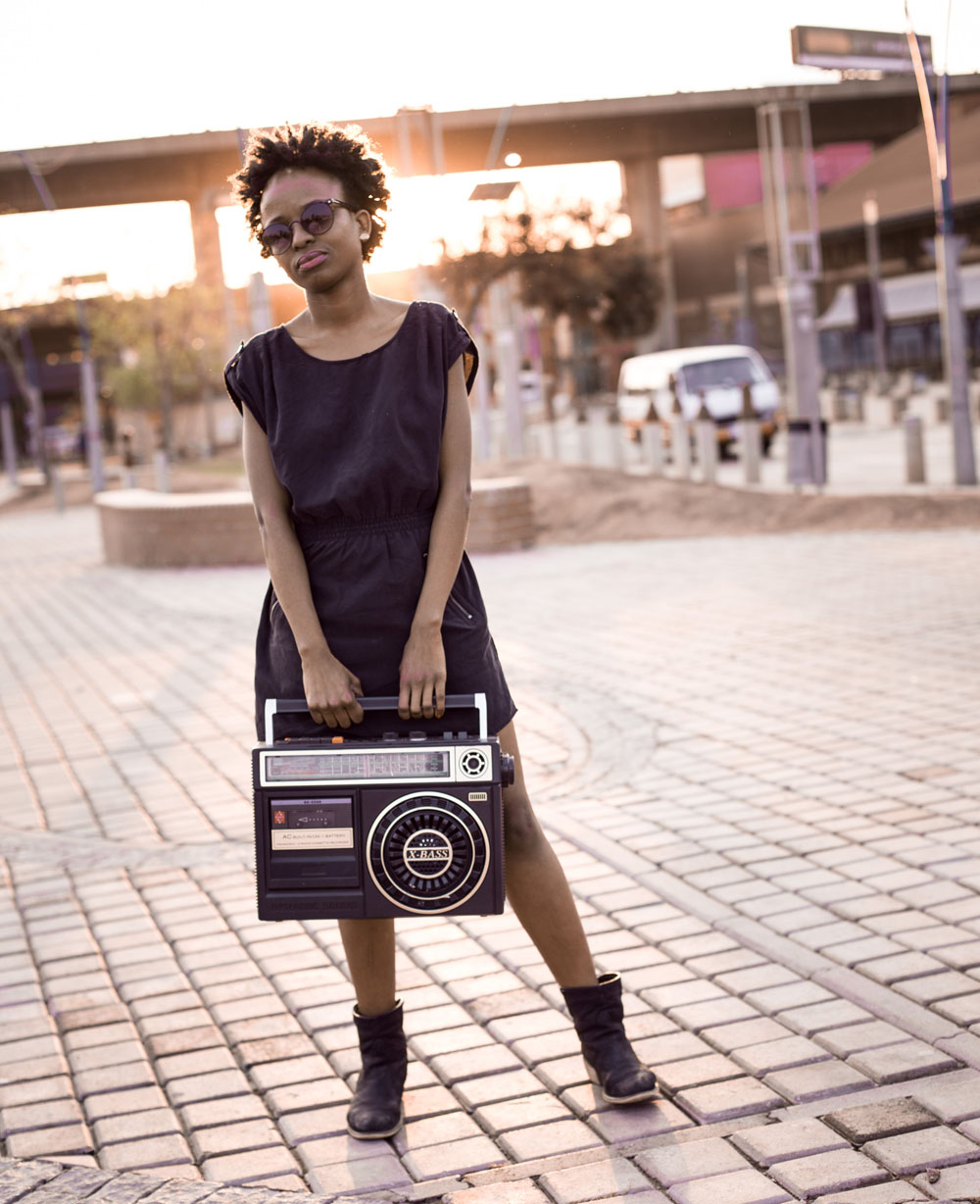 ?
Explain to me what happened when you broke your leg while you were doing a performance on a swing hanging from a highway bridge.
It was [for] a work I did in 2009. At the same time there was this event called the Spring Art Tours. I was invited to this but I was not happy with how it was going to happen because it was based at [the gentrified Jo'burg precinct of] Maboneng, and this excludes the very close reality of the surroundings. So [for my performance] I suspended myself nearby and threw down R10 notes [to passers-by below]. And as I was swinging the harness broke.
By winning the Standard Bank Young Artist award, you have been offered an opportunity to make new work that is funded. Is there a project or direction that's been burning up inside of you, and now you are thinking: "Yes, now I can put this in motion?"
Yes, I think: "Now I can put this in motion." It is going to be specific to getting the prize; specific to the fact that the prize is coming from Standard Bank, and that it's rooted in the National Arts Festival in Grahamstown. So it kind of begins there.
I'm really interested in breaking the typical art audience. So it's something that, hopefully, will spread out into other parts of the country. And where it will become more useful outside of this prestigious group where one has to be able to afford Grahamstown in order to travel to Grahamstown to [attend] the arts festival.
What do you enjoy doing outside of performance art?
I enjoy laughing. I work all the time and if I'm not working I'm having a good laugh with friends; having food. I enjoy reading. I enjoy philosophy. I enjoy Slavoj Žižek. Oh, now I'm in s***.
Not with me you aren't, perhaps with a couple of other people.
I enjoy Gilles Deleuze, Michel Foucault.
Do you find that these philosophers speak to the African condition, or do you find that Africans are on the outside?
I enjoy the kind of discourse where I feel it's rooted here [in Africa]. But the fact that it has been translated into French makes it more feasible. But the truth is that most of the philosophers that I have mentioned do find their inspiration here.
What do you have beside your bed? What are you reading before lights out?
I was struggling with the one that Deleuze wrote about Francis Bacon. it's called Francis Bacon: The Logic of Sensation, a really beautiful title.
And in contemporary art and performance, who inspires you?
Tracy Rose, Steven Cohen – although I know both of them function completely differently from how I do. Samson Mudzunga as well. Brenda Fassie was a great performance artist except that she could sing, so she was known for her singing.
Socially, in Johannesburg what do you hate? What pisses you off in this city of ours?
When I'm trying to drive home and then all the roads are blocked because there's a bunch of people who've decided to go riding bikes [at the Critical Mass bike riding event].
Have you got a favorite restaurant?
I like the pizza at Ant in Melville. And the Troyeville Hotel because I live next door.
---
The winners of the 2014 Standard Bank Young Artist Awards are:
Jahmil XT Qubeka for Film
Nicola Elliott for Dance
Kyle Shepherd for Jazz
Hasan & Husain Essop for Visual Art
Njabulo Madlala for Music
Donna Kukama for Performance Art
Greg Homann for Theatre