'I have to confess, I absolutely love my life. And why wouldn't I I live in this beautiful city where I get to go for morning walks on the mountain, surf in Muizenberg (when the Cape Doctor isn't making house calls) or just relax in some postcard- perfect spot and read.
"The way I see it, Cape Town is a blessing and a curse because you don't need anyone to make you feel alive, happy or fulfilled. You have it all. You just have to open your eyes and heart to it. So why am I here?"
It's not often you get to quote your online dating profile's personal "narrative". That's the part where you get 20 to 2 000 words to "sell" yourself, or at least the SABS-approved version you want to put forward.
It really is an exercise in sales, where miscalculating your value or the market's interest could cost you in receding hairlines and awkward dates.
In my case my avatar was "surfyogi", the adventurous free spirit who is "already in love with life but open to new possibilities". Or so says her headline.
Well travelled and adventurous, surfyogi is a thirtysomething girl who knows what she wants – "I like a passionate, adventurous man who has a great sense of humour" – but keeps herself open to new possibilities – "I am not sure I have an ideal man. The men in my life keep on surprising and challenging me, and I like to keep it that way."
Creating a profile
And just in case she gets pigeonholed as a jock looking for her iron man, she throws in a piece of prose to hopefully capture a few creative souls.
"I hope to make you laugh, to inspire you to be more courageous and adventurous, to live life fearlessly and freely and to never stop asking why? Or why not? And in return I hope you do the same for me."
On any given day surfyogi could have been "culture vulture" or "creative guru". It's hard choosing just one angle for your entire life story.
The book cover is a bit easier. The best profile photographs always cover the basics – sexy, sporty and slightly mysterious. Surfing photos show physical ability and put you in a bikini, in Europe or at least Durban (this also shows you travel). In hindsight, surfyogi might have thrown in a few more "sensitive" photos, pictures of her playing games with cute children or engaging with animals and nature, all firm favourites on the online dating circuit.
Of course, creating the persona and making a checklist of the ideal man was the fun part. What happened next was more difficult: giving a stranger – in my case it was DatingBuzz – permission to launch your personal thoughts and romantic wishes into cyberspace for any site member and their friends to scrutinise with glee or malice.
It's akin to someone posting excerpts of your diary on Facebook only to hope you at least get some "likes".
>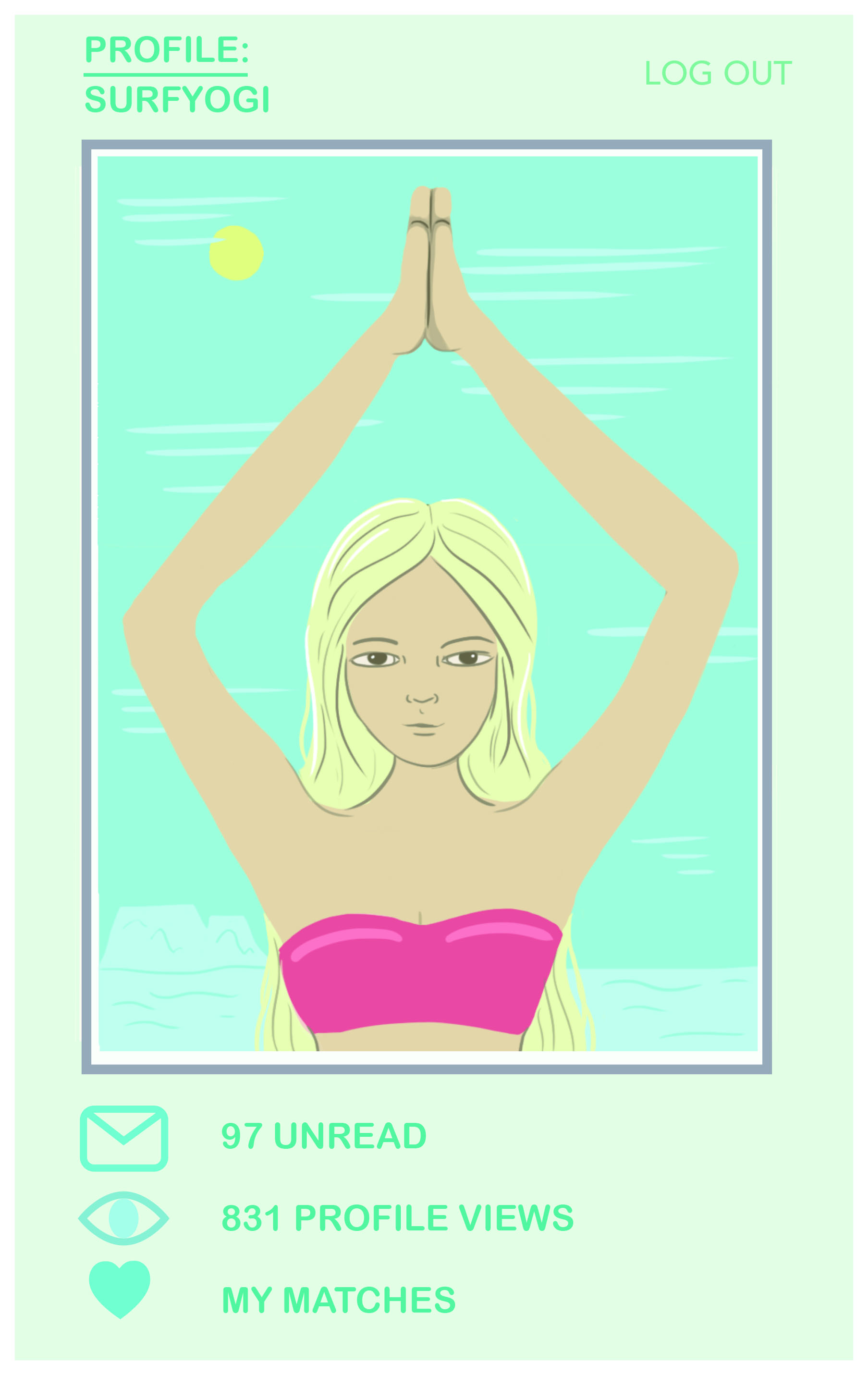 Do South Africans use online dating sites?
The South African online dating industry is much smaller than its international counterparts. Cost is not really the key issue here. Most sites operate on a "freemium" basis, making it free for members to sign up and browse profiles until they want to contact and message someone, in which case a paid subscription comes into play. This varies between R80 and R150 a month depending on how many months you commit to.
It's not as much as the R2 390 that the average online dater spends in the United States every year, but then our numbers don't compare with Europe and the US, where online dating is the norm rather than the exception.
According to Statistic Brain, research provider to publications such as the New York Times and Forbes, a whopping 40-million of the 54-million single people in the US have tried online dating.
Matthew Pitt, operations director at WhiteLabelDating.com, a company that provides the technology to over 11 000 dating sites worldwide, says the industry estimates for South Africa sit at about R90-million, in comparison with R2.5-billion for the United Kingdom and R11.1-billion for the US.
Pitt puts our low numbers down to access, not interest or cost.
"South Africa is disadvantaged when it comes to internet penetration and high-speed broadband access, which has held back growth and market volume," he says.
South Africa has over 1 000 dating sites
So you might be surprised to learn that there are more than 1 000 straight and gay sites operating in South Africa with names like elitesadating.co.za, datingbuzz.co.za, singles365.co.za, 30plusdates.co.za, gaydar.co.za, flirtmob.co.za and e-gay.co.za.
WhiteLabelDating.com has two million active South African members, while David Burstein, chief executive of the Dating Lab, which owns sites like datingbuzz.co.za and operates a number of custom-branded platforms such as Fair Lady Flirt or Cosmopolitan Dating, puts their active users at around one million.
Suddenly the chances of a jilted lover, ex-boss or old school friend seeing your profile become almost as good as meeting someone you might one day want to introduce to your Facebook friends.
This prospect can be daunting. That's why, when those first messages started rolling in for surfyogi, 12 in the first 24 hours to be exact, I had a sudden attack of the vulnerabilities.
I didn't bargain for the attention or "hey baby" talk that came with it. It all made me feel like raw meat dangled in front of hungry prey. So I did what any hunted animal would do. I hid where no one could find me – offline.
I realise this was not a great option for someone who was actively searching for an online dating experience. But I was also somehow not yet convinced that I wanted to be inundated with people like Pete either.
Using a "matching algorithm" to determine compatibility
Pete decided to start the conversation with a disclaimer: "Before you read any further. I know that we are not 100% compatable [sic] but I just needed to say the following to you."
The "following" was a long metaphor that found the most unusual ways to compare surfyogi with an angelic being – from the high school standard, "I thought angels only excist [sic] in heaven", to the saccharine, "hell the men in your town must either be blind or gay to look past a beautifil [sic] smile and angel face like yours."
Hell, I wanted to tell Pete that our compatibility pretty much ended with his misspelling "compatable" but instead I let him work out what the site's "matching algorithm" took only seconds to calculate – that we were never going to live happily ever after.
In the absence of a Jewish mother or an aunty network, this digital matchmaker works a charm, weighing your wants against their needs to drill down your compatibility to a percentage.
As Burstein explains: "We have developed a unique algorithm that determines matches based on profile details and desired match. This is combined with weighting factors for each key parameter."
This is not outcomes-based dating. You don't have to pick up the slack for someone else. A 70% match on your side gives you a B-grade man. He's your Pete, eager to flatter with his angel talk.
You want to aim for 90% and above. Not surprisingly, I was a 100% match for Pete, which means that he has no filters. He obviously doesn't mind dating a stocky, chain-smoking agnostic with children on benefits. I might.
Using pictures to draw attention to you
In her first week, surfyogi continued to swim through the spam in search of her winning sperm. She quickly learned that there is more science to cracking this system than people think. You learn to read the signs and pick up clues. It all hinges on the photos and the narrative. This is one space where pictures speak a thousand words, most of which go unsaid.
Smart profiles use the photo opportunity to show they have fun-loving friends (so not a loser); that they love the great outdoors (cue man carrying a heavy stand-up paddle board into water) and anything that allows you to pick up a heavy item or show your gym biceps is also a winner.
If one picture can do all three and show your sensitive side, you are either all of these things or a psych major.
It's also good to show you have friends of the opposite sex, but don't do a bad photo crop on an ex-lover. We girls can tell. And don't think you can lie about your real height or age either.
We can size you up next to any common landmark (we know the size of a standard doorway) and know how to add on a few kilograms, wrinkles and years to your World Cup celebratory photos. In turn, you better watch out for what we are hiding under a kaftan of euphemisms and Photoshop tools.
>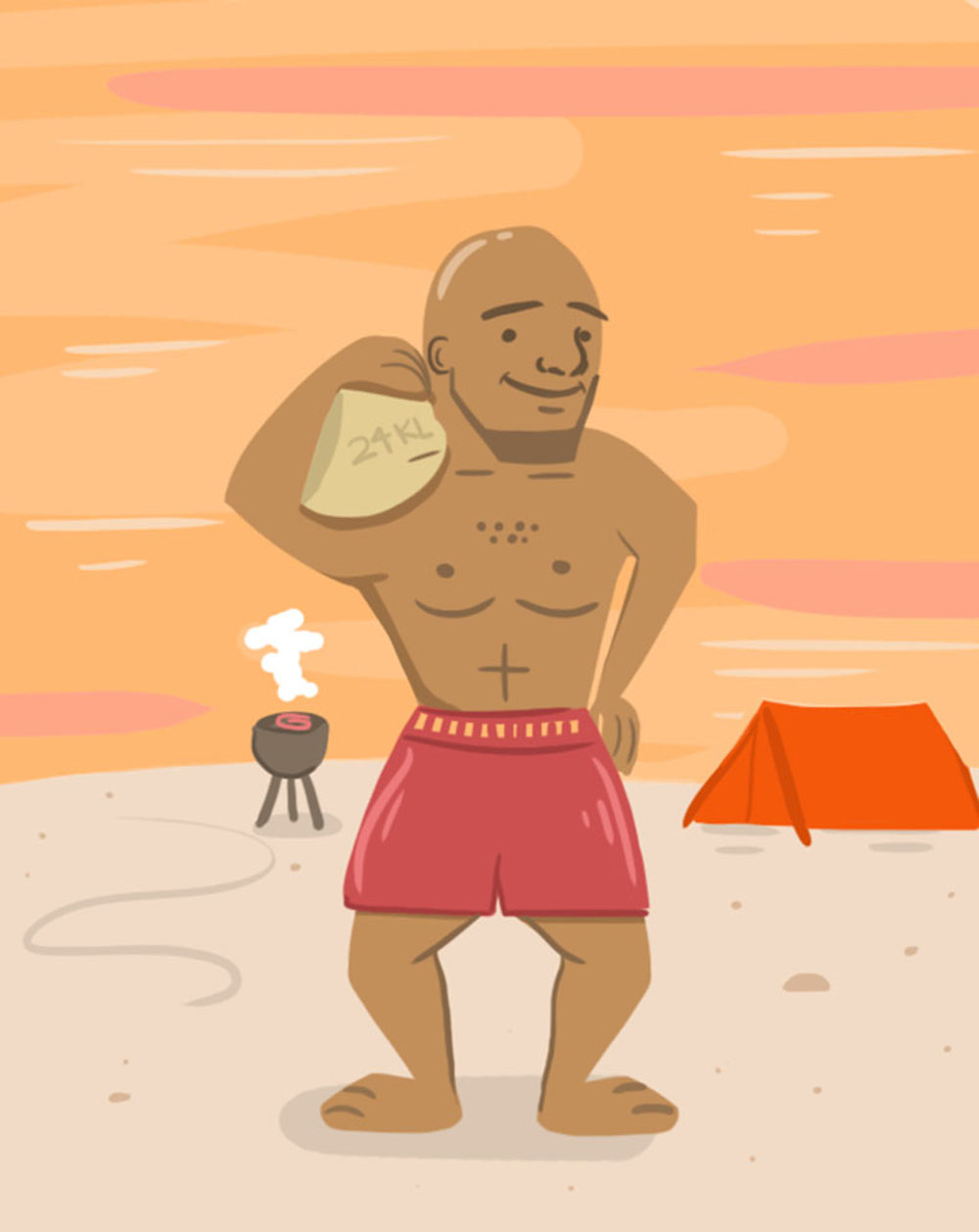 Are people honest in their profiles?
According to a 2012 article in the Washington Post, "81% of online daters provided inaccurate data on their profiles regarding height, weight or age". Recent statistics coming out of the US seem to support this, adding "income" to their list of exaggerations for men and "physical build" for women.
But I started doubting these statistics when I read that 42% of men prefer the "modern career girl" over the "hottie" (24%). Maybe they switched those numbers around at the last minute for fear of American men coming across as too shallow.
If you do believe the stats then the good news for any men pursuing the American dream or girl is that you will suddenly have twice as many pursuers as women when you turn 48. Not bad odds considering that 6% of the women had a preference for "any man I can get". Not sure that's a preference so much as a default setting.
On the local front, 60% of online members are men. Only 0.9% of them claim to be "very handsome". No doubt they will end up hooking up with the 1.6% of women who claim to be "very beautiful". This is according to the rules of natural selection, which will beat an algorithm any day.
Some people think online dating is a numbers game. Back in 2008, when the South African market was just starting to push through social and technological barriers, the industry would have been the size of an Aryan gene pool.
In 2013 this pool is starting to look like the South African ocean on New Year's Day, partly because of increased internet penetration and growing mobile capabilities but more importantly because South Africans are slowly forgoing their Amish ways and starting to embrace the opportunities that technology affords them.
"The most significant change has been in consumer attitudes and acceptance towards online dating. Back in 2008, online dating was still seen as taboo by many and the choice of sites available was limited to a handful of large generic sites. Since then, our partners have introduced a wide range of niche dating sites in South Africa, targeting people by age, location and interest, making it easier for our members to find like-minded people," says Pitt.
Specific online dating sites
Niche sites get to the heart of the issue even in their URL: singlewithkids.co.za, afrikaanssingles.co.za, justwesterncapedating.co.za and gochristiandating.co.za. No further explanation needed.
A30-year-old Cape Town-based creative type, "ar1" played the numbers game and won the love lottery. After nine months of chatting to almost 100 people that turned into 30 dates, she finally came across a profile picture so bad that she thought the tall man behind it must have an exceptional sense of humour.
Turns out he did and two years later "ar1" and "Cape31" are engaged with a good story to tell at their high school reunion.
The punch line is that they attended the same high school and music school, and he knew both her brothers yet they had never met.
But speak to any online dater and they will probably tell you that there are fewer Cape31s out there than Petes. And that's usually what people want to know about – the freaks, the weirdos and the oddballs. I have to remind myself that, to someone else's social circle, I could be Pete.
I probably wear the wrong clothes, and don't say the right things. Surf-yogi could have become a catch phrase for all kinds of weird.
The actual stalkers do get filtered out, although not to the extent that they do in the US, where social security numbers (and probably the National Security Agency) provide greater barriers to entry than a loveLife condom.
"We manage to locate and delete most nefarious profiles before they become public," reassures Burstein.
A fairytale ending?
As it happens, Surfyogi's love story followed no line of scientific reasoning or online logic. She responded to one email, and in the next conversation met TeacherPlant after seven days on the site. They chatted on the site for 10 days. Nonstop. The conversation flowed and flowed and eventually burst its banks.
She wrote her usual stream of unconsciousness. He kept his mails short and succinct. She made him talk. He made her laugh. She asked whether his profile picture was taken before or after the 28 gang in Polsmoor rejected him. He apologised for misspelling "throw" as "through". That was probably the clincher.
They organised a date, somewhere public with clearly defined exit points. They both secretly hoped for chemistry and feared reality.
As Cupid would have it, there was no chemistry, even though they talked for hours. They walked away with slumped shoulders, sad to have lost that special connection. They stayed in touch. He popped round for coffee the next week.
With the pressure off, something shifted. Their eyes met and they both looked away. There was chemistry, the kind that would see them through the next 10 months and counting.
Surfyogi's first and only date turned out to be her last. For now. Most likely surfyogi and TeacherPlant will spend their time together enjoying their 93% compatibility and negotiating their way through the 7% that didn't tick their boxes – like any normal couple.
Their story still raises a few eyebrows and questions with old, established couples but, no doubt, if you tell any five-year-old when they come of dating age they will probably look at you with wonder and ask: "How else would you meet?"