Rumour has it that you don't want to subject the "hottest of the girls" who hang out at the News Café in Bedfordview (where a Coke will set you back R17) to unwanted attention. Strip-club boss Lolly Jackson may be dead but many of his dancers apparently still live in the area, and commute to their clubs elsewhere – and they know some rough people.
"How do I know? I see things. You know," said a waiter at a nearby restaurant, with an overemphasised glance over his shoulder to see whether anyone was listening.
Rumour also has it that you don't want to listen too closely to, say, a serious conversation being had by a group of mysterious foreign men lunching at the Doppio Zero restaurant (which serves a decent seared salmon) down the road.
"They plan their hits there," said a luxury goods salesperson at a store a few blocks away. "I hear they talk about the counterfeit stuff that they bring in to sell that side."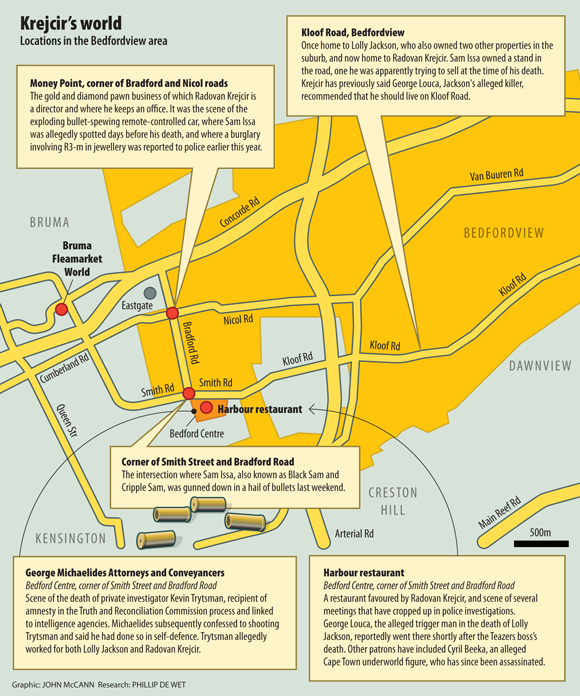 In this case, "that side" is the Bruma market, on the other side of the highway, where traders have been known to deal in designer goods in which the original designers had no hand.
But those kinds of tales are told half in jest, and another one quarter in self-conscious exaggeration – and almost exclusively anonymously. Talking is one thing; being identifiable another altogether.
Recent events have given residents and businesspeople in the affluent suburb of Johannesburg this chance to revel in stories about foreign gangsters and their doings. The true stories are easy to spot: they are the ones that have been in the newspapers, such as the remote-triggered car apparently rigged to shoot at Radovan Krejcir earlier this year, and the apparent drive-by shooting in which Sam Issa died on the weekend.
No new haven
The more lurid stories, however, do not check out because, for all its growing reputation, Bedfordview is not the new haven for the more moneyed part of the underworld.
At least not yet.
"We have maybe three or four of those [known gangsters] who live here," said Marina Constas, a resident and the long-time chairperson of the local community policing forum. "There are a bunch who may come here for coffee and meetings, but there aren't notorious criminals living on every block."
Or, if there are, they have not drawn attention to themselves in the same way as one local brothel has (the neighbours have been complaining and the police called in, Constas said) or in quite the way Krejcir has.
Thanks to that bullet-spewing car, Krejcir is the name on all lips when it comes to alleged underworld figures. Money Point, which buys gold from the public and where Krejcir keeps an office, is popularly known as "that money-laundering operation". There are dozens of stories about Krejcir, half of them clearly without a shred of truth, but told with relish nonetheless.
The stories about Issa follow only later in the conversation, despite the temporal proximity of his death in a hail of bullets; the major complaint is that his death (and the closure of roads around the crime scene) detracted from the annual fête held by an old-age home on the same day. Issa clearly occupies a lesser position in the collective imagination.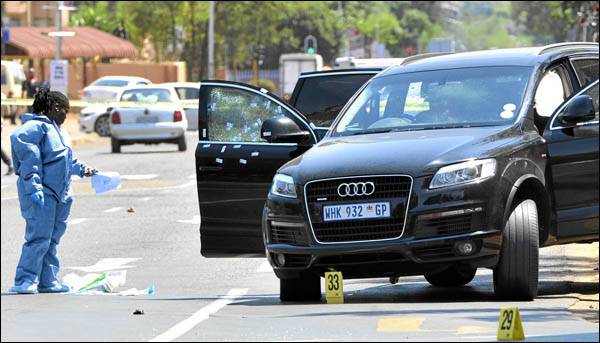 The bullet-riddled Audi in which Sam Issa died on ­October 13 when he was gunned down at an intersection in Bedfordview on Johannesburg's East Rand. (Gallo Images)
"The splash pool in his home, actually inside of it – he was so proud of it," said a woman who claims to have visited the townhouse. "There were these mirrors everywhere. It was so kitsch."
Others in the area will mime Issa's limp, or tell how he bragged about how many people were out to kill him – and how they would never succeed.
Gently dissuaded
Remarkably, many of the residents are unconcerned about having people they consider dangerous underworld figures living in their community. It is just not something that affects them, they say, and the busybodies are gently dissuaded.
"We've had community members who want to start a petition saying they don't want specific people here," Constas said. "They want to tell them to go away.
"We tell them that would not be a great idea. We don't want anyone to get hurt."
The tolerance of alleged underworld figures in their midst seems to hinge on that: as long as locals are not hurt, there is little concern.
"Yeah, we have some big guys with tattoos walking around these days, and you have fast cars without number plates in the streets," a local business owner said. "That's new. "But, you know, these guys don't do their jobs here. They're not involved in the house robberies we have that scare us. When they kill each other, they shoot straight. So we take their money."
Not everyone is so sanguine. Local councillor Michele Clarke said she will be asking members of the National Assembly to ask the South African Police Service formally why Krejcir – an apparently illegal immigrant linked to an increasingly long list of dead bodies – is still walking the streets as a free man.
"My concern is what happens when innocent people get taken out by that kind of thing," Clarke said. "It could happen so easily."
Stigmatising the entire place
She is also upset, deeply and personally upset, about Bedfordview's developing reputation as the suburb of choice for those with large quantities of dirty money. The vast majority of residents, she said, are honest, hardworking and deeply committed to their community. "These are salt-of-the-earth people. A small minority is stigmatising the entire place. It's a tiny, tiny fraction."
However, there are indications that it may be a growing fraction. Estate agents tell of foreign buyers, some from Angola or Tanzania, but more often from Eastern Europe or Sicily, who make cash offers on R10-million houses – sometimes hinting that the offer could literally be made good in actual cash. Car dealers say they are no longer surprised when asked whether a high-end model would be able to carry the weight of bulletproof windows.
Dealers in luxury goods speak of heavily muscled men with thick foreign accents who arrive with women whose heels are as long as their skirts are short, and leave with a king's ransom in trinkets. There is a sense that the bad money is moving in, and unease at the thought that a trickle now may signal a flood later.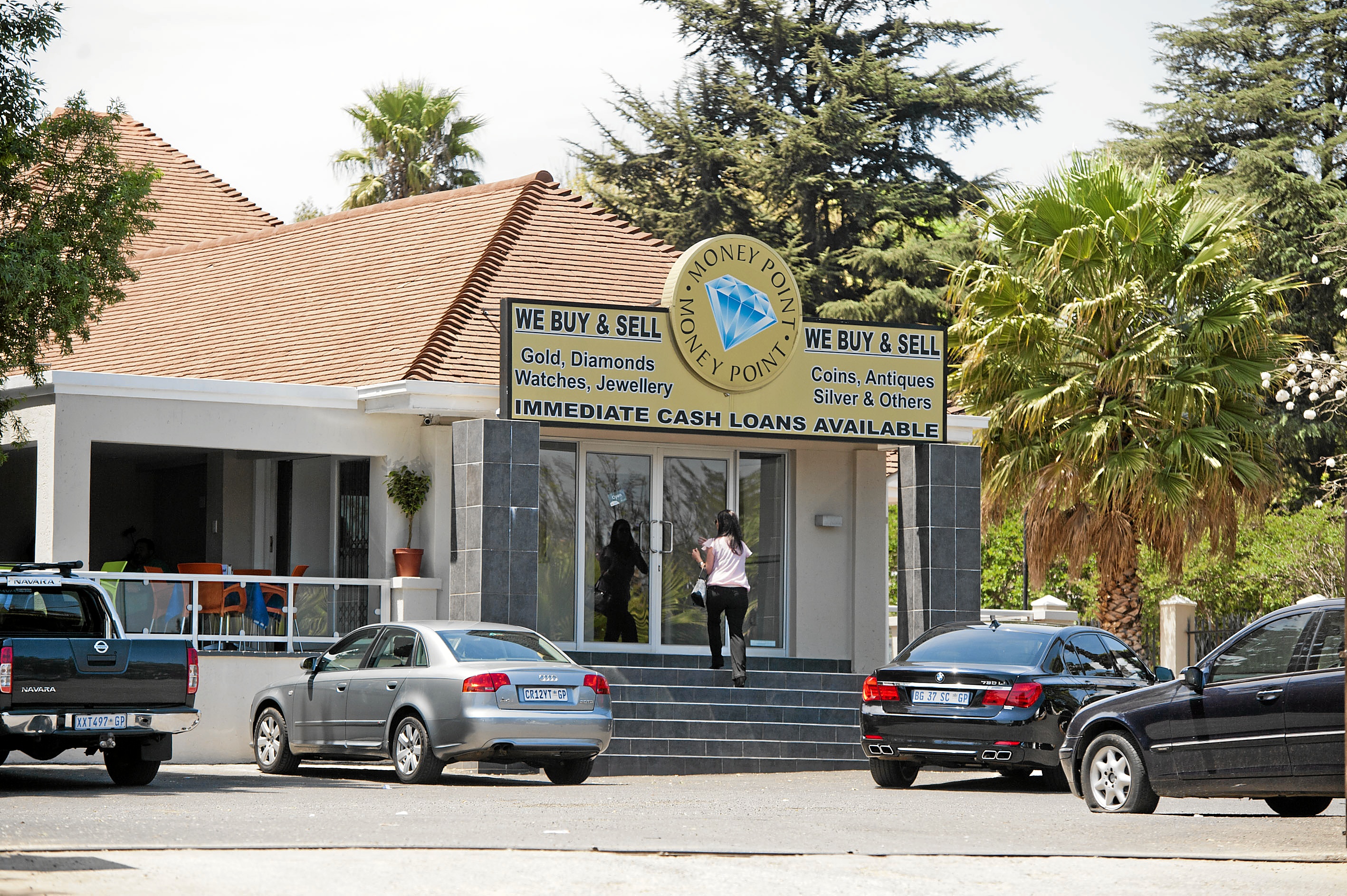 The building where Radovan Krejcir has an office and where he was shot at from a booby-trapped car earlier this year. (Delwyn Verasamy, M&G)
Why would underworld figures live in Bedfordview rather than, say, Sandton, or Forest Town, or a wealthy southern suburb?
"We have all the private schools here, really good private schools," Constas said. "I guess even gangsters have family."
They also provide the added security required if, hypothetically speaking, you have reason to fear that your family might be kidnapped during robust business negotiations.
"If you want to sit on the pavement and drink coffee and watch the world go by like an Italian don, this is the place to do it," an estate agent of long standing in the area said. "We have 72 restaurants in Bedfordview, and it is a small place, remember. There are places you can park your Ferrari and people will see it while you have lunch."
Cosmopolitan neighbourhood
"This is Little Europe in Johannesburg," another said. "It's a cosmopolitan place; people from other parts of the world feel welcome here."
The missing qualification is that it is a white cosmopolitan neighbourhood. Bedfordview has significant Greek and Italian communities, as well as Jewish and Portuguese groups. New black money is still scarce.
Bedfordview is also amazingly central for a certain type of businessperson. The City Deep container port, through which a vast amount of goods is moved, some of it illicit, is 15 minutes away. The central business district with its anonymous offices, vulnerable immigrants and legion opportunities is 10 minutes away. So is the airport.
"If you need to grab your bag of gold and catch a plane, where would you rather be?" a local businessperson asked.
Mostly, though, residents believe everyone is attracted to Bedfordview for much the same reasons: big houses on big stands, many of them new and fashionable, a sense of security thanks to high walls and higher electric fences, and less of the pretension that new money has brought to other suburbs.