Standing on the corner of Kerk and Joubert streets in Johannesburg's inner city on Tuesday morning this week, Mandla Mabaso said he was ready to die.
"I'm going to toyi-toyi [against the evictions of inner-city informal traders] and I hope I die," said the street cobbler, tears forming in his eyes. "It is better that I die than see my children suffer."
Earlier that morning, Mabaso had kept R13 for the taxi fare he needed to get from his home in Soweto to Johannesburg's city centre where he fixes shoes from 7.30am until seven at night. Mabaso had given the rest of his money to his wife to take their two children, Sicelo (5) and Ntombizodwa (5), to the local crèche.
But when Mabaso (32) arrived at his usual spot he was told by members of the Johannesburg Metropolitan Police Department that neither he nor the almost 100 traders who eke out a living at the Kerk Street linear market would be allowed to trade there, with no indication of when they might be be allowed back.
Mabaso, like many of the traders, had no money to return home. Nor could he imagine how he was going to find the R450 for next month's rent, or the R600 to keep his children in crèche during October. He was inconsolable.
"I'm not feeling good, man," he said. "Even inside I am crying. I suffer for my children and I just don't understand why this government is doing this to us. They say 'vukuzenzele [get up and do something for yourself]'; we do that and earn an honest living and then they send the police to stop us … It's better that I die now," said the cobbler, who had worked that part of pavement for the past 10 years.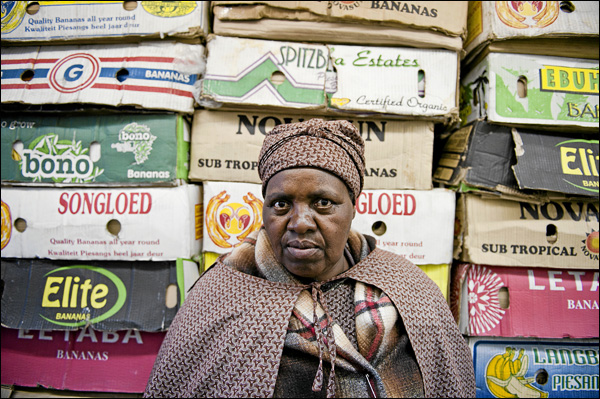 (Picture: Madelene Cronje)
Across town at Delvers Street, in what is commonly known as Johannesburg's Ethiopian quarter, Frank Okorie (19) is a bitter man. He had let his guard down earlier that morning and the police had pounced – confiscating 30 of the 40 designer-labelled jeans he had in stock and that he sold for R100 each.
'I am a law-abiding person'
He had evaded the police and South African Revenue Service (Sars) officials who were raiding the area around Delvers Street in the mayhem of fleeing Ethiopian traders, but his stock had not.
"I sell my jeans for R100 and you can count how much I have lost already," said Okorie, a Nigerian national.
"I am a law-abiding person. I sell these jeans so that I can feed my family back at home, pay for rent here as well as find something to eat. I am now left with only these jeans. I have lost so much. My customers also do not know where to find me now," Okorie said as he set off to try to sell his remaining 10 pairs of jeans.
Although the police evicting traders who are registered with the city in Kerk Street gave them 10 minutes to clear away their stock, those in the Ethiopian quarter appeared to have been caught in a maelstrom of police brutality.
Foreigners were searched for asylum papers, their wares were confiscated and the police threatened to assault several traders.
The fleeing traders left behind the debris of their survival: CDs, clothes, vegetables and other food, which were spirited away by the police to locations unknown, according to traders.
The crackdown on informal traders has been taking place since October 10 – an initiative the City of Johannesburg has called "Inner City Clean Sweep". It has been indiscriminate, with even traders who are registered with the municipality being removed.
Challenges
According to a statement released by city spokesperson Nthatisi Modingoane in response to questions from the Mail & Guardian, "Clean Sweep" is the brainchild of councillor Ros Greeff, the mayoral committee member for the inner city. According to Modingoane, it is a "strategic intervention" that will address "challenges" such as illegal trading, dumping and littering. It will also target land and building invasions in the inner city, illegal electricity connections and a "lack of a civic pride and ownership".
According to emails between city officials leaked to the M&G, the clampdown is a "directive" from the mayor, Parks Tau.
Modingoane did not respond to specific questions, including about what the plan entailed and what time frames the city was adhering to regarding the expected outcome.
The last, especially, is vital to traders, who say they were not consulted and fear for their livelihood as they don't know when they will be allowed to return.
"Trading has been very slow the last five years, because people have been losing their jobs," said Theresa Bandura (55), a hairdresser who has been working in Kerk Street since 1996. "We usually make money for our rent and groceries closer to month end, which is now. If we don't return soon, I will be kicked out of my home and I am supporting 10 people who will go hungry. We are dead."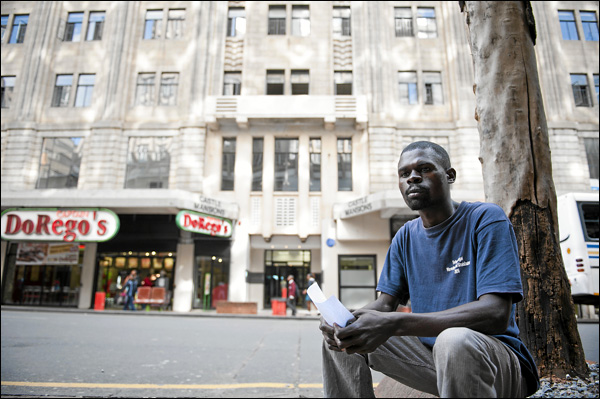 Better to die: A long-time cobbler, Mandla Mabaso. (Madelene Cronjé)
The municipality's aggressive approach towards the traders also appears to go against its official policy, such as the Inner City Charter of 2007, which calls for "extensive consultation" with stakeholders such as traders in any inner city rejuvenation plans, and the Jo'burg 2040 Growth and Development Strategy, which also calls for inclusion regarding decisions and actions in the inner city.
With no information from the municipality, the traders say the rumours circulating suggest they will only be allowed to return in three months – meaning they will lose out on Christmas season shopping and probably not have enough money to return to their homes in rural areas other countries over the holiday period.
Knock-on effects
For May Pela (41), who sells traditional clothing on Eloff Street, her concern is much more immediate. Her 23-year-old daughter, Vuyokhazi, is in the middle of her third-year marketing exams and needs R30 for transport every time she goes to the exam centre.
"If I don't find the money, my daughter can't write her papers. If she misses her exams, she will repeat it next year, instead of looking for a job."
Pela said she was paying R830 a month for her daughter's courses.
There are other knock-on effects too: Mohammed Mia, a local Bangladeshi shopkeeper, says most of the street traders buy stock from him. He estimates that he will lose about R20 000 a month if the blanket ban continues and he will have very little money to provide for his family and his own survival.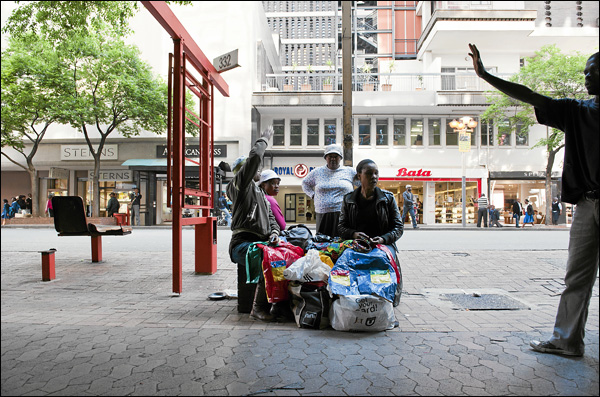 Misplaced affection: Jo'burg did not consult traders as it said it would. (Madelene Cronjé)
"The traders also keep the tsotsis away because they take care of their stock on the street. Now they will come back. And if traders are going hungry, if they have children to feed, maybe some will also turn to crime because they are desperate," Mia said.
Edmund Elias, a book trader on Joubert Street who belongs to the South African National Traders' Retail Alliance, said that a sit-in at Tau's office on Wednesday had been called off. He estimated that, conservatively, about 25 000 people are dependent on the traders and will be affected by the police action, which he says is "perplexing" and has turned the city centre into a "war zone".
He said traders were also worried about confiscated stock because police had been unable to record and audit it, and there were threats that traders' storerooms around the city would also be raided, costing people everything they have.
The city's street purge has far-reaching consequences: according to a 2011 quality of life survey conducted by the Gauteng City-Region Observatory, 35% of respondents said at least part of their income was derived from the informal sector.
Modingoane said the municipality's political leadership would meet traders later this week to address their concerns, "correct the way the sector has conducted itself in the inner city and map the way forward".
Manqoba Nxumalo is the Mail & Guardian's Eugene Saldanha Fellow for social justice reporting in 2013 sponsored by CAF Southern Africa