The circle of stones does not jump out at you as you walk on the Melville Koppies under the strengthening summer sun.
The wind carries the adventurous scent of warm long grass, and birds flit overhead or call out from nearby trees. I would have missed them entirely if Wendy Carstens, chairperson of the Melville Koppies management committee, hadn't pointed them out. To be fair, it doesn't look much like a circle because the recent rains have sent the grass reaching for the sky, obscuring these stone-wall remnants.
"You get this incredible sense of history," Carstens says over her shoulder as she continues to tramp through this oasis of veld in the country's economic hub. "This was someone's house."
Under our noses are the clues to the previous civilisations of Southern Africa. This collection of rocks, like many others dotted around South Africa, Namibia, Botswana and Zimbabwe, are puzzle pieces that archaeologists are trying to fit together to understand our history – now with the help of satellite technology.
"There are hundreds of thousands of stone-wall ruins scattered through Southern Africa," says Karim Sadr, a professor in the University of the Witwatersrand's school of geography, archaeology and environmental studies.
The mfecane
These stone-walled kraals predate European colonisation of the region in the 1830s and the mfecane, isiZulu for scattering, which took place in the previous decades. Some academics say that the mfecane was caused by the invasion of the highveld and lowveld by the Zulu king, Shaka Zulu; others say it was the Portuguese slave trade or climate change.
Whatever the cause, the mfecane was devastating for the thousands of people – mainly Tswana and Sotho, according to Sadr – living in the region.
Although historians and archaeologists had previously focused on who these cultural groups were and what languages they spoke, Sadr is using satellite technology to investigate their political structures and economies, which he says can be seen in their locations.
Archaeologists have been interested in these ruins for more than a century, but new "technology allows us to do more".
"It looks like originally there was a full sequence of very small and dispersed homesteads, where people farmed and had cattle," he says, referring to satellite images where the landscape is sporadically pockmarked.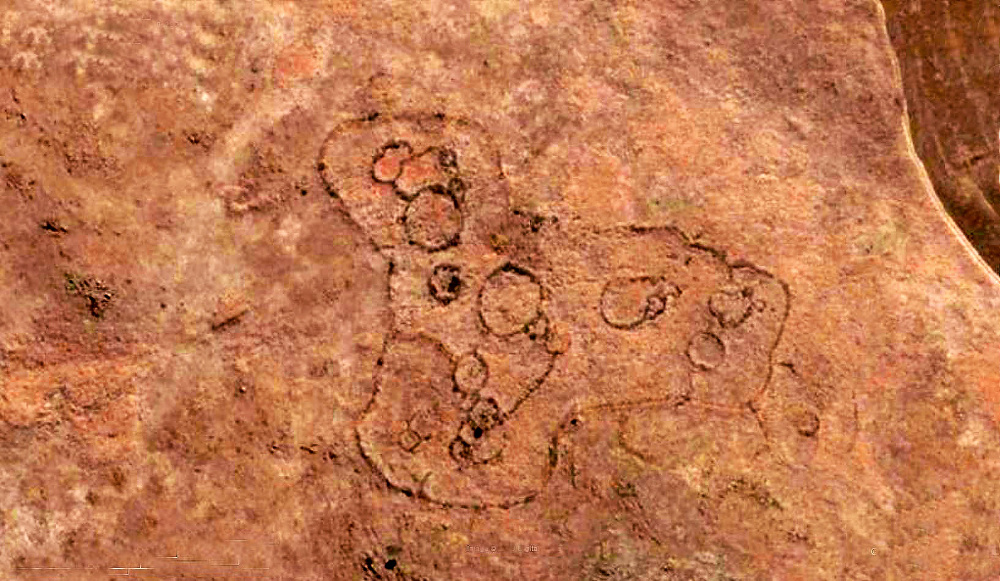 An aerial view of ancient settlements
This indicates subsistence living, rather than a large community. Over time, there was "a shift in dispersed homesteads [towards] nuclear, aggregated communities".
"From the early 1800s, you start seeing towns; there is a [social] hierarchy [indicative of] a pretty complex society … which was then wiped out by civil wars, the mfecane."
He says that his research is "the science of human geography".
"If the politics and economy is centralised, there is a capital, with secondary and tertiary settlements," he explains. This can be seen in "mega-sites" where the ruins are close together – some bigger, some smaller.
"In an egalitarian society, the settlements are the same size."
Back on the Melville Koppies, Carstens stands on a rocky outcrop against the backdrop of a cloudless blue sky, and points north to Magaliesberg: "From here to Magalies, there were thousands of people … It's about 35km as the crow flies. The people here would trade with other settlements in Kliprivier."
Bongoma: Traditional healing
In 1963, an iron furnace dating back to the 1400s was excavated on the Koppies, and it is believed that ironwork was a major source of trade in the area. Other archaeological treasures include stone tools that date back as far as 500 000 years ago.
The mainstream school of thought in archaeology is that these stone circles were cattle kraals and homesteads. However, as is often the case in academia, experts in the field do not agree.
Robert Thornton's office at Wits University is what you imagine an archaeology professor's office would look like: wooden masks on the wall, piles of papers on one of his desks and a computer on the other, large bookshelves and a colourful hand-sewn wall hanging.
His starting point and interest is bongoma, the philosophy of traditional healing in which the sangoma is the practitioner. He believes these stone-walled structures were the sites of ancient rituals.
"There's no conceivable way they could have been for cattle. Ask a farmer. He'll laugh at you. They have no doors [so the animals couldn't be let in or out], and the stones are not high enough [to keep them enclosed]," Thornton says.
He loads Google Earth on his computer, bringing up the sites he is working on. The ones he shows me form a line north of Machadodorp in Mpumalanga. "They're not random. They're along mineral lines."
And this is the crux of his fascination: "I think some were used as metalworking ritual sites … Southern African sangomas are the descendants of earlier guilds of technical specialists."
They made iron, glass and gold objects using high-temperature technology, he says, and when European products – with their more advanced technology – began flooding into Africa, it destroyed the local trade, resulting in the mfecane and the destruction of people's livelihoods.
On the Melville Koppies, there are a number of stone ruins. One of them has been restored and – adopting the conventional narrative – shows visitors and school groups what life would have been like in a traditional stone-walled kraal about 200 years ago: women cooking, men working the forge nearby and cattle in their enclosures.
In the central section of the Koppies, there are guided tours and access is limited. On the western slopes and grass-covered plains, church groups gather in circles every Sunday to sing and give praise. Thornton specifically mentions them, saying that the area still draws groups to worship.
According to Carstens, one church member's reason for going to the Koppies rather than another site to worship is because, there, they are "close to God".
---
The human record
The "conventional view", according a paper published in the Journal of Archaeological Science last year by Karim Sadr of Wits and Xavier Rodier of the Université de Tours in France, breaks down the stone-walled ruins into three groups:
• The first: inhabited by early Sesotho-speaking immigrants. These structures have an outer perimeter wall, with smaller circles inside;
• The second: Setswana speakers who built a scalloped perimeter wall, which wasn't always enclosed but contained clusters of smaller circles; and
• The third: descendants of the first group of Sesotho speakers who had come into contact with the Tswana. These kraals are a hodgepodge of the first two styles: "a confusion of inner enclosures within a continuous perimeter wall", which was sometimes straight, sometimes scalloped.
---
An outcrop of rich diversity​
The Melville Koppies, a Johannesburg heritage site, are broken up into three separate areas: east, west and central. The central section, containing the stone ruins and an Iron Age furnace, is bounded by a palisade fence and locked. The other areas are open to the public.
Because of security problems, people are discouraged from walking on the koppies alone, and Wendy Carstens directs those interested to www.mk.org.za.
Although the nature reserve falls under City Parks, Carstens oversees the management of the heritage area, which contains nine different biomes and an abundance of birdlife. — Sarah Wild