It's a rare blue-sky morning in Pokhara, the aviation and adventure capital of Nepal. At every corner of this popular lakeside destination, Mahindra jeeps are being loaded with parachute packs, wild-eyed pilots and adventure junkies.
Soon the sky will be littered with hundreds of distant dots and dashes, human emoticons of the sky. Soon I'll be one of them.
Cloud cover and heavy rains, the predators of commercial paragliding, have started dipping into the lion's share of the profits, creating fierce competition among the 20 packs that depend on this seasonal industry for their annual sustenance.
It's a bit early in the food chain for a vulture to appear on the scene, but Bob the vulture has as good a reason as any. He is equally threatened by changes beyond his control, and must do what it takes to make sure his species survives.
Today that means serving as my flight director and occasional companion through the skies, where Bob is the lodestar of the world's only parahawking team, led by Scott Mason and his crew of passionate falconers, conservationists and paragliding pilots.
To translate: parahawking is paragliding alongside trained birds of prey. In brochure-speak, it's "a unique opportunity to interact with birds of prey in their own environment".
In experiential-speak, it's the stuff bucket lists are made of. Or should be. It's a rare and special thing to have a Neophron percnopterus (Egyptian vulture) swoop in and perch on your outstretched arm.
Of course, there is an incentive for him – a piece of raw buffalo meat placed on your gloved hand. It's an easy mark for a bird with the vision to spot a 4cm object at 1 000m and the brains to use stones as tools.
Admittedly, when I first bumped into the term "parahawking" on the streets of Pokhara, I was more than a little sceptical. Tourist towns like Pokhara are notorious for creating new or hybrid activities to fleece travellers of their dollar, pound and yen.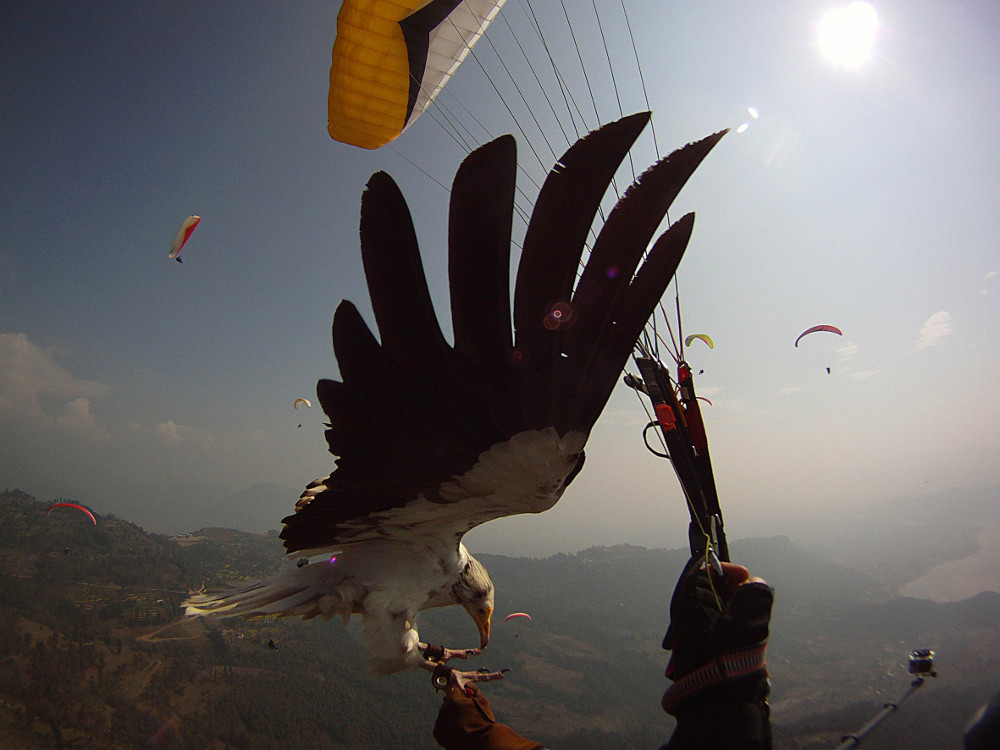 Egyptian vultures. (Supplied)
As I write this, Pokhara is busy punting a zip line that promises to be "the most extreme zip line ride in the world". Luckily my rand isn't as coveted or far-reaching, so whenever I hear the words "highest", "fastest" or "longest" I stop listening and start guessing the hefty price tag that inevitably follows.
So it was fortunate I didn't know that my parahawking experience would set me back R2 000, roughly double the price of the normal paragliding flights.
By the time I learned this, I had already bonded with Bob and his punk-inspired hairstyle and watched his co-star Kevin take a bath in his private space.
I felt obliged, if not curious, to support their cause through the money that gets donated to conservation efforts with each flight. Against my better instinct, I even heard myself using some brochure-speak such as "once-in-a-lifetime opportunity" to justify the spend.
Any sort of audience with this intelligent species is rarer than you think. In the past 15 years Bob and Kevin have seen more and more paragliders and fewer and fewer vultures come to ride these thermals.
Mason informs me that the number of Asian vultures has dropped by 99.9% (approximately 40-million birds) in that time.
Bird Life International cites three Asian vulture species in particular (the white-rumped vulture, long-billed vulture and slender-billed vulture) that have declined by more than 99% in South Asia alone since the early 1990s.
There is a particular reason for the bird's rapid decline here. It has to do with the fact that cows enjoy a sacred status in the Hindu world. Well-intentioned owners often administer a drug called Diclofenac to their sick and ailing cows to prolong their lives and ease their suffering.
As is often the case when humans interfere with the food chain, something inevitably goes wrong for another species. In this case, the vulture suffers renal failure after eating the poisoned meat of the dead cow.
Of course, we're talking about vultures here, right? They're not exactly on page three on the annual endangered wildlife calendar.
Now if you put a giant panda on the cover, you could just sit back and watch the subscriptions roll in. All is not equal in the world of charitable causes, which is why Mason believes that efforts like parahawking, which gives audiences the opportunity to interact with these intelligent birds of prey in their natural habitat, has a small, but important, role to play in the preservation of the species.
"There is no better way to empathise with the misunderstood vultures than to share the sky with them and interact with them in their own environment," says Mason.
"Only then can you truly understand their beauty and majesty, and appreciate how important these birds are to our ecosystem and to the lives of each and every one of us."
An English native who ventured into falconry at the age of 11 and discovered paragliding in later years, Mason has had the marketing savvy and intelligence to marry his two passions in a way that combines a "world-first experience" with a "world's last" message that includes a conservation talk after the flight. His thinking is spot-on.
Bob and Kevin quickly prove to be gracious hosts who have the know-how to reveal more hidden aspects of their species (such as grooming habits) and personality (Kevin is the more bold, confident one) with time and vested interest.
And when you are up high in the air, suspended by the nylon equivalent of a sumo wrestler's loincloth, their aviation expertise proves just the distraction you need to keep you from assuming the brace position and frenetically blowing on your tandem pilot's whistle. They make it look easy.
Mason's packed schedule for the season proves that travellers love a "world first". Pity they aren't as passionate about preventing a world last, especially of a species mostly photographed with its head in the carcass of an animal you would pay good money to conserve.
How quickly we forget that vultures, unlike humans, actually offer an important ecological service, cleaning up carcasses and decreasing the spread of some diseases. Pandas just have better PR.
---
For more information, go to parahawking.com