His rivals weren't even born when he last won the accolade in 1984, but David Bowie saw experience triumph over youth as he was crowned best British male at the Brit awards.
Thirty years after he first took home the coveted prize, the 67-year-old singer-songwriter became the oldest recipient of a Brit award on a night that saw the old guard outshine music's young starlets.
Bowie, who broke a decade's silence with his cerebral comeback album The Next Day last February, beat competition from young up-and-comers Jake Bugg, John Newman, Tom Odell and James Blake to win the award.
Announcing Bowie had won, Noel Gallagher said: "You maniacs didn't think David Bowie was actually going to be here? David Bowie's too cool for that – he doesn't do this shit."
Instead Kate Moss collected the award on his behalf. Wearing the singer's Ziggy Stardust "rabbit costume" designed by Kansai Yamamoto, the model read out a speech in which Bowie thanked fans and made a surprise intervention in the Scottish independence debate: "David has asked me to say this: In Japanese myth, the rabbits on my old costume that Kate's wearing live on the moon. Kate comes from Venus, and I from Mars.
"I'm completely delighted to have a Brit for being the best male. I think it's a great way to end the day. Thank you very much – and Scotland, stay with us."
On a night that returned an element of surprise to a ceremony criticised for its uniformity, five-time Brit winner Prince appeared briefly on stage to deafening applause inside London's O2 arena.
Standing beside his leather-clad backing band 3RDEYEGIRL, the diminutive pop maestro thanked London for making him feel "extra loved" and handed out the best British female award to an awestruck Ellie Goulding. "Prince!" she gasped, clutching her award as he left the stage.
Beyoncé also made an unannounced appearance, leading a rapt audience of fans and music executives through a soaring singalong of her latest single XO.
Arctic Monkeys
The annual celebration of British music marked a historic double for the Arctic Monkeys, who became the first act to win best British band and best British album in three separate years, beating past winners Coldplay and Manic Street Preachers.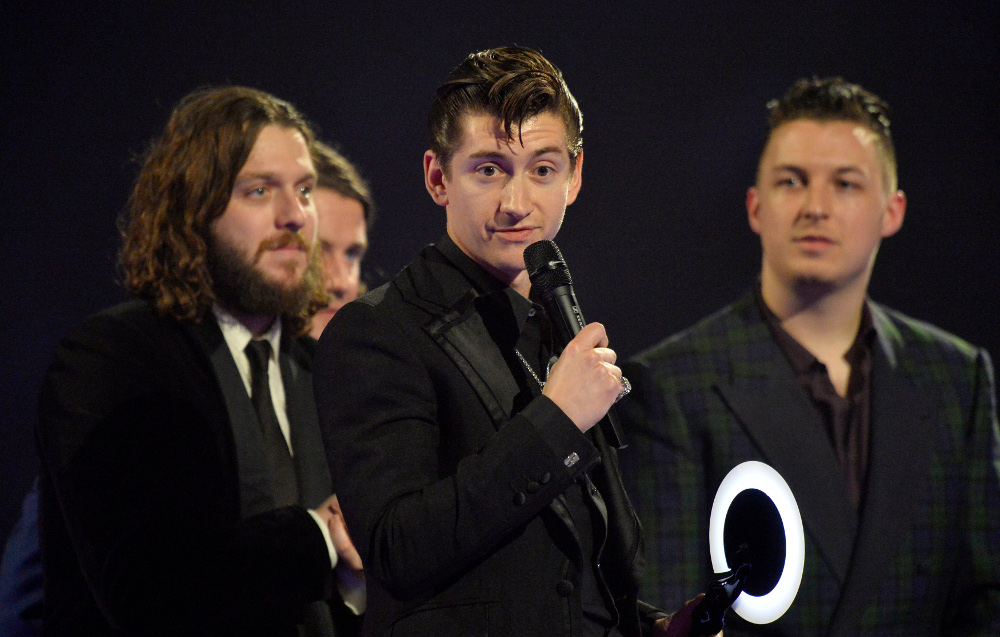 The impeccably-coifed rockers from Sheffield opened the ceremony in bombastic style, launching into their hit single R U Mine? on a spectacular fire-throwing set in the middle of the arena. Accepting the award for best British group, frontman Alex Turner said: "Well, there's that 15 quid we put on One Direction to win down the drain, innit?"
Watch: Brit Awards 2014: red carpet interviews
London four-piece Bastille and dance duo Disclosure were tipped to sweep the boards with four nominations apiece, but Bastille took home the two groups' only award – for British breakthrough act.
Bastille frontman Dan Smith thanked "everyone we know" and, in a nod to last year's ceremony when the band were only given one seat, said: "This time last year I don't think anyone in this room thought we would even be here. We're gonna leave now, we're gonna shut up."
One Direction continued their journey from X Factor hopefuls to international pop icons, as they took the Global Success award for the second year in a row. Harry Styles was late on stage to collect the statuette. The 20-year-old heartthrob said: "I'm really sorry, I was having a wee. The toilets are ages away."
Controversy
In a night of surprises, comedian James Corden carefully navigated through his fourth and final turn as Brits host without mishap or controversy. The Gavin & Stacey star showed no sign of going through the motions, interrupting Prince on-stage to take a selfie – which he subsequently tweeted – and using Arctic Monkeys' pyrotechnics to set his arm alight, albeit as a joke.
But all the talk was of Bowie-mania. His award was hailed by music critics who contrasted the ingenuity of the Ziggy Stardust singer to the Radio 2-friendly crop of younger male stars.
"What this proves is that the way Bowie engineered his comeback was a stroke of genius," said music writer Simon Price. "The way he sprang his single on the world without any publicity or hype and managed to keep it a secret is unheard of in the modern world. It created such a buzz that it pretty much confirms 2013 as International David Bowie Year."
Price said the accolade was perhaps a sentimental vote by industry judges, but was critical about the calibre of competition in this year's best male category. "The fact he's defeated them just proves that young artists these days are actually more boring than someone three times their age – and that's a damning indictment of them."
Showbiz
If last year's ceremony went down as one of the dullest ever, last night's showpiece attempted to regain some showbiz sparkle with centrepieces including a 2.8m mirror ball, 10 000 balloons and 30 lasers zigzagging throughout the televised show. Stars drank from 4 000 china tea cups at the official Brits after party – a sign perhaps that the ceremony's colourful history of chaos, insults and stage invasions are a thing of the past.
Awards also went to 21-year-old singer-songwriter Sam Smith, dance act Rudimental, and One Direction, who won the best video award, as voted for live on the night on social media.
International winners included US singer Bruno Mars, who won international male solo artist, group award winners Daft Punk, and 17-year-old Lorde from New Zealand, who defied more established stars such as Lady Gaga and Katy Perry to scoop the international female solo artist.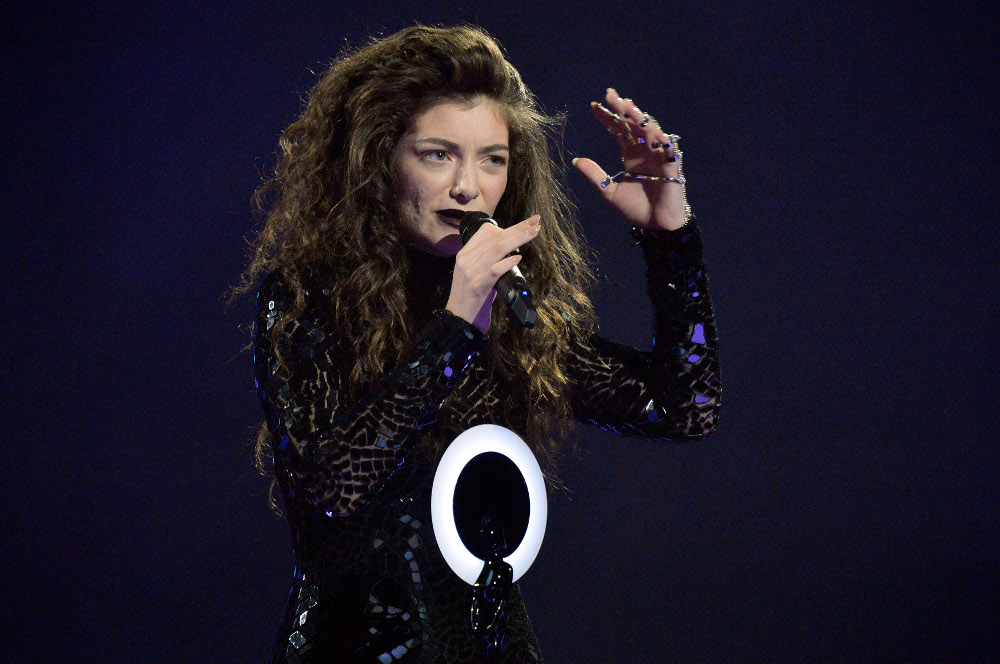 Other performers on the night included award winners Goulding, Mars, Bastille and Rudimental, as well as Katy Perry, whose set resembled an Aztec scene with fluorescent dance outfits and laser beams.
________________________________________________________________________________
Foreign stars lift predictable British wins
The 2014 Brit awards opened in a hail of bad publicity, although there were at least some voices keen to drum up excitement about the forthcoming ceremony. "Stars arrive in London for the Brits" offered the giant Sky News screen in London's Victoria station before the ceremony began, gamely illustrating its story with a photo of David Bowie.
It was tempting to suggest that Bowie was no more likely to turn up at the Brits than he was to turn up at Victoria station and start flogging mocha frappe lattes on the Caffe Nero stand by Platform 18, but there was always the chance he'd been persuaded to draw a line under a decade of zealously guarded privacy not merely by the prospect of snatching the best British male prize from under the noses of Jake Bugg and Tom Odell, but the enticing opportunity to sit in the O2 Arena and watch Bastille and James Corden.
But even the wild suggestion that the reclusive chameleon of rock might show up was drowned out by the din caused when an angry broadsheet journalist went public with the list of demands made upon attending members of the press by sponsors MasterCard's PR agency, in which regularly and enthusiastically mentioning the credit card and its slogan Priceless Moments on Twitter figured heavily. By mid-morning, the slogan had been hijacked: the social media site was indeed awash with the #PricelessSurprises hashtag, alas attached to tweets suggesting surprises including "being told you've got chlamydia".
The Brit organisers might reasonably have surmised that things could only get better once the ceremony was under way, which they duly did. Despite triumphing in his category, Bowie was a no show – perhaps he was busy knocking up a chai latte by platform 18 in Victoria station – which meant he missed not merely Corden making jokes about cocaine and daringly marking the passing of the watershed by saying "shit", but the Brits going about their usual thing of presenting awards to exactly the artists you'd expect, the Brits being in the business of rewarding success.
It would have been nice had John Grant unexpectedly walked off with the best international male, but it was never going to happen in a category that also featured Bruno Mars; whatever the qualities of their fellow nominees, Bastille were always going to win best newcomer, because they'd sold more albums.
In fairness, they told you what you already knew with a greater degree of panache than last year, when the Brit Awards' deathless quest for what their chairperson describes as "gravitas" led them to put together an awards ceremony that had all the gravitas and indeed all the entertainment value of a meeting of the environment food and rural affairs committee. They pulled off a number of coups, a lot of which involved the curious business of, as Corden put it, "celebrating a year in which British acts have taken the world by storm" by getting acts who weren't British to turn up .
Prince was inveigled into presenting an award, there were performances from Pharrell Williams, Lorde and Beyoncé, the latter clearly the star of the show, particularly given that Lorde's much-vaunted collaboration with Disclosure didn't really spark in the way you might have hoped. But not all: they got the Arctic Monkeys to open the show, which was certainly an advance on previous years, when they'd either declined to turn up or turned up and been so rude about the performing arts school funded by the Brits that their acceptance speech was cut off.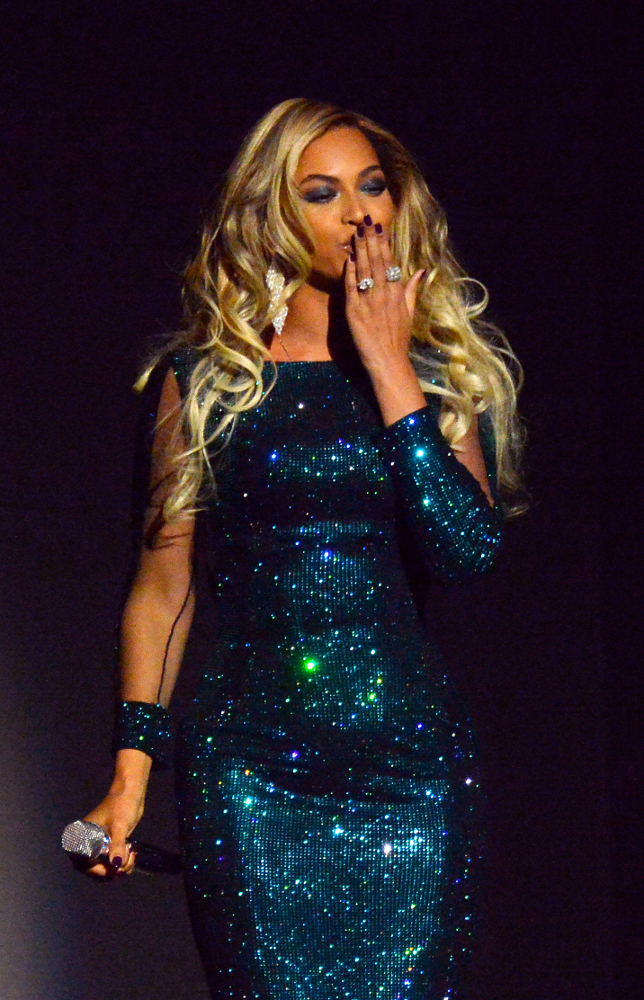 Indeed, given that Noel Gallagher – who some years ago enlivened proceedings with the intriguing suggestion that "there's only five people in this room who really know what's going on in this country and that's me, our kid, Bonehead, Alan Mcgee and Tony Blair" – appeared onstage without incident, you could say that the 2014 ceremony was marked by formerly errant attendees being brought to heel.
There was a hint of the chaotic spirit of Brits past when model Rosie Huntingdon-Whitely left a dramatic pause before announcing One Direction as winners of a category in which they'd already been announced as winners by means of a lengthy video, but that's about as dangerous as it got, unless you count David Bowie's acceptance speech – read by Kate Moss – in which he appeared to throw his weight against Scottish independence. Still, given that last year the main danger at the Brits was one or more of the viewers expiring from boredom, then that might be considered an advance. – uardian.co.uk © Guardian News and Media 2014